B2 Atlantic Yards Brooklyn, 38 Sixth Avenue NY High Rise Building, Pacific Park Project News
B2 Atlantic Yards : Brooklyn Development
38 Sixth Avenue Pacific Park Development, 461 Dean Street, New York, USA – design by SHoP
Jan 18, 2017
38 Sixth Avenue, Pacific Park Brooklyn
38 Sixth Avenue in Brooklyn
Design: SHoP Architects
SHoP Architects also designed an all-affordable building at 38 Sixth Avenue, adjacent to the Barclays Center, and as of today these 303 residences are up for grabs, ranging from $532/month studios to $3,695/month three-bedrooms.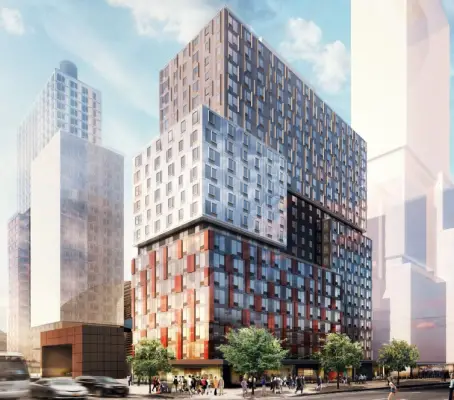 Households earning between 101 and 165 percent of the area media income (or up to $173,415 annually) are eligible for 198 of the units, while 105 units are set aside for those earning between 30 and 100 percent (as low as $20,126 a year).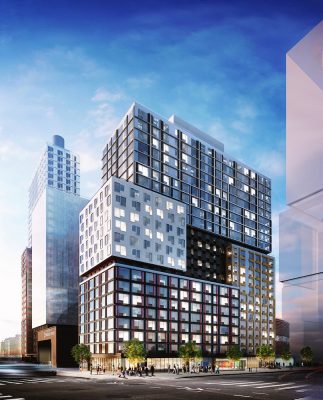 The apartments all have white oak floors, quartz counters and ceramic backsplashes in the kitchen, and high-end appliances.
Amenities in the 23-story building include a fitness center with yoga/dance studio, residents' lounge with a catering kitchen, bike storage, pet grooming station, roof terrace, underground parking, and laundry on every floor.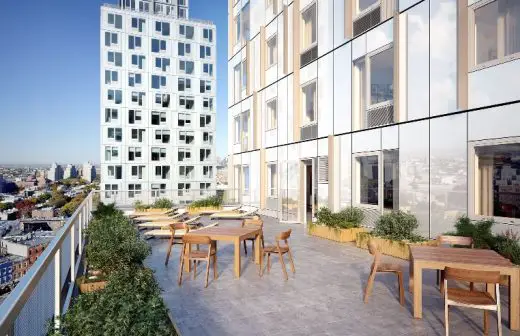 June 18, 2015
38 Sixth Avenue at Pacific Park Brooklyn News
Work Begins on 38 Sixth Avenue at Pacific Park Brooklyn
Design: SHoP Architects
CLEVELAND and BROOKLYN, N.Y., June 18, 2015 — Forest City Enterprises, Inc. (NYSE: FCEA and FCEB), a member of Greenland Forest City Partners, the joint venture developing the Pacific Park Brooklyn project, today announced that the joint venture has closed on financing for the construction of 38 Sixth Avenue, a 303-unit, 100-percent affordable apartment building at Pacific Park Brooklyn, and that work has begun on the building.
Designed by SHoP Architects, 38 Sixth Avenue (formerly known as B3) is the third building that Greenland Forest City Partners has broken ground on since December 2014 at Pacific Park Brooklyn, including 535 Carlton, a 100-percent affordable apartment building, and 550 Vanderbilt, a market-rate condominium building.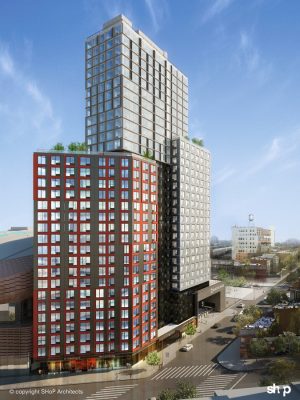 "This closing reflects the strength of our partnership with Greenland USA and the innovative talents that both of our organizations have brought to this effort," said David J. LaRue, president and chief executive officer of Forest City. "38 Sixth Avenue represents our continued commitment to deliver high-quality affordable housing at one of the country's most vibrant mixed-use communities in Pacific Park Brooklyn."
MaryAnne Gilmartin, president and chief executive officer of Forest City Ratner Companies, the New York-based subsidiary of Forest City Enterprises, said, "We couldn't be happier with the progress we are making to achieve our commitment to affordable housing as an integral part of Pacific Park Brooklyn. We all know that the need for this housing is critical and we are very proud to be working with the State and the City to bring this housing to market."
"We're very excited that Greenland Forest City Partners is moving aggressively to fulfill their commitment to a fast-tracked timeline for the delivery of affordable housing," said ESD President, CEO, and Commissioner Howard Zemsky. "They're on track to complete construction 10 years earlier than originally predicted and when construction commences at 38 Sixth Avenue, they'll have made good on their commitment to start construction on two 100-percent affordable buildings by June 30. In addition to delivering much-needed affordable housing, 38 Sixth Avenue will also deliver jobs and economic activity."
"The people of this city need affordable housing built in real time. And make no mistake: affordable housing at Pacific Park is on the move. We committed last summer to get two new 100-percent affordable buildings in the ground by this June, and today, we are making good on that promise.
Our administration is incredibly proud to have negotiated two buildings that each have double the affordable housing and reach more low-income families as the first buildings to rise at this site, all without increasing costs to the public. We are grateful to all our partners in the community, at Greenland Forest City and at the State who have worked to get these shovels in the ground," said NYC Deputy Mayor for Housing and Economic Development Alicia Glen.
"The opportunity to design a 100-percent affordable apartment building is one of the things that drew us to this project," Chris Sharples, principal at SHoP Architects, said. "Responsibly and creatively addressing the housing issue is enormously important for New York City.
To create a scale for the building that will bridge between the arena and the neighborhood, we broke the mass into a series of interlocking volumes. Utilizing a rich palette of colored glass and metal fins, we added a level of material contrast and relief that accentuates the character of the different volumes."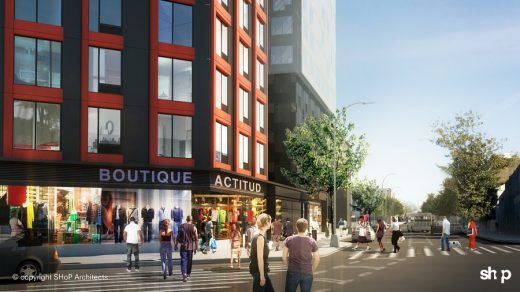 For construction financing of 38 Sixth Avenue, the New York City Housing Development Corporation is providing an $83 million first mortgage loan for the building through the issuance of tax-exempt government debt obligations funded by Citi Community Capital. Greenland Forest City Partners is also receiving a $10 million subordinate loan from HDC and a $2 million subordinate loan from Citibank.
The first building at Pacific Park, 461 Dean Street (formerly known as B2 BKLYN), broke ground at the end of 2012 and will include 50 percent market-rate apartments, 30 percent middle-income and 20 percent low-income units. 461 Dean Street is being developed by Forest City separately from the joint venture.
Construction on the second residential building, 535 Carlton, began in December 2014. It will be 100 percent affordable, with 50 percent middle-income, 20 percent moderate and 30 percent low-income units. More than a third of the apartments at 38 Sixth Avenue and 535 Carlton will be sized for families. Construction of 550 Vanderbilt, which sits on the northwest corner of Vanderbilt Avenue and Dean Street and is a market-rate condominium building, also began in December 2014.
"It is imperative that we maximize every opportunity to construct affordable housing for Brooklynites that make up the foundation of our communities," said Brooklyn Borough President Eric Adams. "I thank Greenland Forest City Partners for their commitment to advancing toward affordable housing at Pacific Park."
Assemblyman Walter Mosley, Assembly District 57, said, "As the state assembly representative of the neighborhoods directly surrounding the Pacific Park Project, it pleases me to see the partnership between Forest City Ratner Companies and Greenland USA is producing the amount of affordable housing promised to the community, especially at such a crucial time where such housing is at a premium.
We are facing a housing crisis, the likes of which we have not seen since post-World War II, and it is critical that projects like Pacific Park continue to create and maintain affordable housing in an effort to ensure hard working families can continue to live in this great city and state."
"The influx of new residential buildings in communities across New York City too often excludes the thousands of families who cannot afford market-rate housing units. The highly-anticipated construction of 38 Sixth Avenue will help alleviate the overwhelming need for affordable housing in Brooklyn while preserving the cultural and economic diversity of its surrounding community," said Council Member Laurie A. Cumbo.
"HDC is committed to financing high impact projects that will create the quality affordable housing needed to foster strong, economically diverse neighborhoods," said HDC President Gary Rodney. "38 Sixth Avenue, the latest addition to the Pacific Park Brooklyn development, leverages an innovative financing structure to achieve affordability that will add to the fabric and diversity of this vital Brooklyn hub.
Thanks to a collaborative partnership with Citi Community Capital, Empire State Development, and HPD, HDC was able to provide the financing for this mixed income housing development, delivering on the goals of the Mayor's housing plan."
Bertha Lewis, Founder and President of The Black Institute, said, "Pacific Park Brooklyn is turning into an affordable housing engine. When we announced this project nearly 12 years ago, some expressed doubt that the housing would come to fruition.
Today, with affordable housing an even greater crisis in New York, Pacific Park buildings are not only becoming a reality, they are becoming a model for how to build housing and communities that reflect the diversity, in every way, of our City. I applaud the joint venture for its commitment to the promise of Pacific Park and their desire to move quickly."
Residents of the affordable units will be selected through a lottery system overseen by the New York City Housing Development Corporation. Pacific Park Brooklyn is a state-regulated development established by a General Project Plan adopted by the Empire State Development (ESD) Board of Directors in 2006 and governed by ESD. Pacific Park Brooklyn is expected to include 6,430 units of housing, more than one-third of which will be affordable.
The groundbreaking at 38 Sixth Avenue brings the total number of affordable apartments currently under construction at Pacific Park Brooklyn to 780 units, with the development expected to eventually include 2,250 affordable units.
For more information about Pacific Park Brooklyn visit www.pacificparkbrooklyn.com.
Dec 12, 2013
B2 Atlantic Yards News
B2 Affordable Building Development in Brooklyn
Design: SHoP
FIRST MODS HOISTED INTO PLACE IN WORLD'S TALLEST MODULAR BUILDING
B2 in Brooklyn 50% Affordable
Brooklyn, NY – December 12, 2013 – Forest City Ratner Companies (FCRC), the developer of Atlantic Yards in Brooklyn, announced today that construction teams will hoist into place the first mods that will be part of B2, the 50-percent affordable building that will be the tallest modular building in the world when it is completed in the 4th Quarter of 2014. 181 of B2's 363 units will be affordable, by far the largest infusion of affordable housing in Brooklyn at one time.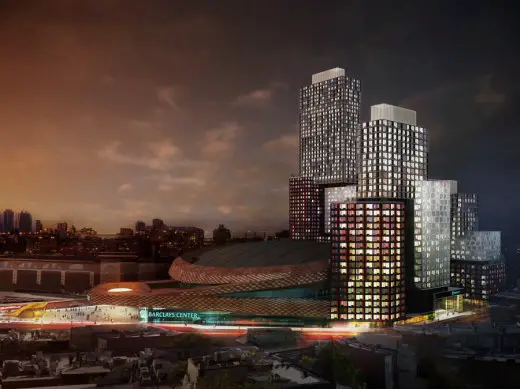 image © SHoP Architects
The mods were built by union labor affiliated with the New York Building and Construction Trade Council, BCTC. Mods are built fully assembled, including kitchens, bathrooms, and appliances, and then trucked to the construction site and hoisted by crane and bolted into place.
Please note that the interiors will not be available at this time since they will be wrapped and fastened into place. Also, portions of the interior of the first mods will remain unfinished to provide worker access from the temporary construction elevator.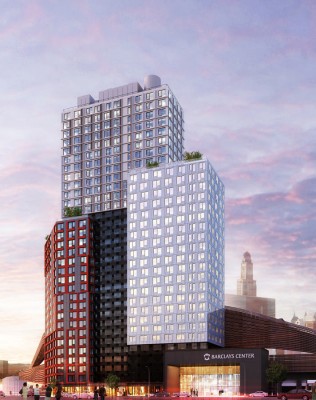 image © SHoP Architects
B2 was designed by SHoP Architects and Arup. FCRC and Skanska USA have partnered to create a new company called FC + Skanska Modular, LLC to build the modular components in a new 100,000 square-foot space in the Brooklyn Navy Yard. There are over 100 unionized workers employed at the factory at this time.
Today's photo of the first mod being hoisted into the B2 building at Atlantic Yards: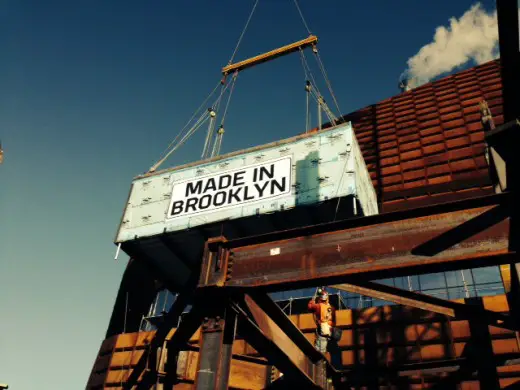 photo from developer
Dec 19, 2012
B2 Atlantic Yards New York
MAYOR BLOOMBERG AND FOREST CITY RATNER COMPANIES BREAK GROUND ON B2
FIRST RESIDENTIAL BUILDING AT BROOKLYN'S ATLANTIC YARDS
WORLD'S TALLEST AND CITY'S FIRST MODULAR HIGH RISE TO INCLUDE 50 PERCENT AFFORDABLE UNITS
B2 Development Atlantic Yards
Design: SHoP
(Brooklyn, NY) – December 18, 2012 – Mayor Michael R. Bloomberg today joined Brooklyn Borough President Marty Markowitz, Forest City Enterprises President and CEO David J. LaRue, Forest City Ratner Companies (FCRC) Chairman and CEO Bruce Ratner, the President of the Building and Construction Trades Council of Greater New York Gary LaBarbera, Skanska USA Building president and CEO William Flemming, and Bertha Lewis, the former head of ACORN and The President of the Black Institute, to break ground on B2 (located at 461 Dean Street), the 32-story residential tower that is part of the Atlantic Yards development in Brooklyn. B2 is expected to be available for occupancy in the summer of 2014.
Designed by the award-winning architectural firm SHoP, the design architect for Barclays Center, the building will sit at the intersection of Dean Street and Flatbush Avenue and have 363 units, 50 percent of which (181) will be affordable to low, moderate and middle-income households.
The remaining 50 percent (182) will be market rate. The affordable units will be evenly divided throughout the building and all will have the same quality appliances and access to the same public spaces, including a fitness center, bike storage, a resident lounge, game room, yoga/dance studio and roof terrace.
Each unit will have a washer and dryer. B2 will have 150 studios (41%), 165 one-bedrooms (46%) and 48 two-bedrooms (13%). Twenty percent of the affordable units will be 2 Bedroom/2 Bathroom apartments. (A full fact sheet on B2 and Atlantic Yards is attached.)
Mayor Michael R. Bloomberg said, "This new building will bring more affordable housing to one of the most exciting parts of Brooklyn. It will enrich a thriving community and ensure that living in this neighborhood is an option for a diverse group of New Yorkers. Its innovative construction will create jobs in Brooklyn and hopefully serve as a model that enables more affordable housing construction in the future."
Brooklyn Borough President Marty Markowitz said, "This groundbreaking is the first down payment on the promise of affordable housing in the Atlantic Yards Project. It is only fitting that today's ceremony comes during the holiday season, as the provision of affordable housing and the innovative modular construction process—which will assuredly be a major new job provider for Brooklynites who need work most—are both wonderful gifts for Brooklyn.
The B2 development will help ensure that Brooklyn continues to be a perfect home for those of all economic backgrounds, and preserves our unique cultural identity. Bravo to Bruce Ratner and his team at Forest City Ratner for their unwavering commitment to affordable housing in Brooklyn."
Empire State Development (ESD) President and CEO Kenneth Adams said, "Today's groundbreaking marks another step in the State's efforts to bring more jobs and affordable housing to downtown Brooklyn. Working with our local government and private sector partners, the revitalization and resurgence of Brooklyn is well on its way to becoming a reality."
Forest City Enterprises President and CEO David J. LaRue said, "On behalf of the entire Forest City organization nationwide, we are proud to join with Bruce and our New York team to celebrate this important occasion. This is truly a great day for Brooklyn, with new jobs and new housing, including a substantial amount of affordable housing. We extend our sincere thanks to all our partners and to the citizens of Brooklyn for their continued support."
Forest City Ratner Companies Chairman and CEO Bruce Ratner said, "Today is a significant milestone for Atlantic Yards. Our City is starved for affordable housing and we are proud that Atlantic Yards will provide housing to New Yorkers of all economic means, reflecting the diversity that defines Brooklyn and New York."
Skanska USA Building president and CEO William Flemming, the construction manager of B2, said, "Today marks a major milestone for the construction industry in New York City. For the first time, the traditional building approach has been substituted for a safer and more energy-efficient method – prefabricated modular construction.
Skanska is proud to work with Forest City to develop the innovative techniques that we think will dramatically transform the way buildings are constructed in the City for years to come."
Gary LaBarbera, the President of The Building and Construction Trades Council of Greater New York, said, "Today's groundbreaking marks the next phase of this project to bring housing, and particularly affordable housing, to Atlantic Yards. It will create union construction jobs with good wages and benefits that may have been at risk if not for the strong labor-management partnership that exists between Forest City Ratner and the Building and Construction Trades.
Through an innovative approach to developing this project, a blueprint has been created to wed modular construction with traditional construction in a way that could improve our competitiveness and ability to create even more union construction jobs here in the local market and perhaps in other markets as well."
Bertha Lewis, the former CEO of ACORN, and the President of The Black Institute, said, "This is a promise made and a promise kept, the beginning of the most progressive affordable housing program in our city's and country's history. This building and the ones that follow will reflect the diversity of the city we love, a diversity of income, race, gender, and age.
One building, one standard. While I'm thrilled and proud to join Forest City and others today, I'm saddened that Jon Kest, my partner in housing and so much more, is not here with us. Jon had hoped to see this groundbreaking, to watch as families moved in and children grew. This building is in large part a result of his vision."
As part of its commitment to bringing the affordable units to this development, the City, through its Housing Development Corporation (HDC), funded the first mortgage with nearly $92 million raised through the sale of tax-exempt bonds as well as providing a low-interest subordinate loan of $11.6 million to the project.
HDC President Marc Jahr said, "It is gratifying to see this development begin to take shape and the promise of affordable housing become a reality. We at HDC are proud of the role we have played in this financing. While it has taken some time to reach this juncture, I am confident that this new building will be a great addition to this growing neighborhood and that, most important, the affordable housing will benefit those who need it."
The exterior of the building will feature setbacks that have been articulated and integrated into the overall building's massing. In addition to these volumetric breaks, a variety of materials, colors and fabrication techniques have been utilized to create an intricate play of light, pattern and texture over the façade.
Deep metal frames cantilever beyond the glazed openings of the residential units, each being accented by a series of beveled and perforated metal panels. The inlaid metal panels are dressed with accents of color, heightening the play of light and shadow across their smooth and articulated surfaces.
At grade, full story glazed storefronts will be accented by covered entrances to the three new towers extending a more scaled intimacy, typical of Brooklyn's streetscape along all the elevations of the arena site.
As announced in November, FCRC will utilize modular construction to develop B2. FCRC has partnered with Skanska USA, one of the world's largest construction and development groups, to create a new company called FC + Skanska Modular, LLC (FCS Modular) that will build the modular components in a 100,000 square-foot space located in the Brooklyn Navy Yard.
Approximately 125 unionized workers will be employed at the fabrication facility beginning in late spring 2012, when modular production is fully under way. FCRC and Skanska will work with the labor unions and organizations like Non-Traditional Employment for Women, Helmets to Hardhats, Construction Skills 2000 and Brooklyn Workforce Innovation at the Navy Yard's Employment Center to attract local workers and others to diversify the workforce in a continuation of goals established in the Atlantic Yards Community Benefits Agreement.
Preference will be given to residence of Community Boards 2, 3, 6 and 8 and NYCHA. Approximately 60 percent of the building will be assembled in the Brooklyn Navy Yard facility and 40 percent of the work will be completed on the Dean Street property, including foundation work and the erection and assembling of the finished modular units.
Given that much of the work will take place off-site, there will be significant reduction in truck traffic and other community impacts. It is also estimated that modular construction will result in 70 to 90 percent less waste than traditional construction. B2 is expected to achieve LEED Silver certification.
About FCRC
FCRC, a wholly owned subsidiary of Forest City Enterprises, Inc., owns and operates 34 properties in the New York metropolitan area. Forest City Enterprises, Inc. is an NYSE-listed national real estate company with $10.7 billion in total assets.
The Company is principally engaged in the ownership, development, management and acquisition of commercial and residential real estate and land throughout the United States. For more information, visit www.forestcity.net.
B2 Atlantic Yards development in Brooklyn images / information received 191212
Barclays Center : main page – completed building information + photos
Atlantic Yards Barclays Center : early information
Barclays Center Atlantic Yards
Location: 461 Dean Street, Brooklyn, New York City, USA
New York City Architecture
Contemporary New York Buildings
Manhattan Architecture Designs – chronological list
New York City Architecture Tours by e-architect
Atlantic Yards Development Masterplan previous architect : Frank Gehry
Comments / photos for the B2 Atlantic Yards Project – Brooklyn Development page welcome