Milanofiori Office building, Milan Offices Development, Italy
Palazzo per uffici U27, Milanofiori Nord
Milan Building, Italy design by Park Associati, Architects
7 May 2014
Completed Milanofiori building, Italy – images update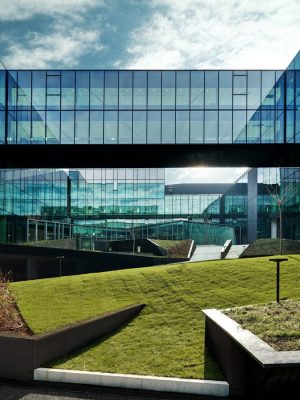 Palazzo per uffici U27 Milanofiori
Design: Park Associati
English text (scroll down for Italian):
U27 Office building, Milanofiori Nord (Assago)
8 May 2012
In January 2012, Milanofiori 2000 srl began work on the building known as U27, that is due for completion and handover to Nestlé Italiana Spa in December 2013.
The architectural design by Park Associati is based on an analytical approach to the articulated system of access to the Milanofiori Nord area, the pedestrian walkways and roads, climatic factors relating to the context and the goal of properly integrating the building into the overall masterplan. Its position as a link to an area of forest towards the north led to the development of a complex that while being based on a closed courtyard layout, enables a visual permeability to be maintained in terms of the routes that surround the building. The building has been designed in such a way as to create a visual continuity between the natural landscape of the wood at the north and the designed landscape of the site itself. The courtyard, reserved for users of the building, relates to the external landscape and is conceived as a kind of "secret garden".
The entrance, that faces onto a semi-urban piazza, has been conceived as a continuation of the main pedestrian access from the south-west of the site (directly connected to the metro station) while service vehicles are directed to the opposite end of the complex to an area that is completely hidden by ground. The main entrance hall is in direct visual contact with the internal courtyard and is flooded with natural light by a large, north-facing rooflight. The canteen area is a place for relaxing and an important area for social interaction that adds to the quality of the environment.
While the building appears compact and rational in plan, the elevations are articulated in a series of blocks allowing for a lighter and more fragmented composition. This is achieved by dividing the whole building into a number of segments, 'suspended boxes' that vary in size and height and each with a slightly inclined facade. The elevations establish a link with the context through the nature of the surfaces, perceived from different angles, they are sometimes made neutral allowing light to filter through, other times compact and reflective giving continuity to the natural surroundings. At certain points the composition is enriched with the addition of vertical blades in coloured glass that further articulate the volumes without affecting the level of transparency.
The raised part of the building is embedded into the ground in a natural way to create a secluded internal space on top of which sit volumes at different levels that house the building's main facilities. The articulation of the building envelope and the rhythm of the structure relate to the open-planned interior spaces and act as a grid for generating different configurations for the internal circulation, enabling a high degree of flexibility.
Considerable importance has been given to energy issues and levels of energy consumption. The building is expected to receive a LEED certificate (Leadership in Energy and Environmental Design) "Core and Shell" in Gold class.
U27 Office building Milanofiori – Building Information
Location: Milanofiori Nord, Assago (MI)
Floor area: 22.100 sqm
Year: start of work January 2012
Status: under construction
Client: Milanofiori 2000 Srl
Leaseholder: Nestlé Italiana Spa
Architectural design, art direction: Park Associati, Milano
Overall and detailed civil, structural and services design : General Planning, Milano
Site supervision and safety: General Planning, Milano
General Contractor: ZH General Construction Company Spa, Campo Tures (Bz)
Facades: Focchi Spa, Poggio Berni (Rn)
LEED certification: General Planning, Milano – Greenwich Srl, Medolago (BG)
Design team Park Associati: Filippo Pagliani, Michele Rossi
Marco Siciliano (project leader), Marinella Ferrari, Stefano Lanotte, Marco Panzeri, Davide Pojaga, Alessandro Rossi, Elisa Taddei, Paolo Uboldi, Fabio Calciati (renderings)
Design team General Planning: Giovanni Bonini (RL, DL)
Paolo Varenna (project leader), Loris Colombo, Laura Barat, Matteo Molteni, Luca Dagrada, Paolo Rossanigo, Alberto Villa, Claudio Bertolini, Luigi Zinco, Walter Cola, Andrea Cristaldi, Vittorio Vigano' (CS), Claudio Bertagnolli, Manuel Schieder, Mario Pinoli, Giuseppe Zaffino.
Italian text:
Palazzo per uffici U27, Milanofiori Nord (Assago)
Nel mese di gennaio 2012, Milanofiori 2000 srl ha avviato i lavori per la realizzazione dell'edificio denominato U27, la cui ultimazione e consegna al conduttore Nestlé Italiana Spa, sono previsti per il dicembre 2013.
Il progetto architettonico, affidato a Park Associati, parte da un approccio analitico all'articolato sistema degli accessi all'area di Milanofiori Nord, dei percorsi pedonali e viabilistici, dei fattori climatici del contesto e della ricerca di una corretta integrazione dell'edificio con il Masterplan generale. La posizione di cerniera con la porzione a bosco dell'area a nord, ha portato allo sviluppo di un complesso che, pur basato su uno schema a corte chiusa, consente di mantenere ampia permeabilità visiva a livello dei percorsi che lambiscono l'edificio. L'edificio è concepito per essere vissuto in continuità visiva con il verde naturale del bosco a nord e il verde progettato dell'area dell'insediamento. La corte, ad uso esclusivo degli utenti, è in relazione con il paesaggio esterno ed è concepita come un "giardino segreto".
L'ingresso, che si affaccia su una piazza semi-urbana, è pensato come la continuazione del principale accesso pedonale da sud-ovest dell'area (direttamente collegato alla stazione della metropolitana), mentre il traffico veicolare di servizio viene dirottato all'estremo opposto del complesso in un'area interamente mascherata dal terrapieno che la sovrasta. La hall di ingresso principale è in diretto contatto visivo con la corte interna dell'edificio: la luce naturale che la pervade è garantita dal grande lucernario di copertura verso nord. La mensa rappresenta un luogo di sosta e di condivisione importante che accresce la vivibilità dell'edificio.
Se in pianta l'edificio appare compatto e razionale, nei prospetti è articolato in più corpi, lasciando leggere una composizione più frammentata. Questo si è ottenuto suddividendo l'intero edificio in più porzioni, 'scatole sospese' di diversa dimensione e altezza, con leggera inclinazione delle facciate per ognuna di esse. Nei prospetti il legame con il contesto si riflette nella natura delle superfici: esse, percepite dalle diverse angolazioni, si rendono talvolta neutre lasciandosi attraversare dalla luce, talvolta compatte e riflettenti dando così continuità all'ambiente naturale circostante. Ad arricchire la composizione si aggiungono in alcuni punti delle lame verticali in vetro colorato che articolano ulteriormente i volumi senza intaccarne la trasparenza.
Il livello rialzato dell'edificio si incassa nel terreno in maniera naturale generando uno spazio privato interno su cui si appoggiano a quote differenti i volumi che accolgono i principali servizi dell'edificio. La modulazione dell'involucro, insieme al passo strutturale, si relaziona con gli ambienti interni a pianta libera, diventando l'elemento ordinatore capace di generare le diverse configurazioni di distribuzione interna e consentendo un elevato grado di flessibilità.
Grande importanza è stata data agli aspetti energetici e di basso consumo della costruzione: per l'edificio si prevede una certificazione LEED (Leadership in Energy and Environmental Design) "Core and Shell" in classe Gold.
Palazzo per uffici U27, Milanofiori Nord – Building Information
Location: Milanofiori Nord, Assago (MI)
Superficie (slp): 22.100 mq
Anno: inizio lavori gennaio 2012
Status: in costruzione
Cliente: Milanofiori 2000 Srl
Conduttore: Nestlé Italiana Spa
Progetto architettonico, direzione artistica: Park Associati, Milano
Progetto generale ed esecutivo civile, strutturale, impiantistico: General Planning, Milano
Direzione lavori e sicurezza: General Planning, Milano
General Contractor: ZH General Construction Company Spa, Campo Tures (Bz)
Facciate: Focchi Spa, Poggio Berni (Rn)
Certificazione LEED: General Planning, Milano – Greenwich Srl, Medolago (BG)
Palazzo per uffici U27, Milanofiori Nord images / information from Park Associati
Location: Milanofiori, Milan, Lombardy, northern Italy
Milan Architecture
Contemporary Milanese Architecture
Milan Building Designs – chronological list
Milan Architecture Tours – city walks by e-architect
Milan Architects Offices – architectural firm contact details on e-architect
Milanofiori Buildings
Milanofiori North – Business Park & Leisure Centre
Design: Erick van Egeraat
Milanofiori North
Milanofiori Housing
OBR Open Building Research
Milanofiori Housing
Milan Buildings by Park Associati – Selection
The Cube
The Cube Milan
Milan Office Building
Milan Office Building
Tortona 37
Matteo Thun & Partners
Tortona 37
Milano Santa Giulia : Masterplan / Housing
Foster + Partners
Santa Giulia Milano
Comments / photos for the U27 Office building – Milanofiori Offices Development page welcome