LAX Bradley West Project, Los Angeles Airport Building, Design, Image
LAX Bradley West Development, Los Angeles
TBIT Redevelopment California, USA – design by Fentress Architects
Mar 15, 2010
LAX Bradley West Project
Design: Fentress Architects
Tom Bradley International Terminal Redevelopment
$1.545-BILLION BRADLEY WEST PROJECT GROUND-BREAKING CONTINUES MODERNIZATION EFFORT AT LOS ANGELES INTERNATIONAL AIRPORT
City's Largest Public Works Project To Create 4,000 Jobs During Four-Year Schedule
Improvements Designed To Enhance Passenger Service, Help Retain City's Global Competitiveness by Accommodating New Large Aircraft
(Los Angeles, California – February 22, 2010) Los Angeles Mayor Antonio R. Villaraigosa was joined today by City Council members Janice Hahn and Bill Rosendahl, airport commissioners and other officials in a ceremony to break ground on a long-awaited major modernization of the Tom Bradley International Terminal at Los Angeles International Airport (LAX). The $1.545-billion total cost Bradley West Project, as it is known, will create a new world-class terminal that will offer travelers the very best in airport amenities. The project also will position LAX to continue its leading role as an international gateway ready to serve customers and aircraft in the 21st century.
During the national and local economic recession, the $1.26-billion construction will create 4,000 jobs over the next four years.
"Today marks another milestone in our effort to modernize the hub of Southern California's air transportation system and restore it to the premier international gateway the airlines and our customers need and the City of Angels deserves," said Mayor Villaraigosa. "By modernizing the Tom Bradley International Terminal at LAX, we will provide better service for passengers from around the world. Tourism and international trade are major contributors to Los Angeles' economy that generate jobs and contribute to the City's ability to retain its position in the ever-increasing competitive global marketplace. Improving the experience for travelers at LAX will put thousands of people to work now and for years to come."
The Bradley West Project is one element of the overall LAX Master Plan. Modernization had been stalled prior to Mayor Villaraigosa's election in 2005 and the last major capital investment was construction of the current Tom Bradley International Terminal in 1984. Mayor Villaraigosa brokered a settlement in 2006 of a lawsuit filed by seven public agencies and community groups against the LAX Master Plan. The settlement, approved by the mayor and City Council, has enabled Los Angeles World Airports (LAWA) to proceed with its current modernization efforts, including Bradley West.
"Tourism has become the number one industry in Los Angeles, but we must do everything we can to ensure that visitors continue to come here. Building this new terminal will help us attract airlines and travelers from all over the world, giving them the first-class airport experience they expect from a world-class city like L.A.," said Councilwoman Janice Hahn (15th District), who chairs the City Council Committee that oversees the airport. "In these tough economic times, the modernization of Bradley West is essential to stimulating our economy, creating good new jobs, and nurturing our vital tourism industry."
Councilman Bill Rosendahl (11th District which includes LAX) said, "When Mayor Villaraigosa and I brokered the LAX Legal Settlement Agreement, this is exactly what we envisioned; that the airport would work hand-in-hand with its neighbors to bring about real progress on modernizing LAX. This groundbreaking is a great victory for that process, for the LAX community, and for our city. It signals that consensus and cooperation are alive and well at LAX."
"This is a great, long-overdue project to expand the international gateway to Los Angeles," said Councilman Tom LaBonge (4th District). "The late, great Mayor Tom Bradley will be smiling down on this ceremony from the skies."
Los Angeles Board of Airport Commissioners President Alan Rothenberg said, "The emphasis of our airport modernization program is to dramatically improve the passenger experience from curbside to airside with a design that captures the spirit of Los Angeles, establishes new levels of passenger convenience, and exudes a sense of welcome and a comfortable pace for the harried traveler."
Los Angeles World Airports Executive Director Gina Marie Lindsey said, "Today's groundbreaking commemorates the years of planning and the significant work ahead to build international facilities worthy of the LAX name." She added, "A world of international travelers and the airlines that serve them have now come a giant step closer to the delivery of one of America's premier international gateways."
Curtis Fentress, principal-in-charge of Fentress Architects, an international design firm with an office in Los Angeles and architect for the Bradley West Project, said, "This is a defining moment in the history of Los Angeles. The Bradley West terminal and future modernizations will establish a new regional icon that embodies the character of Los Angeles and transforms LAX into the airport of the future. It captures the rhythmic motion of waves and ocean swells, suggesting the L.A. culture that constantly reinvents itself."
Project Description
Flat-seam stainless steel will stretch over column-free structures, creating a cohesive theme and world-class identity that complements the parabolic arches of the scene-setting LAX Theme Building.
The Bradley West Project is composed of approximately 1.25 million square feet of new building area, including food/beverage and retail concessions, new premium lounge space, enlarged Federal Inspection/Customs and Border Protection facilities and other passenger amenities. In addition, the new concourses will contain 15 new boarding gates and enlarged passenger seating/holdroom areas sized to accommodate new-generation aircraft such as the Airbus A380 super-jumbo jet and the Boeing B787 Dreamliner. The new improvements are scheduled for completion in December 2012.
Funding for the Bradley West Project comes from LAX's operating revenues, fees from airlines, passenger facility charges and airport revenue bond proceeds. No monies from the City's general fund will be used.
The Bradley West Project will build upon the current $723.5-million renovation of the 30-year-old terminal, which is within budget and scheduled for on-time completion this spring.
Jobs
The Bradley West Project is the biggest public works project in the City's history and is expected to create 4,000 construction-related jobs during the four-year project schedule. Airport officials estimate that 90 percent of the construction workforce will come from the Southern California region, and nearly 40 percent of the workers will be residents of the City of Los Angeles and other communities near LAX. The Bradley West Project also is expected to provide direct and secondary regional economic benefits, including the need for construction goods and services associated with a large capital improvement project.
Sustainability
The project also will address Los Angeles World Airports' goal for a "greener" LAX. In accordance with LAWA's Sustainable Design and Construction Guidelines released in 2007, LAWA's construction projects must optimize the use of recycled building materials, minimize the amount of energy used in construction, and optimize energy efficiency. The architecture and construction of the new facilities are designed to achieve a LEED (Leadership in Energy and Environmental Design) Silver certification from the U.S. Green Building Council.
In addition, as part of the program's environmental requirements and the project-level
Environmental Impact Report, prepared in accordance with Los Angeles City and California state regulations and in consultation with community stakeholders, the construction project will incorporate practices developed to minimize adverse environmental impacts on the surrounding areas, including, but not limited to: designating specific routes construction vehicles must use when traveling to/from the site; recycling construction materials and demolition debris; reducing the number of trips by placing concrete mixers and other equipment on-site; retrofitting construction equipment with emission- and noise-reduction devices; and controlling dust.
Other LAX Modernization Efforts
The first element of the LAX Master Plan, the South Airfield Improvement Program, was completed in 2007. The one-year, $333-million project reconfigured the airport's south runway complex to improve airfield safety.
Unrelated to the LAX Master Plan, LAWA has also made significant passenger safety improvements inside the terminals. LAWA recently completed the first phase of installation of in-line baggage screening with enhanced automated technology to inspect each checked bag behind-the-scene. In December 2009, LAWA and the Transportation Security Administration of the U.S. Department of Homeland Security secured $150 million in federal funds to complete the in-line baggage screening system in several terminals, which will make travel through LAX safer and faster.
Aviation Activity
Los Angeles International Airport, the sixth busiest airport in the world, offers more than 565 daily flights to 81 destinations in the U.S. and over 1,000 weekly nonstop flights to 65 international destinations.
The Tom Bradley International Terminal is LAX's primary facility serving international travelers, with nearly 30 airlines operating in the terminal today. Last year, the airlines at the Bradley Terminal served over 8.6 million international travelers, or 57 percent of LAX's overall 15.1 million international passenger volume. Total number of passengers at LAX last year was more than 56.5 million. Since its opening in 1984, hundreds of millions of international travelers have passed through the Bradley Terminal.
By 2012, LAX is expected to serve more Airbus A380 flights than any other airport in North America. According to a 2007 study completed by the Los Angeles Economic Development Corporation (LAEDC), LAX serves a vital role relative to trade and tourism and the associated employment and economic benefits. LAX flights in 2006 created 363,700 direct and indirect jobs with annual wages of $19.3 billion in Los Angeles, Orange, Riverside, San Bernardino, San Diego and Ventura counties. The LAEDC study also found that one average transoceanic flight traveling round-trip from LAX every day added $623 million in economic output annually and sustained 3,120 direct and indirect jobs in Southern California with $256 million in annual wages.
LAX Bradley West Project – Project Team
Roger Johnson, LAWA Deputy Executive Director for LAX Development, is leading and managing the design and construction of Bradley West.
Fentress Architects, an internationally recognized firm that designed Incheon International Airport in Seoul, South Korea, and the iconic Denver International Airport in Colorado, is providing design services.
Construction is being performed by Walsh Austin Joint Venture, Los Angeles, which is comprised of Walsh Construction Company and Austin Commercial. Both are long-established construction firms that have performed major public works projects at other U.S. airports, including Chicago-O'Hare, Atlanta-Hartsfield, Dallas-Fort Worth, Sacramento, and Raleigh-Durham international airports.
About Los Angeles World Airports
Los Angeles World Airports (LAWA) is a quasi-independent city agency led by Executive Director Gina Marie Lindsey and overseen by the seven-member Los Angeles Board of Airport Commissioners. Commissioners are appointed by Mayor Villaraigosa and confirmed by the Los Angeles City Council.
LAWA owns and operates LAX, LA/Ontario International (ONT) and Van Nuys (VNY) general aviation airports.
About Fentress Architects
Fentress Architects is headquartered in Denver, Colorado, and maintains offices in San Jose, CA; Los Angeles, CA; and Washington D.C.
LAX Bradley West Project information from Fentress Architects
Los Angeles International Airport LAX



Moment Factory
Location: LAX Bradley West, Los Angeles, Southern California, United States of America
Los Angeles Buildings
Contemporary Los Angeles Architecture
L.A. Architecture Designs – chronological list
Los Angeles Architecture Tours – architectural walks by e-architect
Los Angeles Architecture Designs – Selection
Beverly Center Renewal – The Mall of the Stars, 8500 Beverly Boulevard, edge of Beverly Hills and West Hollywood, L.A.
Design: Massimiliano and Doriana Fuksas, Architects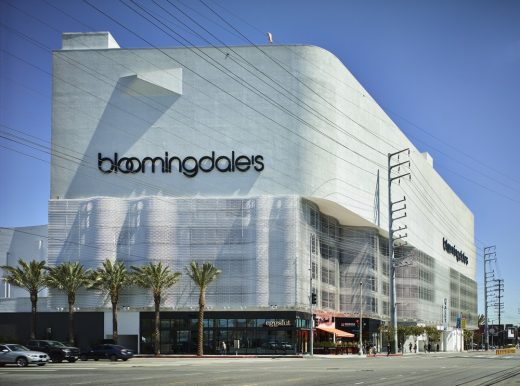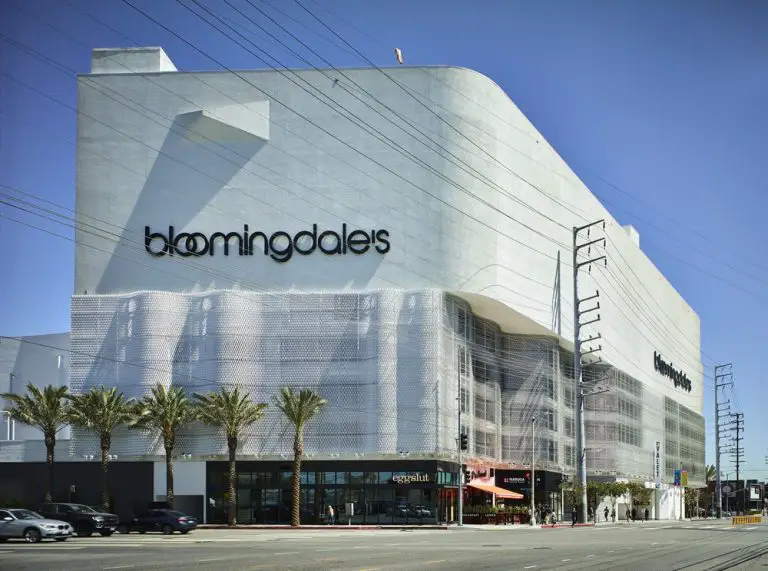 photo © John Linden
Beverly Center Building Renovation
The Getty Center, 1200 Getty Center Drive
Richard Meier & Partners with Robert Irwin; Emmet L. Wemple & Associates; Thierry W. Despont
Getty Center Building
Comments / photos for the LAX Bradley West Project Los Angeles Architecture page welcome
Website: www.lawa.org/lax/