Liverpool Waters Development Designs, PEEL Waterfront Property News, Images
Liverpool Waters Development
Visuals of Waterfront Masterplan for Peel Holdings, Merseyside, Northwest England, UK
31 Jul 2018
Liverpool Waters District Heat Network
Peel Energy announces plans to install district energy at Liverpool Waters Development
Peel Energy, the low carbon energy arm of Peel Land and Property, has announced plans to develop a district heat network at its ambitious Liverpool Waters development, under the name of Mersey Heat.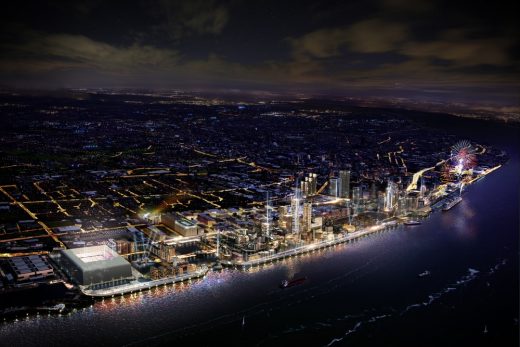 The first phase of the network is centred on existing buildings around Princes Dock along with planned new developments along the waterfront. The heat network will deliver low carbon hot water for the use of space heating and hot water provision within the buildings.
Peel Energy will operate the network through an energy services company called Mersey Heat, which will be responsible for system design, construction of the generation plant and operation of the network, providing low cost, low carbon reliable heat to the building owners and occupiers.
Development at Liverpool Waters will enjoy the benefits of a low cost, reliable heating and hot water solution for the buildings by connecting to the network, which will also have long-term cost benefits for occupiers.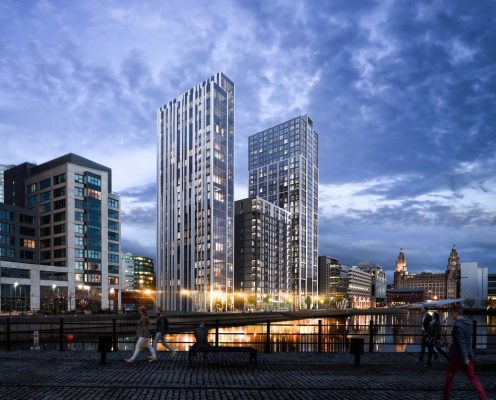 image from developer
Muir Miller, Managing Director of Peel Energy, which also developed the wind turbines at Port of Liverpool said; "Our colleagues and their development partners are producing a first-rate product at Liverpool Waters and it deserves a 21st century heating system to match. We believe that Mersey Heat can make a significant positive impact on the low carbon credentials of the project and provide cost benefits to developers and occupiers as well. We are very excited at the prospect of deploying the first phase of the network and seeing how far it can grow."
Peel's Development Director for Liverpool Waters, Darran Lawless said: "Liverpool Waters includes the regeneration of 60 hectares of former dockland to create a high quality, mixed use waterfront development which will bring huge commercial and retail opportunity as well as over 9,000 new homes. The fact we can offer low cost, low carbon heat to a development on this scale is a fantastic step forward in us delivering a sustainable community where people can live, work and play."
This will be Peel's second district heat project after the successful installation at MediaCityUK in Salford which has been in operation since 2009 supplying such blue-chip customers as the BBC and University of Salford as part of the world's first BREEAM approved sustainable community.
4 May 2018
Liverpool Waters Development Designs
New Visuals of Liverpool Waters Waterfront Development
The first look at Liverpool Waters' vision for the future.
11 new images of the £5 billion project located on Liverpool's Waterfront.
FIRST LOOK AT LIVERPOOL WATERS' VISION FOR THE FUTURE
New visuals for the £5 billion Liverpool Waters project, which will transform Liverpool's Waterfront, have been released to show how the 60-hectare development will look once completed.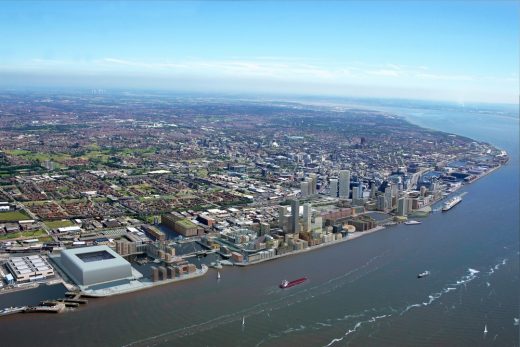 The new CGI's bring to life Liverpool Waters' vision to completely restore the city's northern docks, regenerating the 2 million sqm site to create a world-class, mixed-use waterfront quarter in Liverpool.
Within this vision are five unique and dynamic neighbourhoods, running from the edge of the already established Princes Dock, nearly 2km north along the waterfront until it reaches Bramley Moore Dock, the proposed site for the new Everton football stadium.
Cultural Island: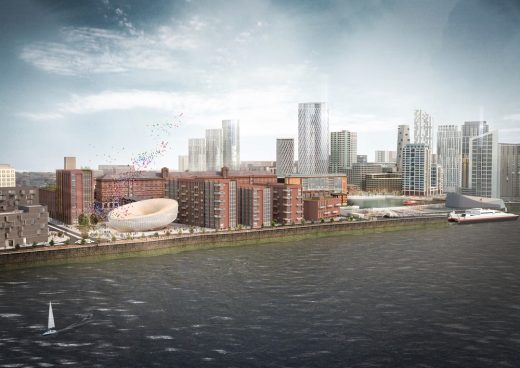 As well as aerial views of the entire project, the CGI's also offer a glimpse of some of Central Dock's most impressive features, including Clarence Square, Central Park and a new cultural hub. The 185,860 sqm neighbourhood will also be home to family housing with private gardens as well as residential and office buildings that will offer views of Central Park and the River Mersey.
Plan layout: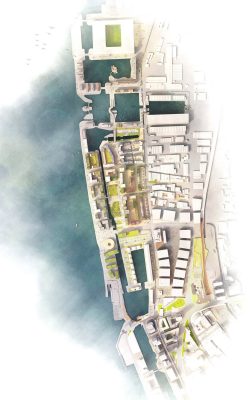 These CGI's have been created to accompany a refreshed masterplan for the project which encompasses all five unique neighbourhoods. The masterplan has been updated to maximise the project's potential and ensure it is future-proofed for generations to come.
River Mersey walk: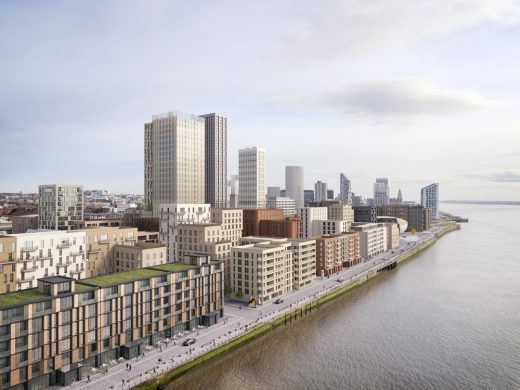 One of the biggest changes in the plan is the relocation of Central Park, with the intention to move it closer to the River Mersey. Covering almost two hectares, Central Park will be one of the many jewels in Liverpool Waters' crown and will perfectly encapsulate the distinctive mix of culture and community to be found at the Central Dock neighbourhood.
Stadium South: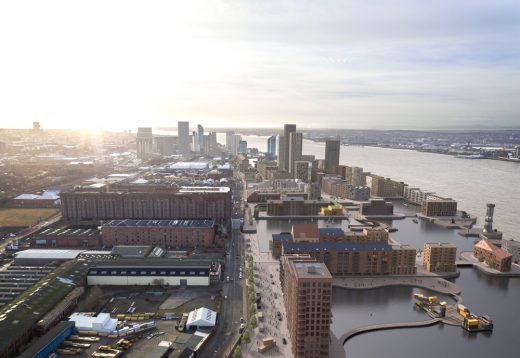 Other changes in the plan include a re-imagined Clarence Square at Central Dock, which is set to be one of the most distinctive and interesting public spaces on Liverpool's waterfront. The masterplan also showcases many changes to the layout of various pedestrian areas to prioritise pedestrians and cyclists and ensure that views of the River Mersey are maximised and highlighted where possible.
Northern Docks: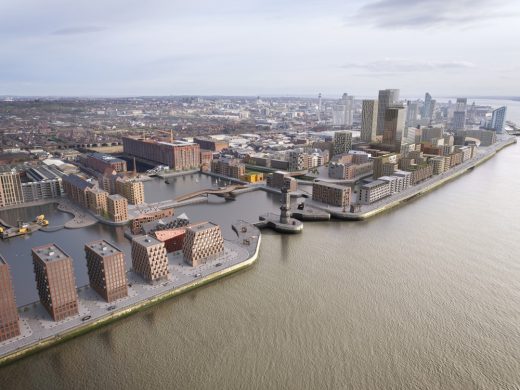 Managed by Peel Land and Property (Ports) Limited, this year Liverpool Waters has already moved forward with a number of developments including breaking ground on the sixteen-storey residential tower Plaza 1821, which when finished will house 105 one and two bedroom apartments as well as offering commercial space on the ground floor.
Clarence Square: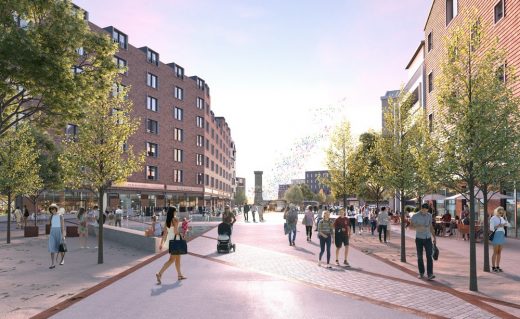 Darran Lawless, development director at Liverpool Waters, said:
"This really is a landmark time for the Liverpool Waters project. Following a decade of meticulous planning, we are now firmly in the delivery phase of this project, and I am excited to see these plans take shape. The aim of the Liverpool Waters project is an ambitious one, but one that will expand the city centre as well as creating jobs and bringing economic benefits to not only North Liverpool, but the region as a whole."
Central Park South: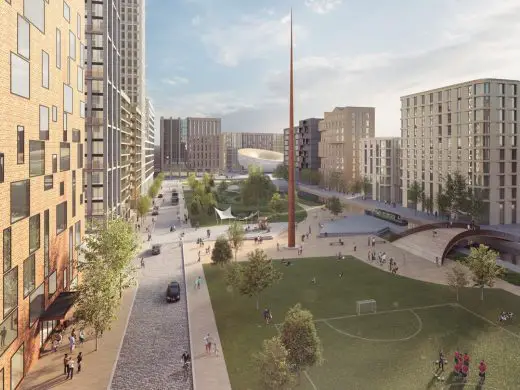 Ian Pollitt, assistant project director at Liverpool Waters, said:
"For over 10 years we have developed this project from an initial idea into the biggest single regeneration project in the history of Liverpool and one of the biggest of its kind anywhere in the world. It's the comprehensive re-imagining and subsequent restoration of this derelict dockland which will reinstate the area back to its former glory. With these new CGI's and our updated masterplan, we are demonstrating that Liverpool Waters will truly be a waterfront to the world."
Dock Wall Mews: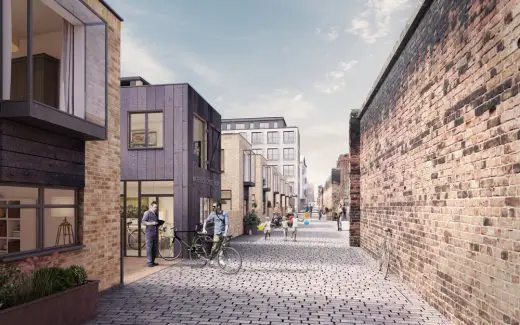 To learn more about the Liverpool Waters Development project led by Peel Land and Property (Ports) Limited, please visit http://www.liverpoolwaters.co.uk.
Dock Wall Mews by dusk: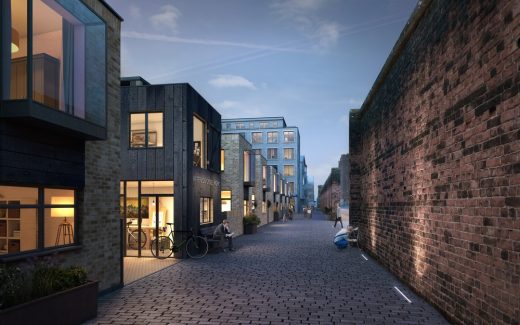 Liverpool Waters
Archive of news for this major waterfront project on the River Mersey:
25 Apr 2018
12 Princes Dock, Liverpool Waters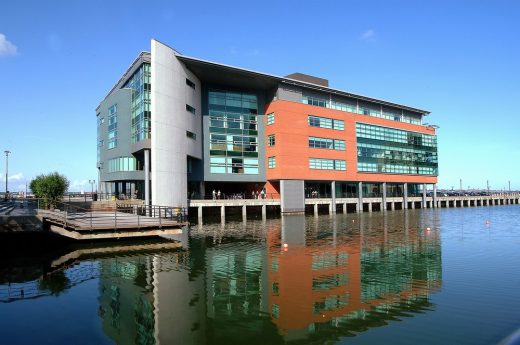 photo courtesy of Liverpool Waters
12 Princes Dock Liverpool Waters
5 Mar 2018
Collingwood Dock at Liverpool Waters
A planning application has been approved for the placement of eight former shipping containers at Collingwood Dock, which will be transformed into a new heritage trail visitor centre highlighting the long and illustrious history of the north Liverpool and Bootle docks.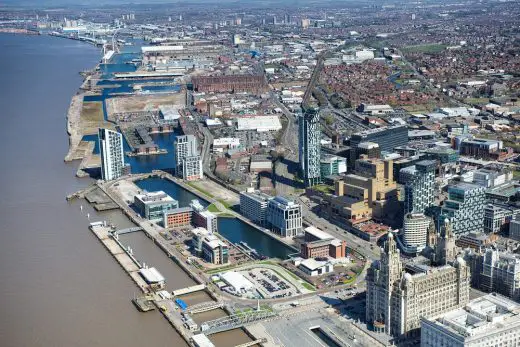 image courtesy of Peel Land and Property (Ports) Limited
8 Aug 2017
Liverpool Waters Development News
Planning Permission Granted for Plaza 1821 and Hive City Docks
Plaza 1821 and Hive City Docks Liverpool Waters Building
Liverpool Waters is set to welcome two new additions as planning permission has been granted for Peel Land and Property's Plaza 1821, being built for the Regenda Group, and Your Housing Group's Hive City Docks.
3 Apr 2017
Liverpool Waters Peel and Regenda Development News
Peel Land and Property and the Regenda Group have submitted exciting plans to develop a £21 million residential tower in the heart of the £5.5 billion Liverpool Waters regeneration scheme.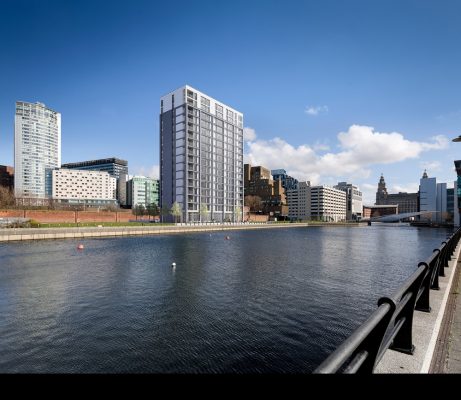 15 Mar 2017
Liverpool Waters Central Docks News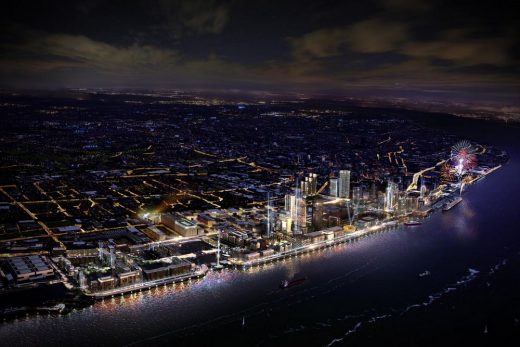 image from architect
Liverpool Waters Central Docks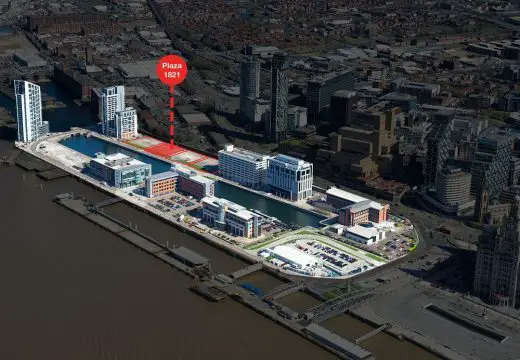 About Peel
The Peel Group is one of the leading infrastructure, real estate and investment enterprises in the UK. Our diverse network of businesses ranges from ports to airports; land to leisure; media to hotels; wind farms to shopping centres, and a portfolio of investments in major public companies. www.peel.co.uk
About Liverpool Waters
With an estimated value of £5 billion, Liverpool Waters is the largest single development opportunity in the city. Covering some 60 hectares and spanning 2.3 km of the city's famous waterfront, Liverpool Waters would see the creation of a new mixed-use city district for Liverpool and bring back to life a swathe of historic dockland, almost half of it within the city's World Heritage Site. www.liverpoolwaters.co.uk
About The Regenda Group
The Regenda Group is a great quality, forward thinking housing business, building, managing and maintaining the homes people need. The Group has around 13,000 properties across the Northwest, employs around 600 people, has assets of over £489 million and a turnover of £62 million. We have built around 500 properties over the last three years and already own and manage a significant portfolio in Liverpool city centre, including Saunders Building, Preston Point, Merchants Terrace and Commutation Plaza. www.regenda.org.uk

Location: Regent Road, Liverpool, Merseyside, north west England, UK
Liverpool Architecture Designs
Merseyside Architecture Designs
Liverpool Architecture Designs – chronological list
Liverpool Architecture Tours by e-architect
Museum of Liverpool



image from architect
Liverpool Arena



photo © webbaviation
Liverpool ONE : various architects
Liverpool Waterfront building : Mann Island
Comments / photos for the Liverpool Waters Development – Masterplan for Peel Holdings page welcome
Website: Liverpool Waters