Liverpool Waterfront, PEEL Land and Property Proposals, Architect, Picture, Design, Plaza 1821 News
Liverpool Waterfront Proposals : Peel Waters
Liverpool Waters: Masterplan for Peel Holdings, England, UK – Plaza 1821 Residential Tower Project
2 May 2017
Liverpool Waters Development
Liverpool Waters Development News
No. 8 Princes Dock at Liverpool Waters has been given a luxurious makeover after a project which saw landlords Peel join forces with Chapman Taylor Architects, furniture consultancy company Form and fit-out contractor Jennor.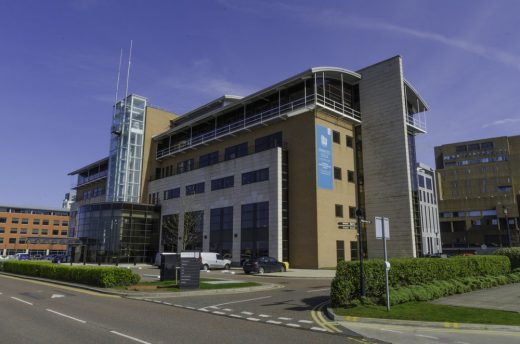 3 Apr 2017
Liverpool Waters Plaza 1821
Liverpool Waters Plaza 1821 News
Peel and Regenda submit plans for iconic waterside development
Peel Land and Property and the Regenda Group have submitted exciting plans to develop a £21 million residential tower in the heart of the £5.5 billion Liverpool Waters regeneration scheme.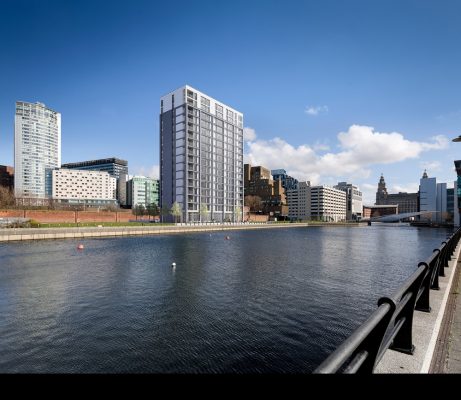 Aptly named after the year Princes Dock first opened, the proposed 'Plaza 1821' is a PRS (Private Rented Sector) scheme and will include high quality, one and two bed apartments, as well as provision for a ground floor retail or amenity offering.
The unique and eye catching development will feature 105 residential apartments many with stunning waterfront views and supports Peel's commitment to driving forward its multi-billion regeneration plans for Liverpool Waters.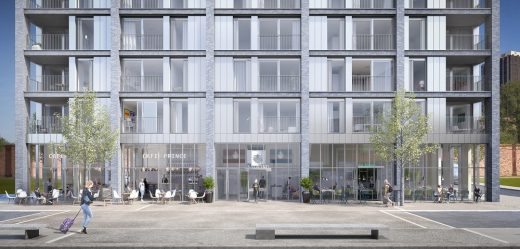 Neil Baumber, Peel Land and Property's Development Director for Residential, said:
"Plaza 1821 is the latest and significant piece in the jigsaw for Peel's vision at Liverpool Waters, as it will bring much needed quality residential apartments to a vibrant waterfront location.
"Liverpool Waters is an important part of our Strategic Waters strategy and is one of the most dynamic regeneration projects in the City's history. The proposals for Plaza 1821 will bring us one step closer to achieving our vision to create a world class destination where people can live, work and play."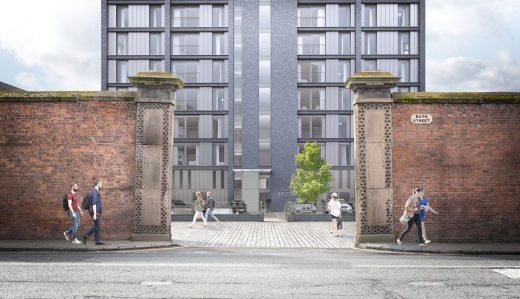 Martin Davies, Director of Development at Regenda, said:
"Plaza 1821 is a landmark project for Regenda. It marks our biggest ever investment – made even more special because it's right here in Liverpool, where we're proudly based. The vision for Liverpool Waters is truly spectacular, something that will further enhance our city region.
"We recognised this unique opportunity to work with Peel to create a distinctive scheme with a 'wow factor' worthy of Liverpool's waterfront."
'Plaza 1821' is one of three waterside residential schemes that will hopefully be under construction this year.
For more information http://www.peelstrategicwaters.co.uk/
15 Mar 2017
Liverpool Waters Central Docks News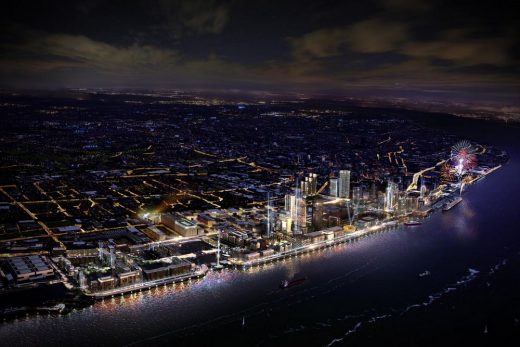 image from architect
Liverpool Waters Central Docks
The first renderings revealed of the incredible new Central Docks neighbourhood at the property industry's premier annual event, MIPIM, in Cannes, as well as releasing eight new plots there for investor development.
11 Jan 2017
Liverpool Waters Residential Tower News
Liverpool Waters Residential Tower for The Regenda Group
Peel and The Regenda Group invest in the PRS market
PEEL Land and Property is to develop a residential tower within Liverpool Waters for The Regenda Group, one of the region's leading housing providers.
At around 85,000 sq ft, the multi-storey apartment block in Princes Dock will be built by Peel as the company's first Private Rented Sector (PRS) development project and bought by Liverpool-based Regenda.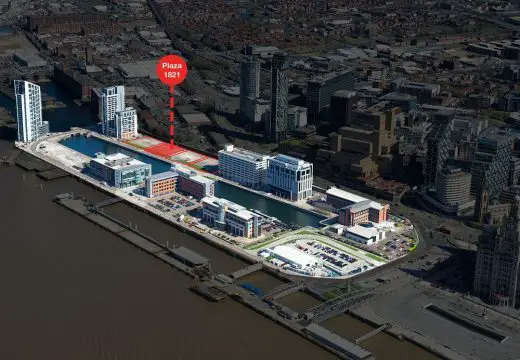 Sited on William Jessop Way, the £21 million development will comprise 105 one and two bed apartments which will be managed by Regenda's subsidiary PRS company, Redwing Living. There will also be commercial space on the ground floor.
It is likely to be called 'Plaza 1821', commemorating Princes Dock's opening on the day of the Prince Regent's coronation as George IV in 1821.
The development forms part of the wider £5 billion redevelopment of Liverpool Waters.
Neil Baumber, Peel Land and Property's development director for residential, said: "This is the first Peel PRS development project where Peel is acting as the developer and it's a model we will use at some of our other sites across the North of England. In Liverpool we are delighted to be working with such a well-regarded housing provider as Regenda.
"This scheme also represents a major milestone in Peel's wider vision to create a stunning waterfront for Liverpool following recent similar announcements. There is now significant momentum behind our plans as investors realise the potential and opportunity which this site offers."
Regenda Group has an annual turnover of £62 million and has built more than 500 properties over the last three years across Liverpool City Region, Greater Manchester, Lancashire and Cheshire.
Martin Davies, director of development at Regenda, said: "This will be Regenda's biggest single property investment and a development that reflects our ambitions for the future.
"It's an exciting and spacious scheme which will be a high quality development in a wonderful setting on the River Mersey. It will be the first of a series of city centre developments and will boost our portfolio of PRS stock, providing high quality homes for rent within the Liverpool Waters development."
Peel and Regenda expect to submit a planning application early this year and begin construction later in the year.
News of the development comes just two months after detailed planning permission was given for a 34-storey tower on an adjacent site and last month's announcement that proposes to build a 30-storey tower, also on William Jessop Way at Princes Dock.
About Peel
The Peel Group is one of the leading infrastructure, real estate and investment enterprises in the UK. Our diverse network of businesses ranges from ports to airports; land to leisure; media to hotels; wind farms to shopping centres, and a portfolio of investments in major public companies. www.peel.co.uk
About Liverpool Waters
With an estimated value of £5 billion, Liverpool Waters is the largest single development opportunity in the city. Covering some 60 hectares and spanning 2.3 km of the city's famous waterfront, Liverpool Waters would see the creation of a new mixed-use city district for Liverpool and bring back to life a swathe of historic dockland, almost half of it within the city's World Heritage Site. www.liverpoolwaters.co.uk
About The Regenda Group
The Regenda Group is a great quality, forward thinking housing business, building, managing and maintaining the homes people need. The Group has around 13,000 properties across the Northwest, employs around 600 people, has assets of over £489 million and a turnover of £62 million. We have built around 500 properties over the last three years and already own and manage a significant portfolio in Liverpool city centre, including Saunders Building, Preston Point, Merchants Terrace and Commutation Plaza. www.regenda.org.uk
7 Mar 2012
Liverpool Waters News
Liverpool Waters Submission Approved
Developers face a wait until June 2012 to find out whether the government will call a public inquiry into a £5.5bn skyscraper scheme for Liverpool's northern docklands.
The city council planning committee unanimously approved the Liverpool Waters plan by Peel Holdings for the 150-acre site.

However, the planning application must now be sent to communities secretary Eric Pickles MP, due to its size and concerns over its impact on the World Heritage Site
UNESCO, which oversees World Heritage Sites, believes the massive scheme would damage the city's waterfront "beyond repair", echoing concersn expressed in St Petersburg, Russia, re the Gazprom Tower by RMJM. UNESCO also consider the proposed towers would relegate the famous Three Graces to playing "second violin".
Eric Pickles has to decide whether to call a public inquiry in the face of a threat from Peel Holdings that they would abandon the development and instead concentrate exclusively on its similar Wirral Waters project in Birkenhead, which was given planning permission and did not face a public inquiry.
24 Feb 2012
Liverpool Waters Objection
English Heritage lodges formal objection to Liverpool Waters
English Heritage have lodged a formal complaint at the proposed Liverpool Waters development of over 30 million square feet.
The complaint principally comes from English Heritage's belief that if the project is to proceed the city could lose its World Heritage Status.

UNESCO, who control World Heritage Status, found in their report in November 2011 that, were the plans to go through without modification, Liverpool's waterfront would be "irreversibly damaged."
At no point were UNESCO more specific about the loss of Liverpool's status, though it was hinted at indirectly.
Talks between Peel Holdings (the developer), Liverpool City Council and English Heritage have been ongoing for four years.
English Heritage have stated they wish the Liverpool Waters project to proceed, but that it should better reflect the heritage of the city, as they believe the change from the largely horizontal dock buildings to the proposed vertical skyscrapers is just too dramatic.
29 Nov 2011
Liverpool Waters
UNESCO Concerned Over Liverpool Waters Development
UNESCO demands radical changes to Liverpool Waters scheme or or city may lose World Heritage Site.

Liverpool will lose its World Heritage Site status if the £5.5bn Liverpool Waters skyscraper plan goes ahead without "radical" changes, UNESCO inspectors have warned.
Last week's three-day UNESCO inspection "could not have gone any worse", according to the Liverpool Daily Post. The inspectors, led by Ron van Oers, had left the city with "100%" clear guidance that, unless Peel's Liverpool Waters project is radically changed, they will recommend the city be stripped of the World Heritage accolade.
At one point during the visit Ron van Oers was so angered by the plans, he stormed: "This goes too far".
It is understood initial steps would see the inspectors issuing a recommendation to the World Heritage Committee that Liverpool be put on the list of World Heritage in Danger.
The UNESCO report is due to be issued to the city in January with a UNESCO vote in June 2012.
1 Dec 2010
Wirral Waters
Wirral Waters development in Birkenhead is to avoid a public inquiry, which may have caused a two-year delay. Wirral Waters is one half of Peel Waters – two complimentary waterside projects either side of the River Mersey. Peel claim it is the "largest and most visionary regeneration project in the UK". UK Secretary of State Eric Pickles decided not to call the development in on 30 Nov 2010.
4 Oct 2010
Liverpool Waters Planning Application
Peel Submit Planning Application for Liverpool Waters
Peel have today submitted the largest planning application in the UK named Liverpool Waters, a redevelopment of part of Liverpool Docks comprising over 14 million square feet of mixed use floor space on 150 acres, an investment of £5.5 Billion.

Liverpool Waters proposes the regeneration of former and currently disused dockland in North Liverpool to create a city central world-class, high-quality and mixed use waterfront quarter.
Liverpool Waters is the sister scheme of Wirral Waters located on the opposite side of the River Mersey which combined are known locally as the "Peel Waters" project forming a magnificent visual gateway to the Northwest. Peel Waters is the largest and most ambitious regeneration project of its kind anywhere in the UK at over 30 million square feet. It represents an overall investment of £10 Billion and will transform the economic fortunes of the Northwest, creating tens of thousands of jobs spanning some 30 years.

Lindsey Ashworth, Development Director at Peel said; "It is a fantastic and almost unbelievable achievement to get a scheme of this scale and nature to a point where a planning application can be submitted. With the amount of people involved in the process I have to say that it's been very difficult to get a general consensus of agreement but we have managed this because all the stakeholders are proud of Liverpool and want this project to be delivered and therefore have made massive efforts to get it to this stage. I really do appreciate everybody's efforts, motivation and willingness to explore innovative ways of finding solutions where no precedents exist. It has been a very costly exercise and there is much more to be done, but Peel believes that Liverpool can be a greater City and that Liverpool Waters will be a major part of its future and that it will all be worth the effort in the end".
This planning application follows the submission and subsequent approval in August this year by Wirral Council of the East Float part of the Wirral Waters scheme, the regeneration of Birkenhead Docks. That occasion marked a historical "shaking hands across the water" by the Leader of Liverpool City Council Joe Anderson and Leader of Wirral Council Jeff Green, giving both schemes their mutual seal of support and approval. Of course the sheer scale of Wirral Waters has meant that the final decision to approve is for the Secretary of State and a decision is being awaited as to whether he should agree with the recommendation of Wirral Council or subject it to the delay of a public inquiry.

Liverpool Waters will be a spectacular mix of buildings for all uses including offices, over 9000 new homes, a cultural building and a new cruise terminal as well as supporting uses such as local shops and restaurants. The scheme will also include the 55 storey Shanghai Tower which A Division of will be the tallest UK building outside London. The development works in harmony with the waterfront throughout, making use of this natural element and bringing the docks back to life.
Global Infrastructure Consultancy WYG has been leading the planning application under the direction of the Peel Group. Paul Grover, Regional Director from WYG said: "As an awardwinning consultancy, we have a track record of proving expert services on projects all over the world. The submission of the outline application for Liverpool Waters marks a significant step in securing the economic future of the city. We have been leading the planning process since the scheme's inception in 2007 and have experienced overwhelming positive support for the scheme, making us proud to be associated with this transformational project."
Peel's vision for Liverpool Waters, supported by the continuously improving Liverpool John Lennon Airport and Liverpool Port, is to create a new international business destination that will attract investment from around the world and become the satellite location to service not just the UK but the whole of Europe. It will be an extension of the already well-established commercial core of Liverpool City. Liverpool Waters will be a series of mixed use neighbourhoods all with different characters and exciting building designs and blends of materials so that those who live, work or just visit the area will enjoy different experiences as they move around.
Mark Chadwick, Chief Executive of Professional Liverpool commented; "Professional Liverpool have been a strong supporter of Peel's overall vision for Liverpool for some time. The expansion of Liverpool John Lennon Airport and improvements to the Port naturally leads on to redevelopment of the city centre along the waterfront. Liverpool Waters offers Liverpool and the region the opportunity to improve its image and enhance its emerging international status as a leading UK business investment location and we therefore fully support the Liverpool Waters project to help all our common goals."
The Liverpool Waters scheme is the result of conscientious work with Liverpool City Council, English Heritage, CABE and the local community plus a range of partners and stakeholders over the last three years. Owing to the nature of the Liverpool Waters site, which in part occupies Liverpool's World Heritage Site, particular attention and time has been spent perfecting aspects of the scheme to make sure that the historical features are conserved and restored, are in a more appropriate setting and that these parts of the site retain the essential elements of their original dockland landscape. An example of this is the reopening of the historic Stanley Dock Bascule Bridge and road in August which Peel spent several months restoring and repairing.
Councillor Joe Anderson, Leader of Liverpool City Council, said; "Liverpool Waters is a hugely ambitious and exciting scheme which has the potential to bring about the transformation of an area which has been in need of regeneration for decades. The scale of the project is breathtaking and it will benefit generations to come. We, along with other agencies, have worked with Peel to help shape this scheme but we do recognise that there are great sensitivities attached to it and there will be full consultation before a decision is made as part of the normal planning procedure to ensure the best possible outcome for the city."

A Division of Ian Pollitt Project Manager of Liverpool Waters commented; "Having worked very closely with Liverpool City Council, English Heritage, CABE, Government Office Northwest, The Mersey Partnership and Liverpool Vision over the past 4 years on this exciting project, it is credit to all involved that we have now submitted the outline planning application for Liverpool Waters. This is a fantastic opportunity for Liverpool and the City Region and we look forward to continuing such a positive working relationship with the City Council and the other agencies over the coming years".
It is Peel's belief that Liverpool Docks have huge potential in so many ways and Liverpool Waters together with Wirral Waters will completely transform the way the western end of the Northwest goes about its business. A holistic approach with private and public sector working together will help to redress the imbalance of the region and create what could be described as a new super region that will further strengthen the Northwest as a destination for international business and as a place to live.
On this note Peel have been helping to promote the Northwest and the Peel Waters projects in Shanghai since May through their Lead Sponsorship of the Liverpool pavilion and will be sending a delegation to Shanghai to coincide with the World Expo 'Liverpool Day' on 16 October. By creating their own partnerships Peel hope to further strengthen Liverpool's ties with Shanghai, opening up the Northwest to many more opportunities be they education, business or tourism.

Mike Taylor, Deputy CEO of Liverpool Vision remarked; "This is great news for Liverpool and Peel Holdings. Undoubtedly one of the most significant, impressive and attractive investment opportunities being promoted at World Expo in Shanghai is Liverpool Waters. The scale and potential of what will be the UK's largest regeneration scheme is of huge interest to potential investors at home and overseas and with Peel and Liverpool City Council united behind a shared vision and ambition for the City a successful planning application will ensure economic growth and the creation of jobs on a massive scale".
Liverpool Waterfront from Peel Holdings
Peel Land & Property comprises a UK property investment and land portfolio of 836,000 sq m (9 million sq.ft) of investment property and over 11,000 hectares (25,000 acres) of land as well as overseas investments in Bermuda, the Bahamas and Spain.
With a track record for quality and regeneration, high-profile developments encompass The Trafford Centre, MediaCityUK, Gloucester Quays and the visionary Liverpool and Wirral Waters £10 billion regeneration schemes.
A Division of Peel Land & Property is a division of The Peel Group which is a leading infrastructure, transport and real estate investment company in the U.K with assets owned and under management approaching £6 billion.
www.peel.co.uk
www.liverpoolwaters.co.uk
2007-
Chapman Taylor Architects
Masterplan for Peel Holdings

Liverpool Waters Masterplan – information from Chapman Taylor Architects:
The masterplanning of some 62ha of redundant docks, historically the lifeblood of the city which became in its prime the UK's second city. Our challenge is to create a mixed-use development that will transform these docks into a new commercial core whilst respecting the heritage and uniqueness of the site. The docks must become a natural extension of the city centre whilst remaining an integral part of their immediate surroundings.
Cost: £5.5bn approx.
Series of towers forming a new Liverpool waterfront north along the Mersey from Princes Dock. Issues include Liverpool World Heritage Site (which scuppered Ian Simpson's tower proposal) and the European City of Culture title
Liverpool Waters designer : Chapman Taylor Architects
Location: Regent Road, Liverpool, Merseyside, north west England, UK
Liverpool Architecture Designs
Merseyside Architecture Designs
Liverpool Architecture Designs – chronological list
Liverpool Architecture Tours by e-architect
Liverpool Buildings – Selection
Museum of Liverpool



image from architect
Liverpool Arena



photo © webbaviation
Liverpool ONE : various architects
Liverpool arts building : Bluecoat Arts centre
Liverpool Waterfront building : Mann Island
Comments / photos for the Liverpool Waterfront Development – Liverpool Waters Masterplan for Peel Holdings page welcome
Website: Liverpool Waters