Las Vegas casino building design, Nevada gambling venues, Sin City USA architecture
Architectural Virtues To Las Vegas
Sep 26, 2019
Can You Bring Around Architectural Virtues To Las Vegas?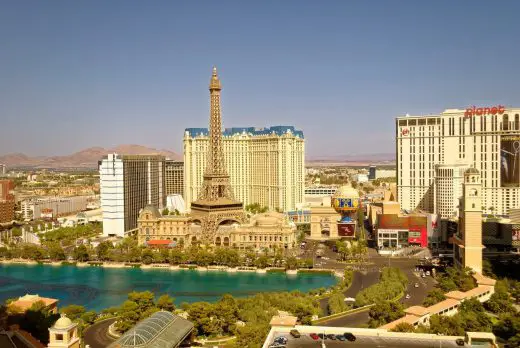 Las Vegas Architectural Virtues – Sin City Buildings
Las Vegas has undoubtedly gained an exclusive reputation for extreme debauchery levels-no wonder it is nicknamed as Sin City. However, beyond the numerous and varied forms of entertainment, it is a city brimming with notable fine art and impressive design. And it's not just about the complexity of the stunning Bellagio Fountains or the impressive Eifel Tower replica.
Owing to the recent monumental transformation which ideally caters to the otherwise well-heeled individuals, Vegas has so much to behold now more than ever.
In particular, Las Vegas is undeniably a dream destination for anyone who genuinely delights in gambling. In essence, this is the place where it all happens!  Take your pick from the shining bright lights, casino grandeur, and unmatched entertainment; it is astonishing.
Typically, no funds have been spared. Gambling as an industry is worth a fortune…and guess who has the most significant share of all the action?  If you are planning to take your adventure to this remarkable city, here are some of the most impressive spots in Las Vegas worth checking out…
The Strip: A gambler's dream spot
Spanning well over 2 miles and encompassing the famous Paradise and Winchester towns, the Strip is the prominent place where the magic happens. Despite not actually being in Las Vegas, this establishment is considered so. The buzz is incessant such that even when you opt to find a city guide or a casino guide, there is 24/7 availability.
The Strip is home to some of the finest and largest casinos and hotel resorts around the globe. Virtually every inch of this establishment comprises casinos, hotels, not to mention entertainment attractions. It features a contemporary architectural design that is replicated in each building.
Besides the numerous provisions Las Vegas offers beyond opulence and stylish amenities and breathtaking experiences, the Strip is also home to an abundance of casinos well beyond the Grand Canyon limits. Numerous new gaming options are available here, including virtual sports betting, eSport betting, not to mention skill-based gambling devices.
With Sports' betting being legal and quite widespread within the Strip, it is no surprise that there are over 120 sportsbooks betting shops here alone. What's more, with various, renowned casinos such as Bellagio boasting sportsbooks; you do not need to visit a physical casino to enjoy gambling.
They offer online apps that allow you to place your bets from your Smartphone. In fact, as per a post published in mobilebet, all you need is to install your favorite betting app, have an online account, and your luck to enjoy the Las Vegas tradition. As earlier mentioned, the Strip never disappoints.
The Bellagio
If you have never been to Las Vegas and you want a first-hand experience of the famed Vegas experience, then you should check out the Bellagio.  Besides being in a fantastic location, this hotel building is home to fabulous restaurants offering spectacular views, ideally connects you to shopping options, and is at the heart of the Vegas Strip.
Typically, there is a unique reason why the Bellagio is among the most Instagrammed spots in Las Vegas.  In essence, the Bellagio is acknowledged as the blueprint for super-resorts in Las Vegas.  While there were other themed hotels such as Mirage and Luxor, the nearly two-decade-old establishment is still a great symbol of absolute luxury.
This architectural masterpiece is a stunning embodiment of opulence, all while offering you a stunning garden party aura of comfort and tranquility.
Besides the stunning architecture and inspiring appeal, the Bellagio is also home to the famous Fountains of Bellagio, a magnificent show of gracefully interwoven music, light, and water purposed to romance and also mesmerize your senses. And lucky enough, you don't have to pay a dime to enjoy this exquisite scenery and experience.
Aria Hotel
Pelli's Aria Hotel, which is bordered by the Viñoly's Vdara Spa and Hotel and the Mandarin Oriental hotel, is an immense and iconic establishment in Las Vegas. It features a series of elegantly curving slabs whose distinct forms are situated to play off against one another gently, and that appears to embrace the site's center in a unique manner that reminiscent an amphitheater setting.
The Aria is an imposing, detailed building featuring stylish grillwork which lends texture as well as afford some desert sun deflection not to mention facades zigzagging in a fantastic sawtooth composition. What's more, boasting well over 4000 rooms, this building has a unique internal layout which is as mysterious as most of the mega-hotels in the city.
Summary
Whether you are here for business or pleasure (the latter mostly), Las Vegas, the Sin City, boasts an abundance of design-worthy spots where you can unwind, dine, try out your luck (gamble) as well as socialize.
Location: Las Vegas, Nevada, USA
New Las Vegas Architecture
Contemporary Las Vegas Architectural Selection
Las Vegas Building Developments – chronological list
Vdara Hotel Las Vegas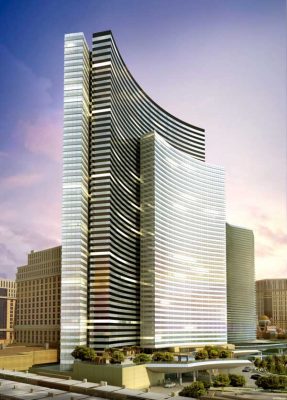 image : CityCenter Land, LLC
Las Vegas building development
Monte Carlo Buildings
Hôtel de Paris Monte Carlo Reopening
The Pavilions Monte Carlo, Monaco Luxury Stores
Comments / photos for the Can You Bring Around Architectural Virtues To Las Vegas? page welcome