No To Violence Shelter for Battered Women, Ramat HaSharon Architecture, Israeli Building Images
Shelter for Battered Women
Ramat HaSharon Building Development in Israel for No To Violence – design by Amos Goldreich Architecture
9 Feb 2020
Shelter for Battered Women in Ramat HaSharon
Location: Ramat HaSharon, Israel – on Israel's central coastal strip in the south of the Sharon region, bordering Tel Aviv to the south
Design: Amos Goldreich Architecture in collaboration with Jacobs-Yaniv Architects
This Shelter for Battered Women in Israel, a collaboration between Amos Goldreich Architecture, London, and Jacobs-Yaniv Architects in Ramat HaSharon, Israel, has been commissioned by the Israeli charity No To Violence, headed up by the distinguished human rights champion Ruth Rasnic.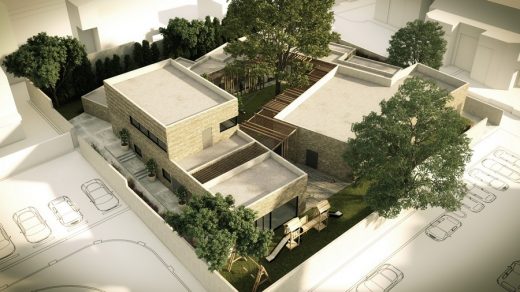 This is the No To Violence charity's first purpose-built shelter, as well as accommodating its administrative headquarters, and has been designed to house families from diverse ethnic and geographical backgrounds, including Arab, Israeli, Ethiopian, Russian and Ukrainian women and children.
The site for the shelter measures 1600 square metres and is located within a quiet residential neighbourhood and surrounded by a mix of private residential houses and blocks of flats. The brief specified a location within reach of local community resources, i.e. stores, jobs, health clinics, schools, parks and other green spaces, counselling centres and recreational facilities.
Ruth Rasnic, an Israeli social and political activist, is an acclaimed pioneer in the struggle against domestic violence in Israel, as well as a writer and a translator. She was awarded the Israel Prize in 2009 for her life's work.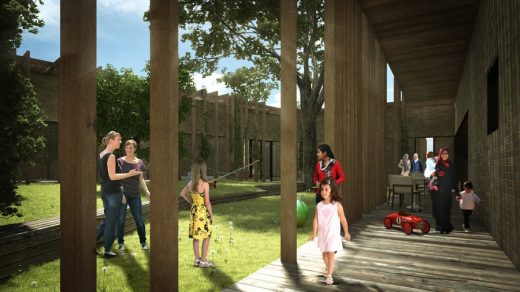 The new shelter will occupy land gifted to the charity by the local municpality. The facility can accommodate up to twelve families, all of whom require individual privacy, yet need to coexist with each other and with the staff who look after them. Each family has on average three children, so the design of the building is predicated on a floating population of more than 24 children at any one time.
The existing shelter is currently housed in a makeshift building, not fit for purpose. Overcrowded, with too many stairs and blind areas, it has compromised the safety of the children staying there. The new brief called for a totally secure, sheltered building – creating a sense of a home, a peaceful haven. Amos Goldreich, with co-architects Tamar Jacobs and Oshri Yaniv, have together devised a building with two facades: the secure and protective external façade, and the inner façade giving onto the central garden which is the therapeutic "heart" of the shelter.
"The shelter will provide a much-needed refuge for abused women –they arrive in a state of real distress, these people have deep psychological problems, as do their children, so the shelter must provide them with a tangible sense of calm and security.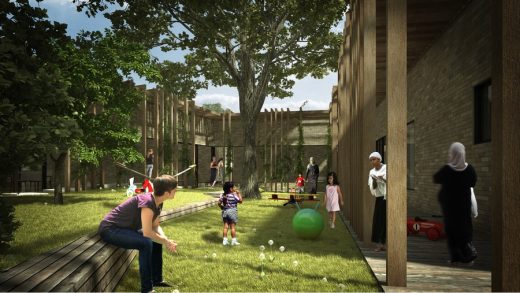 The architects have created a miracle, really, a place where people of disparate backgrounds can come to terms with their individual trauma, where we can help rebuild their lives, give guidance and support during a key period of transition. And we have many success stories.
No To Violence has currently 3 shelters across Israel – some of the women sheltered have gone on to do remarkable things with their lives. For instance, Rikki Mullo, a marvellous girl from Ethiopia, who came to the charity back in 1978, is now head of the Ethiopian community in New York, an enormously vibrant and important figure who is doing great things for her community.
This is just one example of the work achieved by No To Violence. And this new shelter will make a huge contribution to the ongoing work of our charity."
– Ruth Rasnic, Founder, No To Violence Against Women
The shelter will house a diverse range of functions – communal areas, a kindergarten, a computer room, laundry facilities, kitchens and a refectory, as well as independent living quarters for each family, staff accommodation, office areas for the shelter's manager and staff (including social workers, a child psychologist, housemothers, a child care worker, and a part-time lawyer).
There are additional professional workers: psychotherapist, drama or arts therapists, biblio- therapy, animal fondling, mother & child training, etc, as well as volunteers such as cosmeticians, hairdressers, reflexology and martial arts practitioners, and others helping children with their studies and computer skills.
The garden is filled with natural light, with plants and shaded areas creating a feeling of refuge, yet also of openness and variation. This green courtyard plays a crucial role as a meeting place for the residents. It also serves a functional purpose, providing optimum visual connections between the house mother and the families, as well as between the women and their children. It is surrounded by an internal corridor (or 'street') which connects the inside and outdoor spaces and creates a free-flowing space in which women and children can interact, while at the same time enabling mutual sight lines between them and the staff.
The building, designed as a small village, accommodates a variety of functions. On arrival, each new family is given a small 'house' that is part of the larger building. In order to allow the families to conduct a normal daily routine in the shelter, it was important to separate the 'houses' from communal functions. The internal corridor ('street') connects the 'houses' to the various facilities in the building, such as the dining hall and nursery. The nursery is physically separated from the larger building, which allows it to function as an ordinary nursery would, with an independent daily routine.
The palette of materials for the shelter will be sustainable and durable, with special attention paid to the landscaping scheme, donated by the USA based landscape architect Eran Schlesinger designed to feature indigenous planting and include a designated herb garden for use by kitchen staff.
The building's environmental strategy will be highly sustainable – building materials will be locally sourced, key areas will be naturally ventilated and mechanical ventilation systems will be highly energy efficient. The shelter will also use solar panels to heat all water. "It was vital to ensure that while respecting the need for privacy, staff should also have clear sightlines overseeing all communal areas" comments Amos Goldreich. "The needs of the building's users are inevitably complex – this will be a challenging but immensely rewarding project."
Amos Goldreich has a very personal connection with this project, which will be named in memory of both his mother and grandmother, Tamar and Ada de Shalit.
"It was vital to ensure that while respecting the need for privacy, staff should also have clear sightlines overseeing all communal areas. The needs of the building's users are inevitably complex – this will be a challenging but immensely rewarding project."
– Amos Goldreich, Director, Amos Goldreich Architecture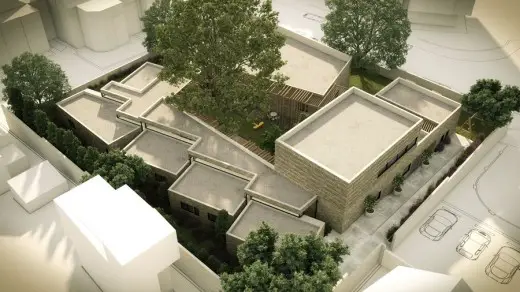 Shelter for Battered Women images / information on 120815
Location: Ramat HaSharon, Israel, Middle East
Location: Israel, Middle East
Israel Architecture Designs
Contemporary Israel Architectural Selection
Jerusalem Architecture Walking Tours
Contemporary Israeli Buildings Selection
Samson Assuta Ashdod University Hospital, Ashdod
Design: Davide Macullo Architects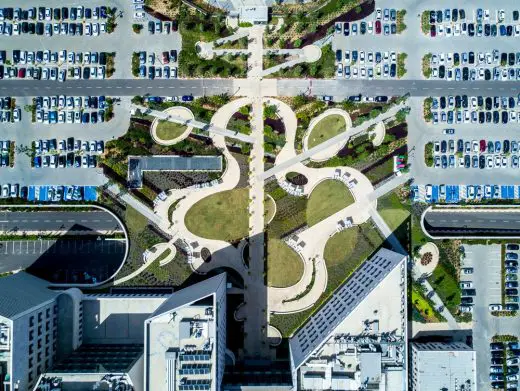 photographer Architecture: Itay Sikolski
Samson Assuta Ashdod University Hospital in Israel
Academy of Advanced Studies in Jerusalem
Design: Chyutin Architects Ltd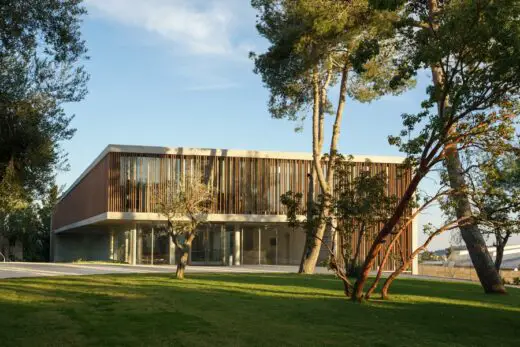 photo from architects office
Academy of Advanced Studies in Jerusalem
Comments / photos for the Shelter for Battered Women – 23 Nachmani Street Building page welcome
Website: Amos Goldreich Architecture
Website:- http://www.jacobs-yaniv.com