Taurian World School, Ranchi Building, Indian Education, Architect
Taurian World School Building
New Ranchi School: Education Architecture in India – design by Archohm, Architects
3 Dec 2012
Taurian World School
Location: Ranchi, India
Design: Archohm
Spread across 42 acres of undulating land, the Taurian World School at Ranchi has been designed as a premier educational institute which aims at the holistic development of children. The Taurian world school was Mr. Amith Bajla's dream project.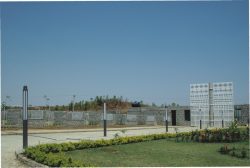 He wanted to redefine educational institutions in terms of facility and environment. Having similar thoughts and beliefs helped Archohm and the client together conceptualize a unified vision – a campus which would liberate young minds and provide them with a world class educational experience, obtained by: innovative spatial design, high level technology and superior quality materials. Taking the site as a bare palette, an institutional hub with school, college and residential facilities was visualized.
The site is a 42-acre plot of undulating land amidst valleys, far from the 'city pollute'. The bare palette is given an overall master concept of a larger campus with school, colleges and residential facilities to form an institutional hub. Being planned as a narrative, different parts of the institute appear as a layered script that make walking through the campus an interesting process of discovering spaces and functions. The campus is punctuated with facilities and built forms that are efficiently positioned to capsulate scaled spaces. An attempt is made to imbibe a philosophy of liberating the mind.
The journey starts with a 25 ft by 25 ft majestic gate that marks the entry to the school and stamps an introduction to the campus with an edge. This intimidating structure is automated and center- rotated to bifurcate the entry and exit. Upon entry, one is welcomed by a sleek state-of-the-art sport and culture facility. Designed, to open fresh horizons and stretch limits of thought, the structure has a unique cantilevering basketball court that serves as a viewing deck to the entire campus, especially, the sporting facilities and the semi Olympic swimming pool.
Beyond this, a steel bridge spans over a valley of play areas, leading to the main administration block whose form helps funnel in students and visitors. The two side facades of this block have been kept completely blank so as to direct attention to a central glass core. From the bridge, one can glimpse the teaser of the extruded glass volume of the library reading bays.
Childhood plays a very important role in developing a person's personality and perspective in life. Keeping this in mind, the designing and detailing of the entire campus was based on a simple fact – Being at an impressionable age, the memories and images of one's school get etched in every child's mind. Hence, it is very important that they are exposed to the right scenes, sounds and smells. If you want children to be innovative and think out of the box, you need to provide them with an environment which inspires them to do just that! Not to mention that the Taurian World School acts as a preparatory institution to help students get ready to face the world by exposing them to an international environment!
It's zero pollution environment, located amidst green valleys, houses a variety of open and semi – open spaces, effectively punctured with interesting built forms. Classes are connected both horizontally and vertically. Extra wide ramps , hostel facilities having green roofs, playing courts, a full sized amphitheater , an Olympic sized football field ,a cricket stadium , a roof top basketball court, a horse ranch area and shooting range are all testimony of will and vision to make this institute both a global and world class experience.
The administrative building blocks the visitors from further penetration into the campus; it receives them in a double height space basking in light, with information areas, waiting and resting areas, a viewers' gallery and the senior management spaces. The central admin block is sandwiched between a large laboratory block and a library/multimedia block as they all need to be centrally located. The students go through this final hurdle of the administrative block that dramatically opens up into a large courtyard bound by classrooms on the opposite side, a pleasant route that carries them into the secured environment of shades, greens, courtyards and classroom.
The classroom blocks are designed as staggered modules and are positioned to contain a cluster of small spaces that can collect to transform into a large central assembly space. The individual classroom cluster modules are horizontally connected with equally large spill over bays and vertically spanned with disabled friendly ramps and services. The facades of these blocks which face the court have a large glass panel that defines semi open spaces at the upper level. It also provides a canvas for students to change, play, transform and identify with. Emphasis has been laid on creating spaces between forms rather than within them. This allows common spaces to be used for a variety of activities and also lets them act as effective sound barriers.
Beyond the classrooms and courtyard, the campus opens out into spaces of different shapes, sizes and textures based on the activities they house. Scattered across the site one can find, a children's play area, open air theatres, workshop areas, an amphitheater, tennis courts, football fields, cricket pitches along with other sporting facilities and finally a geodesic of animals and plants! The hostel blocks have been designed as horse shoe forms with grass roof tops and individual court yards. The journey terminates into a central sports block with a strategically located wellness centre below the other activity zones which culminates into a partly hidden state of the art swimming pool.
The idea behind designing and detailing this entire campus stems from the fact that memories and images of ones' school are etched in every child- schooling is an experience that must be enhanced; the students are at such an impressionable age that the right scenes, sounds and smells can send the right signals. The visual appeal of the environment can impede an out-of-the-box thinking mind- a global mind that inspires and prepares itself to take on the world from taurian world school.
Taurian World School images / information from Archohm
Location: Ranchi, India
Indian School Buildings
Indian school building designs on e-architect:
Axis Pramiti – School Building, Bangalore, Karnataka, southern India
Design: The Purple Ink Studio, architects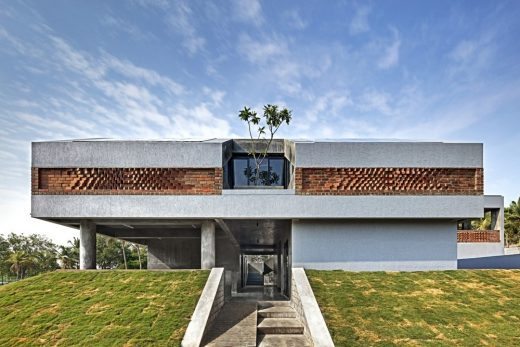 picture : Shamanth Patil J
Kanakpura School Building in Bengaluru
Druk White Lotus School, Ladakh, Northern India
Design: Arup Associates


photo © Christian Richters
Druk White Lotus School
Indian education buildings selection on e-architect:
ITM School of Business Gwalior
Primary School JDT Islam Campus
Indian Buildings – Selection
Comments / photos for the Taurian World School – Indian Education Architecture page welcome