Eco-City, Hamburg Building, Architecture Project, Photo, News, Design, Property Images
Eco-City Hamburg Harbour
Development by tec architecture in Hamburg, Germany, Europe
21 Aug 2009
Eco-City Hamburg Building Design
Location: Hamburg, Germany
Date of design: 2009-
Design : tec architecture
"The Eco-City project proposes to not only enhance Harburg's current progression, but to set a new standard for environmentally forward construction of our built world".
INTRODUCING ECO CITY HAMBURG-HARBURG
Big Thinking with a Small Carbon Footprint:
A Sustainable Creative-Industrial Environment for the Future
HAMBURG-HARBURG HARBOR, GERMANY August 7, 2009 — The initial signs of Germany's first entirely sustainable creative-industrial corporate development are sprouting up on the shores of Hamburg-Harburg Harbor.
Once the site of Hercules Sägemann's Kamm worldrenowned comb factory, and a ship building area before that in the late 19th century, the new ECO CITY Hamburg-Harburg (ECO CITY) (www.ecocity.de) is situated on a site well associated with German entrepreneurship and ingenuity. ECO CITY revives and continues this tradition, offering new generations of businesses workspace that is healthy, sustainable, and inspiring.
This innovative sustainable urban development will also serve as a major catalyst in the revival of the Harburg Harbor area when it is completed, bringing industry, entertainment, and pedestrian life back to the neighborhood. Once again, international design firm tec architecture (www.tecarchitecture.com) and global engineering company ARUP (www.arup.com) have teamed up to blend futuristic, environmentally-progressive architectural design with state-ofthe- art technology and engineering to create a working city that challenges the notion how an urban, working environment should look and function.
"ECO CITY represents a synergistic approach to urban development," explains tec Principal Sebastian Knorr. "By working in close cooperation with all the stakeholders and taking into consideration the immediate environmental context of the project, we've created a different type of sustainable, creative-industrial complex. We hope that iconic ECO CITY project becomes a model for sustainable urban development."
"ARUP thinks about sustainability in every aspect of our design and as engineers we understand the driving principles of the triple bottom line – environmental / social / economic," adds ARUP Principal Steve Done. "For a project to be truly sustainable, it must embrace and meet each of these categories of need, and ECO CITY certainly accomplishes this."
GLOBALLY GREEN DESIGN
Good for the Planet, Good for People
ECO CITY is one of very few projects in the world designed to achieve a globally green rating from the three major green building rating systems on the planet: USGBC's Leadership in Energy and Environmental Design (LEED) Program, the Building Research Establishment Environmental Assessment Method (BREEAM), and the German Sustainable Building Council (DGNB)'s Program. Currently, ECO CITY is seeking the highest level of environmental certification from all three programs.
Capitalizing on the predominantly westerly winds that blow in off the North Sea, the design proposes two large wind turbines atop high-rise towers. These functioning (as opposed to ornamental) building-integrated turbines will generate more than 10% of the complex's power, surpassing any other high-rise project in the world. Solar water heating will be used to offset the use of natural gas. Site lighting will be powered by solar technology.
Over forty percent of ECO CITY's footprint will consist of open air. The majority of all visible roofs will be green roofs, serving to slow storm water runoff and significantly reducing the heat island effect of ECO CITY. Green areas will be elevated to the second story where there is more access to air and sunlight.
In addition to roof gardens, more than half the site will be covered with vertical gardens, further minimizing the development's carbon footprint and maximizing leisure space. These raised green beltways will create a microclimate of sorts, allowing workers and visitors ample outdoor recreation space.
The project will utilize environmentally friendly materials that will help promote a healthy indoor building atmosphere. Passive design techniques and efficient façade and building design will reduce energy consumption by about 30%.
Existing structures from the original site have been rehabilitated and materials from demolished structures re-used whenever possible. Located within walking distance from several major transportation nodes, ECO CITY is an easy commute or quick bike ride for most visitors.
BUILDING FOR THE FUTURE
The Creative-Industrial Complex
ECO CITY represents one of the first creative-industrial complexes. Comprised of ten major structures, ECO CITY offers a variety of different spaces for different purposes, bringing both large-scale industry and creative start-ups together in one, cooperative, and ecofriendly business community. The spaces range from studios to large warehouse and production facilities.
With Phase 1 completed, ECO CITY has secured its first major tenant with the arrival of Heidelberger Druckmaschinen AG, the global manufacturer of printing presses that can trace its history back to the 1800s. The pioneering company brings over 150 new jobs to the area and features an interactive showroom that showcases the company's advances in the area of ecological printing methods.
During Phase 2, construction will begin on the first high-rise tower that will house a luxury hotel, restaurant, and retail space, attracting people from beyond ECO CITY to the location, making it a destination in and of itself. Construction will also begin on B05, a major office complex located on the very visible corner site of the development. The five-story office block is slated for completion in Spring / Summer 2010.
The final phase of construction will see the completion of ECO CITY, including the second highrise tower, remaining storage and production facilities, and several more auxiliary buildings. Phase 2 is currently in entitlement.
Key Consultant: ARUP, Los Angeles
Total Gross Floor Area: 829,000 sqft / 77,000 sqm
About ECO CITY
ECO CITY is a ground-breaking sustainable urban development that offers a rich mix of classic industry architecture, lovingly restored harbor buildings, and modern architecture for businesses looking forward to the next millennium. ECO CITY surpasses all the demands for an upscale working environment.
About tecARCHITECTURE
tecARCHITECTURE specializes in ecological hi-tech projects, attempting to create a spirited ambience by merging state-of-the-art design solutions with anticipated international technology trends. Based in Los Angeles and Switzerland, tec ARCHITECTURE's founding partners Sebastian Knorr, Heiko Ostmann and Moritz Knorr have won numerous international competitions and awards, including the American Institute of Architects, Los Angeles, Honor Design Award 2006, and the "NEXT" L. A. AIA Award 2007.
The company's creative work has been published in national and international magazines, as well as online and has also been featured on national TV. Projects by tec have been described as "icons of modernity", their works revealing "a craftsmanship of the third millennium".
tecARCHITECTURE has built, and is currently working on, multiple national and international projects on various scales, in Europe, the United States and Asia. It combines a keen awareness of ecological design with the high-tech ambience of Europe's architectural landscape and the creativity of California's innovative design culture. The company specializes in a type of architecture that is inspired by the structures and processes of nature, shaping tomorrow's environment into a sustainable coexistence of people, technology an nature.
About ARUP
Arup is a global firm of planners, designers, engineers and business consultants. We provide a diverse range of professional services to clients around the world, exerting a significant influence on the built environment. The firm is the creative force behind many of the world's most innovative and sustainable building, transport and civil engineering projects and design technologies.
Established in 1946, Arup has over 10,000 employees based in more than 90 offices across 37 countries, working on up to 10,000 projects at any one time. Its unique structure, with the firm held in trust on behalf of its employees, gives us complete independence. Our multidisciplinary approach means that any given project may involve people from any or all parts of Arup. Our aim is to achieve excellence in all we do by bringing together the best professionals in the world to meet our clients' needs.
Location: Hamburg, northern Germany
New Architecture in Hamburg
Contemporary Hamburg Architecture
Hamburg Architecture Designs – chronological list
Hamburg Architecture Tours by e-architect
Hamburg Architecture – Selection:
Engel & Völkers Headquarters and Apartments
Design: Richard Meier & Partners Architects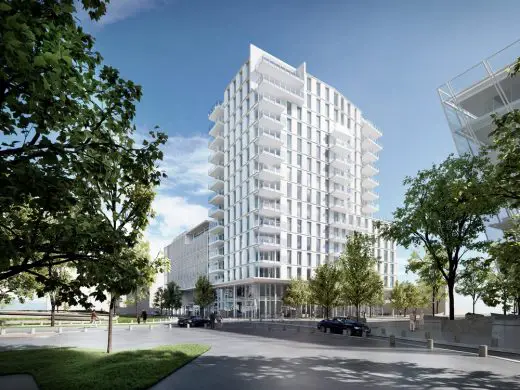 image from architecture office
Engel & Völkers Headquarters Hamburg Building
Hamburg Science Centre
OMA
Hamburg Science Centre
S11 – Office Complex Steckelhoern 11
J. MAYER H. Architects
Steckelhoern 11
Comments / photos for the Eco-City Hamburg Architecture page welcome
Website: www.ecocity.de