Aquatic Centre Louviers, French Swimming Pool Building, Design Project, Images, Architecture
Aquatic Centre Louviers Building
Sports Building Development in France design by DRD Architecture
31 Dec 2014
Location: Louviers, Eure department, Haute-Normandie, north-western France
Design: DRD Architecture
Aquatic Centre Louviers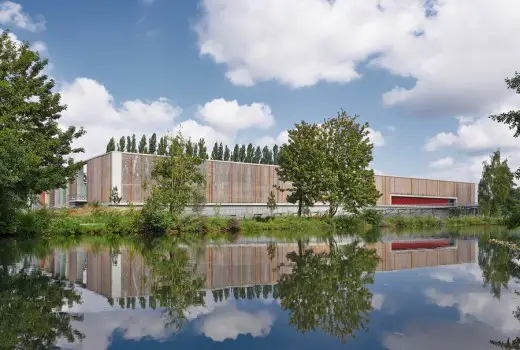 English text:
Aquatic Centre Louviers Design
Between roads and the Eure River, between railway tracks fallow and soft traffic, downtown and suburban area, historical monuments, and boxes of steel pan, there is a vast area, steeped in history and activities now abandoned in the making. Bordered of water; surrounded; content; Here the land that addresses the scale, that of the territory, even before the close dialogue with the local context.
Our urban party relies on dynamic reading of the landscape and the environment. The highway, road, Eure River, the plant, the walk, the railway, install a succession of parallel structuring northern South site and provide a starting point for our design thinking. Identity of place, identity of the project, equipment: wherever we are, where we come, wherever you go, obviously of the site is imposed on us, the answer draws. Our party is the identity of the place we want to preserve, enhance and reveal; that of the architecture that must be exemplary, clear, limpid and simple, just as having always been there asked.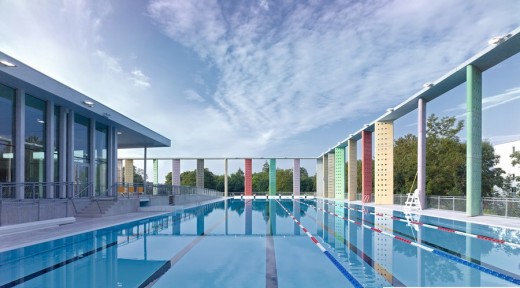 An enclosure a peripheral wall to contain, protect, set. An enclosure, a kind of treasure chest, which does not reveal its riches, but only in the second reading, only those who enter, those who practice it. An enclosure, a sort of wooden slats, where volumes are taking places into the program and compliance with its features, lights and direction, the peoples' flux. Identity and enclosure give read most, and then go into detail, in the heart of the project.
We enter the location, away from the ground flood in lifting, letting himself be carried away by ramps and bridges revealing the presence of water on the site, amount to a main floor. Generous and demonstrative entry to the image of a public facility. Valuing functions, give them to see for successive discoveries by walking by transparencies. On the ground, the technical rooms girded with envelope stamped concrete, parking lots and cars, the existing soil, magnified by as discreet as useful treatments. the premises are lifted using public: entrance hall, halls pools, terraces solarium and annexes.
Over again, the most exclusive rooms, with space shape and roof garden. All contained in the large enclosure, protective and indicative uses.
Our party is here. Give play the project as evidence in the site. Protect the uses and users of the Eastern nuisances (highway). Open to the south and west (sun and open views). Reveal the forced nature of the site (vis‐à-vis the Eure River, floodability the ground, and historical monuments). Integrate the site by revealing it, giving it to see, to the rewarding. The environmental approach is fully integrated in the project, respecting the program and 14 cycles. Natural light, energy saving and production are also included in the project. Materials, service and maintenance provide maximum guarantee vis‐à‐vis future generations and the impact of the project on the environment. Pour que la vie ait lieu.
Aquatic Centre Louviers – Building Information
(English Version)
Aquatic Centre Louviers town of Louviers
DRD ARCHITECTURE
Equipment: Aquatic Centre
Location: Louviers
Mission: Base + + EXE Quantitative Fluids
Delivery : 2011
Cost: 16.5 M € hqe
Client : Agglomeration Community Seine-Eure (CASE)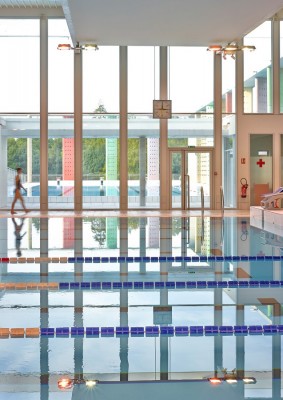 Architect:
Design Architect: DRD – Architecture ; Goudenège & Associates Architects
Structure + Fluids & VRD: GIRUS
BET Acoustics: ACOUSTIBEL
Landscape: Workshop Stipa
Photographe: Gregoire AUGER
Graphisme : Federica CONGIU
Surfaces: 5190m2
Basin learning: 150m2
Leisure pool: 122m2
Lagoon games: 50m2
Outdoor sports pool: 750m2
Slide: 60m linear
Pentagliss 4lignes: 30m linear
Fitness area and Zen garden: 423m2
Sustainable Architecture:
‐ Stainless Basins
‐ Full integration site (zone constraints)
‐ Ubiquitous Daylighting
‐ Access additional roads minimized
‐ Patio in the heart of the project for Natural light and ventilation
‐ Wood Boiler
‐ PAC gray water reclamation
‐ Recovery footbaths waters, Water closet, wash water collection filters
‐ Filter with filter glass beads –
‐ Thermal insulation outdoor pool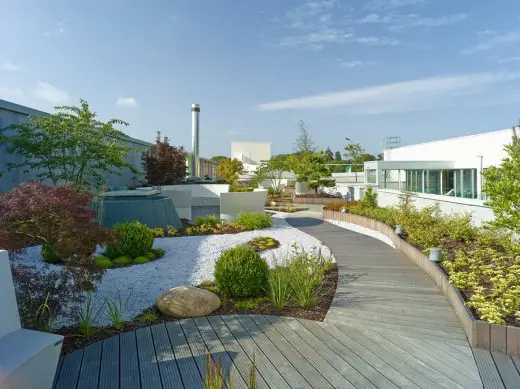 Centre Aquatique Louviers
French text:
Entre routes et Eure, entre voies SNCF en friches et circulations douces, centre ville et zone périurbaine, monuments historiques et boîtes en bac acier, il y a un vaste terrain empreint d'histoire et d'activités aujourd'hui délaissé, en devenir. Bordé d'eau, ceinturé, contenu, voici le terrain qui s'addresse à la grande échelle, celle du territoire avant même de dialoguer avec le proche, le local, le contexte. Notre parti urbain se fonde sur la lecture des dynamiques du paysage et de l'environnement. L'autoroute, la route, l'Eure, le végétal, la promenade, la voie ferrée installent une succession de parallèles structurant le site de Nord en Sud et donnent un point de départ à notre réflexion de conception.
Identité du lieu, identité du projet, de l'équipement : où que l'on soit, d'où que l'on vienne, où que l'on aille, l'évidence du site s'impose à nous, la réponse se dessine.
Notre parti est l'identité, celle du lieu que l'on souhaite préserver, renforcer et révéler ; celle de l'architecture qui se doit d'être exemplaire, claire, limpide et simple, juste, comme ayant toujours été là posée. Une enceinte, un mur périphérique pour contenir, protéger, définir. Une enceinte, sorte de coffre aux trésors, qui ne révèle ses richesses qu'en deuxième lecture, seulement à ceux qui y pénètrent, ceux qui en usent. Une enceinte, un écrin de lames de bois, où les volumes du programme trouvent place librement et en respect des fonctionnalités, des lumières et orientations, des flux de personnes. Identité et enceinte, donner à lire l'essentiel, puis entrer dans le détail, dans le coeur du projet.
On pénètre le lieu en s'écartant du sol inondable, en se soulevant, en se laissant porter par des rampes et passerelles révélant la présence de l'eau sur le site, en montant à un étage noble. Entrée généreuse et démonstrative à l'image d'un équipement public. Valoriser les fonctions, les donner à voir par découvertes successives, par promenades, par transparences. Au sol, les locaux techniques ceints d'une enveloppe de béton matricé, les parkings, les cars, le sol existent magnifié par des traitements tant discrets qu'utiles. Soulevés sont les locaux à usage des publics : hall d'entrée, halls bassins, terrasses solarium et annexes.
Au-dessus encore, les locaux plus exclusifs avec l'espace forme et son toit jardin. Le tout contenu dans la grande enceinte protectrice et révélatrice des usages. Notre parti est ici. Donner à lire le projet comme une évidence dans le site. Protéger les usages et usagers des nuisances de l'Est (autoroute). Ouvrir au Sud et à l'Ouest (soleil et vues dégagées).
Révéler le caractère contraint du site (vis-à-vis de l'Eure, de l'inondabilité du terrain et des monuments historiques). S'intégrer au site en le révélant, en le donnant à voir, en le valorisant. La démarche environnementale est totalement intégrée au projet en respect du programme et des 14 cibles. La lumière naturelle, les économie d'énergie et leur production sont également intégrées au projet. Les matériaux, l'entretien et la maintenance apportent une garantie maximale vis-à-vis des générations futures et de l'impact de ce projet sur l'environnement. Pour que la vie ait lieu.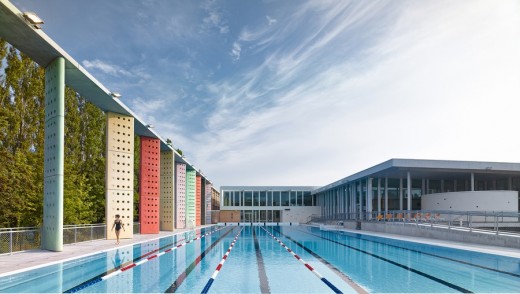 Aquatic Centre Louviers – Fiche Technique
(French Version)
Centre aquatique de Louviers Communauté d'Agglomération Seine Eure
DRD ARCHITECTURE
Equipement: Centre aquatique
Lieu: Louviers
Mission: Base + Quantitatifs + EXE Fluides Lauréat: 2011
Coût: 16,5 M€ HT hqe
Maîtrise d'ouvrage: Communauté d'Agglomération Seine-Eure (CASE)
Maîtrise d'oeuvre:
Architecte de conception: DRD-Architecture Goudenège & Associés Architectes
B.E.T. Structure + Fluides & VRD: GIRUS
B.E.T. Acoustique: ACOUSTIBEL
Paysagiste: Atelier STIPa –
‐ Photographe: Gregoire AUGER
‐ Graphisme : Federica CONGIU
Surfaces: 5190m2
Bassin d'apprentissage: 150m2
Bassin ludique: 122m2
Lagune de jeux: 50m2
Bassin sportif extérieur: 750m2
Toboggan: 60m linéaires
Pentagliss 4lignes: 30m linéaires
Espace remise en forme et jardin zen : 423m2
Architecture Bioclimatique:
‐ Bassins inox –
‐ Intégration complète au site (zone contraintes)
‐ Éclairage naturel omniprésent
‐ Accès voiries supplémentaires minimisées
‐ Patio au coeur du projet pour une lumière et une ventilation naturelles
‐ Chaufferie bois
‐ PAC récupération des eaux grises
‐ Récupération eaux pédiluves pour W.C., récupération eaux lavage filtres
‐ Filtres avec filtration billes de verre
‐ Isolation thermique bassin extérieur
Aquatic Centre Louviers images / information from DRD Architecture
Location: Louviers, Haute-Normandie, France
New Buildings in France
French Architectural Projects
French Architecture Design – chronological list
French Architect Offices – design firm listings
Paris Architecture Tours by e-architect
A recent French Aquatic Center on e-architect:
Aqua Leisure Center in Val de Scarpe, Arras, northern France
Design: S.AREA Alain Sarfati Architecture



photo © ADAGP photographe Noelle Hoeppe
Aqua Leisure Center in Val de Scarpe, Arras,
Another French Aquacenter on e-architect:
Mantes-la-Jolie Aquacenter, nr Paris, France
Agence SEARCH



photo © Michel Denancé
Aquacenter France
French Architecture – Selection
Zenith Saint-Etienne Building
Foster + Partners



photo : Nigel Young
Limoges concert hall
Design: Bernard Tschumi Architects



photo : Christian Richters
New General Building of Council of Europe
Art & Build Architect



picture from architect
Comments / photos for the Aquatic Centre Louviers – French Architecture page welcome