Live Academy, MEAL* Virtual Design Learning Program, Architecture, Building Design News
MEAL* Live Academy Learning Program
9 July 2020
MEAL* Virtual Design Learning Program
New adaptations to work, education, and knowledge exchange have rapidly emerged over the past few months and have become part of our 'new normal'.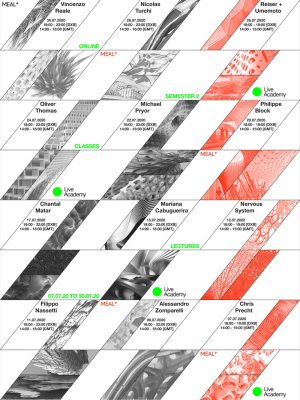 MEAL* (Middle East Architecture Lab) has seized this moment and developed 'Live Academy' to bring together the brightest minds in architecture and design from around the world, to meet and exchange their ideas of the future. Live Academy is an online project. The program focuses on democratizing global access to revolutionary design concepts and technical expertise.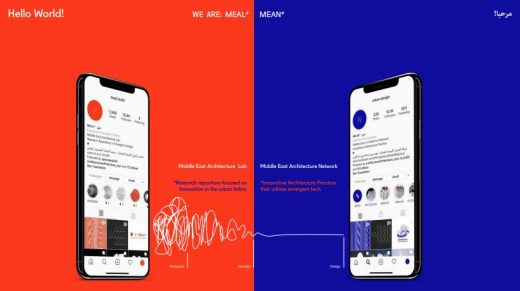 In its second edition, Semester 2 takes place over 4 weeks. Every week, architects with outstanding innovative work will present their projects in an online lecture for 1 hour. The lectures are open to all, followed by live questions from the audience.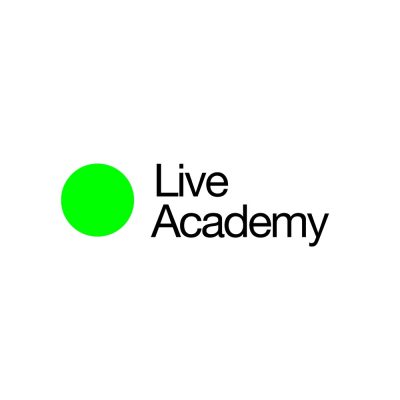 Two classes by global experts focused on different computational design software will follow every week in the format of a live webinar over 4 hours.
Join for this new online experience, for an opportunity to learn, develop, and exchange ideas.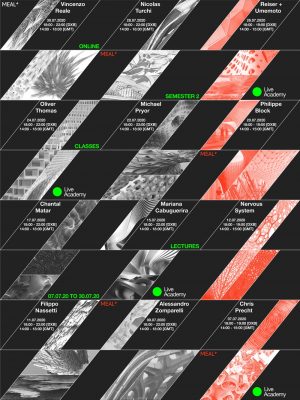 Web: www.m-e-a-l.build/live-academy
Instagram: @meal.build
Twitter: @MEAN_MEAL
LinkedIn: linkedin.com/company/m-e-a-l/
Youtube: youtube.com/c/MealMiddleEastArchitectureLab
Biography
Riyad Joucka (BArch, MArch AA EMTECH)
Is an award-winning Architect, Designer, and Entrepreneur, based in Dubai. He is the Founder of MEAN*; an Innovative Architecture Practice, and its synergistic counterpart, MEAL*; an ExperimentalDesign Repository.
Riyad gained professional experience at international offices in the Middle East, Hong Kong, and New York. His built work features complex structures, building technologies, and contextual design that is at the nexus of technology, material research, and computation.
Riyad's projects have been widely internationally published and exhibited on prestigious platforms, and presented to notable organizations worldwide. He collaborated with notable brands, such as Apple, and Audi. Riyad studied architecture in Canada and the UK, where he obtained his Master's of Architecture at the AA School of Architecture in London.
Practice
SHoP Archtiects – New York City – Architect (2016)
Woods Bagot – New York City + Sydney – Architect (2015)
FR-EE – New York City + Mexico City – Architect (2014)
Front – Hong Kong – Facade Consultant (2013)
University of Hong Kong – Fab Lab Manager / Lecturer (2012)
Lectures +Academia + Research
Live Academy X MEAL – Virtual Design Learning Platform – (2020)
Apple Residency X MEAL – AR for Designers – Dubai (2019)
'Architecture of the Future' Conference – Kiev (2018) – Curator
Dubai Future Foundation – Pioneer Series – Lecture (2018)
Director AA Visiting School Dubai (UAE) – (2014,2015,2016,2018)
Smart Geometry Gutenberg (Sweden) – (2016)
WAUM Workshop Santiago (Chile) – Tutor (2015)
AA Visiting School Tehran (Iran) – Tutor (2014)
AA Visiting School Petra (Jordan) – Director (2013)
AA Visiting School Shanghai (China) – (2013, 2014)
AA Visiting School Penang (Malaysia) – Tutor (2013)
AA Visiting School Paris (France) – Tutor (2012)
Education
MArch Master of Architecture – AA Architectural Association School of Architecture (London, UK)
BArch Bachelor of Architecture – Carleton University, (Ottawa, Canada).
Awards
– Architizer A+ Awards: Architecture + Modeling Category – 'Shell Star'
– Honorable Mention – Shortlisted for the Triumph Pavilion Competition, for a pavilion design commemorating the recent peace treaty between North and South Sudan
MEAN* (Middle East Architecture Network)
Is an Innovative Architecture Practice that works at the nexus of design and emergent technologies.
MEAN* utilizes cutting edge computational design processes and digital fabrication tools to leverage the quality of architectural solutions. Computer Programming, Robotics, 3D Printing, AR, VR, and CNC manufacturing are some of the technologies we use to leverage our work.
MEAN's mission is to amalgamate computation, material research and digital fabrication, to provide interdisciplinary solutions that respond to current economic, environmental and social developments.
Notable Projects + Competitions
– co-cross; machine for living+working (Dubai) 2020
– Desert Pavilion (Wadi Rum) 2020
– Deciduous 3D Printed Pavilion (Dubai) 2019
– EXPO 2020 Boulevard Roundabout Pavilion (Dubai) 2019
– Sharjah Modern : Barjeel Art Foundation Museum (Sharjah) 2019
– Sabeel 2020 Competition (Dubai) 2019
– MoH Innovation Park Welcoming Pavilion (Riyadh) 2019
– Audi Innovation Hub (Dubai) 2018
– MEAL Robotics Lab (Dubai) 2018
– RTA 3D Printed Bus Shed 2018
– Amman Design Week ARID installation (Jordan) 2017
– Yeoui Naru Ferry Terminal (South Korea) 2017
– Blue Clay Spa (Latvia) 2016
– Shell Star (Hong Kong) 2013
Publications
– FRAME: How this conceptual modular live-workspace transforms traditional WFH scenarios, 2020
– CNN: MEAN's Machines; Futuristic designs inspired by nature, 2020
– World Architecture: MEAN* Unveils its design proposal for modular Barjeel Art Foundation Museum in Sharjah, 2019
– The National: The Dubai firm building for the future, 2018
– Forbes: Through Design, Jordan aims to Position itself as a Hub of Modern Culture in the ME -2017
– Dezeen: 10 Top Emerging Designers Changing the /Middle East 2017
– Monocle Section D: Amman Design Week – 2017
– FRAME: Amman Design Week Tackles 5 Regional Issues 2017
– AD Architectural Digest ME: November/December 2017
– ICON magazine: Shellstar / Detour – Hong Kong 2013
Exhibitions
– Art Nights – DIFC, Dubai 2019
– Dubai Design Week 2018
– Amman Design Week 2017
– Alserkal Avenue – AAVS Dubai 2015
– AA Global School Program – AA London 2015
– AAVSDXB Expocity2020 Accelerating Processes – A4 Alserkal Dubai 2015
– Detour Design Festival – Wanchai, Hong Kong 2013
– AA Annual Show / AA London, 2012
Live Academy: MEAL* Virtual Design Learning Program image / information from Middle East Architecture Lab
Architecture in England
Contemporary Architecture in England
Camden Cloud House
Design: Peter Morris Architects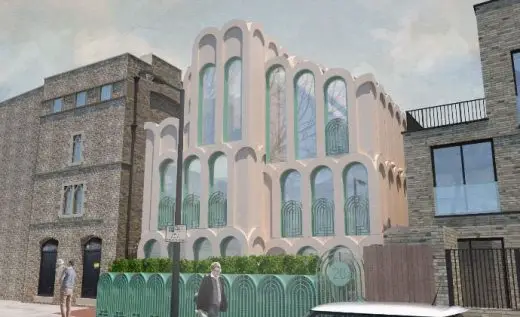 image courtesy of architects practice
The Cloud House in Gospel Oak
Morden Wharf, Greenwich Peninsula, south east London
Design: OMA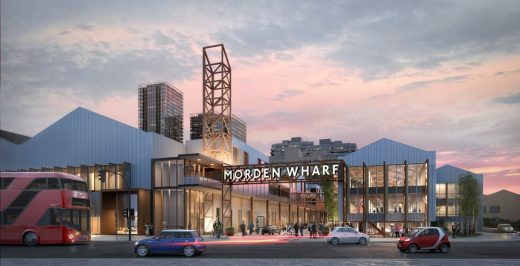 image : Pixelflakes
Morden Wharf Development
University College Hospital Building
Comments / photos for the Transforming Construction Network Plus page welcome