BuroHappold Engineers, Engineering Studio Projects, Civil and Structural Designs News, Architecture Structures
BuroHappold Engineering
Contemporary Buildings + Structures: Expansion in the Americas
BuroHappold Engineering News
8 Feb 2020
New University of Bristol library, Bristol, southwest England, UK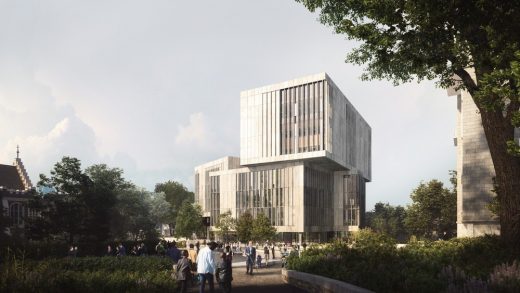 image courtesy of Hawkins\Brown & Schmidt Hammer Lassen Architects
New University of Bristol Library Building News
The University of Bristol has submitted a planning application for its landmark new library, which will transform the heart of its Clifton campus and provide an architecturally significant new building for the city, along with improved external public spaces.
Jul 11, 2017
Centre for Music in London Competition Engineers Shortlist, London, UK
We are pleased to announce the shortlisted firms for both the Civil and Structural Engineer contract and the Building Services Engineer contract, these are:
Civil and Structural Engineer
– AECOM
– AKT
– Arup
– BuroHappold Engineering
– Ramboll
– WSP UK LTD
Building Services Engineer
– AECOM
– Arup
– BuroHappold Engineering
– Hoare Lea
– Max Fordham
– WSP UK LTD
Centre for Music in London Competition
15 May 2017
BuroHappold Engineering welcomes new Senior Partner and four new Partners
Paul Rogers has been announced as the new Senior Partner at BuroHappold Engineering, and is pleased to welcome four new Partners: Dr. Sarah Prichard, George Keliris, Andrea Scotti, and Zbigniew Czajewski.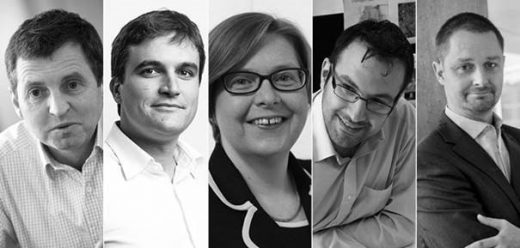 (L-R) Paul Rogers, Senior Partner and the four new Partners announced Andrea Scotti, Dr. Sarah Prichard, George Keliris and Zbigniew Czajewski.
Following 30 years at BuroHappold, working on a variety of outstanding projects around the world, Paul Rogers is now the practice's new Senior Partner, taking over the reins from Dr. Mike Cook. Paul has worked on some of the practice's highest profile projects, including major development Riyadh City Centre. Most recently he has been Managing Director for Central Europe, based at BuroHappold's Berlin office.
"Paul is driven by a passion for BuroHappold and all that we value most highly, so our 'essence' will be in the best possible hands."
Dr. Mike Cook, formerly Senior Partner and Chairman, BuroHappold Engineering
Paul Rogers said of the new appointments: "I am delighted that one of my first tasks in this new role is to announce four new Partners. All are highly talented and ambitious engineers committed to shaping the future of BuroHappold Engineering. These greatly deserved appointments will strengthen the robust and valued leadership of the practice as we plan our exciting future together. "
New partner Dr. Sarah Prichard, UK Engineering Director and one of BuroHappold's leaders in the field of building vibrations and dynamics, started her career with the Bath practice. She is currently based in Bath again after spending three years in Qatar working on the Mshereib Downton Doha Project. Previously a visiting lecturer at the University of Bath and the University of West of England teaching structural engineering to architects, she supports and unifies BuroHappold's engineering teams across the five UK offices.
Renowned London-based structural engineer George Keliris is a clear leader with passion, energy and commitment. He has significant experience of delivering large scale iconic and challenging projects, including the Zorlu Centre in Istanbul. George joined BuroHappold after graduating from Imperial College in 1997 and was a group director before becoming one of the new Partners. Having worked on many types of structures, he is currently leading one of BuroHappold's major stadia projects, the Qatar Foundation stadium.
Based in Dubai, new Partner Andrea Scotti is BuroHappold's UAE Country Director and Middle East Engineering Services Leader. He has set a clear direction for the practice in the Middle East. Having joined BuroHappold in 2004, he is a talented structural engineer, with extensive experience managing large complex projects, such as the King Abdullah Financial District development in Riyad. He sits on several judging panels, and is excellent at enabling collaboration between disciplines.
Seen as one of Poland's best structural engineers, Zbigniew Czajewski, who is based in Warsaw, was group director at BuroHappold before becoming a Partner. With strong commercial and technical capabilities, he has delivered a broad portfolio of complex and high-profile projects such as the Katowice concert hall and the Museum of Modern Art in Warsaw since joining the practice in 2008. Zbigniew will help drive the further development of the practice's European business unit.
31 Mar 2017
BuroHappold Engineering App
Cities of the future; BuroHappold brings real-time masterplanning one step closer with free app
BuroHappold Engineering and Flux launch their free SmartSpaceAnalyser app, an intuitive tool that can extract rich data from a city district on a Google map in just a few clicks.
Imagine if urban planners, architects and decision makers had access to rich, layered data about the district or city masterplan they were working with? And if complex modelling data analytics was accessible right from the web, from within a familiar Google Maps platform?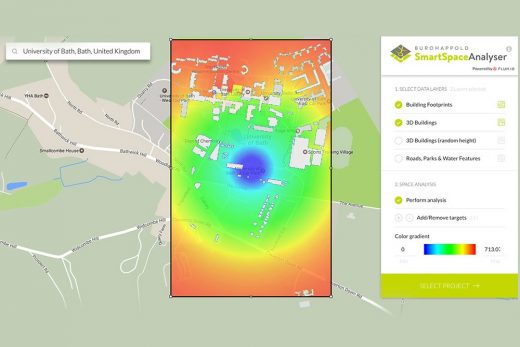 What if they also had access to analytical tools that demonstrate how their designs or decisions affect the quality of life, economic value and environmental impact – eg; how vibrant, noisy, windy, congested or active the new site would be? And able to run these analytics in real-time, as you manipulate the design model?
Real-time Masterplanning is on the horizon through a collaboration between global consulting engineers BuroHappold and Flux, launching their beta version of the SmartSpaceAnalyser app on the Flux App Store.
Shrikant Sharma, Smart Space Director at BuroHappold comments; "This is an exciting time for the industry.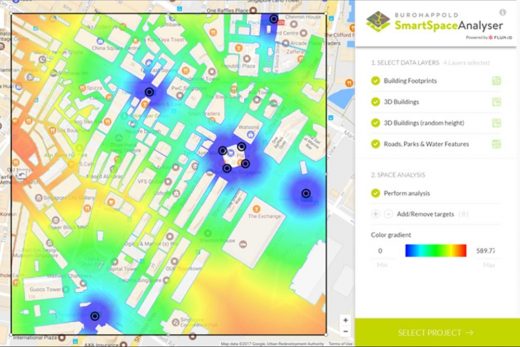 Images (c) BuroHappold
Realtime analysis and simulation tools will go a long way in transforming how we design and operate the buildings and cities of the future, and this collaboration with flux.io is a major step in that direction."
Visit smart.burohappold.com to find out more about the smart space team and get a link to the free tool.
More projects by BuroHappold Engineering online soon
Location: 230 Lower Bristol Road, Bath, BA2 3DQ. England, UK
BuroHappold Engineering Practice Information
Architecture + Engineering offices based across the world
BuroHappold Engineering is an independent, international engineering practice that over the last 40 years has become synonymous with the delivery of creative, value led building and city solutions for an ever changing world.
Having worked on every continent, our clients include more than 90% of the world's leading architectural practices and we have collaborated with global organisations such as the United Nations, The World Bank and UNESCO.
Through our global community of driven, world leading engineering professionals we deliver elegant solutions for buildings and cities that seek to address the major problems facing societies today. Follow us @burohappold and find out more at www.burohappold.com.
Engineers
Second Avenue Subway Stations in New York, NY, USA
Design: AECOM-Arup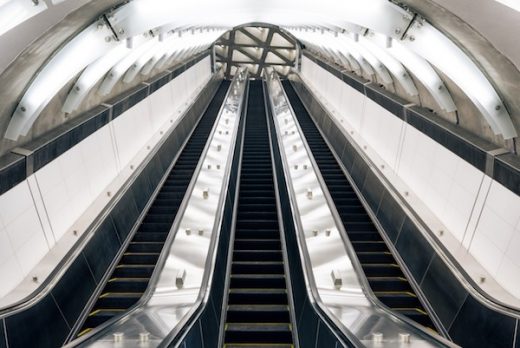 photo © Charles Aydlett courtesy AECOM-Arup JV
Second Avenue Subway Station Buildings
New Benchmark For Seismic Construction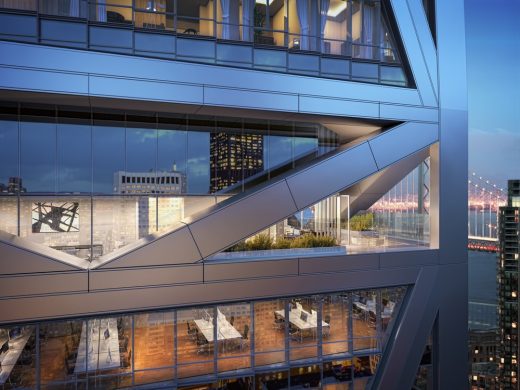 picture © 181 Fremont
181 Fremont in San Francisco
Estadio Espanyol, Cornalla, Barcelona, Catalonia, Spain
Reid Fenwick Associates & Gasulla Arquitectura Integral



photo : Luca Orlandini_Arup
Estadio Espanyol
Beijing Olympics – The Water Cube, China
PTW with Arup



photo © Arup_Ben McMillan
Water Cube Beijing
Buildings / photos for the BuroHappold Engineering page welcome
Website: www.burohappold.com