Saadiyat Island Buildings, Abu Dhabi Waterfront Images, Architects, Modern UAE Design Project
Abu Dhabi Saadiyat Island Buildings
Architecture + Developments in UAE design by Frank Gehry architect, USA
31 May 2011
Abu Dhabi Guggenheim Building
Design: Gehry Partners, LLP
Solomon R. Guggenheim Foundation Leadership Supports The Appointment Of An Independent Monitor On Saadiyat Island, Abu Dhabi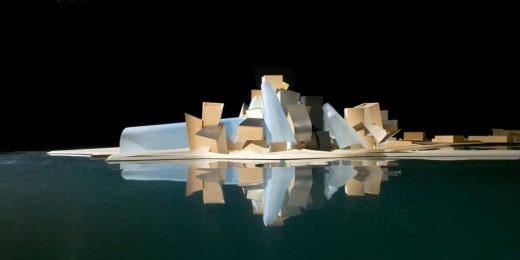 image from Saadiyat
Guggenheim Abu Dhabi Construction
(NEW YORK, NY – May 31, 2011) — The leadership of the Board of Trustees of the Solomon R. Guggenheim Foundation is pleased to support the appointment by the Tourism Development & Investment Company (TDIC) of PricewaterhouseCoopers (PwC) as an independent monitor, which is an essential component of safeguarding workers' rights and ensuring that the contractors and sub-contractors working on the Guggenheim Abu Dhabi construction site comply with UAE labor laws and TDIC's Employment Practices Policy.
To date, the Foundation has worked closely with TDIC to make demonstrable advances through the issuance last September of our Joint Statement on Workers' Rights, which sets out the substantial rights that will be afforded to workers on the Guggenheim Abu Dhabi construction site in many important areas, including timely, electronic payment of wages, accommodation conditions, working hours, withholding personal documents, recruitment fees, contracts of employment, workplace standards, and the ability to report grievances.
We expect further progress will be made with the selection of PwC and the implementation of this independent monitoring program, which we have been assured, will be structured in accordance with best practices and which will include public reporting of findings.
We look forward to a continuing dialogue with TDIC and recognize that these issues are complex. We remain committed to the workers on the Guggenheim Abu Dhabi construction site, to maintaining the integrity of our joint project with TDIC and to establishing a truly international museum that will reflect and celebrate the cultures of the Middle East while fostering an atmosphere of open, intellectual exchange.
William Mack, Chairman
Jennifer Blei Stockman, President
Solomon R. Guggenheim Foundation
Abu Dhabi Guggenheim architect : Frank Gehry
Previously:
Abu Dhabi Guggenheim
Abu Dhabi Guggenheim Faces Protest
The New York Times report that a group of more than 130 artists, including many prominent figures in the Middle Eastern art world, says it will boycott the $800 million Guggenheim museum being built in Abu Dhabi unless conditions for the foreign laborers at the site are improved.
The new Abu Dhabi Guggenheim, designed by architect Frank Gehry, is one of the highest-profile construction projects in the Middle East. The Abu Dhabi Guggenheim is to be the centerpiece of a sprawling development called Saadiyat Island that includes a half-billion-dollar branch of the Louvre Museum designed by Jean Nouvel, a national museum designed by Norman Foster, luxury resorts, golf clubs, marinas and acres of private villas.
The artists' group says it is responding to a range of abuses that have been reported on Saadiyat Island, including the failure of contractors to repay recruitment fees — which can lead to crippling debt for laborers — hazardous working conditions and the arbitrary withholding of wages. The artists say that until their demands are met, they will refuse to participate in Guggenheim museum events or to sell their works to the Guggenheim museum.
Saadiyat Island Cultural District buildings:


image from Saadiyat
The threatened boycott comes at a particular tricky time for the Solomon R. Guggenheim Foundation and Museum in New York, which is trying to build a collection virtually from scratch to fill tens of thousands of square feet of gallery space before the Abu Dhabi Guggenheim museum opening in 2015.
The first concerns over labor conditions at Saadiyat Island were raised in a report by Human Rights Watch, an advocacy group, in 2009. In June 2010 artists approached the Guggenheim Museum to discuss conditions on Saadiyat Island. During a second meeting they asked the Guggenheim Museum to pressure the government to force employers to reimburse workers for recruitment fees and to appoint an independent monitor to ensure that international labor standards would be met during the museum's construction.
The Guggenheim Museum has been working with the development agency to address these issues, and last week the agency announced that it was strengthening regulations to make contractors reimburse recruitment fees, and that it was appointing an outside monitor to address workers' complaints.
Saadiyat Island Buildings
Key Saadiyat Island Building Projects, alphabetical:
Saadiyat Island aerial


Saadiyat Island Cultural District aerial


Abu Dhabi Performing Arts Centre Building
Zaha Hadid Architects



image from Saadiyat
Abu Dhabi building
Guggenheim Abu Dhabi Contemporary Arts Museum Building
2007-
Frank Gehry Partners



image from Saadiyat
Maritime Museum Building
–
Tadao Ando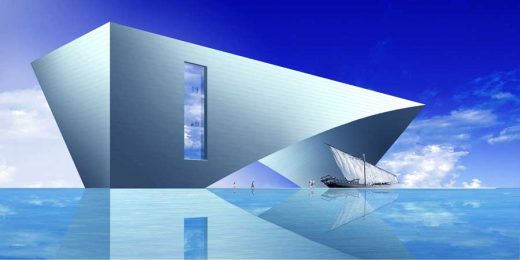 image from Saadiyat
Abu Dhabi Louvre Museum Building
Jean Nouvel



Louvre Abu Dhabi Architect: Ateliers Jean Nouvel, Image courtesy of Gaston Bergeret
Louvre Abu Dhabi Museum Building
Zayed National Museum
2009-
Foster + Partners
Zayed National Museum
Location: Abu Dhabi, UAE
Abu Dhabi Architecture Tours
Abu Dhabi Buildings
Masdar City Buildings
More Abu Dhabi Architecture online soon
New Architecture in the Abu Dhabi area
Buildings / photos for the Saadiyat Island Buildings Abu Dhabi page welcome