Expo 2020 Dubai Canada Pavilion Building, Architect, UAE Exhibition Design Project Photos
Expo 2020 Dubai Canada Pavilion Exhibition
1 Oct 2021
Architecture: Moriyama & Teshima
Art installation: KANVA
Location: Canada Pavilion, Expo 2020 Dubai, United Arab Emirates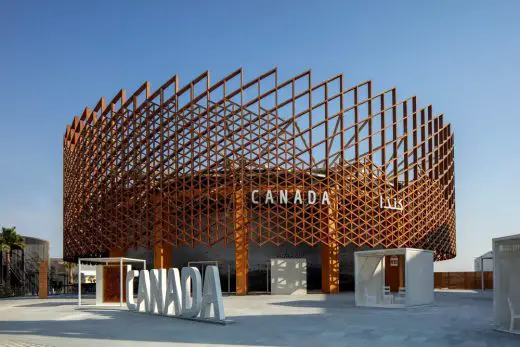 Photos by Gerry O'Leary
Canada Pavilion at EXPO 2020 Dubai
KANVA, a Montreal-based firm renowned for meaningful projects extending beyond the boundaries of architectural shapes and forms, is proud to unveil TRACES, a multisensorial, thought-provoking exhibition on the grounds of the Canada Pavilion at World Expo 2020 Dubai. Commissioned by Global Affairs Canada and produced by the National Film Board of Canada (NFB) to populate the Plaza grounds leading up to the pavilion Entry Hall, KANVA has taken a national, yet universal approach to designing a public installation that aligned with both Canada's participation at the Expo and Expo 2020 Dubai's themes of Opportunity, Mobility, and Sustainability.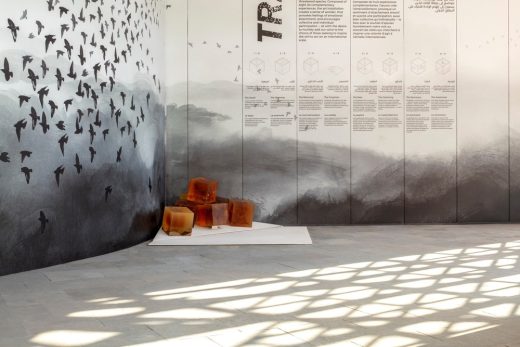 "The concept for TRACES began with the location of the Canada Pavilion in the sustainability section of the Expo grounds, and with the main exhibition being inspired by Canadian landscapes and natural diversity," explains Rami Bebawi, a KANVA partner and lead architect of the TRACES project. "We wanted to create something that would emphasize the threats that climate change and global warming pose to those same landscapes, and more specifically, to the species that inhabit them."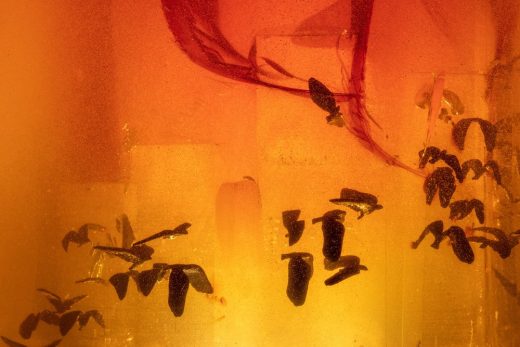 Striking a chord
The project struck a chord with core values long embraced by KANVA, and the firm embarked on a mission to connect hearts, heads, and hands in pursuit of a brighter future that reinterprets relationships between inhabitants of the planet. In developing a concept that would be artistic and poetic, yet also touching and meaningful, they studied multiple aspects of global warming and habitat degradation before embracing a visual that captured the very essence of their message – a rising murmur of birds, swirling across the sky in a massive, collective movement.
In order to capture and convey a message of urgency surrounding the issue of rapid habitat decline, KANVA came up with the idea of fossilization of an inhabited landscape, where birds are suspended in motion in a fossilized form that preserves 'TRACES'' of their existence.
"Whether due to climate change, or oppressive human development, as landscapes fade away, so do the species that inhabit them" notes Bebawi. "They are simply erased from memory, and our collective amnesia allows us to persist in their destruction. TRACES reinterprets that cycle by fossilizing the species to ensure that it is not forgotten", adds Olga Karpova, architect and senior project lead at KANVA.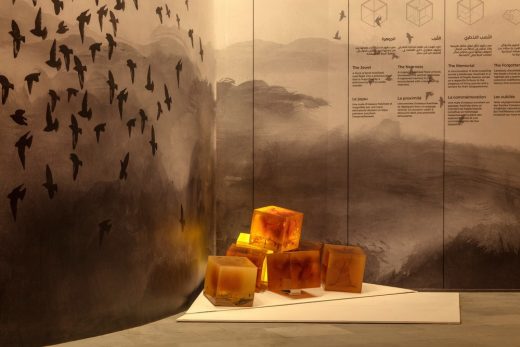 Thinking inside of the box
KANVA's expression unfolds in a series of eight boxes, spread across the plaza grounds of the Canada Pavilion in seemingly random fashion as a counter to the traditional linear grid of human development. Each museum box, measuring 8' x 8'x 8', contains a precious object that embodies the beauty of dynamic life in suspension, complemented by multimedia interactions developed with artist Étienne Paquette. As visitors weave their way towards the entry hall of the pavilion, they are invited to move through a variety of multisensorial experiences of discovery and self-appropriation.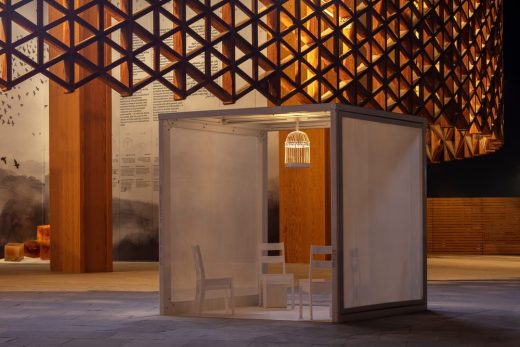 The Jewel initiates the conversation by placing fossilized birds on a pedestal, with integrated lighting that presents them as beautiful, but troubled jewels. The journey transitions to The Nearness, the most impressive in terms of scale, featuring a wall of extraordinarily filtered light highlighting the movement of birds within a vertical landscape. The Memorial strikes a more emotional chord, symbolizing a horizontal tomb where visitors find themselves paying tribute to a fallen species. The rectangular base with integrated lighting showcases fossilized birds as they hover over a stunning landscape of wood strata.
The Forgotten symbolizes the careless discarding of objects we once cherished, with stacked cubes of illuminated prototypes that have been cast aside and underappreciated. The Seat invokes a sense of individual responsibility, seating visitors alone at an old school desk. Upon opening the desk, waterscape sounds and a 3D printed bird is unveiled in a seascape of black ink, depicting the effects of ocean spills through the distressed gaze of a bird struggling mightily to survive. The Gathering focuses on collective responsibility, embodying the process of problem solving around a dinner table, and inspired by a glowing cube of fossilized birds emerging from the center of the table. Unsettled sounds of distressed birds gradually evolve into soft and soothing harmonies that symbolize hope as visitors sit together at the table.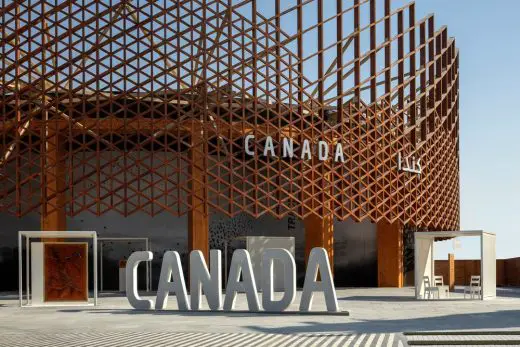 By contrast, The Sanctuary is an extraordinary enclosure devoid of human interference, with its white canvas animated by a flowing stream of birds immersed in a human-free world. KANVA's eighth box delivers the starkest message of all. The Awareness consists of four chairs, one in each corner of the box, with an empty bird cage, door open, suspended from the ceiling. Intensifying white noise indicates that something is wrong and, as visitors take a seat and face each other, the ambiance softens to a soothing garden serenade of singing birds. But the cage is empty, and the bird has left.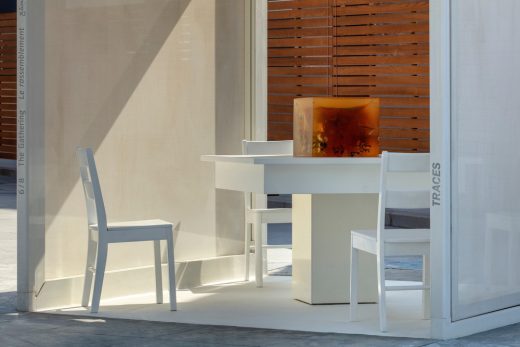 In addition to the eight artifact boxes, KANVA also designed a mural that stretches along a large, curved wall of the entry hall to the Canada Pavilion. The mural features a multiplicity of flocking birds, at different depths and distances, on a background that can be interpreted as sky, mountains, forests or water. While the mural is a fixed presentation for Expo 2020 Dubai, the eight cubes are destined to travel the world, where they will persevere as flocking ambassadors of hope.
A truly rewarding experience
Developing TRACES was an extremely rewarding experience for the socially and environmentally conscious firm. Beyond the disciplines of traditional architecture, the project immersed the firm in global issues of concern, as well as the deep study of bird species and their diverse movements and sounds. In creating their art, KANVA also indulged in processes such as scanning, hand sculptures and animating 3D prints of hundreds of different scales and movements, with each one enhancing their conviction along the way.
"We couldn't be prouder of this work, which has the capacity to be light, beautiful, and entertaining, yet also serve as a conduit of education, consciousness, awareness, and urgency," concludes Rami Bebawi. "Hyper development has left so much damage behind, and the time has passed for simple acknowledgement. Responsibility must now turn to action."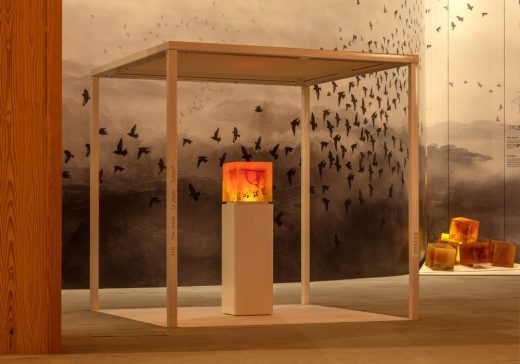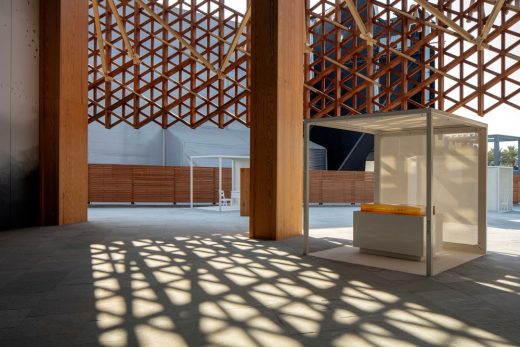 Expo 2020 Dubai Canada Pavilion TRACES – Installation Information
KANVA: Original Concept, Creative Art Direction & Production Design
Creos: Production & Touring Manager
Étienne Paquette: Multimedia Design & Art direction
National Film Board of Canada (NFB): Production
Global Affairs Canada: Department of the Government of Canada responsible for the participation of Canada at Expo 2020 Dubai
Name of the project: TRACES
Location: Canada Pavilion, Expo 2020 Dubai, United Arab Emirates
Dates: October 1st 2021 – March 31 2022
World tour: Dates and information TBD
Collaborators:
Serge Maheu: Multimedia Technical Director and Integrator
Carine Khalife: Visual Artist
Javier Asencio: Immersive sound environment composer and designer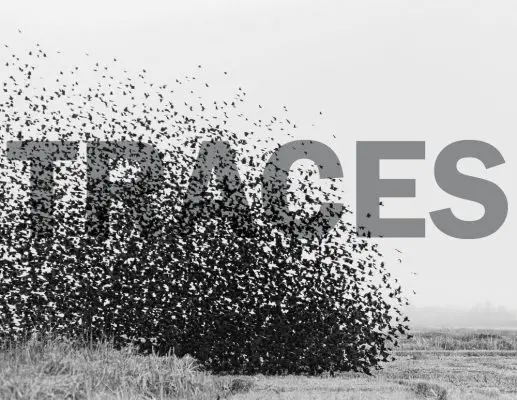 About KANVA
Founded in 2003, by Rami Bebawi and Tudor Radulescu, KANVA is a Montreal-based multidisciplinary architectural firm composed of dynamic architects, whose work is at the forefront of thinking, imagining, drawing, and constructing collective space. KANVA's approach seeks to re-question and transform the built environment, and the firm approaches each project as an opportunity to tell a story and to expand the scope and dialogue between art and architecture. KANVA embraces architecture, art, and science as learning tools for transforming the built environment for those who live in it.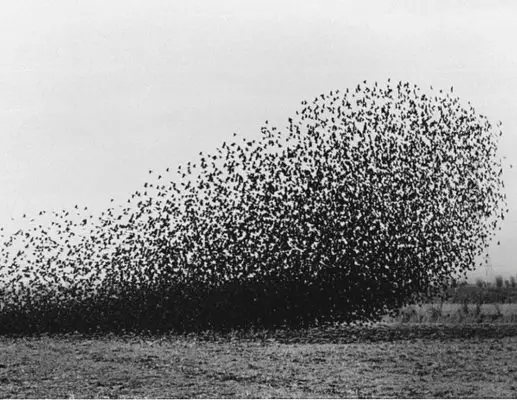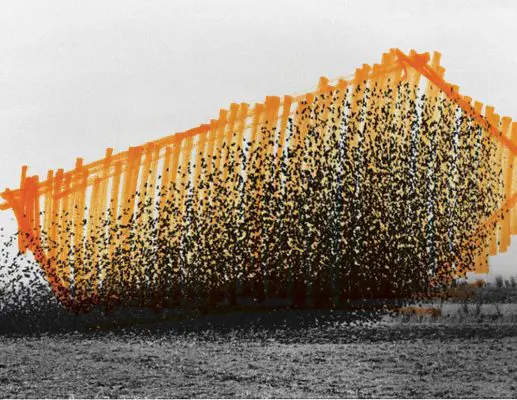 The award-winning firm has received numerous accolades and recognitions for its body of work, including the 2015 Emerging Architectural Practice Award from the Royal Architectural Institute of Canada. In 2017, KANVA was awarded the Canada Council for the Arts' Prix de Rome for its 'Adaptive Boundaries' research work. The following year, the firm's innovative Imago project garnered the Experimental – Future Projects Award at the World Architecture Festival (WAF). Most recently, KANVA completed the Montreal Biodome Science Museum, highlighting their dedication towards a sensitive and meaningful practice.
About Creos
Creos offers expert consulting and project management services for designing, planning, and developing technology and art in public spaces, with the goal of transforming these areas into lively, attractive spaces that combine creativity and efficiency.
As the world-leading agency for touring interactive installations, Creos transform public spaces into must-see destinations worldwide. Creos offers a diverse portfolio of installations tailored to venues and participants, offering visitors a unique sensory and interactive experience.
About Étienne Paquette
Étienne Paquette, Ph.D., is a multimedia artist and writer who takes audiences on fantastic journeys with immersive installations that borrow elements from different art forms. He has increasingly taken a transdisciplinary approach to his work, blending narrative and technological experimentation to create different ways for audiences to participate in stories. His works have earned awards in the field of interactive and immersive experiences, attracted mainstream media coverage, and been discussed in scientific works, including one published by the MIT Press.
He has produced pieces such as Wind Instrument (2018; Numix Award, in situ Experiential & Interactive Installation, 2019), Arctic Beyond Ice (2017; MUSE Gold Award, Multimedia Installations, American Alliance of Museums, Phoenix, Arizona, 2018) and Megaphone (2013; shortlisted for the Interaction Awards, Amsterdam, 2014 and winner of the Boomerang Grand Prize, Interactive Environments, Montreal, 2013).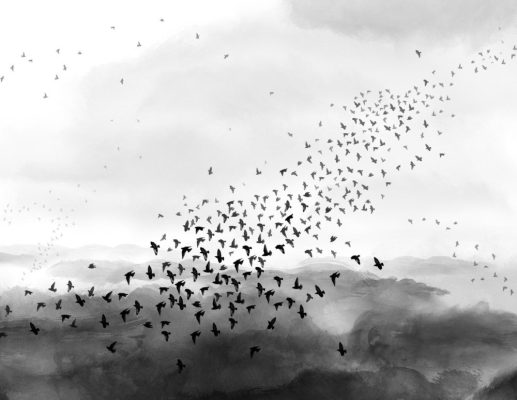 About National Film Board of Canada
The NFB is Canada's public producer and distributor of award-winning documentaries, auteur animation, interactive stories and participatory experiences, working with talented creators across the country. The NFB is taking action to combat systemic racism and become a more open and diverse organization, while working to strengthen Indigenous-led production and gender equity in film and digital media. NFB productions have won more than 7,000 awards, including 12 Oscars. To access this unique content, visit NFB.ca.
About Global Affairs Canada
Global Affairs Canada defines, shapes and advances Canada's interests and values in a complex global environment. They manage diplomatic relations, promote international trade and provide consular support. They lead international development, humanitarian, and peace and security assistance efforts. They also contribute to national security and the development of international law.
Expo 2020 Dubai provides an exceptional platform for Canada to attract foreign investment, support international education, increase tourism, promote Canadian innovation, diversify international markets and promote new business opportunities for Canadian companies.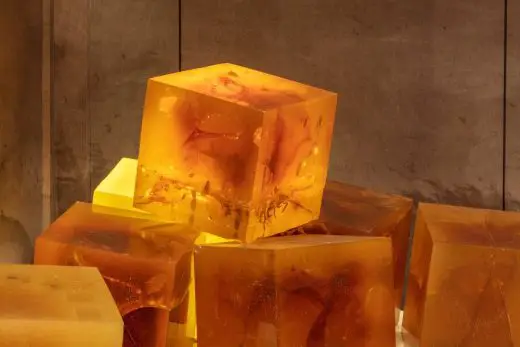 Photography: Gerry O'Leary
Expo 2020 Dubai Canada Pavilion installation images / information received 011021 from v2com newswire
Location: Canada Pavilion, Expo 2020 Dubai, United Arab Emirates
Dubai 2020 Expo Pavilions
Dubai Expo UK Pavilion
Design: Es Devlin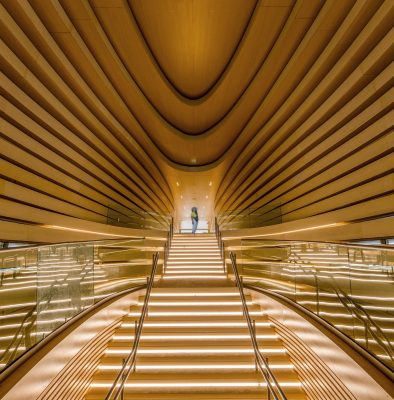 photo by Alin Constantin ; image courtesy of Es Devlin
Expo 2020 Dubai UK Pavilion Building
Dubai Expo Swedish Pavilion Building
Design: Alessandro Ripellino Architects, Studio Adrien Gardère and Luigi Pardo Architetti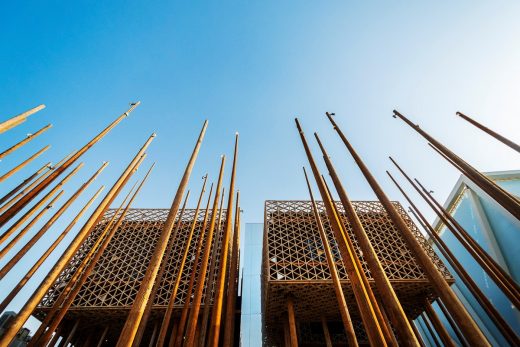 photo courtesy of Swedish government
Dubai Expo Swedish Pavilion Building
Dubai 2020 Expo Pavilions
Design: Santiago Calatrava, Foster + Partners, BIG and Grimshaw Architects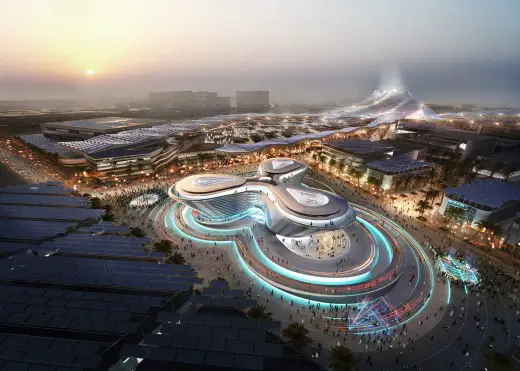 image courtesy of architects
Dubai 2020 Expo Pavilions
2020 Expo Dubai Luxembourgish Pavilion
Design: METAFORM Architects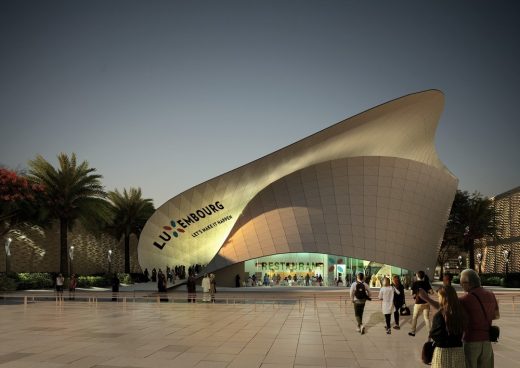 image courtesy of architects
2020 Expo Dubai Luxembourg Pavilion Building
Sustainability Pavilion for Expo 2020 Dubai
Design: Grimshaw Architects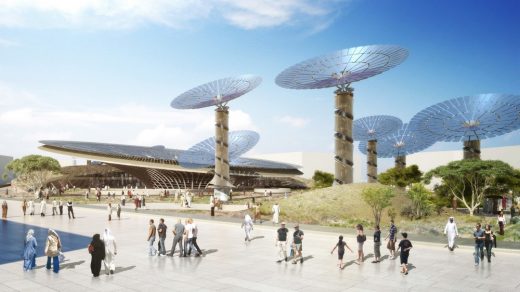 image courtesy of architects
Sustainability Pavilion for Expo 2020 Dubai
Dubai World Expo 2010 Masterplan
Design: HOK / Populous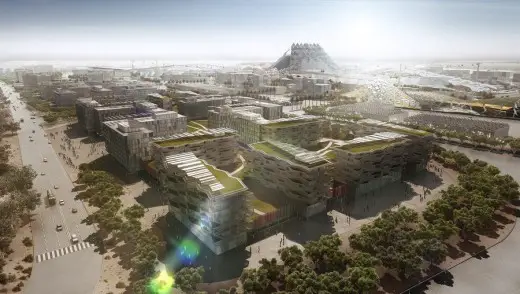 Dubai World Expo Masterplan by HOK / Populous
UAE Architecture
Abu Dhabi Architecture Designs – chronological list
Hyperloop Pods and Portals
Design: BIG-Bjarke Ingels Group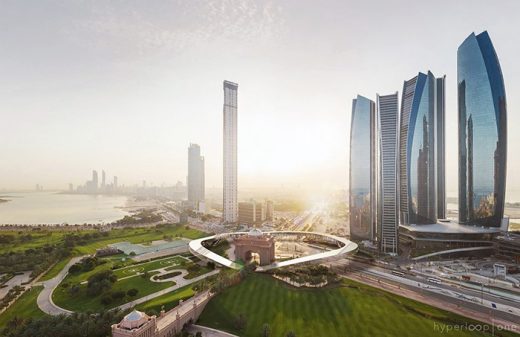 image from architects
Hyperloop Pods and Portals in Dubai
Architecture Tours Dubai by e-architect
Comments / photos for the Expo 2020 Dubai Canada Pavilion Art Installation design in UAE page welcome