YAC Competition FITT Future Headquarter, Young Architects Architecture Contest News
YAC Competitions News 2020
Architecture Contest organised by Young Architects Competitions
10 Nov 2020
FITT Future Headquarters
FITT Future Headquarters competition project aunched by YAC.
Young Architects Competitions is an international network of professionals aiming at enhancing architecture research and young designers' skills.  Since 2013 we have been organizing multiple competitions joined by hundreds of designers based in 100 countries.
The contests promoted until today have been supported by several international academic and professional partners with the likes of Automobili Lamborghini, Ferrari, National Geographic, Manni Group. Our competitions gathered prominent jury panels featuring, among the others, Eduardo Souto de Moura, Zaha Hadid Architects, Daniel Libeskind, Crab studio, Aires Mateus, Shigeru Ban Architects, Kazuyo Sejima.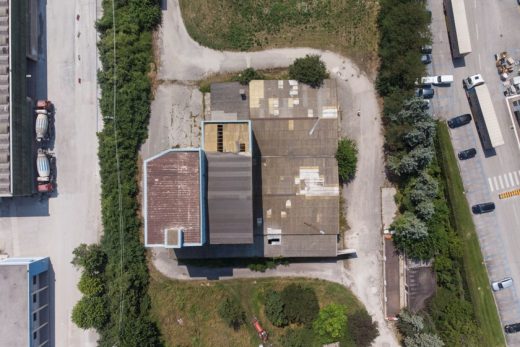 The FITT competition invites creatives to suggest their own vision of future workspace.
There will be a total amount of 20.000 € in prize money for the awarded proposals and the jury of the competition gathers outstanding international personalities like Emmanuelle Moureaux; Nicola Scaranaro – FOSTER + PARTNERS; Carlo Ratti – CARLO RATTI ARCHITECTS; Patrik Schumacher – ZAHA HADID ARCHITECTS.
FITT Future Headquarters is expected to be a moment of significant international participation for combining extremely interesting and up-to-date topics and a well-esteemed Technical Committee.
For further details, have a look at the links below:
Previously on e-architect:
28 Apr 2017
YAC Experiential Beer Garden competition Winners News
Design Contest by YAC
Winners of YAC Experiential Beer Garden competition
EXPERIENTIAL BEER GARDEN
CASH PRIZE 15.000 €
OCT 2016 – JAN 2017
Brief
Beer has always been a part of human history, from Ancient Egypt (where wages were paid in beer) to Ireland (where beer was the gods' nectar of immortality), to name but a few examples.

Drinking a glass of beer does not simply mean drinking a beverage, but interacting with a millennium-old history, made of legends, religious beliefs and wisdom. It is a tradition that has been going on since time immemorial, that has come down to us through the work of the monasteries and that has now become an industry in its own right.
Although in the Modern era beer has been produced at an industrial level, today we are experiencing a shift towards artisanal production, in an enthusiastic celebration of taste and secret recipes.
In this spirit, Villa Zarri – one of the leading Italian breweries – wishes to follow the most recent trends of consumption by investing in an ambitious architectural project, which will create a top-quality space for craft brewery.
The centre that Villa Zarri intends to create, within a beautiful mid 16th-century villa, will be a sanctuary for all beer lovers – a place where beer tasting will meet delicious food, culture and entertainment, within the framework of architectural beauty.
Whether German, Belgian, British or Italian, every beer variety will find an ideal place here, a place for both fine palates and less experienced beer lovers. Architectural beauty, cultural events and entertainment will contribute to making the experience of drinking beer unique. Experiential Beer Garden will be a one-of-a-kind brewery, the world's first centre dedicated to the age-old culture of beer.
Italian passion for beer will be tangible in this centre and will accompany the cultural and entertainment events revolving around beer. Located in the heart of Emilian countryside, this centre will be an observatory that will help the visitors understand the historical and intercultural significance of beer.
Prizes
1° PRIZE
8.000 €
All the awarded proposals will be transmitted to architectural magazines and websites + international exhibitions
2° PRIZE
4.000 €
publication per 1st prize
3° PRIZE
2.000 €
publication per 2nd prize
n. 2 GOLD MENTION
500 €
publication per 3rd prize
10 HONORABLE MENTIONS + 30 FINALISTS MENTIONS
publication is per 1st prize
Winners
1° PRIZE
TEAM
DANA
MEMBERS
ÁLVARO BERMUDO, IGNACIO CALVO, AINHOA IGLESIAS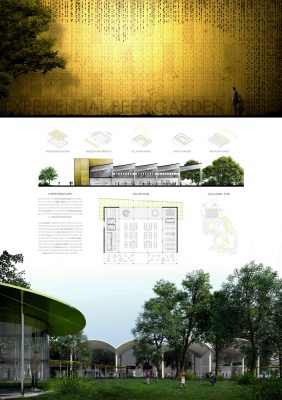 2° PRIZE
TEAM
Semuarchitects
MEMBERS
Annamaria Pisani, Alexandra Catania, Claudio Zampaglione, Federica Cadili , Giulio Gioia, Sergio Tarquinio, Oriana Scannella, Salvatore Spanò, Giuseppina Laudani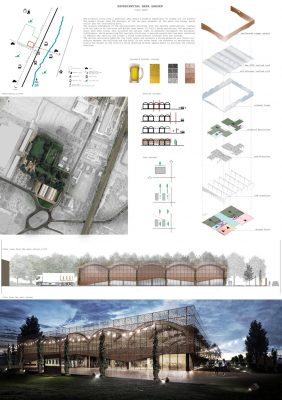 3° PRIZE
TEAM
Studio RAAM
MEMBERS
Koen Klok, William de Ronde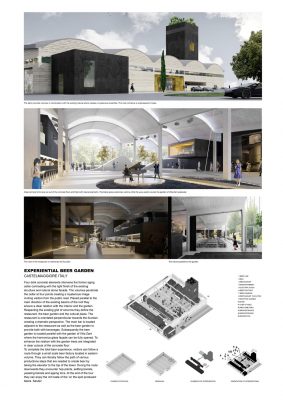 Gold Mentions
TEAM
Wilgos and Eciak Architects
MEMBERS
Pawel Wilgos, Mateusz Eciak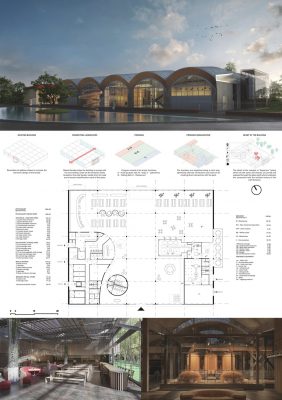 TEAM
LERVTA
MEMBERS
Louise VALLADIER, Emilie MOUCHEL, Valentin DANCOISNE, Thomas Nougaret, Rémi Clauzel, Anthony Gallien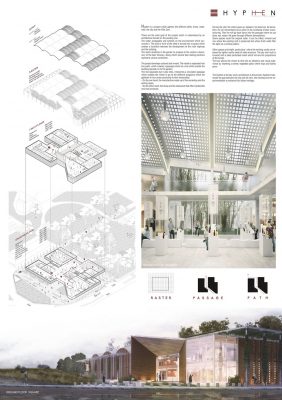 Mentions
TEAM
LIME Team Project
MEMBERS
Alessandro Gaffuri, Francesco Penone
TEAM
DUO_A
MEMBERS
Rebecca Billi, William Rowe
TEAM
bebok
MEMBERS
Bartłomiej Zdanowski, Helena Szewiola
TEAM
SIEBENVONDREI
MEMBERS
Dennis Kraft, Jennifer Klähn, Johannes Schulze, Diala Makhlouf, Svenja Abraham, Tim Wallstab, Michele Rückert
TEAM
m+p+j+b
MEMBERS
Jan Verhagen, priscille rodriguez, Boaz Rotem, Matthew Hykin
TEAM
AI studio
MEMBERS
Andrada Ispas, Alexandra Sinitaru
TEAM
RB3+1
MEMBERS
Dimitri Longo, Mauro Montis, Luca Frascarolo
TEAM
NUXOT
MEMBERS
Manuel Cano Gómez, Raul Cano Gómez, Miguel Llorens Colera, Mario Gonzalez de la Peña, Ibrahim Casanova Gómez
TEAM
BAND
MEMBERS
Dieu Hoang, Maria Petrova, Vishnu Medapati, Vana Boghozian, Nathan Fisher, Breeanna Garcia
TEAM
Form
MEMBERS
Clenda Boonman, Jörgen Haring, Robert Noordegraaf
Finalists
TEAM
Arch. Luca Guerra
MEMBERS
Luca Guerra, Riccardo Belletti
TEAM
Balloon
MEMBERS
Lukasz Wojciechowski, Paulina Libiszewska
TEAM
11134
MEMBERS
Jérôme DUMAS
TEAM
MA / DIENTRE / TIM / TAG
MEMBERS
Simon Delloue
TEAM
lml.architetti
MEMBERS
Laura Ticchioni, Luca Graziani, Samantha Bianchi, Marco Ciscato
TEAM
ONIROSTUDIO
MEMBERS
Michelangelo Verdelli, Leonardo Palla, Andrea Scalabrelli, Letizia Tralli, Kristi Pali
TEAM
I.P.A.
MEMBERS
Mattia Bergamo, Cristian Rossi
TEAM
sette3bis associati
MEMBERS
Marco Bartolucci, Martina Falleri, Tommaso Gentili
TEAM
BHLO
MEMBERS
Luke O'Bray, Benjamin Hale
TEAM
Federico Gazzea, Dirce Concetti
MEMBERS
Federico Gazzea, Dirce Concetti
TEAM
dma-office
MEMBERS
He Dongming, Xie Yi, Li Xu, Zhang Ning
TEAM
t5
MEMBERS
Daniele Ronca, Aleksandr Karpov, Rocco Barbini, Alice Monacelli
TEAM
Jery Huang
MEMBERS
Jie Huang, Yidi Yao
TEAM
Mahan Shirazi
MEMBERS
Mahan Shirazi, Setareh Salehiarashloo
TEAM
Lapo Ruffi, Vanessa Giandonati
MEMBERS
Lapo Ruffi, Vanessa Giandonati, Nicholas Diddi, Emir Sehic, Nico Fedi
TEAM
Team B + CP
MEMBERS
Maria Reyes, MARTIN GARCIA, Summer Fernquist, Christopher Polaski
TEAM
IS Design
MEMBERS
Ivan Soh, Li Ying, Siriwan Thongprasert, Lorrie Mendoza Besmonte
TEAM
Botti
MEMBERS
ENRICO PINTO, MATILDE VALAGUSSA, LAURA ZURA-PUNTARONI, Mattia Inselvini
TEAM
300CC
MEMBERS
Linning Zhang, ZEYU CAI
TEAM
A1
MEMBERS
Alessandro Bergo, Giulia Ferro, Federico Ottogalli, Andrea Merlo
TEAM
SFSight
MEMBERS
Stefano Farina
TEAM
CTM
MEMBERS
Francesca Orlandi, Riccardo Miccoli
TEAM
2G1P1T
MEMBERS
Giuseppe Parisi, Francesco Bonanomi
TEAM
BB
MEMBERS
Benjamin Schubert
TEAM
G Baran
MEMBERS
Guillem Bargues, Rafa Codina
TEAM
PA_OFF
MEMBERS
Cristina Iore, Tommaso Miti
TEAM
NDArchitetti
MEMBERS
Nicola Vesentini, Davide Burro
TEAM
Brut
MEMBERS
Pierre-Alain Bouchetard, Etienne Barre
TEAM
Balogh Timea
MEMBERS
Timeia Marcela Balog, Georgiana Tarlungeanu, Ruxandra Maria Cosmin
TEAM
Charch
MEMBERS
Georgios Chatzopoulos, Vasiliki Christakou
YAC Experiential Beer Garden competition Jury
ADAM TIHANY
TIHANY DESIGN
ARCHEA ASSOCIATI
ARCHEA ASSOCIATI
FIORENZO VALBONESI
ASV3
GUIDO FINI ZARRI
VILLA ZARRI
ALESSANDRO MARATA
C.N.A.P.P.C.
FRANCESCO GULINELLO
UNIVERSITY OF BOLOGNA
NICOLA PIZZOLI
UNINDUSTRIA BOLOGNA
BELINDA GOTTARDI
CASTEL MAGGIORE MUNICIPALITY
Partners
YAC Experiential Beer Garden competition information / images received from YAC
YAC Experiential Beer Garden competition Winners
18 Apr 2017
YAC Castle Resort Competition Winners
Design Contest by Marlegno, YAC and Agenzia del Demanio
Location: Castle of Roccamandolfi, Province Isernia, Molise, Italy
Winners of YAC Castle Resort Competition
Marlegno s.r.l., YAC and Agenzia del Demanio have promoted Castle Resort, an open architectural competition aiming at the landscape renewal of the area around the Castle off Roccamandolfi, in Southern Italy.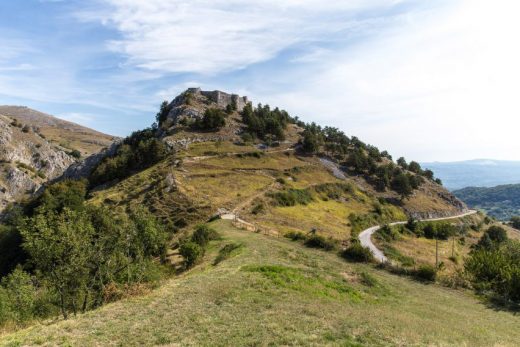 Castle Resort official video:

YAC Castle Resort Competition Winners
For further information: YAC Castle Resort Competition
Location: Roccamandolfi, Isernia, Molise, Italy
Architecture Competitions
Architectural Competitions : links
Architecture Competitions
International Design Competition for Central City Square of Rahovec, Kosovo, Europe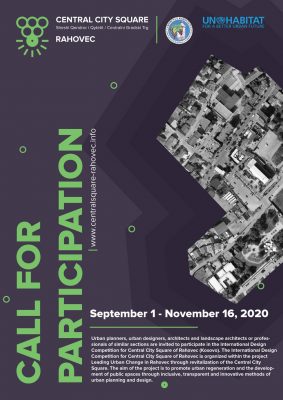 Central City Square of Rahovec Architecture Competition
Render of the Year award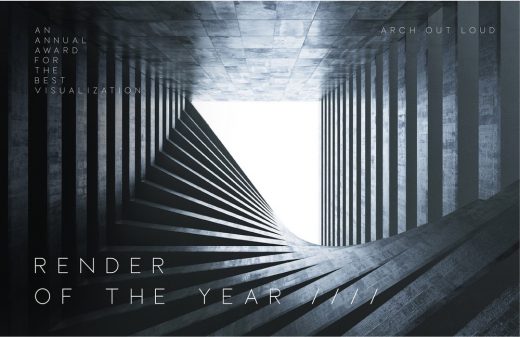 image courtesy of architects
Render of the Year award
International design competition "Castelo de Abrantes", Portugal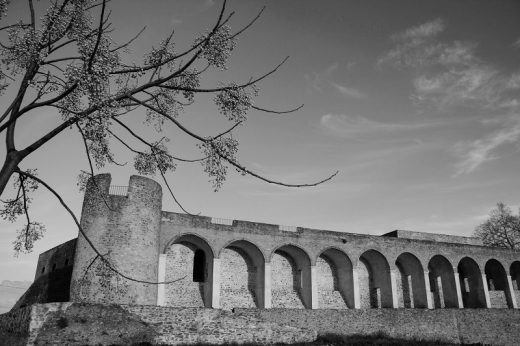 photo from architecture competition organisers
Portuguese Castle Architecture Competition
YAC Italian Wine Centre Contest
Organiser: Young Architects Competitions (YAC)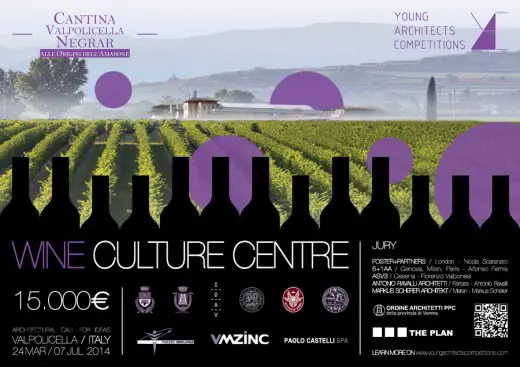 picture from design competition organisers
YAC Wine Culture Centre Competition
Triumph Pavilion Architecture Competition, London, UK



image from competition organisers
Triumph Pavilion Architecture Competitions
Comments / photos for the YAC Competitions page welcome
Website: Castle of Roccamandolfi