Tiny House Design Competition, Volume Zero Architecture Contest
Tiny House Design Competition
International Residential Architectural Contest – simple yet resourceful living
20 September 2021
Tiny House Competition 2021 News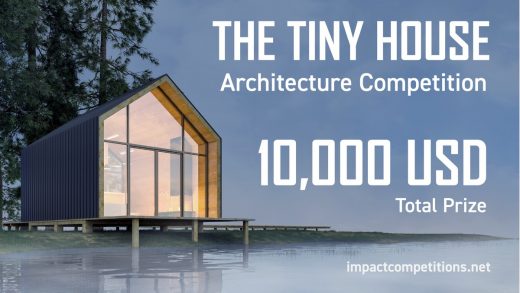 The 21st century witnessed concepts like Airbnb, Co-Living, Smart Homes, Tiny Homes, etc. gaining popularity with both young and older generations alike sparking movements across the globe. Our Humble Adobe has witnessed transformations with rapid advancements in technology, the rise of efficient spaces, environmental and financial concerns, and growing needs & desires of the people living in them. Homes today are versatile entities – doubling up as offices, play areas, work-out zones, spaces for interaction and recreation, as also being an abode for our furry friends and providing for their needs.
Jun 17, 2017
Tiny House Design Competition 2017
TINY HOUSE DESIGN COMPETITION 2017
Home is a domain that is intimate to all of us. Beyond its everyday function as a physical shelter for people and their activities, it connects with its user on a personal and emotional level.
The modern day scenario of environmental and financial concerns along with the desire to have more freedom has led people to follow simpler and efficient ways of living. With the rapid growth of technology and smart living there lies an opportunity for efficient spaces with the feeling of homeliness and personal touch points.
The Tiny House Movement celebrates this concept of simple yet resourceful living. The homes can be designed as an innovation of maximum usable space in minimum footprint, thus redefining sustainability.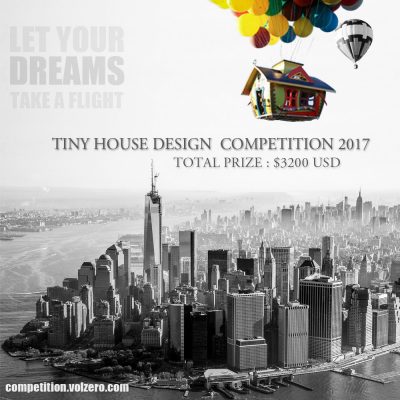 Living small, yet Living it All.
THE CHALLENGE
The Design of the house should be innovative and creative with a sustainable edge. The relation between the exterior and interior spaces ought to be taken into consideration. The proposal should be well conceptualized. Most importantly, the area of the house should not exceed 250 sq.ft.
Mobility being a vital factor, the house need not be self-mobile, but should be treated as an extension that can be towed easily by a car or pickup truck. However, the participants can avoid the issue of mobility altogether but provide a strong justification for the same.
The Interior Program Spaces include:
Living Area | Sleeping Area for 2 | Cooking and Dining Area Toilet | Workspace.
Client Interaction is one of the critical components of the design proposal. For the purpose of this competition, entrants may assume an individual, couple, or a genre of people, based on the design concept.
AWARDS
Prizes of total $3200 USD, broken down as follows:
1st Prize: $1600 USD + Certificate
2nd Prize: $1000 USD + Certificate
3rd Prize: $600 USD + Certificate
10 Honourable mentions: Certificates
Winners and honourable mentions will be published on Volume Zero website and several international architecture and design magazines.
JURORS:
Abraham Cota Pardes
Principal Architect
Abraham Cota Paredes Arquitectos
Andrew Patterson
Principal Architect
Didier Ryan
Principal Architect
Md. Rafiq Azam
Principal Architect
Shatotto Architecture for Green Living – wikipedia page on Rafiq Azam
Sameep Padora
Principal Architect
SCHEDULE
Early Registration Starts: 1st June 2017
Early Registration Ends: 31st July 2017
Standard Registration Starts: 1st August 2017
Standard Registration Ends: 31st August 2017
Closing Day for Submissions: 1st September 2017
Announcement of Winners: 1st October 2017
*Note: All deadlines are 11:59 pm – 00:00 IST (India).
REGISTRATION
Early Registration: From 1st June 2017 to 31st July 2017
For Indian nationals- INR 1700 (per team)
For Foreign nationals- EUR 65 (per team)
Standard Registration: From 1st August 2017 to 31st August 2017
For Indian nationals- INR 2000 (per team)
For Foreign nationals- EUR 85 (per team)
Entrants may register by filling the registration form and submitting it with the appropriate payment through our secure gateway on the website competition.volzero.com
ELIGIBILITY
Tiny House Design Competition is open to all. We invite architects, students, engineers, designers, thinkers, companies, organizations and everyone interested in the mission of the competition to submit their ideas. No professional qualifications are necessary.
OTHER DETAILS
Host Website: http://volzero.com/
Facebook: https://www.facebook.com/volzero/
Instagram: https://www.instagram.com/volume_zero/
Tiny House Design Competition image / information received 170617
Location: Port des Champs Elysées, 75008 Paris
Volume Zero Design Competition – Aquatecture 2018 Contest
London Architectural Competitions



image from architect
Comments / photos for Tiny House Design Competition 2017 page welcome