Marsception 2018 Design Competition, Volume Zero Architecture Contest
Marsception 2018 Design Competition
International Residential Architectural Contest – simple yet resourceful living
Sep 10, 2018
Marsception 2018 Design Competition
Marsception 2018 Architecture Competition
We announce the winners of this recent architectural competition, Marsception2018, one that challenged the participants to envision a habitat for the first five colonizers on the Red Planet where they would research on the viability of life for the future human generations would live there; a habitat that would define a trend for the architecture of the upcoming human civilization on Mars.
The jury for the architecture competition consisted of esteemed designers Daniel Caud (Tetrarc), Dr. Margot Krasojevi (Margot Krasojević Architecture), Shahin Heidari (New Wave Architecture) and Britta Knobel Gupta (Studio Symbiosis)
The top three winners were awarded a total prize money of $4000 while ten entries received honourable mentions.
Here are the winning entries. The full results for the Marsception 2018 Architecture Competition can be found on https://competition.volzero.com/
FIRST PLACE
Participants: Thomas Goessler (Austria)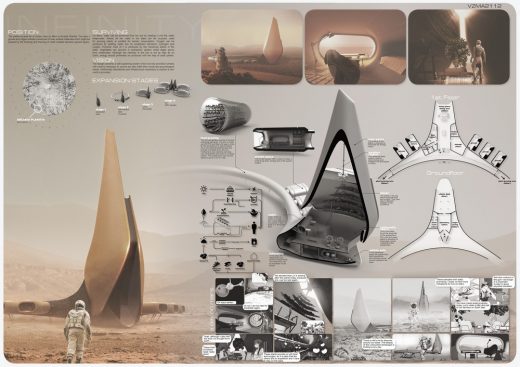 The human base is proposed to be situated in the area of Arcadia Planitia and entails different survival aspects for its habitants. The vision of the design is "a self-sustaining system which not only provides humans with what is necessary to survive but also fulfils their social and psychological needs".
SECOND PLACE
Participants: Agata Mintus, Leszek Orzechowski, Wojciech Fikus (Poland)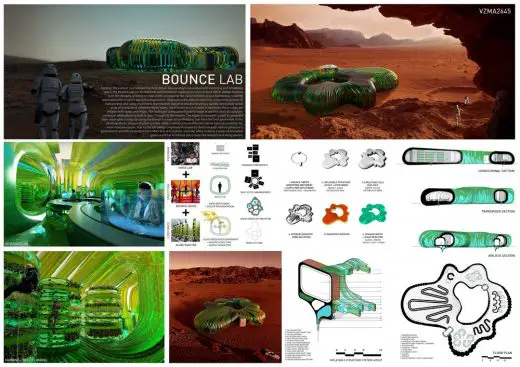 The design aims at protecting the future humans on Mars from low pressure, radiation, toxic regolith contamination and low temperatures. The participants believe that "Architecture must not only shield from outside environment – it must provide – it must process – it must be all what a natural habitat is". Based on the circulation concepts from the ESA MELISSA project, the design aims at providing a habitable environment for the future civilizations on Mars.
THIRD PLACE
Participants: Renzo Lopez (USA)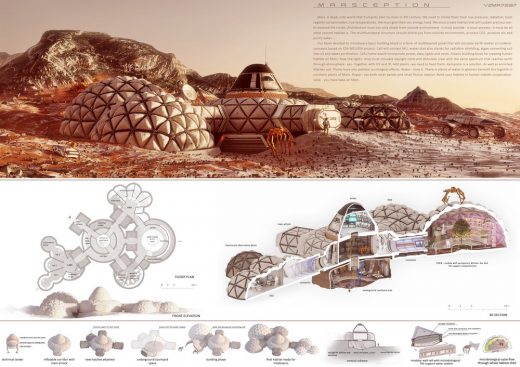 The BOUNCE LAB is a futuristic research centre that is conceptualized like a living organism. "The structure is a recreational and kinesthetic exploration environment which shields humans from the dangers of living on Mars, while eliminating the claustrophobic feeling currently associated with space exploration".
THE HONOURABLE MENTIONS
Participants: LUIZ PAULO COSTA PEGORAR, Brazil
Participants: PATRICE GRUNER, RAOUL SKREIN, Switzerland
Participants: SADULLAH ENGIN, MUHAMMED MURAT EROL, Turkey
Participants: ANG WEI LI, GOI YONG CHERN, ONG CHAN HAO, Singapore
Participants: HOYIN LUI, United Kingdom
Participants: NADIA CHAN, KANGMIN LEE, Canada
Participants: DUARTE ALVES, ANA LIMBADO, Portugal
Participants: TARANG SURESH CHHEDA, PIYUSH MAHENDRA CHAUDHARI, HETVI VIPUL BHEDA, India
Participants: INDRAJEET HALDAR, India
Participants: FELIX MASHKOV, SILIN JOHN, POTAPENKO ANASTASIA, Russia
The next Volume Zero competition, 'Aquatecture 2018 Architecture Competition' challenges the participants to create futuristic, water-based habitat for humans to prosper and thrive on aquatic/amphibian homes that are flood resilient.
The full results for the Marsception 2018 Architecture Competition can be found on https://competition.volzero.com/
Marsception 2018 Design Competition images / information received 090918 from Volume Zero
Location:Port des Champs Elysées, 75008 Paris
Aquatecture 2018 Design Competition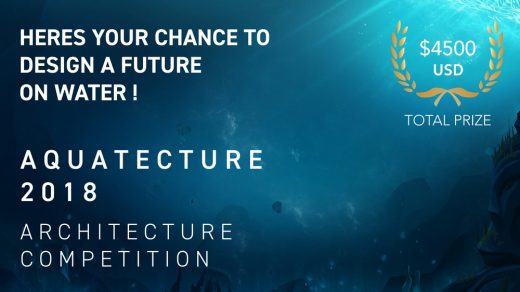 https://aquatecture.volzero.com
Volume Zero Design Competition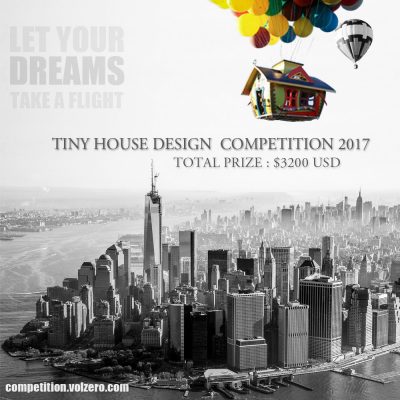 London Architectural Competitions



image from architect
Comments / photos for Marsception 2018 Design Competition page welcome
Marsception 2018 Design Competition – page
Website: Marsception Competition