Luanda House Competition News, Angola Building Image, Contest Shortlist, African Project Design
House in Luanda – Architecture Competition
Portuguese Contest in Angola – Lisbon Architecture Triennale Information
2 Nov 2010
House in Luanda Competition Winners
1º Prize Competition "A House in Luanda: Patio & Pavilion"
Images: Pedro Sousa, Tiago Ferreira, Tiago Coelho, Bárbara Silva & Madalena Madureira
The International Competition A HOUSE IN LUANDA: PATIO AND PAVILION, promoted by the Lisbon Architecture Triennale together with Luanda Triennale, with the goal of selecting the best proposal for the conception of a family unit house in Luanda, was the most participated International Competition of Ideas ever to take place in Portugal, thus showing that the Lisbon Architecture Triennale completely fulfils its international calling.
Previously:
19 May 2010
House in Luanda Competition – Shortlist News
THE BIGGEST COMPETITION EVER ORGANIZED IN PORTUGAL
599 PROPOSALS 234 LOCATIONS 44 COUNTRIES 5 CONTINENTS
We received 599 proposals, 588 of which were accepted to the competition. Architects from 44 countries applied their proposals, coming from all the 5 continents:
EUROPE – Germany, Austria, Belgium, Bulgaria, Croatia, Denmark, Scotland, Spain, France, Georgia, Greece, the Netherlands, Hungary, England, Ireland, Italy, Latvia, Lithuania, Poland, Portugal, Serbian Republic, Romania, Russia, Switzerland and Ukraine.
ASIA – South Korea, Indonesia, Israel, Japan, Oman, Singapore, Thailand and Taiwan
AMERICA – Argentina, Brazil, Chile, Colombia, United States of America, Mexico and Uruguai
AFRICA – South Africa and Egypt
OCEANIA – Australia and New Zealand
The Competition Jury, Álvaro Siza, João Luís Carrilho da Graça, Fernando Mello Franco, Barry Bergdoll and Ângela Mingas assessed all the 588 proposals, having selected the 30 finalist projects. The authors of the 30 selected projects will develop a presentation scale model of their proposals to be displayed at the Exhibition that is to take place at the Museu da Electricidade from October 28, 2010 to January 16, 2011.
The five winners will be announced during the exhibition
The proposals at Museu da Electricidade, incl. Siza Vieira, Carrilho Da Graça and Ângela Mingas:






images : José Gandum
House in Luanda Competition – 30 Finalists
Alberto de Souza Oliveira – Lisbon / Portugal
Alvaro Puntoni – São Paulo / Brazil
Ana Isabel Ribeiro – Vila Nova de Gaia / Portugal
Arne Petersen – Berlin / Germany
Aureliusz Kowalczyk – Tokyo / Japan
Camillo Magni – Milan / Italy
Carla Conceição Valente – Barreiro / Portugal
Cristina de Sousa Peres – Matosinhos / Portugal
Dean MacGregor – Colares / Portugal
Enrique Flores – Mexico City / Mexico
Filipe Manuel Neves Saraiva – Ourém / Portugal
Hugo Proença – Carcavelos / Portugal
Joana Rita Gomes – Los Angeles / USA
João Camarinha da Silva – Oporto / Portugal
João Gomes Leitão – Madrid / Spain
João Navas – Oeiras / Portugal
José Daniel Felix – Sermonde / Portugal
Luís Sequeira Brás – Lisbon / Portugal
Marco Simões da Silva – Lisbon / Portugal
Margarida Quintâ – Oporto / Portugal
Mauro Mariani – Piacenza / Italy
Nuno Matos Silva – Aveiro / Portugal
Nuno Miguel Fernandes Silva – Lisbon / Portugal
Pablo Allen Vizán – Valladolid / Spain
Pablo Forero – Bogotá / Colombia
Pedro Reynolds de Sousa – Lisbon / Portugal
Pedro Sousa – Lisbon / Portugal
Ricardo Carvalho – Lisbon / Portugal
Shuichiro Yoshida – Tokyo / Japan
Verónica Sánchez Carrera – Madrid / Spain
Luanda House Competition Shortlist information from Lisbon Architecture Triennale
House in Luanda Architecture Contest – Launch
Feb 2010
The LISBON ARCHITECTURE TRIENNALE, which is going to happen from the 14 October to the 16 January 2011, launchEs now an International Competition: A HOUSE IN LUANDA: PATIO AND PAVILION.

The aim of this architecture competition is to design a single family dwelling that is radically cheap to build for Luanda (Angola, Africa), a city which is under extreme demographic pressure and is undergoing an intense process of transformation, and that is suited to the cultural, economic and social circumstances of the area.
This project, promoted in collaboration with the Luanda Triennale, should include the possibility of dwellings that allow for evolutionary solutions, and possibly self-construction, which are therefore adapted to the speed of transformation of the social fabric of Angola and Luanda, being the large African metropolis that it progressively will become.
The objective is to select the best proposal for the design of a prototype of a family unit which leads to a patio, with a low construction cost, aimed at severely deprived families, typically consisting of 7-9 people (Parents, 3 children and 2 grandparents or Parents, 5 children, 2 grandparents), in an area of flat topography, located within the city limits of Luanda.
From among the projects a shortlist of 30 finalists will be chosen. The authors of the 30 finalist projects will be contacted by the Triennale to develop a presentation model of their proposal, which will appear at the exhibition at the Museum of Electricity, to be held from 28 October 2010 to 16 January 2011.
Lisbon Architecture Triennale
14 Oct 2010 – 16 Jan 2011
Luanda House Competition Deadline
3 May 2010 – receipt of the project at the Fundação EDP
Website: www.trienaldelisboa.com. Registration for the Luanda House Competition on the website www.trienaldearquitectura.com
Location: Luanda, Angola, Africa
African Buildings – Selection
Angola Architecture
Currency Museum Luanda Building
Design: COSTΛLOPES Architects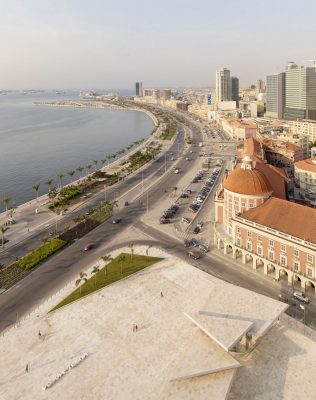 photo © Fabrice Fouillet
Currency Museum Luanda Building – 1 Apr 2017
Luanda Skyscraper



images from architects
Sky Residence Luanda
University of The Gambia – New Campus
Snøhetta



picture from architect firm
University of The Gambia
Soccer City Stadium, South Africa
BUE & Partners with Populous



image : Boogertman Urban Edge & Ptrs / Populous
Soccer City Stadium
Botswana Design Competition : Science and Technology Park – Innovation Hub



photo from the organisers
Building Competitions : Archive
Comments / photos for the Luanda House Competition Architecture Competition page welcome.
Website: Luanda