Laka Competition 2020 Results, Architecture that Reacts Architecture Contest, Winners, Project Images
Laka Competition 2020 – Results: Architecture that Reacts
2 Feb 2020
Laka Competition 2020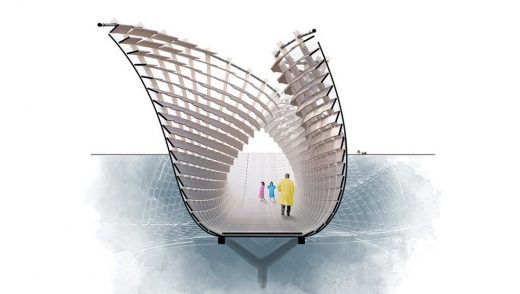 More than 350 participants from 40 countries entered the Laka Competition 2020. Over 200 entries were given thorough consideration by the international panel of Judges. Many thanks to all participants, members of the jury, partners, and media partners!
4 main prizes, and 10 honorable mentions have been selected. We are honored and grateful that you agreed to support the competition as the Media Partners and we hope that you will decide to continue this support during the next edition! Laka Competition 2021 will be announced in the mid of this year (May/June).
Winner for the year 2020 – THE ARK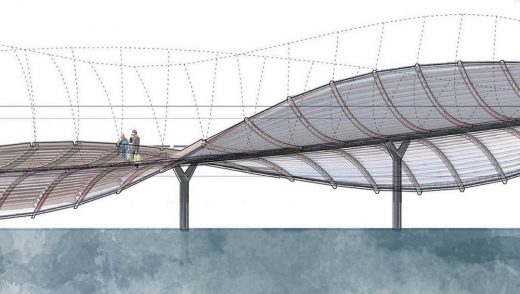 AUTHORS / USA:
Safia Dziri (University of California Berkeley, M.Arch. | M.S. Structural Engineering)
Megan Stenftenagel (Designer at Ingenhoven University of California Berkeley, M.Arch.)
Matt Turlock (Designer at Endrestudio, University of California Berkeley, M.Arch. | M.S. Structural Engineering)
With the participation of Emiel Cockx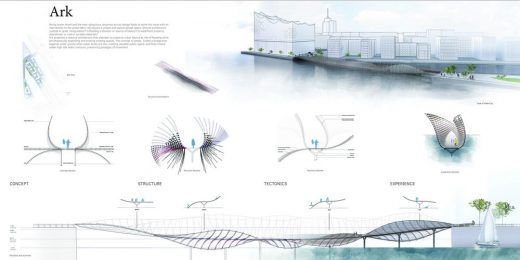 Rising ocean levels and the near-ubiquitous response across design fields to solve this issue with an intervention to the urban fabric introduces a unique and topical design space. Should architecture combat or greet rising waters? Is flooding a disaster or source of beauty? Is waterfront property abandoned, or clad in durable materials?
Ark proposes a reactive architecture that attempts to preserve urban fabrics at risk of flooding while simultaneously expanding and exciting existing spaces. The concept is simple. Create a bridge that expands under gravity when water levels are low, creating valuable public space; and folds closed under high tide water pressure, preserving passages of movement.
A protoype of Ark is sited in Hamburg, Germany, a former industrial port city that still remembers the fatal damage of the 1962 North Sea Floods. The Ark in Hamburg directly connects the waterfront Elbphilharmonie by Herzog de Mueron with the developing mixed-use HafenCity project along the Elbe river, as these areas were formerly isolated by large shipping port. Hafen City has provided a new blueprint for living beside the Elbe's tempestuous water and is a natural location for the Ark. The Elbe is tidally active and prone to flooding, with a differential in water height of up to 9 m from low tide to the 100-year flood condition.
The bending of the bridge is a promising ground for formal design. The central axis plunges towards the water while the edges rise towards the sky, mimicking gentle waves. Variations in profile enable access to the water for ferries and families at low tide, and as the waters rise, the bridge folds over the walkway in a protective embrace. Bending occurs primarily around the central axis, and as the bridge constricts, it becomes a sinuous curve in plan.
Complex behavior is enabled by an assembly of flexible parts and unique expansion details, raising construction to an art form. The primary ribs consist of kerfed laminated beams sandwiching a carbon fiber plate. The combination provides flexibility, rigidity, and the ability to lock extreme shapes as wood kerfs fully close. A tensile membrane is welded to the carbon fiber plate edge, providing the necessary waterproofing. Wood steps at variable rotations are introduced on sliding dowels between ribs, offering seating and a variegated façade system.
Thus, Ark is ready for its voyage, taking port in Hamburg and preserving the vitality and connectivity of Hafen City. Visitors and new residents can meander to the opera house and engage with expanded public space. The bridge reacts to water as people react to the bridge, and a delicate and shifting relationship between nature, form, and experience is established.
Laureate of Gold Prize – GLACIER METAMORPHOSIS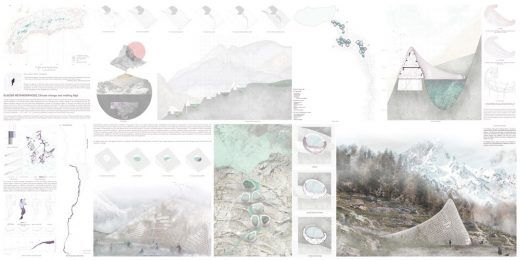 Climate change and melting Alps
AUTHOR / ITALY:
Aasish Janardhanan (MSc. Architecture Graduate from Politecnico di Milano, Italy
Current Profession: collaborator with Urban group Architects, Milan)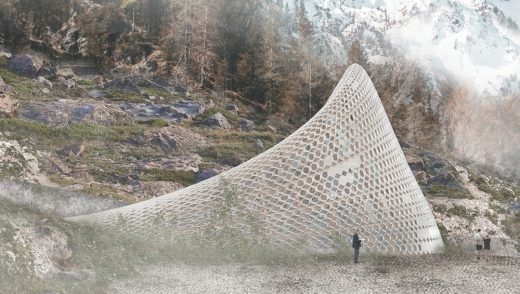 The new phase of history has begun. Nearly half the Earth's land and atmosphere have been transformed by human activity during the Great Acceleration, with significant impacts on nutrient cycling, biodiversity and ecosystems. We have successfully joined the group of meteorites and mega- volcanoes which transformed the earth millions of years ago. We have entered a new human-dominated epoch of geological time called the Anthropocene.
Humans played a vital role in upbringing 'climate change'. Though the earth is always changing, the current speed of change is unprecedented and problematic. The drastic shreds of evidence in the high-altitude areas especially in the Alps give a clear definition of climate change and its impacts. Reduction in snow cover at lower altitudes, receding glaciers, melting permafrost extreme change in temperature and precipitation are the ways by which Alps proves the impact.
The Swiss glaciers as known as the water tower of Europe provides the clearest proof of these impacts. In recent decades many Alpine glaciers have shrunk to half their earlier size, and by the end of the century all the glaciers of the Alps, with a few exceptions, may well have melted away. They play a crucial role in accumulating and supplying water to the continent. Due to climate fluctuation and uneven glacial runoff due to melting, water shortage or drought is projected to occur more often. Also, the retreat induces a lot of hazards to the environment and ecosystem changing the landform and existing system. How to tackle the rising issue? The world has no history of dealing with such a difficult problem, nor the institution to do so.
Responding to the retreat and its impact on the ecosystem, there is an urgent need for water management and resource conservation. On the other hand, the dams and reservoirs built to conserve water resource fail to fulfil the needs of the ecosystem and biodiversity. The need for a new infrastructural landscape arises transforming and translating the needs. The proposal is to store the glacial excess runoff into a collection chamber. The idea is the metamorphosis of runoff to a 'new age glacier'. This system can help in regulating the future water crisis on the continent. The Alps are not just a casualty; they are also one of the contributing factors to climate problems by bringing a whole new set of hazards and problems to the environment. The upward shift or tree line, carbon emission of permafrost melting are some notables. Built environment is introduced into the context as a backdrop supporting the landscape with specific activity including the monitoring, analysis and processing these changes. Here architecture plays a supplementary role, maintaining an equilibrium with the change by supplying energy, storing resource and exploring sustainability.
As Robert Swan said, "the biggest threat to our planet is the belief that someone else will save it". It is the time, and we have a very short time to bring out some change for the future.
Laureate of Silver Prize – CHURCH OF THE OTAKUS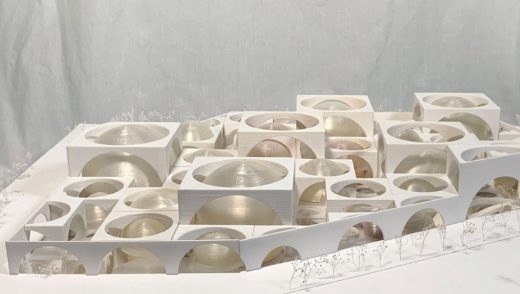 AUTHOR / USA / CHINA
Zhiyi Chen
Master of Architecture, Rice University, Houston
Bachelor of Engineering in Urban Planning, Tongji University, Shanghai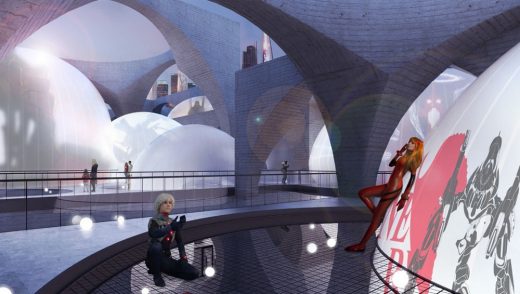 Post-secular society is characterized by "the continued existence of religious communities in an increasingly secularized environment. The revised reading of the secularization hypothesis relates less to its substance and more to the predictions concerning the future role of 'religion'".
Jürgen Habermas, "Secularism's Crisis of Faith"
[Otaku] is a Japanese term for people with obsessive interests, particularly in anime and manga. When these people are referred to as otaku, they are judged for their behaviors – as a person unable to relate to reality.
Church has always been a deliberate agency that perpetuates the constituency in architecture. It is also the conceptual representation of the ideology behind. The legacy of churches once suffused our life, yet with the emergence of globalization and technology advancement, the society is undergoing a crisis of faith, as confluence of culture and capitalism starts to substitute the role of religion with alternative form of relevance – commercial branding, technical products, media production – the manmade artifacts are the secularized deities to the mass production and have earned global recognization that continues to disseminate in the public realm.
Based on Post-secularism, the project intends to raised the awareness of the ongoing social phenomenon and its reflection upon architectural discipline. It foresees a future scenario in which religion and the banal world are synthetically combined, and actively involves public interaction in the physical space.
Church of the Otakus is an imaginary religion derived from the Japanese anime sub-culture, the otaku culture. With its inarguable consistency of the anime fandom, the otakus have shared traits in religion due to its wide acceptance and a similar collective behavior in religious ritual, activities such as the comic-con, cosplay, video games competition and OST concerts are the secularized version of pilgrimage. Therefore to properly present the idea, the project strives to find a spatial form to deliver the transcendency and aesthetics that corresponding to the impression of religion.
The project takes shape from two autonomous elements: the armature of dematerialized dome and the pneumatic bubbles, that are contingent to the structure frame with deformation. Through the combination of the binary system, the project explores an alternative church in its temporarily and sublimity, and therefore retrieve religion back to the public realm.
The first element, the armatures, resonate the form of the church domes. They are achieved through concrete cubes of three sized, the 30ft, 60ft and 90ft. Each cube is carved by 4 cylinders, leaving a generic appearance to the skeleton.
The second elements, the bubbles, are inflated membranes fixed among the punctuations on the floor plate, which merely locates the bubbles and predicts the potential composition. The frame acts as a second layer of constraints that finalize the size and deformation of the bubbles. To add more onto the distinction between the bubble and the skeleton, the floor cuts are not aligned to the gridiron, they move freely on the floor plate to generate different variations of inflation.
The bubble aims to intrigue direct contact both physically and visually through its timely change and utilization of multi-media. It is the new form of church that is open to the public in a porous way.
Laureate of Bronze Prize – The Desalination Generation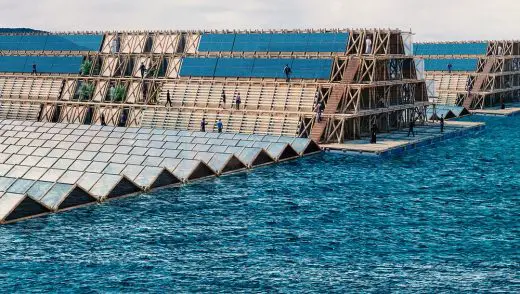 AUTHOR (UK)
Joseph Shenton
M.Arch Graduate – Manchester School of Architecture
Sea level rise due to climate change is an ever-growing concern to developing countries, particularly coastal communities, which are most vulnerable to this immediate threat. Globally, we are set to see a 0.5 metre rise this Century, but this could be as high as 2 metres if no action is taken.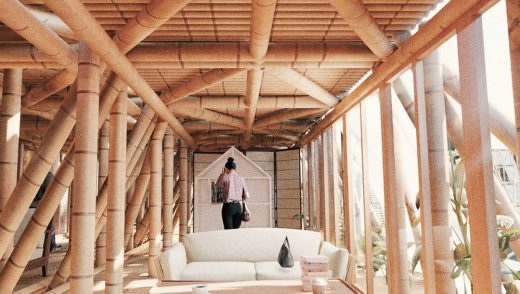 Due to the inaction of developed global communities, those most vulnerable will likely have to accept this sea level rise and have to adapt to the oncoming changes to farmland and coastal urban communities. The majority of land under threat is located throughout developing countries across Asia, where chronic flooding is set to affect areas that contain 10% of their populations. Without adapting, these communities will likely become climate refugees.
A key crisis that communities will face is water scarcity and increased salinity in groundwater, consequently making it extremely difficult to grow crops on the land. To tackle this, a floating Architecture based around the process of solar desalination is developed, allowing communities most affected to rebuild.
The concept is a Low Tech meets High Tech approach. Constructed almost entirely out of treated bamboo, an extremely abundant structural resource throughout Asia. The structure is designed to be modular, allowing simple but effective expansion using traditional bamboo construction. Such techniques make the concept accessible to a variety of communities.
The structures are designed in a stepped formation much like the terraced farms of Asia and South America. This provides access to each level of all systems, as well as giving the overall structure maximum exposure to the sun. Each structure is also connected to a row of solar desalination pods that float alongside.
The floating structures are split into three categories, the communal/residential, the brine treatment/power generation facility and the solar desalination pods.
Desalination pods are designed to work passively in a low tech fashion utilising high exposure to solar. They are able to be constructed them cheaply and en masse so communities can pro-actively build and develop a plant without the need for expensive desalination filtration technology.
The facility is entirely dedicated to the treatment of waste brine water from the desalination process, rather than pumping it back into the sea (as most desalination plants do), it is cleaned via a closed loop algae bio-reactor system. This creates the by-products of a concentrated algae (that can be sold as biofuel/cosmetic products) and fresh water (which can be utilised in a hydroponic farming system). This provides communities living and working at the desalination plant with additional income, as well as an effective farming solution.
This project is unfortunately a dystopian one, in which it relies on the fact that many communities will be displaced and will have to consider adapting to a life such as this. With our current trends, many people are set to lose or see irreversible change in places they have called home, this project aims to make the most out of rebuilding from those dire times by giving a pragmatic approach to the predicted crisis.
Honorable Mentions
Honorable Mention: The Rebirth of Karez: Oasis Plan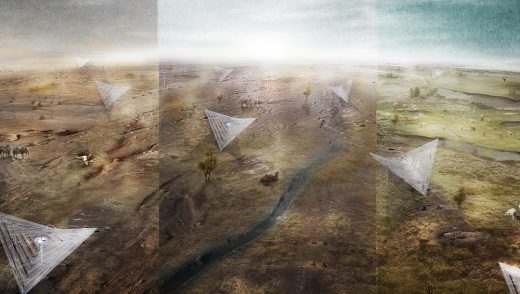 AUTHORS (CHINA):
Yuxuan Cai (student, Wuhan Polytechnic University)
Zehua Bian (student)
Yuxuan Dai (student, Central South University of Forestry and Technology)
The climate monitoring of the World Meteorological Organization shows that the warming trend of the global climate system is further sustained. The global average temperature in 2018 is about 1.0 ℃ higher than the pre industrial level, ranking the fourth since modern observation records. 2018 is the year with the highest ocean heat content on record. Sea level continues to rise, and the sea ice range in the Antarctic and Arctic is far below the average. The losses caused by global weather and climate disasters account for more than 90% of the economic losses caused by natural disasters.
In recent years, the number of Karez in Xinjiang began to decline sharply. We put forward a set of methods to solve the problem of Karez becoming dry gradually. In the 1950s, there were as many as 1700 wells in Xinjiang. With the continuous drying up, by the end of the 1980s, the number of Karez wells had dropped to more than 860. Therefore, we hope to design a device to extract water from the air.
The location of the device is in Turpan Basin, Xinjiang Province, China. The whole device consists of three parts. First of all, in the middle of the unit, we use the large temperature difference between day and night in Turpan area, use MOF materials and wind power to condense water and supply it to underground rivers. Secondly, we simulate the special back shape of a desert beetle in Namibia and design a folding ground water replenisher at the top of the device, so as to realize water collection from the air in a sense. The water collecting principle of this desert beetle is that when the day and night alternate, the air will be filled with a lot of water vapor. The shape of the beetle's back can leave the water vapor in the air to supplement the water needed by the body. The bottom of the device is composed of a group of supporting parts, which are used to fix the device on the well wall and play a supporting role. As a result, with the passage of time, the oasis in the desert will continue to recover without human interference. At the same time, we hope that this concept and model can be applied in other desertification areas, so that oasis can reappear.
Honorable Mentions: Breaking the 4th Wall
AUTHORS:
Ahmad Hafez (Master student in Media Architecture)
Nezar Abualhalaweh (Master student in Media Architecture)
Hamzeh Al-Thweib (Master student in Media Architecture)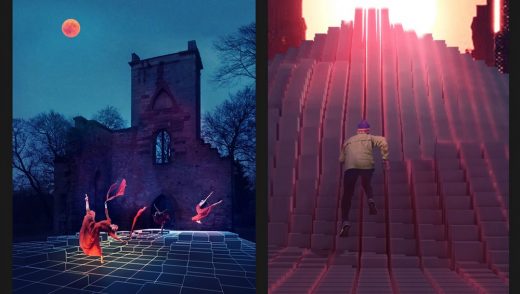 There has never been a better time to discuss and propose alternative methods for developing the field of architecture and Its construction. Especially in the light of current developments within major technological sectors and industries. As we live in a rapidly expanding and developing states, where people's interest along with the demand for an ever-expanding open market, have drastically changed the way that we live to a more flexibly adapting act, where people are no longer fixed to a particular city and where jobs and lives occur all over the globe and are not dependent on a specific country.
Here our project challenges the boundaries for creating architectural spaces that would fit this notion of rapid movement and adaptability to one's own needs. Employed through the aid of deconstructivist and kinetic implementations, in order to create a truly immersive, technologically advanced and tactile spaces. Aiming to move from a rigid nature to a more tactile solution that transcends beyond the limitations of architectural design. Consisting of a modular segment that when arrayed across a plane, would replace familiar building elements i.e.; walls, floors and ceilings. Placed in a variety of contexts from; an office, cinema, floor, stairs and multipurpose hall design and layout to spaces of spectacle i.e. Clubs, public installations and concert halls. At the same time would allow for multiple applications to occur within the space from; space and furniture configuration and design to environmentally reactive solutions and artistic installations. Driven by the individual stepper motors, gears and Scissor joinery mechanisms located in each of these segments.
Moving them in the direction of the z-axis with a rack and pinon drive system encased in an internal railing that would produce an efficient consistent linear movement along a large distance, accompanied by sufficient speed and intended force. Controlled with various components as; a micro controller, an Atmega chip, a driver chip and a dedicated power source for each set of motors in order to control the voltage and current supplied to each segment. And all are programmed to serve the use it is needed for by getting their input form either sensors or through a mobile interface.
With the added possibility of incorporating AI configurations in controlling the movement aspect by collecting outside data from multiple cameras, ultrasonic and motion sensors through user interactions and then translating it to the user's intend at a specific moment and displaying the correct movement needed. As well as fitted in some cases with multiple rgb led systems that would act as pixels on a screen, moving the segment back and forth based on the perspective's depth, displaying a 3-dimensional imagery system based on movement. Here the project grows beyond architecture and space to a living entity defined by its system of action and reaction with its users in its context, adapting to its intended use at a single moment in time for multiple users and factors simultaneously.
Honorable Mentions: PROTOCELL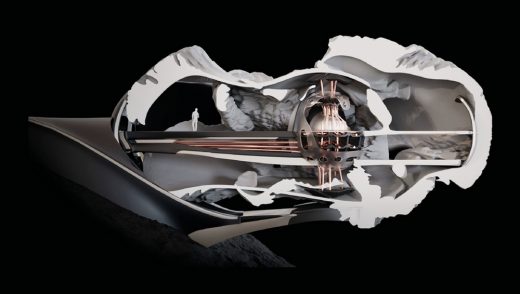 AUTHORS / AUSTRIA:
Monika Kalinowska (master degree architecture student, Studio Hani Rashid, University of Applied Arts Vienna)
Denys Karandiuk (master degree architecture student, Studio Hani Rashid, University of Applied Arts Vienna)
PROTOCELL is a prefabricated mechanism, which allows every new owner to grow from water and CO2 fully custom house, in freely chosen location.
Protocell is a project for domestic living, which superimposes the efficiency of prefabricated structures with the flexibility of custom design and adaptable space.
The amount of CO2 pollution has dramatically increased in recent years. On 13 May 2019 the CO2 level hit historic high. The building industry contributes more than 33% to this production of CO2 into our atmosphere. Due to this, the projects main aim is to find a way of converting harmful emissions into a clean air, through an ecologically clean building material.
Material:
The proposal is based on an invention made by MIT group led by engineer Angela Belcher, where they have been able to generate 1 kg of carbon bricks out of 0.5 kg of CO2. This method is inspired by marine animals that build their own rock-solid shells from CO2 and mineral ions dissolved in seawater. Instead of using marine animals researchers developed a way of using genetically modified yeast with the genes code from abalone. Transformation is happening in process of mineral carbonation, during which CO2 emissions is converted to sustainable building material.
Architecture:
The main aim to develop this project was to find alternative way for building domestic housing. Protocell is a system which allows inhabitants to develop their own elastic spacial concept. It gives possibility to build fully custom designed house for a price of cheep prefabricated housing. Furthermore, with the expansion owners are engaging and contributing to development of the public space. Our project is aiming at cooperation between human, nature and technology.
Technology:
The Protocell, as a prefabricated system, contains from inside piping system, outside panels, furniture and special equipment. Pipes have multiple functions: at first they provide special mixture, which allows the growing process to happen. Later on pipes provide all the necessary utilities, like water, heating and electricity.
The growing process is formed in 4 stages.
Stage_00: SHIPPING, DELIVERING AND CONNECTING
After delivering Protocel_00 is connected to the city grid, which provides access to all necessary utilities.
Stage_01: ANALYZING THE ENVIRONMENT
When the system is connected, Protocell_01 starts to analyze the environment, spacial conditions and parameters like: number of inhabitants, amount of square meters, location, neighbors interactions, environmental conditions and housing program. After the computing process is over, panels are moving to the desire location and the growing process starts.
Stage_02: START OF GROWING
When panels stop, the capillary system starts to work. Special mix of water, genetically modified yeast and mineral ions is pumped from city grid to system. Piping system is redistributing this fluid to panels. Later on, with use of micro pipes embedded in panels, the growing process start.
Stage_03: END OF GROWING
After few hours furniture and all the necessary equipment is placed, also slabs and stairs are grown. After few days the outer shell is fully grown and the house of Protocell_03 is ready to be inhabited.
Honorable Mentions: Two Pieces and a Rubber Band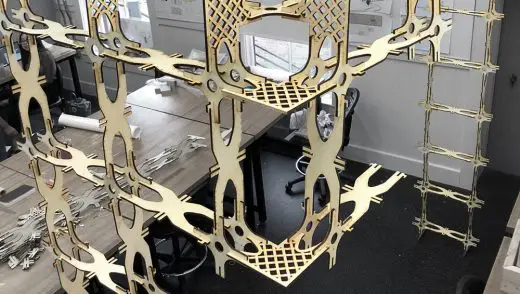 AUTHOR:
Santiago Diaz Giral
Fourth year Architecture student at Savannah College of Art and Design
In times of hardship, when we find so many people getting displaced from their homes due to wars and natural disasters, we need to find new plausible ways of providing them with shelters where they can carry on with their lives with dignity. That's how the idea for this project came about.
The design began as an exploration for a structure that was easy to produce, easy to assemble and could reach a 25' span. When rearranging the pieces from the original design, it became noticeable how the modularity of the structure allowed for a wide variety of configurations, other than just horizontal members. Through multiple iterations it was discovered that these different configurations not only increased the strength and stability of the structure, but they also began forming architectural members such as columns, and walls, that allowed for the creation of spaces and volumes.
And so, the potential of this structure became clear; since it can be flat packed, dropped from planes, and easily assembled by anyone, without the need of tools or advanced knowledge, to create a safe shelter. Due to its modularity, the elements built with the structure can grow, shrink, transform, and adapt to fulfill all the different necessities of the occupants.
Considering the potential of this structure, in an ideal scenario, if the pieces are to be made of biodegradable materials that could work as plant food, after serving their purpose, the structures can be left to decay, creating the basis for new forests and ecosystems. Or considering space exploration, with much more development in materials, the elements of the structure can be tightly packed, and shipped off to different planets, to then be rearranged into large structures that can house systems, components, or hopefully one day, humans.
Honorable Mentions: Worm Space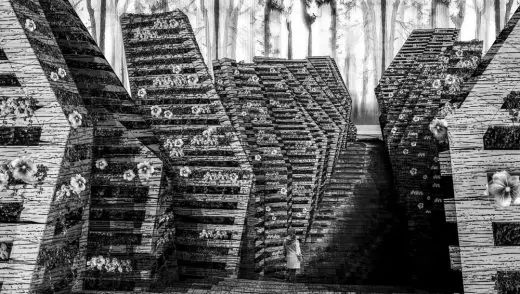 AUTHOR: Zi Kang Lim (architect)
Worm Space – a soil bank set in Kew Gardens – imagines the imminent extinction of top soil in the face of rapidly dwindling arable land. The project celebrates top soil as a valuable commodity and cultivates it through a contextualised heat microclimate in a new landform. With compost, which conserves moisture and supplies nutrients, this microclimate promotes a conducive environment for Mycorrhizae, a type of plant fungi, to thrive in the root system of a host plant through a symbiotic association, promoting top soil production at the same time. Setting the context as the primary driver of the design, Worm Space envisages a process of growth and decay, letting nature claim its way of rooting the manmade in its context, thus blurring the lines between what was inserted by man and the naturally occurring.
The soil bank aims to treat the soil of chosen sites, hence the highly acidic soil along River Thames seems a potential intervention point for Worm Space. One third of the world's arable land has been lost to soil erosion. However, soil erosion is not a high priority among governments and farmers because it occurs so slowly that its cumulative effects take decades to become apparent. The removal of 1 millimetre of soil is so small that it goes undetected. But over a 25-year period the loss would be 25mm, which would take about 500 years to replace by natural processes. Worm Space seeks to speed up the production of soil through an engineered process. It will be a beautiful project. Only rarely have we stood back and celebrated our soils as something beautiful, and perhaps even mysterious.
The notion of storing and producing soil in receptacles greatly intrigues me. To emulate a worm's dwelling space and taking inspiration from the branched network of Mycorrhizae, the receptacles are designed to encapsulate the experience of a worm hole, literally taking a branched form. This unorthodox form of a receptacle renders soil a precious commodity. Like underground connections, the receptacles create an ecosystem of soil, the capillary system of a sunken city. Just as Christaller looked at "representing the fluid, process-driven characteristics of the city" so too does this new dimension look to more accurately respond to the specific needs of the Kew Gardens, rather than imposing. "When architecture and urban design project their desire onto a vacant space, a terrain vague, they seem incapable of doing anything other than introducing violent transformations, changing estrangement into citizenship, and striving at all costs to dissolve the uncontaminated magin of the obsolete into the realism of efficacy."
Honorable Mentions: ADAPTATION in AUGMENTATION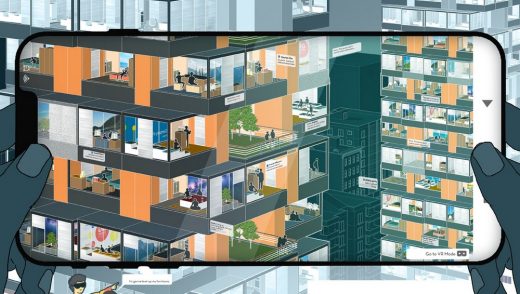 AUTHOR: Md. Shariful Alam Anik (student)
We love spending hours harvesting crops in 'Heyday' through our tiny smartphone. We like to develop our virtual world, arrange internal stuff according to our decisions and let people know about our creativity. Why people don't prefer doing these in reality? Isn't it beautiful to come out of your limitations through the cheapest and easiest way available? Rise of Nations, Clash of Clans, and Dragon world- these freemium games rapidly snatching our attention, projecting our dreams into an LED screen.
Our obsession is interrupted when we realize our limitations in the virtual world. Yes, we definitely have our intention to touch and feel what we furnished in the virtual world. Is it possible to create a complete amalgam between the physical and non-physical world we live in?
Nowadays cities are being over-populated day by day. We are talking about, Dhaka city of Bangladesh placed in south Asia. With the increase in its population, the living cost is also getting high. Dhaka ranked 47th in 'Cost of Living City Rankings 2019' and its living cost rose by 6% in 2018. 47,400 people are living on each square kilometer and in the near future, the number will be increased drastically. As a result, middle-income people will no longer be able to afford spacious apartments or residences. Typically now many house-holds can occupy 3 bedrooms with adjacent toilets, one dining-room, and one drawing-room. Can all these functionalities be comprised within a single room with adaptable interactive modular furniture?
A 16'x18' structure with attached toilet and kitchen facility is fixed as a module, which can be transformed for any kind of function through a mobile application. The total structure is comprised of 72 adjustable blocks (2'x2'). Each block is placed over linear actuators, by which they can be uplifted to any height. The entire structure is wrapped with high-resolution projector panels, which automatically respond to the user's preference.
The module can be adjusted through both augmented and virtual reality. An intertwined mobile application will help the user to arrange and adjust the heights of the blocks. Users have their freedom to change the textures, visual attributes and projections of the window panels. Once their operations are done, those remain saved and the application allows them to re-arrange according to their needs. For example, after waking up in the morning if the user wants to transfigure the room from 'Bedroom' to 'Dining room', he/she will just press the saved 'Dining room' button.
Users of this particular facility can share their status and compositions in social media, where people have options to appreciate and participate in. Such as, if anyone offers a dinner after a party, other users just need to scan his surroundings through Smartphone or wear a VR box to visualize. Though the application people can expose their thoughts, ideas and advertise their creativity. In such a way our physical world forming virtual reality, helping us to incorporate in a more dynamic way.
Honorable Mentions: Climatree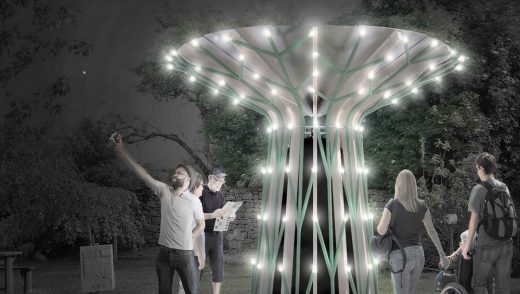 AUTHOR: Raymond McGreal (Architecture Graduate)
Climatree is a standalone rainwater harvesting tower and solar-powered climate monitoring station. It has been designed to show people that climate change is not just doom and gloom and that it can, in fact, be beautiful. It aims to show how tackling climate change can create a positive vision for the future; a future people will actually desire. It's not just a rainwater harvesting tower, it's also a piece of functional public art created to raise awareness and inspire climate change action.
By March 2020 Climatree will sit in the community garden of a rural west of Ireland market town called Ballinrobe. It's a small town with a population of just under 4,000 people. Larger urban centres tend to receive more attention in the form of funding, initiatives and projects when it comes to tackling issues like climate change, despite the fact that towns like this still make up the majority of Ireland's population. Climatree identifies with the desire within these communities to take action and uses locally available resources to make it happen.
Climatree doesn't propose the use or creation of any new technology or materials. It reimagines what's already there in order to show a small community that everything it needs to take climate action already exists – with a little imagination and the willingness to try new things even small communities can create a better future. It illuminates the garden at night with an interactive led lighting display and monitors air quality, atmospheric carbon, temperature, humidity and rainfall. Climatree celebrates these simple things. Rainwater harvesting, for example, is usually relegated to the periphery of gardens where water butts or tanks sit hidden from view, possibly due to their uninspiring although practical designs. It aims to achieve things that a simple rainwater harvesting tank, tucked away at the side of the garden, hidden from view, could not. Climatree enhances the community garden, promotes climate resilience and asks us to question how we want the future to look. It ties together various community groups, businesses and individuals by working towards a common goal.
Climatree is a prototype that can be improved upon and replicated. It has been designed to be easily assembled and installed. The main components are either laser cut or cnc cut so that they slot together as easily as a flat-pack furniture kit. A small team of local workers maintains the garden. The tower is designed so that they can assemble and maintain it. The LEDs are robust, cost-effective, widely available truck marker lights with five-year warranties, the structure is made from marine plywood and is given a clear weatherproofing coat to protect it from decay. The petals are stainless steel and require little to no maintenance. Climatrees could be installed in schools, public parks, housing estates and campuses countrywide. It has been pitched to neighbouring community groups who have expressed a strong interest in having one of their own. The Laka competition is being used as a springboard to launch the idea to a wider audience.
Honorable Mentions: Mycokarst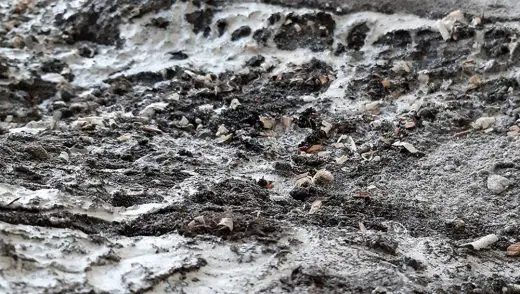 AUTHOR (RUSSIA):
Anna Budnikova (Architect, researcher. Partner of M-A SPACE)
Graduate of the International Master's program `Prototyping Future Cities`.
Member of American Society of Architectural Illustrators: ASAI, member of Best Building Award board.
Mycokast: New generation of self-healing urban materials based on fungal spores
The `Mycokarst` project addresses the challenge of karst sinkholes in urban environment. Karst sinkhole is the world unique phenomenon that is caused by the groundwater movement inside the soluble ground rocks. The underlying bedrock is composed of material, such as gypsum or dolomite (carbonates), which can be slowly dissolved by water leading to a variety of caves, craters, basins, karst logs, ravines, valleys and canyons. There are sinkholes with unique morphologies around the world – Antarctica covered with ice-covered shell, Russia, USA, China, Africa and other regions.
However, in today's cities, karst phenomena are usually associated with collapses of roads and entire settlements. A number of strategies are used to explore karst topography around the world; however, sinkhole hazards in karst areas, assessing karst presence and their management are not well understood.
This project considers the smart strategies in relation to materials with a high probability of destruction, where the key one is biotechnologies. It was noted that unlike common concrete-based mixtures, materials based on simplest microorganisms has the greatest flexibility and resilience to impacts.
The focus is on ability of fungal spores to expand along the pores and cracks of the carbonate-based material and produce limestone under moisture. A new generation of urban materials, which is based on karst soil component and fungal spores and able to "self-repair" in extreme conditions, is proposed.
Taking into account carbonate-based karst composition of the karst ravine along Noksa river in Kazan city, the project's experimental study allowed to prove that spores are able to bind karst soil due to the bound calcium there. As a result, the spores-based material is extremely hard, shatter-resistant and can handle compression forces of more than 40 Mpa. In addition, it was noted that natural diversity and temperature differences contribute to the appearance of various mycelium` patterns. The Mycokarst system is scalable: tested modules were combined into the karst wall prototype, then – to large karst ravine prototype.
Mycokast is promoted as a new generation of urban materials that is based on karst soil component and fungal spores and able to "self-repair" in extreme conditions. The implementation of the Mycokarst system can be realized by robotics technologies and drones, saving labor and time for execution. Moreover, this biointegrated material allows not only to save on manufacture of concrete for construction and engineering strategies, but also realizes a smart solution for modern challenges, in particular, in Kazan. An actively developing city has the potential to introduce "smart" methods of monitoring karst processes with minimal human intervention and to create new typologies of ecosystems for social and environmental purposes. However, despite the fact the project site was specified, the Mycokarst self-healing system is universal and modular due to the similarity of karst conditions and relevance of problem around the world.
The breakthrough of the work is that this nature-based technology of managing urban "non-programmable" phenomena can be realized in relation to architecture materials under high risk of collapsing as well. The Mycokast technology does not require human intervention when damage occurs.
Honorable Mentions: Regen Pods: A multifaceted design approach for tomorrow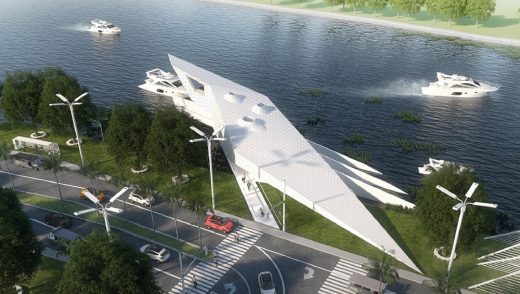 AUTHORS:
Deo Alrashid Trevecedo Alam (Design Lead, Principal Architect)
Franz Christopher Berania Diaz (Architectural Designer)
Matthew Geo Navarro Ravago (Architectural Designer)
Amador Jr Rosales Belgica (Architect)
Theodore Andre Ramos Guttierez (Architectural Designer)
Kiezl Legaspi Salvador (Architect)
Denise Rose Dy Chang (Architectural Designer)
In this age of hyperconnectivity and intense development, the underlying reality that everything is intertwined has become too evident to ignore. Consequences from what used to be discrete issues augment each other to create bigger dilemmas. This project, entitled REGEN PODS, recognizes the need for a multifaceted approach where different solutions are compounded as well in order to produce an impact larger than if each were carried out independently.
Putting this into practice, the Regen Pods target issues on different scales; namely, the individual, the community, the city, and the environment. Different strategies and technologies corresponding to these levels come together to address them effectively.
One of these strategies is the significance of the public mood, which increasingly has become more sensitive and reactive to social events and developments. Thus, being able to evaluate this affective state then lends itself as a significant tool to gauge the effectiveness of current practices and to preempt attitudes towards future endeavors.
In this regard, the project identifies public transportation infrastructure as an excellent channel to adapt the technology that can accomplish such a task.
The Philippine context, where recent trends in public dissatisfaction have been highly connected to an inadequate and substandard transportation network, provides the perfect setting to introduce the project.
The project aims to achieve the following:
Address the issue of public transportation by creating well-designed ferry terminals and providing a viable alternative to help decongest the metro, thus improving the commuting experience.
Develop within locals a sense of kinship with the public buildings by giving them the ability to imprint onto the building their personal opinions, desires and personalities. Consequently, this would also encourage the locals to take care and maintain public buildings over time.
Create constant, real-time indicators of public mood and opinion that can serve as a means to visually manifest the voices of the constituency to send a message to those in power and/or to be a means of unification for people to take a stand on certain events.
Foster a platform for community interaction and development by visually stimulating emotions and interaction among the users of the terminals and between the structure and the urban fabric.
Create biodiversity/permaculture by creating a development that doesn't deplete nature but restores it.
Moreover, the façades can be used to gauge different trends ranging from the emotional states of individuals (such as whether they are happy, indifferent, or even depressed) to the public opinion on specific matters (such as those about recent social events and developments).
The proposal acts as a pilot that exemplifies how this technology can be paired with well-designed public spaces in order to help facilitate the conversation between leaders and constituents about the political and physical landscapes they move in and create.
Solar PVC LED Panels
Ever changing and adapting LED panels exclusively powered by solar panels that is controlled by an automated system. This system gives the users the control on the visual destiny of the façade and interior walls
Habitat Enhancement Structures
These arrangements attract different species of fish, acting as supplementary points of shelter, spawning and food sources. Paired with more favorable water conditions, this would help further encourage the reanimation of the river's biodiversity.
Hydroelectric Power Station
Harnessing the renewable resource of Pasig river as a means for sustainable energy harvesting. Not only would this provide energy for the structure but also activate the once prominent river.
With a network of Regen Pods in place along the Pasig River, the impact of the project is envisioned to be perceived throughout the capital region. At the citywide scale, cargo and public transportation will be decongested allowing for smoother commute and travel within urban areas. As the numerous terminals clean away the pollution and decay, the river and its esteros become healthy and reanimated with life and beauty.
Impacts are also made on smaller scales as such with the communities around each terminal as they become personalized and have unique experiences defined by the individuals passing through them. All of these improvements then coalesce to create a better setting for each citizen to go about their daily goings. Though very little in scale, this design intervention when perceived collectively produces massive impacts in improving the life of the city and the lives of the people in it.
Looking ahead, with the multitude of problems in today's world, finding the moments where these problems intersect to construct multifaceted solutions is the way to continue moving forward without getting left behind by our own development. Regen Pods stands as an example of how we can evaluate different issues, identify their common grounds and find opportunities within their solutions to create effective and holistic results. This mindset is what responsible designing for the future is like.
Honorable Mentions: MOD CITY (new Hong Kong international airport)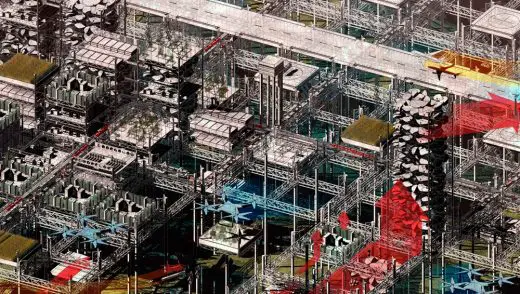 AUTHOR / SPAIN / USA:
Fernando Meseguer Zapata
(Architecture student from Spain, graduated from The University of New Mexico)
In 1935, Le Corbusier proclaimed: "The airplane is the symbol of the new age."
Nearly 100 years later, current airports struggle to physically expand, contract and adapt to continually changing flows, landscapes, climates, political atmospheres and technologies.
Inspired by the futuristic visions of Archigram, New Babylon and Cedric Price's electronically controlled Generator project, this proposal seeks to leave the airport building at the mercy of AI.
The AI produces, rearranges and stacks different types of modules on a reticular megastructure that spans the length of Chek Lap Kok island.
This approach rejects the idea of an "object building" and adopts instead a system-based building that can constantly transforms to always function at maximum efficiency.
The megastructure creates a separation between man-made environments and natural ecosystems. In this way, relationships between these two systems can be observed and controlled for mutual benefit. The divorce of "inside" and "outside" implemented by man is taken to its extreme conclusion in this experimental project.
Laka Competition 2020 – Results: Architecture that Reacts images / information from Laka – 020220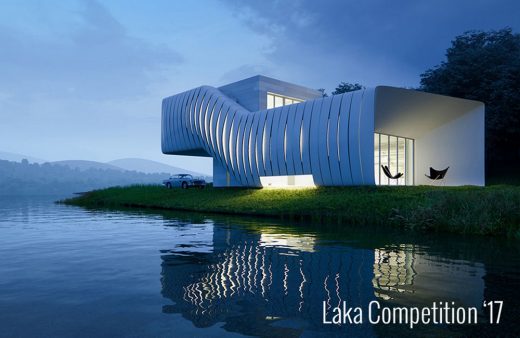 image by Peter Kuczia
Location: Korea
Architecture
Laka Competition 2018: Architecture that Reacts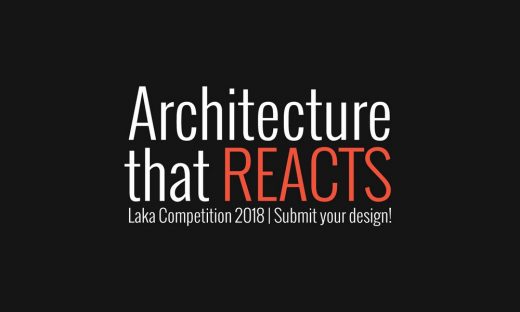 image courtesy of article provider
Laka Competition 2018
HOLLYWOOD – arch out loud competition
Comments / photos for the Laka Competition 2020 – Results: Architecture that Reacts page welcome