Hurricane Sandy Design Contest, US Coastal Architecture, NY Building
Hurricane Sandy Competition : Super-storm Design Contest
3C : Comprehensive Coastal Communities International Competition, USA
Oct 15, 2013
Hurricane Super-storm Sandy Competition News
NYIT Students Plan Design Competition to Help Coastal Communities
THE ORLI STORY:
Super-storm Sandy was an unforgettable, once in a lifetime event with many long-term and serious consequences. However, the crisis also brings positive opportunities as we work together to plan and rebuild to be stronger and more resilient. With a destruction path that stretched deep into the tri-state area, Sandy literally hit home by directly impacting the lives of our team located mostly in New York City.
College classes were cancelled for weeks, and the lower portion of New York City was completely shutdown for a solid week. Subway and bus service was eliminated in New York and many places on Long Island could not get fuel delivery for cars and generators. On top of the infrastructural damage and inconvenience of fuel shortages, many people and neighbors lost portions of their homes. Some even lost everything.
A few weeks after, when things just began to return to normal, we spoke with our Associate Dean, Frank Mruk, and laid the groundwork to start a student-led group to organize a response. Within the next few weeks, we held meetings and adopted the name ORLI, Operation Resilient Long Island with our major project being the "3C: Comprehensive Coastal Communities" ideas competition that spread to 20 countries and 300+ architects and designers with ideas to share. The competition launched March 25 and closed at the end of July. A public vote component, jury, exhibition and publication all acted as platforms to deliver new ideas to the public.
Winner – "Adaptive Urban Habitats" and was envisioned for Red Hook, Brooklyn:



image from competition organiser
We started the student-led group with no set agenda, but began by openly discussing how students of architecture can respond and lead a conversation about rebuilding our own communities. In order to get a real understanding, we needed to see the damage first hand. We called John Maguire of the Nassau County Office of Emergency Management. John referred us to the City of Long Beach, which was heavily covered by the media during the storm. The images that came to mind were of a reporter standing on the Long Beach boardwalk, torqued by the wind and rain, reporting on the infamous lifeguard tower crashing off of its foundation and into the boardwalk. The next week we organized a bus trip to survey the damage and develop a plan of action.
Winner – "Adaptive Urban Habitats" – envisioned for Red Hook, Brooklyn, NY: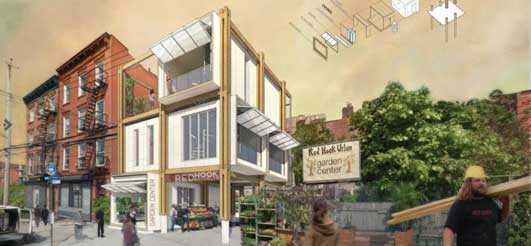 image from competition organiser
On the ride out to the impacted areas, we decided it was a good time for everyone within earshot from the different parts of Connecticut, New York and New Jersey to get familiar with each other by sharing their Sandy story, and we learned that everyone had a story – for better or worse. Dan, one of the team's co-chairs who lives closer inland, lost all his belongings that were in his basement when flood waters rose up over five feet in the seven foot space. He then had to venture down into the 5 feet of water in hip-waders to shut off the electricity to his home.
Austin, the ORLI Operations Director who lives in the East Village, found his basement level flooded and was then forced to share the two top floor bedrooms with his 7 roomates. Moe, the team's Communication Director, is a volunteer firefighter and was a first responder during the storm; he shared some of his experiences that night. Flood waters were so high that the water rescue vehicle, which is made to travel through high water, could not make it to a family in peril. Moe and his partner decided to swim three blocks to reach the family. These were just a few of the many stories we shared on the way to Long Beach.
We arrived at Long Beach City Hall to find Scott Kemins, the Long Beach Buildings Commissioner, to welcome us. Emergency tents surrounded the City Hall plaza from FEMA, insurance companies, Home Depot and companies alike. Over three feet of sand covered the ground all the way to city hall on Park Avenue – four blocks away from the ocean. John and Scott explained that what they needed were ideas for rebuilding and solutions for mitigation of the recovery efforts, now and for future storms. Scott joined us as we traveled to the most devastated areas.
We passed by the Boardwalk, a symbol of Long Beach and the pride of its citizens. In some places it was totally destroyed, and other pieces that had washed away were found all over the island. Scott explained that the infamous lifeguard tower was nowhere to be found. The small seawall underneath the boardwalk was breached, allowing tons of sand through to the streets. We passed by the aptly named Mt. Sandy, a five-story mountain of sand that was piled on a vacant lot adjacent to the boardwalk. We then passed by the Canals district, where a fire completely destroyed eight adjacent homes. Although power was cut, a car battery sparked a gruesome fire when the salt water encroached. This story was only one instance where a fire was started from flooded vehicles. Unfortunately it was repeated many times throughout the heavily hit boroughs and other coastal towns.
Finally we toured the West End neighborhood, the most damaged from the storm surge. It is a neighborhood of small beach bungalows that transformed from a simply built summer house to a year round community. Scott directed us down Pennsylvania Avenue, showing us the flood water levels on the small one-story homes. Debris and salt water-logged belongings were piled in the street. Scott pointed out the few FEMA compliant homes on the block, which seemed to tower over the adjacent bungalows. He explained that any new construction has to comply with FEMA and the National Flood Insurance Program, mandating that the homes ground level be elevated up to 12 feet above the street.
Seven years prior, Long Beach adopted the FEMA guidelines and had to modify their definition of grade, changing it from the street level to the Base Flood Elevation (BFE). Our faculty advisor and practicing architect in Long Island, Frank Mruk, pointed out this is the real problem. Raising the elevations will put the character of this established neighborhood in jeopardy. Finally, Scott explained that only 12 homes of the 9,500 in the neighborhood were built as FEMA compliant and above the BFE. Over 800 homes were estimated to be over 50% damaged and would have to be raised or rebuilt.
In the following weeks and over our winter break, we vehemently started organizing a competition to bring the best ideas from around the world to address the problem that desperately needed attention. We pursued studio coordinators to include Long Beach in their studios. After much work, meetings and cooperation, we organized the 3C: Comprehensive Coastal Communities competition to provide solutions for local municipalities. The cause re-imagines design-build to design-impact. This meaning we will catalogue the submissions and present a framework to implement local zoning guidelines that address the effect of raising homes and the effect on the character of communities.
As a group of young professionals, the experience has been life changing. Through our connections with AIAS, we have set up an Advisory Group with AIAS students across the country to discuss and update what we are working on. In the past months, we attended many post-Sandy events in New York and Long Island including events at AIANY.
We made a partnership with Waves for Water, who are repairing and rebuilding homes up and down the east coast with a huge impact in the Rockaway's and Long Beach areas. Their focus is getting residents back in their homes from FEMA temporary housing and providing the best value for their limited resources. In the coming weeks with Waves for Water, ORLI will set up a charrette series to provide innovative construction technology to restore damaged homes. We are also working on coordinating efforts with NJIT and Pratt who have set up a similar group: the Pratt Disaster Resilience Network. Together, by breaking institutional and regional boundaries we believe we can rebuild our communities better and stronger.
During the process, ORLI has been at the center of post-Sandy discussion in New York. In April, ORLI held a first of its kind meeting, gathering experts from Long Island, New Jersey and New York City all in the same room. Members have actively participated in AIA New York's post-Sandy Taskforce. Now the next step is to expand our network to the national and international level by sharing the submissions to as many coastal communities as possible to hopefully help inspire a better designed, resilient society. Idealized stops are NYC, Long Beach, London, Copenhagen, China, Philippines, India, Northern Australia, New Zealand, and Hawaii. Hopefully with each stop, more research can be done into culture and typologies so that our message of resiliency can evolve into a well-rounded, new technology or design that can implemented in problem areas across the globe.
3rd place – "Hard-Core":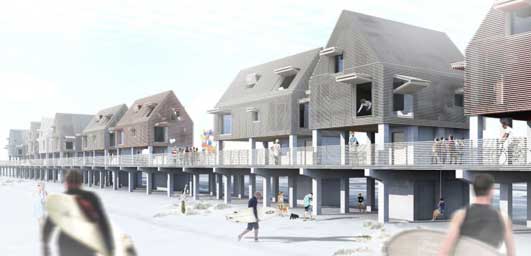 images from competition organiser
3C COMPETITION SUMMARY:
The 3C Competition has emerged as a new methodology for design ideas competitions. We had no prize – in fact, we gave teams a gift card for inventables.com for entering! We learned that teams signed up because of the cause and for the desperate need for ideas to tackle the problem of rising home elevations in coastal communities. We found that there was no lack of ideas. There is only a lack of a comprehensive strategy to implement the ideas.
The 3C: Comprehensive Coastal Communities competition called for comprehensive solutions beyond just resilient, but also for contextually sensitive and pragmatic solutions. It resulted in over 60 entries from 20 countries around the world. The ORLI committee selected the top 32 finalists and engaged them in a public education strategy through a public vote campaign. This much needed component to our mission gave a voice to the public. Through the month of September we were able to educate and illustrate to the public what the problems facing their communities were by exhibiting proposals specifically designed for them. Through social media and a simple online voting system, we managed to spread our ideas to over 250,000 unique visitors globally. For a handful of young architects to then reach a global audience in the hundreds of thousands was truly remarkable.
A jury panel of 8 leading professionals in the fields of architecture, urban planning and disaster mitigation met in Mid-September to review the top 8 finalists and to select the top 3 winners.
1st place:




images from competition organiser
– The first place project came from a group of recent graduates from Northeastern University. Their design was entitled "Adaptive Urban Habitats" and was envisioned for the area of Red Hook, Brooklyn, New York. It is a standardized kit of parts produced by local manufacturing facilities that can be deployed to infill vertically above existing neighborhoods. It increased build able space and density, protecting future developments from rising sea levels.
2nd place:







images from competition organiser
– Second place was awarded to "Flexing With The Tide", devised by team of Pratt graduate students. Their project was for Canarsie and looked at a phasing diagram that called for a managed retreat from the coastline. Pre-fabricate modules would attach to existing homes allowing for an easy transition to more resilient housing designs with minimal modifications to existing structures.
3rd place:






images from competition organiser
– Third place was entitled "Hard-Core", and looked at creating housing above destroyed boardwalk sections in Rockaway, Queens. A unique urban beach aesthetic was created and the repetition of the building typology could be imagined as a new way to develop the coastline, linking more and more inhabitants together with a new shared ground plane.
Hurricane Super-storm Sandy Design Competition information from Operation Resilient Long Island
Hurricane Sandy Design Competition : background information
Location: Long Island, NY, USA
American Architecture Competitions
ONE Prize 2013, NYC



images from ONE PRIZE
ONE PRIZE Architecture Competition
SixtyNine-Seventy, The Spaces Between: An Urban Ideas Competition, Utah



image from organisers
SixtyNine-Seventy Architecture Competition
DawnTown Architecture Competition, Florida



image from organisers
DawnTown Architecture Competition
Evolo Skyscraper Design Competition, USA
Boulder Architectural Competition, USA
New York Buildings
Barclays Center Atlantic Yards
Bubble Shade
Design: Valerie Schweitzer Architects



image © Valerie Schweitzer
NYC Parks Bubble Shade
Comments / photos for the US Hurricane Competition – Super-storm Sandy Architecture Contest page welcome