Blue Badge Access Awards 2021: BBAA Design Competition, Architecture Contest News
Blue Badge Access Awards 2021
4 November 2021
Encouraging thoughtful and stylish inclusive design across the world.
previous winner: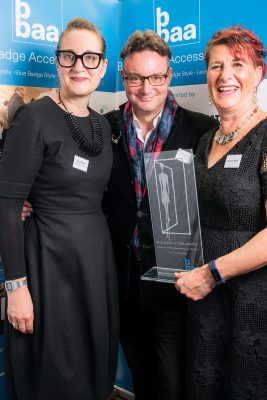 A video of the most recent '2016 Conceptual Design' winner Motionspot. They actually got to realise their design for an accessible room in 2020 at Hotel Brooklyn, Manchester.
Blue Badge Access Awards 2021 News
INTRODUCTION & INVITATION
The Blue Badge Access Awards (BBAAs) is the only dedicated global award scheme promoting stylish accessibility across hotels, restaurants and all hospitality venues. The Awards presentation will go ahead on 28th April 2022 (Subject to COVID 19). We want hospitality industry bosses, architects and designers, to consider ways in which they can address the current and future needs of disabled people.
Photos of accessible interior rooms at Motionspot at Hotel Brooklyn, Manchester, England: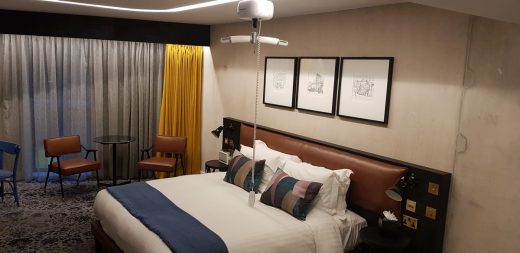 The Blue Badge Access Awards 2022 is an international design competition, which seeks original ideas to improve access and provide an enhanced experience for guests, particularly for those with disabilities, in any hospitality setting. Inspiration came from Peers* in the UK House of Lords who helped originate the competition within which we aim to 'employ good design to re-imagine the welcome extended to guests with physical and cognitive difficulties, making their experience more joyful and inclusive'.
The scope of the competition is wide-ranging. It seeks to reward the most creative and original ideas in architecture, interior design, product design and service design.
Ideas could address the experience from the front door to any room or service within a hotel, restaurant or other venue and the process that has to be undertaken before a visitor arrives or leaves.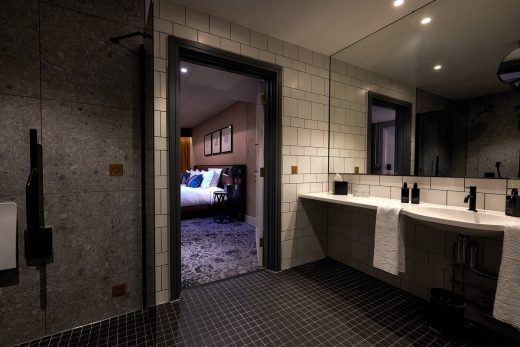 The competition is global and open to everybody. Individuals, groups and design professionals of any age are all eligible. The competition particularly welcomes entries from disabled designers, architects or hospitality professionals. Entrants should demonstrate that they have engaged with 'service users' and disabled people, in framing their proposals. Entries will be assessed anonymously.
*Celia Thomas (Baroness Thomas of Winchester) is a member of the UK House of Lords who promotes the rights of those with disabilities and was a founder of the awards.
A prize fund of £20k will be allocated at the judges' discretion. An overall winner (if one should be selected) will be awarded the 'Celia Thomas Prize'. Other prizes will be offered according to the quality of entry.
Registration & How to Enter The Conceptual Design Award 2022
There are 2 strands to the competition:
• Innovative Inclusive Design Concept (open to architects & designers)
• Most Inclusive Guest Innovation (open to anyone)
The BBAAs aims to release designers' imagination and suggest innovations or improvements for guests that may be disabled. The competition is not about improving current regulations, rules or standards that may apply in any particular country. Entrants will be assessed on the merits and capability of their proposals and in particular, the ease of implementation as previous winner's designs have been realised!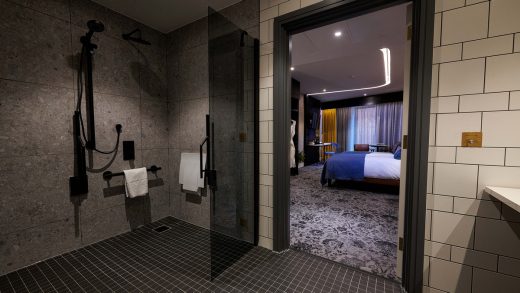 Competitors may like to consider the following questions as a stimulus for ideas:
• What sort of welcome do hotels, restaurants and other venues provide for disabled people & their companions i.e., those with reduced mobility, hearing/sight loss or with cognitive issues?
• What has been your experience of staying in a hotel room set aside for disabled people?
• What do you feel about products or facilities in hotels and other venues that are designed particularly for disabled people?
• How can the persistent 'medicalisation' of designs for disability be overcome?
• How can the detailed design of venues be made more inclusive from the start of the build process?
• What (anticipatory) systems or processes need to be improved, before the experience of hospitality venues can become more joyful for everyone?
Three areas of design have been identified for competitors to consider.
Architecture:
In the context of the BBAAs, 'architecture' means design concepts for hotel or venue buildings or interiors. These may be expressed in sketches, graphics, drawings, illustrations, photographs, sections, plans, videos or elevations.
Please note that no hotel or other sites are offered or suggested as part of the competition; competitors are free to imagine new buildings in any context (urban or rural) or to suggest changes to, or refurbishment of, existing buildings, particularly Listed or old buildings.
Product Design:
In the context of the BBAAs, 'product design' means original design concepts for discrete, useful objects (Including hotel/venue fixtures and fittings) that have not been designed or manufactured by others and which do not already exist as products. Such objects may be portable or fixed. Ideas may be expressed in sketches, graphics, drawings, illustrations, photographs, sections, video clips or plans.
Service Design:
In the context of the BBAAs, 'service design' means concepts and processes designed to alter or modify behaviour so as to improve the quality of disabled visitors' experience of hotels & hospitality. This includes booking, checking in, staying (including sleeping, dining, bathing and using other amenities) and checking out. Entries may consist of ideas for Apps, new training and education processes for staff, or inventions for assistive technologies. The preceding examples are by no means exhaustive.
Competitors may confine themselves to one or more strands or combine them, possibly by collaborating with others, such as manufacturers or current service providers.
Further details of the Submission Requirements are given under Competition Conditions.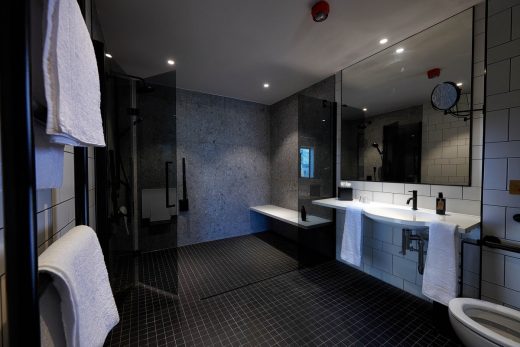 COMPETITION CONDITIONS
1. Format & Post-Competition
Competitors should note that the competition is a call for design ideas. There is no
commitment to realise any of the proposals arising from the competition. However, it is
hoped that others may adopt the ideas submitted. By bringing better inclusive designs
to public attention, they may also help to influence future regulatory standards.
2. Competition Promoter
The design competition will be sponsored by BBAA and any number of industry partners
and supporters. These will be clarified by Autumn of 2021.
3. Organisation & Enquiries
Queries relating to the competition should be directed in the first instance to:
Blue Badge Access Awards, +44 (0)208 5687353
[email protected]
Neither the Promoters nor any judge or adviser to the competition should be solicited for
information, as this may lead to disqualification.
4. Eligibility
The competition is open internationally to individuals, groups and design professionals.
The competition organisers particularly welcome entries from disabled designers and
architects. Collaboration between people with disabilities and design professionals is
encouraged, as is collaboration amongst design disciplines. There is no age limit.
5. Judging Panel
Panel member – Affiliation
Robin Sheppard: Chairman, Bespoke Hotels Group
Fiona Jarvis: CEO Blue Badge Style Ltd
Tina Norden: Director Conran and Partners
Alex Taylor: BBC Journalist
TBA: Design Council GB
Jane Duncan: Past President RIBA
Steve Ingham: CEO Page Group
Michael Vermeersch: Accessibility Product Marketing Manager, Microsoft
Additional judges will be announced in due course and the judging panel may change.
6. Programme
The programme, which may vary, is as follows.
Task Date:
Deadline to raise questions 7th November 2021
Memorandum issued in response to questions 14th November 2021
Deadline for submission of design proposals 1st Feb 17:00 GMT 2022
Selection of long-listed entries March 2022
Announcement of Prize winner(s) 28th April 2022
N.B. All dates may be subject to change due to COVID Pandemic.
7. Questions
Questions relating to the Competition Brief and Conditions should be submitted to
[email protected] before 1700hrs [BST] on 7th November 2021. Replies to
questions raised will be circulated to all registered competitors 14th November 2021. This
Memorandum will form part of the Competition Brief. Oral questions will not be accepted.
8. Selection criteria & prize fund
The following criteria will be applied to entries:
§ Creativity, originality and impact of the proposals
§ Evidence of engagement with 'service users' and disabled people
§ Capability of future development and adoption by the hospitality industry
§ Clarity of communication
The weight given to each criterion will be at the judges' discretion. A sub-set of the Panel
(with advisers) will be responsible for undertaking an initial appraisal and selection of
long-listed submissions.
A Prize Fund will be available at the discretion of the judges, with an overall winner to be
awarded the 'Celia Thomas Prize'. The Judges reserve the right not to award prizes if in
their opinion none of the competitors meets an acceptable design standard nor satisfies
the objectives of the competition.
9. Anonymity – Unique Registration Number & Declaration of Authorship
All submissions will be judged anonymously, via use of the Unique Registration
Number [URN] and Declaration of Authorship form issued at the time of Registration.
The URN should be prominently displayed / incorporated within each element of the
design submission.
10. Disqualification
Submissions will be excluded from the Competition:
§ If a Competitor discloses his or her identity or attempts improperly to influence the
decision.
§ If the submission has identifying marks (including logos, text, insignia, or images that
could be used to identify the submission's authors).
§ If received after the latest time stated in the Programme quoted above.
§ If, in the opinion of the Judging Panel, it does not fulfil the requirements of the
Competition Brief or if any of the Conditions are disregarded.
11. Submission requirements
The competition language is English. Competitors are required to submit anonymous
design proposals in electronic format, as summarised in the Table below and Section
11.1 through to Section 11.4.
Ref Item To be submitted via BBAA Dropbox/
MailbigFile TBA
11.1 Proposal Ideas
up to 5x No. A3 sheets in landscape format
plus one additional A3 sheet listing
proposals for future development (see
below)
PDF version of each sheet
(each sheet <5Mb file size)
11.2 Optional supporting information
1x No. additional visualisation, audio file or
video clip (of maximum 2-minute duration).
In readily available format that does not
require specialist computer software or
hardware. File size to be <25Mb.
11.3 Representative publicity images
2x No. summary images of the entry
submitted
JPEG format, 72dpi
11.4 Declaration of Authorship Form
Completed and signed
PDF format
11.1. Proposals
Competitors are required to outline their design ideas on up to x5 No. A3 colour sheets
in landscape format. The A3 sheets should be illustrated succinctly. The purpose is to
enable Panel members to understand the essence of the idea, concept, approach or
proposed service improvement. Concept sketches, graphics, plans, or threedimensional visualisations should be provided as appropriate, together with explanatory notes if necessary. The sheets could form a narrative sequence.
One [1 No] A3 ADDITIONAL sheet should propose, in landscape format, how the
concepts submitted could be developed in future. For example, requirements for more
detailed design development could be listed, along with an assessment of the likely
investment required, plus an account of the professional skills that may be needed to
turn entrants' ideas into a viable and investable design, concept, product or service.
The URN should be prominently displayed on the front face of each page in the top righthand corner, together with design theme (Architecture, Product Design, Service Design
or combinations thereof). The layout should be presented such that the proposals are
legible when printed at A3 size or viewed on-screen. Each A3 sheet should be a PDF file
of <5mb – total of <25Mb.
Applicants should note that initial appraisal of ideas submitted will be undertaken on the
basis of the A3 sheets unless a preference is stated for another format (e.g. audio file or
video clip – see below). Disabled entrants who use assistive technologies not specified
in this document should contact BBAA for advice.
11.2. Optional supporting information
Competitors may also submit 1 No. visualisation, video clip or audio file. These should
be submitted in a format that does not require specialist computer software or hardware.
The video clip or audio file should be a maximum of 2 minutes and no larger than 25Mb.
11.3. Representative publicity images
Applicants should select up to two summary images for potential future use in the media
and the potential on-line gallery of competition entries. The images should be
representative of the ideas proposed and be readily identifiable as such. Each image
should be in JPEG format and have a resolution of 72dpi.
11.4 Declaration of Authorship form
The submission must be accompanied by a Declaration of Authorship. Each
Competitor must satisfy the Competition organisers that the submitted design is an
original piece of work and that they are the author of the design proposals submitted.
By signing the Declaration of Authorship, Competitors accept all conditions pertaining to
the competition and agree to abide by the decision of the judges.
The total upload limit for all elements is 60Mb.
12. Submission instruction
Items 11.1 to 11.4 of the submission requirements must be submitted via BBAA
Dropbox/Mailbigfile (TBA). File names should consist of the URN, design theme
(Architecture, Product Design or Service Design or combinations of), item description
and file extension, for example:
• URN#_Architecture_Sheet1.pdf
BBAA will not be responsible for any files that are delayed, corrupted, or otherwise damaged
or lost during transmission.
Submission Deadline: 17.00hrs (BST), 1st February 2022. Late submissions will be
rejected, except where the Competition Organisers (at their sole discretion) believe that
there are exceptional circumstances.
13. Notification of Result & Publicity
The Competition results will be published after notification has been given to all
participating Competitors. Please note that any requests for feedback should be
submitted to BBAA within one calendar month of a result being announced.
It is anticipated that The Celia Thomas Prize and other prizes will be awarded at a
ceremony at the Hotel Brooklyn, Manchester on 28th April 2022.
Competitors will be expected to honour a confidentiality agreement and must not
release their designs for publication or identify themselves to any third parties until after
an official announcement has been made, anonymity and/or any related embargoes
have been lifted.
BBAA reserve the right to publicise the Competition, any design submission, and the
result in any way or medium they consider fit for an unlimited period. Illustrations of any
design – either separately, or together with other designs, with or without explanatory
text – may be used without cost. Entries may also be used to promote successive
BBAAs. Once anonymity has been lifted, authors will be credited in all associated media
and publicity.
14. Copyright
The ownership of copyright will be in accordance with the Copyright, Designs and
Patents Act 1988. Copyright vests in the authors of entries submitted or, where this is
different, the owners of the Intellectual property. The laws of England and Wales govern
the administration of the Blue Badge Access Awards.
The awards event takes place in Manchester 28th April 2022.
The Award Categories 2022:
• Best Bar x 2 (Upmarket or Budget)
• Best Restaurant x 2 (Upmarket, Conran Award, or Budget)
• Best Boutique Hotel
• Best Luxury Hotel (HEWI Award)
• Best Venue in a Listed Building (Historic England Award)
• Above & Beyond (Includes Hospitality & Corporates, venues &/or people)
• Access Champion of the Year
• Training Initiative Award of the Year
• Best Accessible Toilet
• The Exception Award – Most Ludicrous (Accessible) Loo
• Euan's Guide People's Choice Award
Blue Badge Access Awards 2021 image / information received 041121
Architecture Competitions
Architectural Competitions : links
Architecture Competitions – architectural selection below:
UIA-HYP CUP 2021 International Student Competition in Architectural Design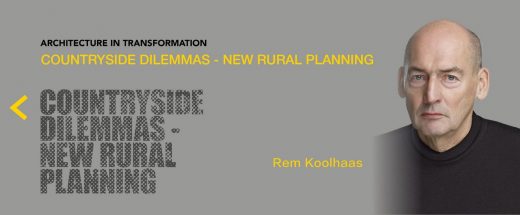 UIA HYP Cup 2021 International Student Competition
Young Visionary Architecture Competition 2021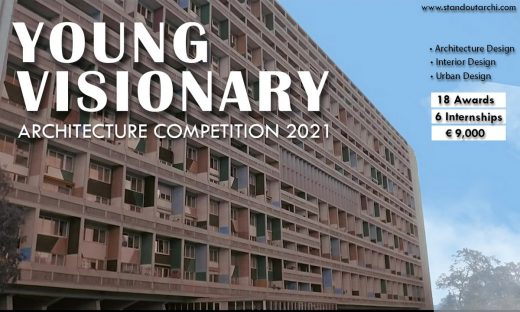 Young Visionary Architecture Competition 2021
arch8 Re-Vision Design Competition 2021
arch8 Re-Vision Design Competition 2021
REVERENCE: Memorial Structure Design Competition
REVERENCE: Memorial Structure Design Competition
International Competition for the Development Plan of the Old HANGLAS Site, South Korea
Old Hanglas Site International Competition
Reviving Silk Route
Reviving Silk Route Architecture Competition
Architectural Designs
Comments / photos for Blue Badge Access Awards 2021 page welcome