La Cité du Vin in Bordeaux building, French Wine museum design news, Architect images
La Cité du Vin Bordeaux
Wine museum and cultural center in southwest France: Contemporary French Architecture design by XTU Architects
2 Jan 2017
La Cité du Vin Bordeaux Nominated for Mies van der Rohe 2017 Awards
Mies van der Rohe 2017 Award Nominations
11 + 9 + 6 Jun 2016
La Cité du Vin in Bordeaux
Location: Bordeaux, southwestern France
Design: XTU
La Cité du Vin in Bordeaux
The Bordeaux-based wine museum and cultural center known as La Cité du Vin (www.laciteduvin.com) opened its doors on June 1, 2016.
It will draw visitors into an unparalleled discovery of wine-growing civilizations from all over the world.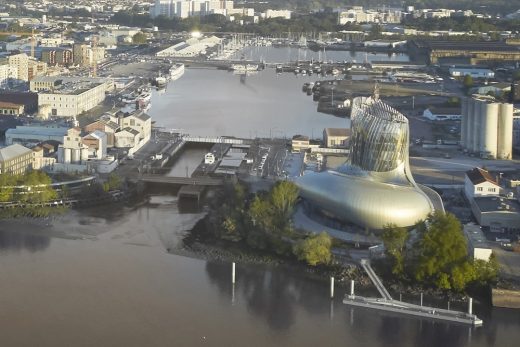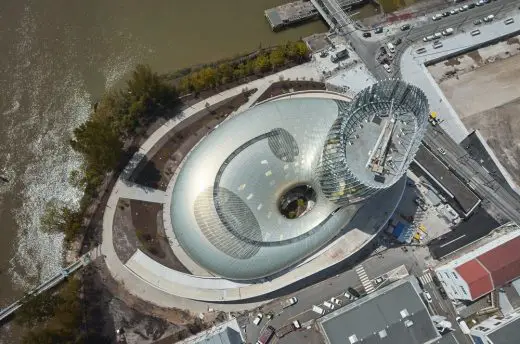 images © XTU-Julien Lanoo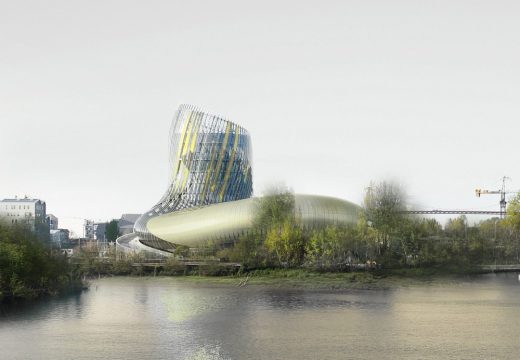 image © XTU-Delphine Isart
'This building does not resemble any recognisable shape because it is an evocation of the soul of wine between the river and the city.'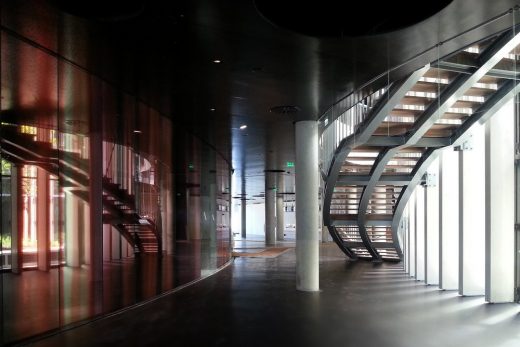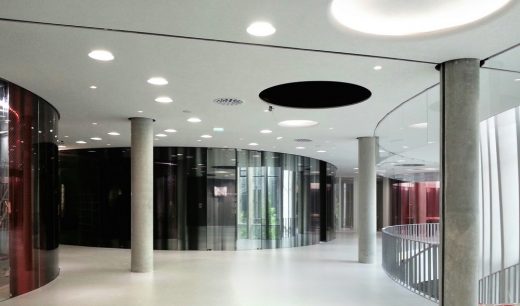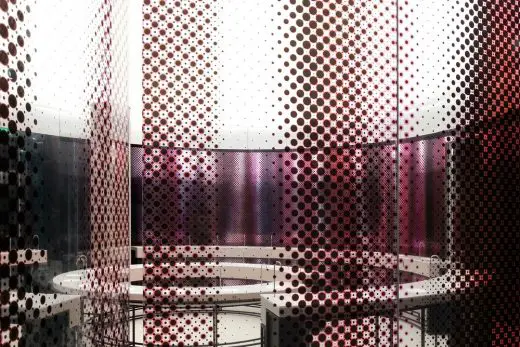 images © XTU
A strong architectural statement, La Cité du Vin stands out with its bold curves and shape. An iconic building, this golden frame hosts a Cité within the city, a living space with experiences to discover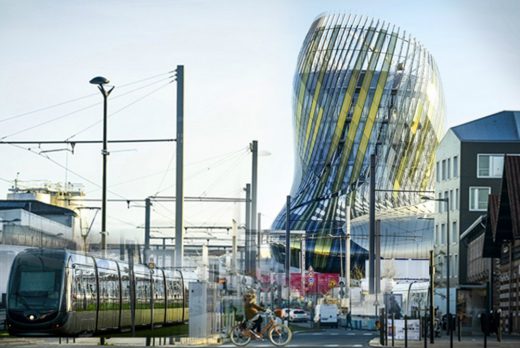 image © XTU-Anaka
The initial aim of the building's architecture was genuinely to create a link between La Cité du Vin and the spaces surrounding it through perpetual movement. Anouk Legendre and Nicolas Desmazières, the architects from XTU, designed a space shaped by symbols of identity: gnarled vine stock, wine swirling in a glass, eddies on the Garonne. Every detail of the architecture evokes wine's soul and liquid nature: 'seamless roundness, intangible and sensual' (XTU Architects).
This roundness transcribed in the building's exterior can also be felt in its indoor spaces, materials and scale. La Cité du Vin dazzles with a golden shimmer reminiscent of the light stone found on Bordeaux facades. Its own facade is made up of silk-screen printed glass panels and perforated, iridescent, lacquered aluminium panels.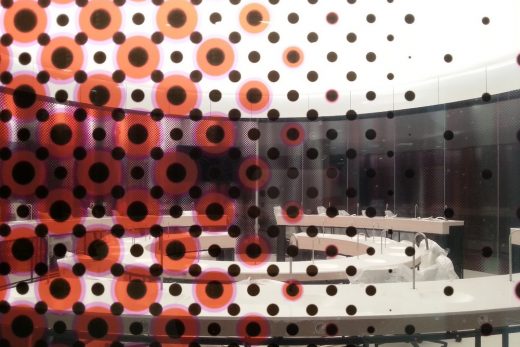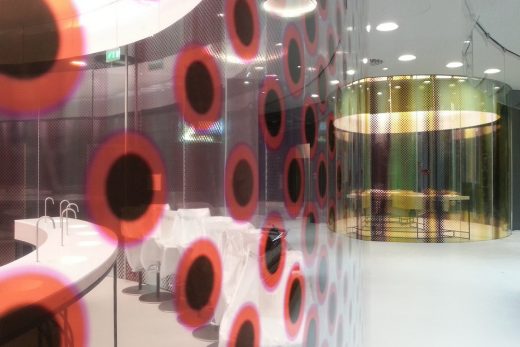 images © XTU
Changing with the sunshine or the time of day, the building dialogues with the river through its reflections: there are very close parallels with a wine's constantly changing appearance. This very distinctive shape causes you to look at the river running past from a different perspective.
The building's two entrances on either side create an impression of movement, ebb and flow between inside and outside. One entrance faces the city and the other faces the river. Higher up, the viewing tower enables visitors to discover the illuminated city and the surrounding land, almost like a watchtower.
In the eyes of XTU, the main tour itself follows these flows: wine, the river, the flow of visitors. You pass through the building like a river, with visitors becoming voyagers flowing around the central staircase, perpetuating this impression of movement.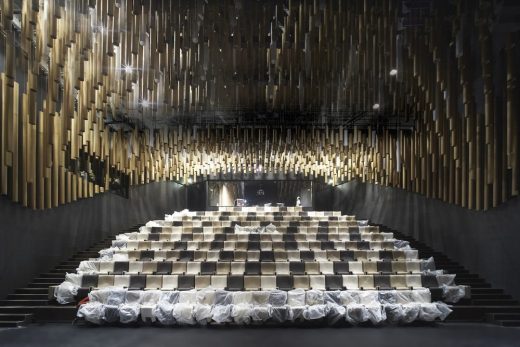 image © XTU-Julien Lanoo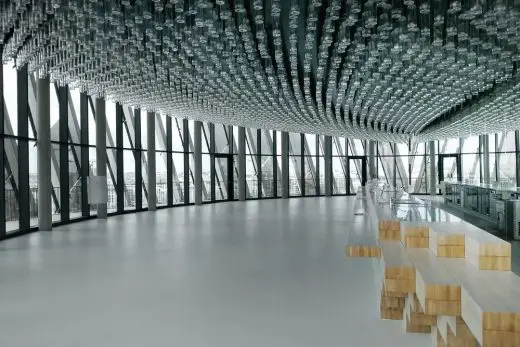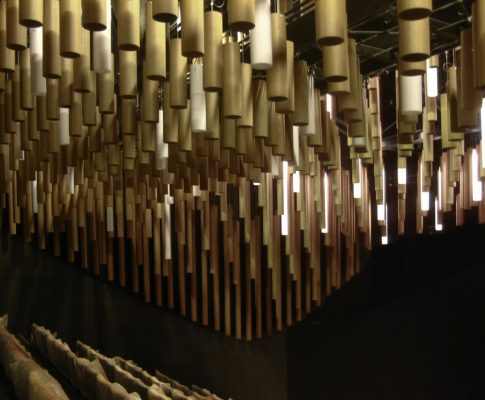 images © XTU
This means that visitors are constantly moving as they experience a virtuous circle of discovery. Each person discovers a new world in a fluid, rotating motion leading to an unusual, limitless destination, like a journey through the meanderings of a cultural landscape which feeds the imagination.
The initial aim was for the building programme to develop in line with the scenography, making the architecture a voyage in itself.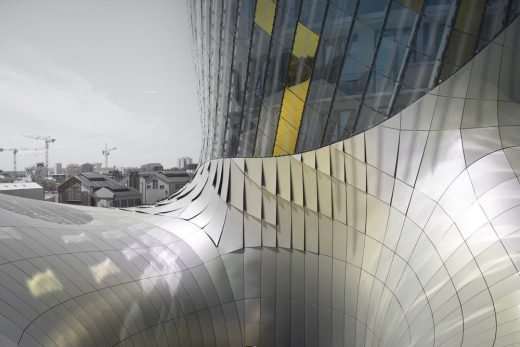 image © XTU-Julien Lanoo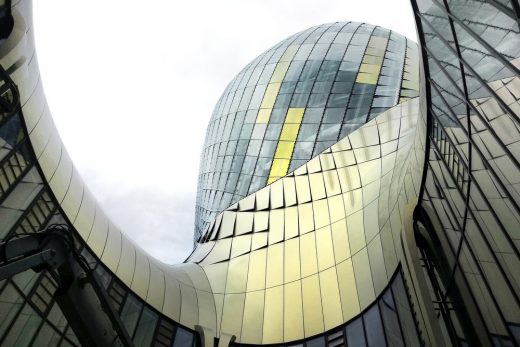 image © XTU
Downstairs is therefore a dark world, like a cellar, with the roots of the vines. The ground floor is raw as an immersion stage diving into the project, a crossing point. The mirror reflections are disorienting and encourage visitors to move upwards towards the light. They feel this light on the courtyard then follow it through the structure until it finally explodes. There is no fixed route to follow, just worlds to discover.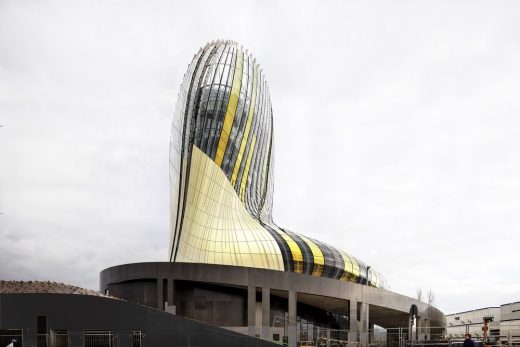 image © XTU-Patrick Tourneboeuf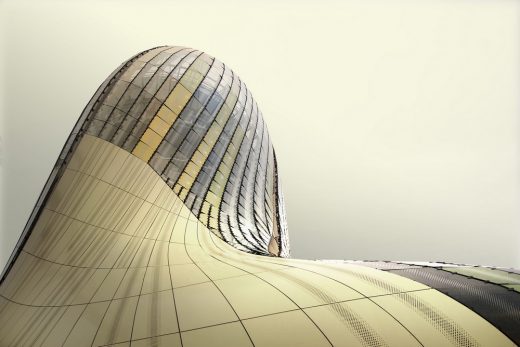 image © XTU-Paul Desmazieres
The aim of the experience is genuinely to question rather than let alone. Sometimes the architecture steps back, in other places it reappears.
The wooded arch of the permanent tour, the strongest area of La Cité du Vin, is like a varied sky. The sky is everything in winemaking, determining the harvest. This wooden sky rises, undulates and tightens. Once again, this is all about movement.
The wooden structure is reminiscent of a timber frame, of boats, of wine on its travels. It is an immersive break with reality, a world of roundness, fluidity and elevation approximating the wine experience. Visitors are in a discovery mind-set initiated by the architecture, which creates the right conditions for them to discover and complete this immersive, initiatory journey.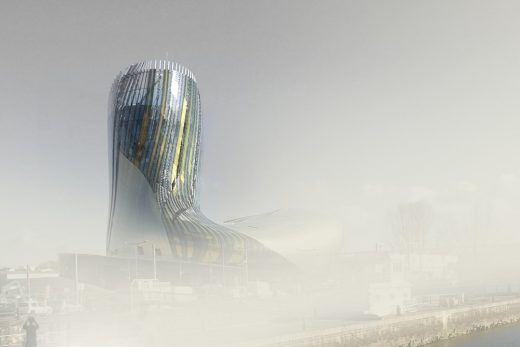 image © XTU
La Cité du Vin Bordeaux, France – Building Information
Program:10 levels between the core and the tower, a permanent tour, three tasting areas including 1 multi-sensory immersive space , a reading room, a boutique concept store, 2 restaurants and a panoramic restaurant
Client: City of Bordeaux
Owner: Fondation de La Cité du Vin
Architects: XTU | Anouk Legendre + Nicolas Desmazières |
Project leaders : Mathias Lukacs, Dominique Zentelin
On site team: Delphine Isart, Claire Leroux, Thibault Le Poncin, Joan Tarragon
Research team : Joan Tarragon, Gaëlle Le Borgne, Stefania Maccagan, Cristina Sanchez
Partners:
Casson Mann _ Scenographer (innovative tool of the permanent tour)
SNC-Lavalin _ Engineering
Le Sommer Environnement _Environmental engineering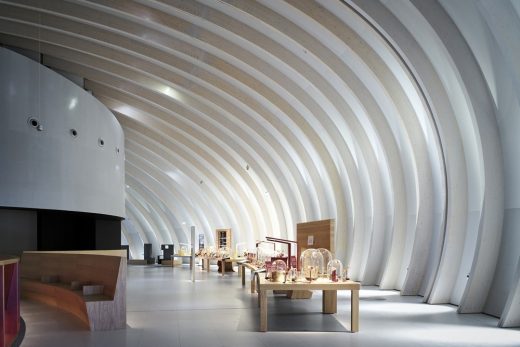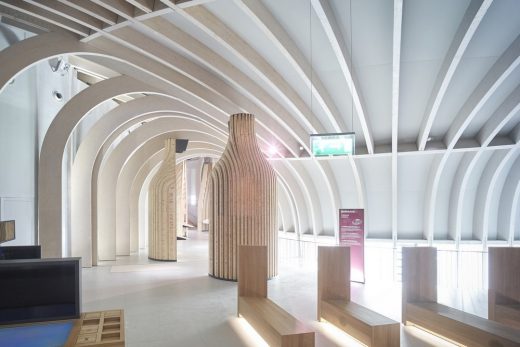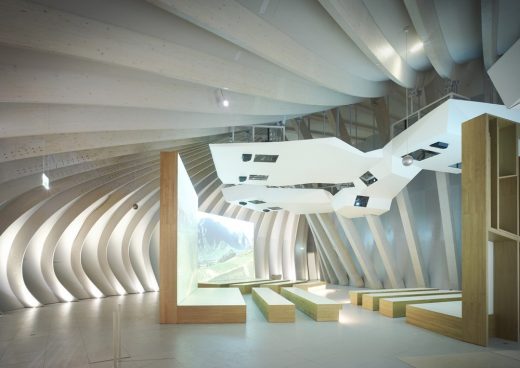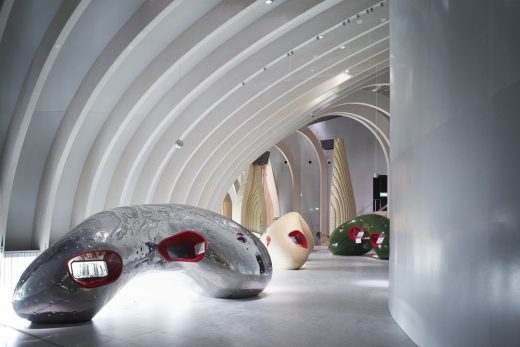 images © XTU-Julien Lanoo
Calendar:
Competition: april 2011
Build: septembre 2013
Delivered in may 2016
Surface area: 12 927 m² usable surface included 2 800 m² of permanent exhibition
Site: 13 644 m²
Budget: 81M€ excluding VAT/ 55M€ (architecture + scenography)
Credits: XTU (1), Delphine Isart (2), Julien Lanoo (3), Patrick Tourneboeuf (4)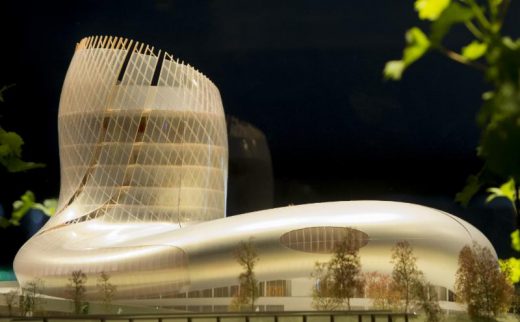 Cité du Vin Bordeaux
The value of the Cité du Vin is anchored in two propositions: the construction of a world-class museum in a building with remarkable architecture uniquely suited to its purpose; a spectacular voyage through time, history and the cultures of the world to learn about wine.
An original design from Parisian agency XTU, the bold architecture is intended to stand out in a crowd of both great international museums in other cities and majestic facades in Bordeaux. The shape of the building is said to symbolize the spiral flow of wine swirling in a glass. With a belvedere rising 60 meters above the ground (and a viewing platform 35 meters up on the 8th floor), the riverside structure will be decorated with 3,000 iridescent aluminum panels that catch and mirror the changing reflections of the adjacent river to which Bordeaux and its wines owe their prominence.
The latest technological innovations are being used in the scenography, including 3D images, holograms, smell diffusors, music and other interactive tools. The end result is an immersive, multi-sensory experience accessible via individual handset guides issued to each visitor. These will deliver explanations in real time in the user's selected language (eight are available), triggered by a device that detects the wearer's position and sets off the appropriate multimedia content.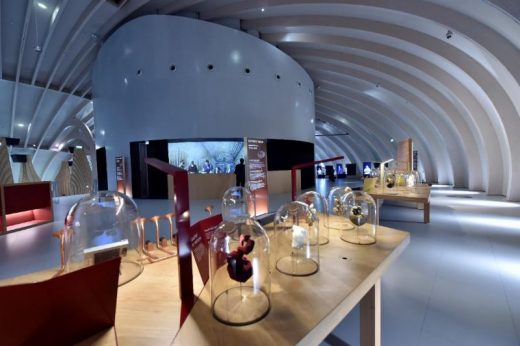 The 450,000 visitors expected in the first year will also be able to make the most of shops, restaurants and a wine tourism service for further information about and tickets to the surrounding vineyards. A five-star hotel with 150 rooms, a shopping centre and a boat shuttle service will expand the site even further.
Avesta Group
Avesta Group is an international planner and operator that caters for both the culture and leisure industries. Avesta Group has a clear vocation: to connect culture and people in a sustainable manner by planning unique experiences and operating world class facilities.
As a firm Avesta helps clients, including Ministries of Culture, Cities, Regions, Communities, Real Estate Developers, Private Collectors and Foundations to establish a clear vision for their cultural objectives and to realize their vision for cultural development.
Website for more information: www.avestagroup.eu
La Cité du Vin Bordeaux Bordeaux image / information from Avesta Group6
The Cité du Vin is a museum as well as a place of exhibitions, shows, movie projections and academic seminars on the theme of wine located in Bordeaux, France.
Address: 134 – 150 Quai de Bacalan, 33300 Bordeaux, France
Phone: +33 5 56 16 20 20
Location: Bordeaux, France
French Architecture
French Architecture Design – chronological list
Bordeaux Architecture – Selection
Bordeaux Architecture Designs – chronological list
Hyperion Tower
Design: Jean-Paul Viguier et Associés, Architects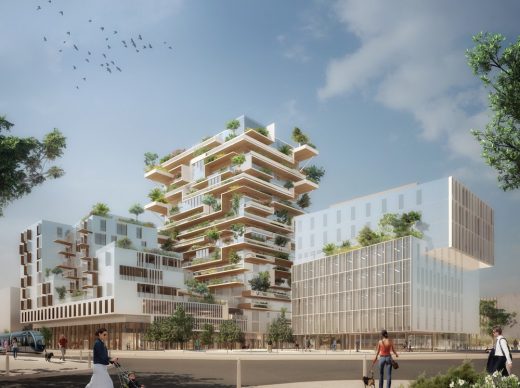 picture from architect
Tower Building in Bordeaux
Arc En Ciel Bordeaux
Design: Agence Bernard Bühler



photo from architect
Arc En Ciel Bordeaux
Bordeaux Installation Design
Design: Ball Nogues Studio



photo : Benjamin Ball
Bordeaux Installation Design
Maison at Bordeaux
Design: Rem Koolhaas Architect / OMA



photo : Hans Werlemann
Bordeaux house
Bastide Niel
Design: MVRDV



image from architects
Bastide Niel
European Architecture Walking Tours : city walks by e-architect
Architecture in France
Comments / photos for the La Cité du Vin Bordeaux building design by XTU Architects page welcome.
Website: La Cité du Vin