Superkilen Copenhagen Book, Danish Master Plan, Nørrebro Landscape Architecture
Superkilen Book – Copenhagen Landscape
Copenhagen Urban Space, Denmark design by BIG, Topotek1 and SUPERFLEX
25 Sep 2013
Superkilen Book 2013
Book about Superkilen Copenhagen
Design: BIG / Topotek1 / SUPERFLEX
BIG's NEW BOOK RELEASE – SUPERKILEN BOOK with ARVINIUS + ORFEUS PUBLISHERS – AT FRANKFURT BOOK FAIR in Hall 4.1 K78
Arvinius + Orfeus Publishing is expanding its acclaimed list of architectural reference books with Superkilen – the first time that a public project is documented in such detail. The book celebrates the dawn of a new type of urban public space.
Cover and page layouts from the book: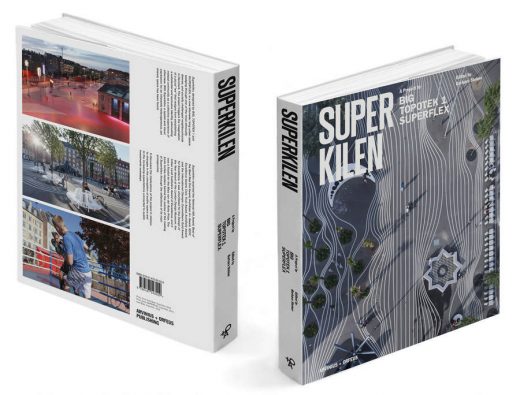 Superkilen : page about this project
Superkilen is a kilometer long urban space wedging through one of the most ethnically diverse and socially challenged neighborhoods in Denmark. It has one overarching idea; that it is conceived as a giant exhibition of urban best practice.
A sort of collection of global found objects from 60 different nationalities – the 60 nationalities of the people inhabiting the area surrounding it – ranging from exercise gear from muscle beach LA to sewage drains from Israel, palm trees from china and neon signs from Qatar and Russia. A sort of surrealist collection of global urban diversity that in fact reflects the true nature of the local neighborhood – rather than perpetuating a petrified image of homogenous Denmark. Superkilen is a vehicle for integration enforcing local sentiments of ownership, while turning public participation into the driving force of design.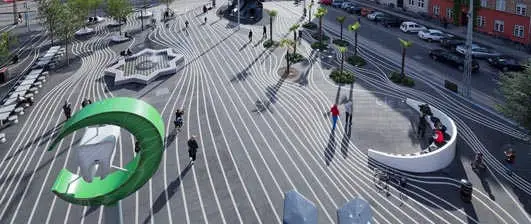 image : Iwan Baan
Superkilen has received unparalleled international recognition having been a finalist for the prestigious Mies van der Rohe Award & ULI Award of Excellence as well as receiving the Red Dot Best of the Best Distinction, AIA Honor Award, Architect Magazine Urban Design Award, International Olympic Committee Gold Award, the BDLA Prize, Civic Trust Award, IEDC Excellence Award, ArchDaily Best Design Award and Architizer A+ Award.
The book's authors are BIG, Topotek 1 and Superflex in collaboration with editor Barbara Steiner. Barbara Steiner is an internationally recognized curator and author, currently working on a collaborative art project about Europe. From 2001 to 2010 she was the director of the Galerie für Zeit-genössische Kunst Leipzig. Editorial content includes edited text, as well as an interview between Steiner and the three authors of Superkilen. Their conversation focuses on the processes of selecting the objects found in Superkilen and their curatorial meaning.
The book is designed by Rasmus Koch who has created the corporate identity for such prominent clients as Gyldendal, and has twice received the Danish Design Award. The park is documented primarily through the lens of Iwan Baan who is celebrated as one of the leading photographers of his generation in capturing the life in between spaces.
The book is published by Arvinius + Orfeus Publishing run by Marie Arvinius who since 2004 has collaborated with leading book distributors in Europe, Asia and the USA. The publishing house takes part in the annual book fairs in Frankfurt and London, and has won several awards over the years.
Honours include the Red Dot design award, Excellent Swedish Design, and Swedish Book Award. Superkilen – the book – will reach a wide audience targeting architects, landscape architects, artists and a general public interested in integration, cultural identity and territories, urban planning, cities and our multicultural society.
To order copies please go see Arvinius + Orfeus Publishing at the Frankfurt Book Fair in Hall 4.1 K78 or contact Marie Arvinius at [email protected]. To learn more about Arvinius + Orfeus Publishing visit www.arvinius.se
Page layouts from the book:
Superkilen Publication – Book Information
Language: English
Editor: Barbara Steiner
Authors: BIG, Topotek 1, Superflex
Photo: Iwan Baan, Torben Eskerod, Hanns Joosten, John Krøll
Graphic design: Rasmus Koch
Number of pages: 224
Format: 225×265 mm
Binding: Flexi Cover
First Edition published in: October 2013
ISBN 978-91-87 543 -02- 9
Superkilen Book images / information from BIG
Superkilen Master Plan – Mies van der Rohe Awards Finalist
Superkilen Copenhagen Nominated for Major European Award
Design: BIG / Topotek1 / SUPERFLEX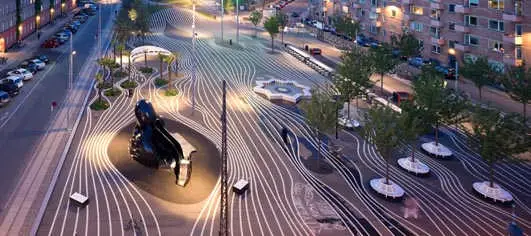 image : Iwan Baan
The European Commission and the Fundació Mies van der Rohe have announced the five finalists who will compete for the 2013 European Union Prize for Contemporary Architecture – Mies van der Rohe Award. Superkilen Copenhagen is one of the five nominated buildings. In total, 335 works in 37 European countries were nominated for the award.
Mies van der Rohe Awards 2013 – Shortlisted building
16 Jan 2013
Superkilen Masterplan
Location: Nørrebro, Copenhagen, Denmark
Design: BIG, Topotek1 + SUPERFLEX
Superkilen masterplan designed by BIG + Topotek1 + Superflex has a great start to 2013 receiving a 2013 AIA NATIONAL HONOR AWARD and a citation as the best Urban Design in the Annual Design Review of ARCHITECT magazine.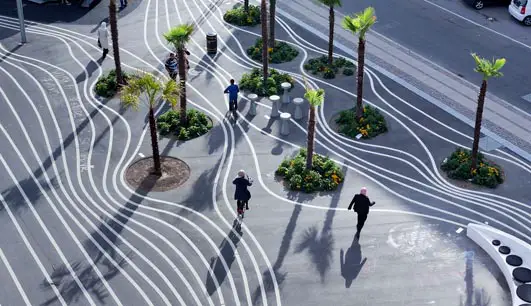 photo : Iwan Baan
At almost a mile long Superkilen wedges through one of the most ethnically diverse and socially challenged neighborhoods in Denmark creating a truly unique urban space with a strong identity on a local and global scale. The park is divided into three zones: the red square, the black market and the green park and is conceived as a giant exhibition of urban best practice – a collection of global everyday objects from the 60+ home countries of the local inhabitants.
Superkilen images from BIG, Topotek1 & Superflex
BIG Architects Monograph – Oct 2013
Location: Nørrebro, Copenhagen, Denmark, northern Europe
Architectural Design
Architecture Design Books – chronological list of publications
European Architecture Walking Tours : city walks by e-architect
Architecture Books
Copenhagen Architecture
Contemporary Architecture in the Danish Capital
Comments / photos for Superkilen Book – Copenhagen Public Space Publication page welcome
Website: Superkilen Copenhagen