Scottish Architecture Book, Miles Glendinning, Aonghus MacKechnie, Buildings Scotland
Architecture in Scotland Book
World of Art Series : Illustrated History – Scottish Buildings
Scottish Architecture

Scottish Architecture (World of Art Series)
Miles Glendinning, Aonghus MacKechnie
List Price: £8.95
Our Price: £7.16
Paperback 224 pages (2004)
Publisher: Thames and Hudson ISBN: 0500203741
196 illustrations 68 in colour
Thames & Hudson Book Launch
Scottish Architecture
World of Art series
Miles Glendinning & Aonghus MacKechnie
A richly illustrated survey of the complete history of Scottish architecture, from the circular houses of Skara Brae to the new Parliament at Edinburgh.
In spite of its close links with England and continental Europe, Scottish architecture has a distinct and definable character of its own, due as much to geography as to history. From prehistory we have the circular houses of Skara Brae, older than the pyramids; the Middle Ages produced the tower-house with its unique form. In the 18th century the Scottish were the 19th and 20th centuries, with such figures as Alexander 'Greek' Thomson and Charles Rennie Mackintosh.
Miles Glendinning and Aonghus MacKechnie bring these diverse movements and architects to life, while setting them in their wider cultural context. The built environment has always been one of the central strands of Scottish identity, and this book, is the only concise and up-to-date survey of the whole history of Scottish architecture.
About the Authors
Miles Glendinning is head of the Topographical and Threatened Buildings Surveys at RCAHMS. Aonghus MacKechnie is Principal Inspector of Historic Buildings at Historic Scotland, Edinburgh.
Scottish Architecture Event
Miles Glendinning and Aonghus MacKechnie will be speaking at the launch of their book Scottish Architecture at The RIAS Gallery, 15 Rutland Square, Edinburgh on Thursday 11 March from 6-8pm. For tickets please contact RIAS Events on 0131 229 7545 or [email protected]
Similar Title below for reference:
Scottish Architecture
Stuart Macdonald
Our Price: £9.50
Free UK delivery on orders over £25 with Super Saver Delivery. See details & conditions
Availability: usually dispatched within 4 to 6 weeks. Please note that titles occasionally go out of print or publishers run out of stock.
This hard-to-find title is subject to an additional handling charge of £1.99 per item (excluding VAT). Learn more.
Paperback 106 pages (2003)
Publisher: The Lighthouse ISBN: 0953653358
Other Miles Glendinning Titles
A History of Scottish Architecture
Miles Glendinning
Please note this is not the 2004 edition
Hardcover 576 pages (1996)
Publisher: Edinburgh University Press ISBN: 0748607412
from £30
Synopsis
This text combines a factual description of the key architects and their work in each period of Scottish history with a wide-ranging analysis of their social, ideological and historical context. Since Scotland has often been closely involved with new trends in "Western" architecture, the book highlights the interaction of Scottish developments with the broader European and international movements. From the beginnings of the Renaissance in the 15th century to the present day, this survey covers the post-medieval history of architecture in Scotland.
Tower Block:
Modern Public Housing in England, Scotland, Wales and Northern Ireland (Paul Mellon Centre)
Stefan Muthesius, Miles Glendinning
Price varies
Tower Block
Hardcover 428 pages (1994)
Publisher: Yale University Press ISBN: 0300054440
Synopsis
After World War II, the most urgent reconstruction problem in these islands was in the field of public housing, and the opportunity presented itself to create innovative buildings and to finally abolish slums.
Everyone, including the slum-dwellers, united behind the plan to build new dwellings as quickly as possible. In this book Miles Glendinning and Stefan Muthesius tell the story of a great adventure of building and explain the architectural and political ideas that lay behind it. The authors tell how high-rise blocks – buildings in a modernist design that promised to address scientific and social needs with unprecedented precision – were constructed in almost every urban area. They explain that architects and planners working for a few "progressive" local authorities were the first to create the new housing patterns, and that powerful local politicians determined to "give the people homes" later encouraged widespread large-scale implementation of these patterns.
The authors discuss where the buildings were built and why they looked as they did, describing various designs, construction methods, and community layouts through the 1950s and 1960s. Numerous illustrations and plans complement the text. This book – with its interweaving of architecture and politics, theory and practice, and local and national issues – will interest not only architects and historians of the postwar era but also readers interested in the growth of the Welfare State. The book includes a gazetteer of significant housing developments in Britain that is arranged by regions.
Clone City:
Crisis and Renewal in Contemporary Scottish Architecture
Miles Glendinning (Editor), David Page (Editor)
Our Price: £9.87
Used & New from £6.99
Clone City
Paperback 192 pages (2001)
Publisher: Edinburgh University Press ISBN: 0748662553
Synopsis
This work brings architecture into the mainstream debate about Scottish cultural identity, analyzing the ways in which contemporary, market-led globalization has fragmented and debased the Scottish urban environment, creating the "Clone City" – the product of uncontrolled, mass-produced urbanization. The book provides a step-by-step exploration of the core issues behind this debate, providing a generalist manifesto for contemporary architecture in Scotland.
The authors show how, with a radically different vision, architecture can actively help to build a new Scottish identity and democracy, not just in a few symbolic national monuments but across the whole urban environment. Broad in scope, it is not written specifically for architectural professionals, but is equally directed to the informed general reader
For students reading Architecture or related subjects to Urban Design in Scotland, this book is a must. For other readers it will give a fascinating insight into the current state of architecture within the boundaries of Scotland. Miles Glendinning is an eminent writer and historian and David Page is a founding partner of Page and Park Architects in Glasgow.
This unusual combination of professions has lead to a book that paints a stark picture of Scottish Architecture in its current condition and then formulates solutions to the problems. I found the script hard reading in places but overall this book was undoubtedly informative and entertaining. The format with carefully interspersed pictures displaying both the good and bad areas of design in the region is excellent.
The Architecture of Sovereignty:
Parliamentary, Civic and Government Buildings of Scotland
Miles Glendinning (Editor), Aonghus MacKechnie (Editor), Richard Oram
(Editor)
£30
Availability: usually dispatched within 4 to 6 weeks.
This hard-to-find architectural publication may be subject to an additional handling charge of £1.99 per item (excluding VAT).
The Architecture of Sovereignty
Paperback (2003) Publisher: Tuckwell Press ISBN: 1862322562
Synopsis
This illustrated book – a historical overview of Scottish buildings of government and assembly from the Middle Ages to the present day – sets Scotland's new parliament in the broader context of the nation's architectural and social history.
"The Architecture of Sovereignty" is one of a series of authoritative books on key building types by RCAHMS – Scotland's national survey and archive of the historic built environment.
In sharp contrast to the traditional Victorian and early 20th- century concept of the grand, monumental parliament building standing self-centred and in isolation, it shows how parliaments have found just one element in a complex and constantly changing mosaic of buildings of legislation and administration, both national and civic. And it demonstrates how this architectural complexity has mirrored the ever-shifting patterns of Scottish society itself.
In "The Architecture of Sovereignty", the evolution from feudalism to Presbyterian imperialism and, in turn, to modern social democracy is, literally, inscribed in stone – in the great halls of kingly power as much as in the town halls of Victorian civic pride and the towers of 20th-century welfare administration.
Rebuilding Scotland : The Postwar Vision, 1945-1975
Miles Glendinning (Editor)
£20
Availability: usually dispatched within 4 to 6 weeks.
This difficult-to-find architecture title is subject to a £1.99 per item (excluding VAT) additional handling charge.
Rebuilding Scotland Today!
Paperback 205 pages (1997) Publisher: Tuckwell Press ISBN: 189841033X
Synopsis
The early post-war decades witnessed a national reconstruction drive of unprecedented vigour – a revolution in architecture and building, whose uncompromising modern monuments still dominate Scottish towns and cities.
This book, drawing on a series of national symposia and exhibitions staged by DOCOMOMO (Documentation and Conservation of the Modern Movement) and other key organizations, presents an introductory reassessment of a quarter-century of vigorous, but until recently misunderstood transformation of Scotland's built environment. Some of the papers evoke this era's sheer energy, the vast quantity and scale of its building, and the passion which fuelled programmes, such as the housing "crusade". Some recall its constructional and technical daring.
Others, by contrast, emphasize that architecture, as an art, flourished undiminished during those years of modernity in design. This was a period of complexity and conflict, in its often tempestuous debates and ideas, and yet also one of simplicity – of consensual confidence in progress and rationality in building.
Architectural Design
European Architecture Walking Tours : city walks by e-architect
Architecture Design Books – chronological list of publications
Scottish Architecture Books
Contemporary Architecture Books
Architecture in Scotland
Contemporary Architecture in Scotland – architectural selection below:
Scottish Architecture Designs – chronological list
St James Quarter, central Edinburgh
Architects: BDP Glasgow studio + Allan Murray Architects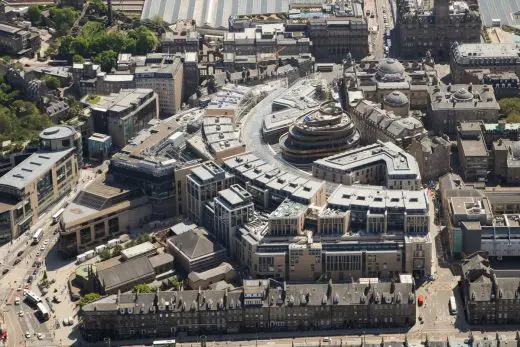 image courtesy of architects practice
St James Quarter Edinburgh
Literature House for Scotland, John Knox House, Edinburgh
Winning Architects: Witherford Watson Mann ; Groves-Raines Architects Studios ; Studio MB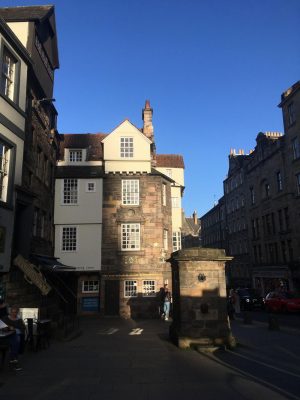 photograph © Daniel Lomholt-Welch
Literature House for Scotland
Comments / photos for the Scottish Architecture Books by Miles Glendinning page welcome