US Embassy Bridgetown, Barbados, Architect, Photos, Caribbean Project Design
U.S. Embassy Barbados Buildings
Caribbean Architecture Development, West Indies design by Sorg Architects
9 Dec 2008
New U.S. Embassy in Bridgetown, Barbados, Lesser Antilles, Caribbean
Date built: 2008
Design: Sorg Architects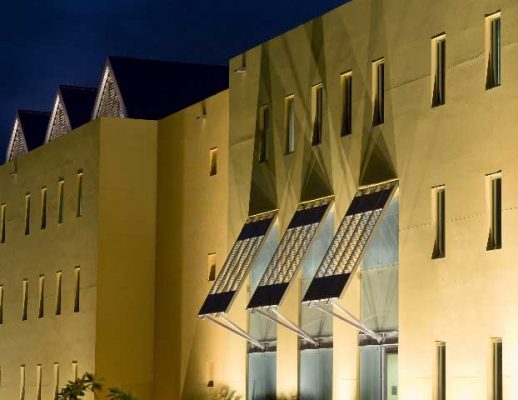 American Embassy Barbados
US Embassy in Bridgetown
The new U.S. Embassy in Bridgetown is part of a larger New Embassy Compound designed by Sorg Architects for the U.S. Department of State.
The new Embassy consists of a renovated existing five-story office building along with a new addition of similar scale, and is located on a dramatic site in Wildey, St. Michael, outside Barbados' capital city, Bridgetown. In response to the challenging site and Department of State security requirements the design concept combines prevalent vernacular architectural styles with local materials and modernist forms to create architecture that both reflects important elements of its local context and serves as a symbol of U.S. democratic ideals. The new Embassy's hinged form connects public and private functions with a smaller centerpiece and creates a welcoming and graceful American diplomatic presence on the island.
Currently an office and industrial area, the 3.2 acre site was originally a coral limestone quarry which is still characterized by steep, open ledge outcroppings and variations in grade. Sorg Architect's Principal, Suman Sorg, drew inspiration for the new Embassy's design from characteristic small island dwellings known as chattel houses.
These diminutive homes with peaked, saw-toothed roofs, traditionally inhabited by slaves, were small enough to move from place to place as their residents relocated. In collaboration with the U.S. department of State it was determined that the new embassy building should not take cues from the older civic buildings of Barbados, as they tend to reflect the colonial past and represent a non-democratic era in the history of the island.
Instead, locally inspired elements such as the rich use of bright colors, deep shading devices to protect against the tropical sun, and the inclusion of local materials such as plaster work with contrasting smooth and textured finishes, naturally finished local wood and honed coral were incorporated and highlighted to reference the diplomatic mission of the U.S. Embassy.
As the central office building of the U.S. Mission in Barbados, the new Embassy is required to house a wide array of functions under one roof, which can easily lead to buildings that resemble bulky, imposing office blocks. To ensure that the new addition did not add excessive mass to the large pre-existing building, the two volumes were turned perpendicular to one another and share the same roof line, thereby incorporating the entire structure into the horizontal scale of a campus whole, relating it to the smaller buildings on the compound and visually reducing its mass.
Similarly, the light and airy main entrance of the new Embassy unites the existing and new buildings with a sheltered outdoor lobby that invites the outside in, while maintaining the necessary separation between the two building volumes and their respective public and restricted functions.
Because of the specialized materials required for use in new embassies and to meet security concerns, embassy walls tend to be thick with small punched window openings. In contrast, the design for the new Bridgetown Embassy has deeply set exterior windows, shaded and highlighted by a modern, stainless steel interpretation of the island's vernacular awnings. The new addition takes advantage of the unique site's quarry walls, which reflect light inside the building for adequate daylighting.
Although built before the State Department instituted LEED sustainable design standards for construction, the new Embassy building meets LEED Silver standards with several "green building" elements incorporated into the design including adaptive reuse of the existing building, site orientation, solar control measures, the use of local building materials, energy efficient building systems, the incorporation of and native plant species in landscape design and interior finishes with high recycled content.
U.S. Embassy Bridgetown, Barbados – Building Information
New U.S. Embassy in Bridgetown, Client: U.S. Department of State, Overseas Building Operations
Location: Bridgetown, Barbados
Program: New Embassy Office Building (NOB)
and New Multi-building Embassy Compound (NEC)
Architects: Sorg Architects
Design Architect Suman Sorg
Project Architects Robert Widger, Brad Witko, Mario Perez
Landscape Architect: Oehme, van Sweden & Associates
Interior Designer: Sorg Architects
Engineers: Grotheer & CO, Elhert Bryan, Inc., Caribbean Consultants, Inc.
Size: 86,000 s.f.
Construction Cost: $40 Million
US Embassy Bridgetown Barbados images / information from SGLA
Location: Bridgetown, Barbados, Caribbean
Architecture in Barbados
Barbados Architecture Designs – chronological list
3WS Pavilion : West Indies cricket ground – Barbados Oval Stadium
Comments / photos for the US Embassy Barbados Architecture page welcome
Website: Barbados