The Structural Awards 2016, Global Engineering Contest, London Event, Architect Prizes
The Structural Awards 2016
Global Engineering Prize Shortlist Announced: Innovative Built Environment
1 Aug 2016
Structural Awards 2016 Shortlist
The Structural Awards 2015 Shortlist News
The Structural Awards 2016 shortlist celebrates world engineering
1st August 2016 – The Institution of Structural Engineers today released the shortlist for The Structural Awards 2016, featuring 47 entries drawn from 14 nations. The annual awards are held to celebrate the role of structural engineers as innovative design professionals and the guardians of public safety in the built environment.
Shortlisted projects are in two sections:
– Beautiful Structure – where the beauty of engineering is given expression through the ingenious use of materials and great design.
– Wonderful Wood – where wood has been used by engineers to create attractive, interesting structures, from a dinosaur museum to a treetop walkway.
This year the shortlist showcases the dazzling range of innovative projects which structural engineers help create, including major infrastructure like railway stations, airports and bridges; urban landmarks like skyscrapers and concert halls; plus smaller scale projects of all kinds.
Especially striking is the superb range of timber engineering included with this year's submissions, which sees wood used to striking effect in a Canadian dinosaur museum, a Scottish art studio and accommodation for patients undergoing treatment for cancer.
Institution Chief Executive, Martin Powell, said:
"If a building is a human body, then the structural engineer is responsible for the skeleton –ensuring that structures stand up under all kinds of stresses and strains, whether from wind, earthquakes or their own weight.
"This year's shortlist well illustrates the engineer's crucial role, with all kinds of structure represented – from treetop walkways and mega-tall skyscrapers to floating stairways and football stadia. Our congratulations to all those who entered, providing us with another wonderful Structural Awards shortlist."
Structural Awards : Beauty of Structure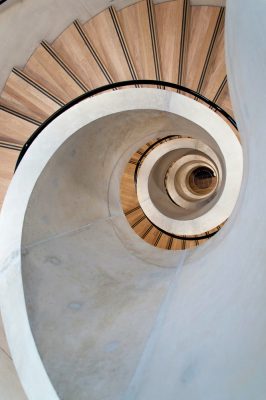 photo : Eddie Jump
The Blavatnik School of Government – Oxford, United Kingdom
Structural Designer: Pell Frischmann
A new home for Oxford University's School of Government, where world-class academics and practitioners pursue excellence through teaching and research in leadership and public policy education.
This striking building features high quality exposed concrete throughout. Its unusual form, established through a series of stacked, off-set cylindrical and square volumes, creates a variety of different spaces. The whole building is designed to encourage openness and communication.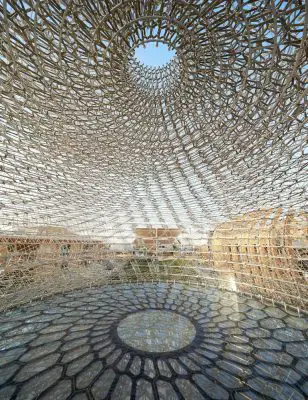 photo Courtesy UK Trade & Investment
Expo2015 Hive – Milan, Italy
Structural Designer: Simmonds Studio
A highly complex sculptural structure that was the centrepiece of the UK Pavilion at the Milan Expo 2015. Using a geometry inspired by the honey bee, the Hive underwent four complete redesigns and 21 design iterations in five months, yet was delivered on time.
The Hive consists of 60,000 unique aluminium parts, formed in a structural system of 31 stacked layers of alternating radial and circumferential trusses.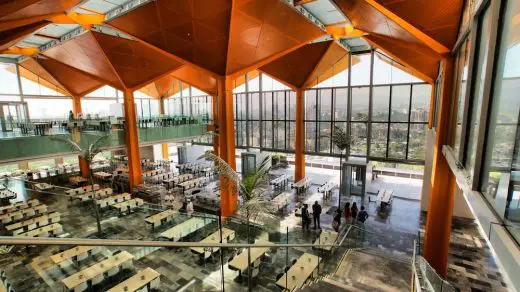 photo : LegoRogers
Torre BBVA Bancomer – Mexico City, Mexico
Structural Designer: Arup
The Latin American headquarters of the bank, BBVA Bancomer, and the tallest completed building in Mexico. The architecture clearly expresses the engineering of the structure.
Engineers designed for Mexico City's low frequency earthquakes by placing the structural frame on the exterior of the envelope. This Eccentrically Braced Megaframe acts as an external protective skeleton, carrying all the building's lateral wind and seismic loads, and is designed to avoid excessive earthquake damage through ductile connections.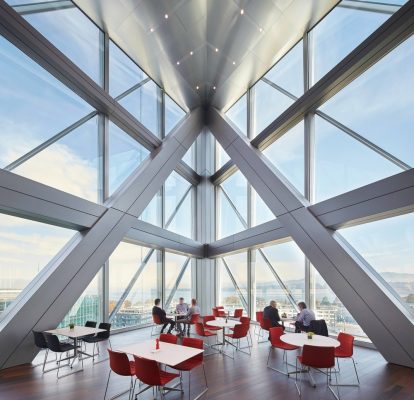 photo : Hufton + Crow
JTI Headquarters – Geneva, Switzerland
Structural Designer: Skidmore, Owings & Merrill, Inc.
A 10-storey building framed in structural steel, forming a triangular shape around a central courtyard, this stunning landmark building, with its impressive cantilever, establishes a strong identity amongst its prestigious neighbours and surrounding parklands.
Each of the three perimeter and three courtyard building elevations are sloped, full-depth, nested Pratt trusses, tied together by moment connections in the spandrel beams, which together resist all gravity and lateral loads.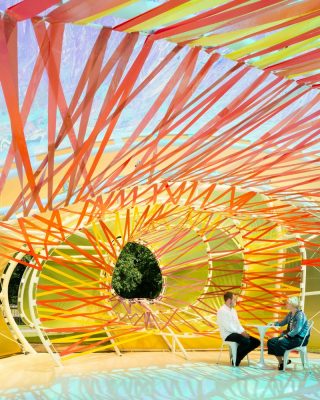 photo : Jim Stephenson
The Serpentine Gallery Summer Pavilion 2015 – London, United Kingdom
Structural Designer: AECOM
The 2015 Pavilion by Spanish architects SelgasCano is an amorphous, double-skinned, polygonal structure consisting of panels of translucent, multi-coloured fabric.
The engineers employed a steel frame draped in unreinforced, prestressed EFTE, a fabric with the requisite structural and fire performance, and high level of translucency that helped realise the Pavilion's coloured and mirrored finish.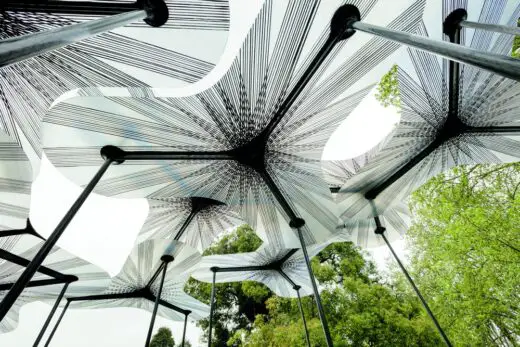 photo : John Gollings
MPavillion 2015 – Melbourne, Victoria, Australia
Structural Designer: Arup / ShapeShift.Tech
Founded in 2014, 'MPavilion' is a unique annual architecture and design event which commissions a design for a temporary pavilion for Queen Victoria Gardens, in the centre of Melbourne's Southbank Arts Precinct.
The 2015 MPavilion featured three and five metre diameter composite laminate petals, with integrated LED strip lighting and in-built amplifiers, supported by slender carbon fibre columns. The structure was designed to gently sway under wind loads, creating a forest canopy effect.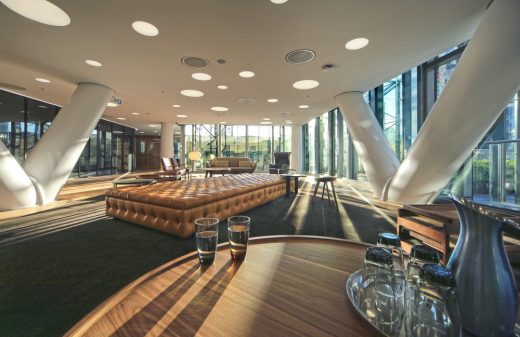 photo : Aurecon
5 Martin Place – Sydney, Australia
Structural Designer: Aurecon
A renovated 1916 heritage building, nicknamed the 'Money Box', with a new office tower extension, featuring a cantilevered 10-storey section projecting 22 metres over the heritage buildings.
The new building's efficient structural steel frame, featuring V-shaped bracing and suspended columns in tension, has allowed the existing buildings to be free of any structural intervention. The new building also incorporates sustainable features such as rainwater harvesting and high-performance glazing.
Structural Awards – Wonderful Wood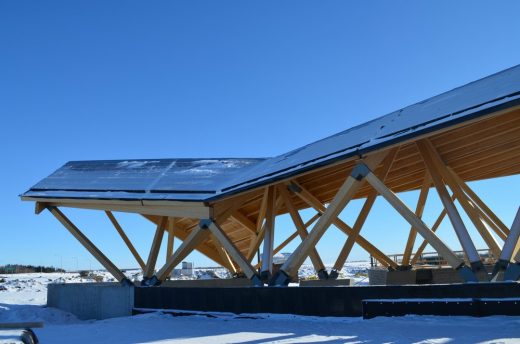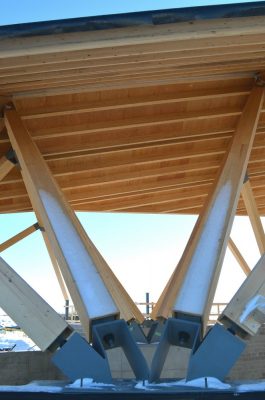 photos : Fast + Epp
Philip J. Currie Dinosaur Museum – Wembley, Alberta, Canada
Structural Designer: Fast + Epp
This palaeontology museum rests on the ancient Pipestone Creek dinosaur bone bed in Northern Alberta. Its geometrically-complex roof is supported by expressed timber beams creating a visual reference to dinosaur bones.
Prefabricated modular timber panels are supported on angled glulam beams, tied
together with intricate, custom-made connections constructed using laminated CNC-milled Douglas fir plywood.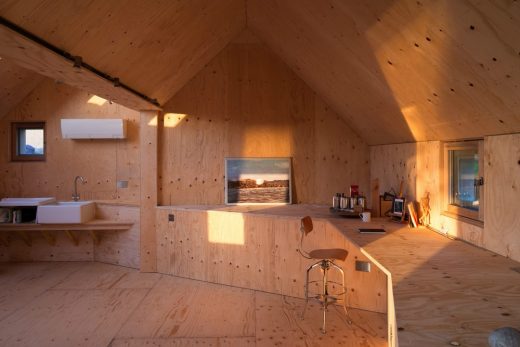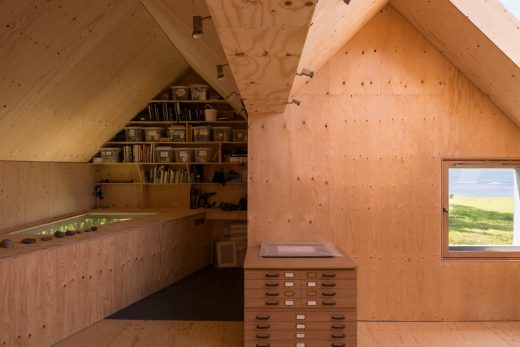 photos : Webb Yates Engineers
Midden Studio – Kintyre, Scotland, United Kingdom
Structural Designer: Webb Yates Engineers
An artist's studio located on the Kintyre coast. Due to its remote location it is designed to withstand extreme weather conditions, such as very high wind and snow loads. The building sits on top of a Victorian midden wall, formerly the depository for dung from nearby stables.
Both the walls and the roof are formed from stressed skin panels, enabling the corner of the building to cantilever over the stream without using any structural steel members. There is also a window in the underside of the cantilever which allows the artist to peer down to the flowing water below.
Maggie's Centre – Manchester, United Kingdom
Structural Designer: Foster + Partners
Maggie's Centres provide a welcoming 'home from home' for people affected by cancer. The Manchester Centre establishes a domestic atmosphere in a garden setting a short walk from The Christie Hospital's leading oncology unit.
The centre's structure was constructed entirely in laminated veneer lumber, a sustainable harvested softwood which minimises the carbon footprint of the building. The frames were fabricated using computer-controlled cutting that minimised the total amount of material used.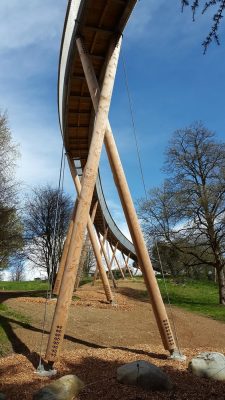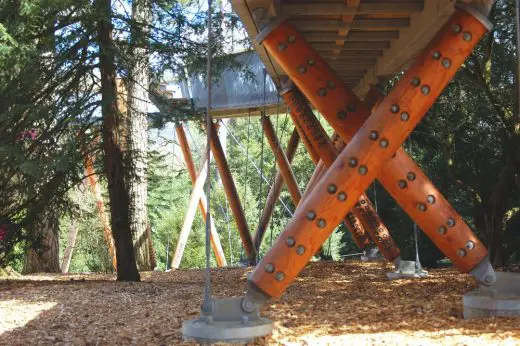 photos : BuroHappold
STIHL Treetop Walkway – Westonbirt, United Kingdom
Structural Designer: BuroHappold
The UK's longest treetop walkway at 280m, this project is the crowning glory of redevelopment at Westonbirt Arboretum, opening up new vistas and helping visitors learn more about trees.
The structure consists of 57 crossing timber legs, machined to a gently tapering cigar shape from solid larch and Douglas fir sections. The legs support a flowing timber and steel walkway.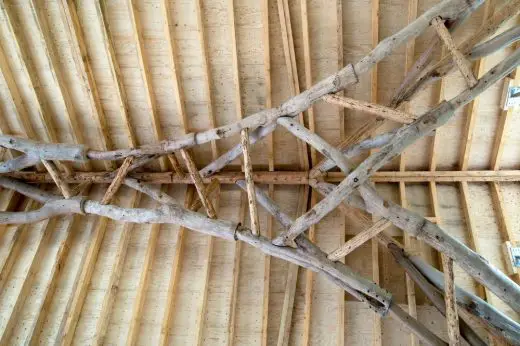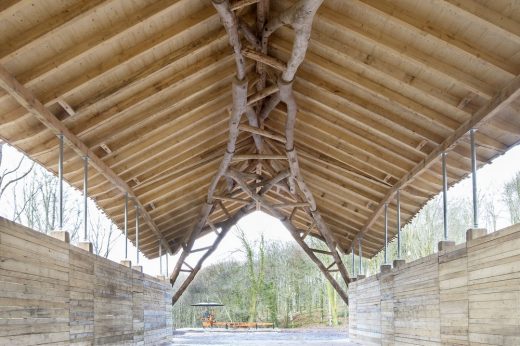 photos : Valerie Bennett
Woodchip Barn – Dorset, United Kingdom
Structural Designer: Arup
Located in Hooke Park, a woodland which serves as a test ground for experimental timber structures, the barn was part of a student competition to design a storage barn. The structure would use Beech trees harvested from the local forest.
A prime concept of the project was to use "Y" shaped tree fork junctions structurally, so that the natural strength of these joints was exploited. The timbers were 3D scanned, enabling fabrication using a seven-axis robotic arm.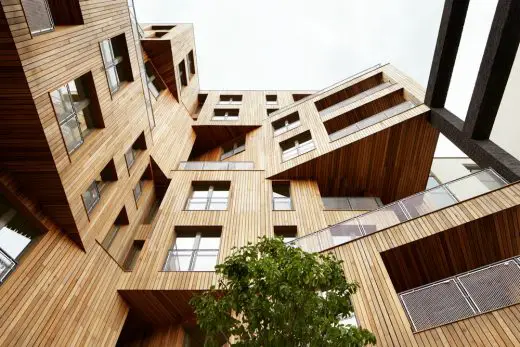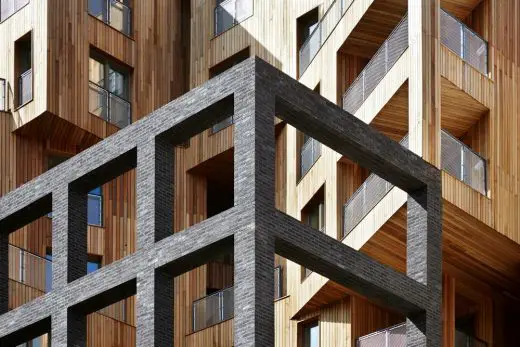 photos : Engenuiti
The Cube – London, United Kingdom
Structural Designer: Engenuiti
A ten-storey residential development that provides 50 homes on a unique rotated cruciform plan. An innovative, cost effective and environmentally efficient development in the heart of London.
The Cube pushes the boundaries of hybrid buildings and timber engineering through its novel twisted design and complex geometry. The interfaces between concrete, steel and timber required the development of a new suite of details and connections.
About The Institution of Structural Engineers
The Institution of Structural Engineers is the world's largest membership organisation dedicated to the art and science of structural engineering. It is a leading source of expertise on all structural engineering and public safety issues in the built environment.
The Institution of Structural Engineers has 27,000 members in 105 countries around the world and was founded in 1908.
www.istructe.org
The Structural Awards 2016 information / images from Institution of Structural Engineers
Structural Awards 2015 Winners
The Structural Awards 2015 Winners
The Structural Awards 2015
Award for Arts or Entertainment Structures: The Vegas High Roller, Las Vegas, USA (by Arup)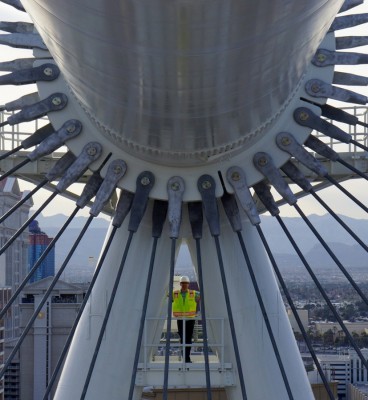 photo © Arup
The Structural Awards 2013
Taizhou Bridge, China – The Supreme Award for Structural Engineering Excellence: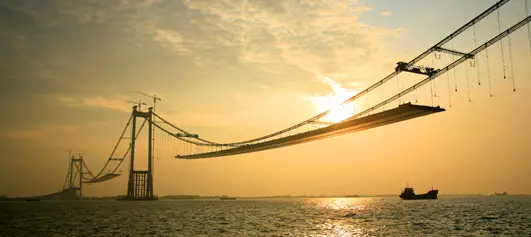 photo from Structural Awards 2013
For more information about The Structural Awards 2015 visit: www.structuralawards.org
Location:UK
European Architecture Competition
Comments / photos for the The Structural Awards 2016 page welcome
The Structural Awards 2016 : page