RIBA Manser Medal Winner 2011 Shortlist, UK Buildings, British Architecture Projects
RIBA Manser Medal 2011
Royal Institute of British Architects Prize – Shortlisted Buildings + Architects
19 May 2011
RIBA Manser Medal 2011 for the best new house in the UK – longlist
RIBA Manser Medal 2011 Winners
Seventeen exceptional new homes form the longlist for the RIBA Manser Medal 2011 for the best new house or major extension in the UK in association with HSBC Private Bank, the UK's pre-eminent private housing design award.
From small urban homes squeezed into tight city sites to woodland hideaways and dramatic beachfront villas, the 2011 longlist reveals some of the most cutting-edge trends in housing design and lifestyle choices and recognises some of the UK's most talented architects.
Balancing Barn
Design: MVRDV with Mole Architects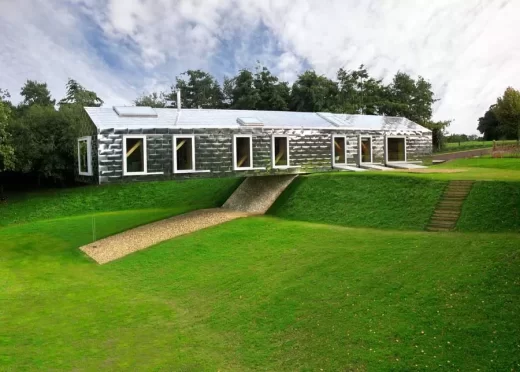 photo : Living Architecture
Manser Medal 2011 Longlist
Balancing Barn, Suffolk by MVRDV in collaboration with Mole Architects
Bavent House, Suffolk by Hudson Architects
Blue Door, Monmouthshire by Hall & Bednarczyk Architects
Carnathan Lane, Northern Ireland by Twenty Two Over Seven
Hampstead Lane, London by Dugan Morris Architects
House in Epsom, Surrey by Eldridge Smerin
Hoxton House, London by David Mikhail Architects
Love Shack, Lake District by Sutherland Hussey Architects
Meat Factory, Nottingham by Marsh:Grochowski Architects
New Mission Hall, Sussex by Adam Richards Architects
Shadow House, London by Liddicoat & Goldhill
Shingle House, Dungeness, Kent by NORD Architecture
Strange House, London by Hugh Strange Architects
The Houl, Castle Douglas, Scotland by Simon Winstanley Architects
Ty-Hedfan, Brecon, Wales by Featherstone Young
Watson House New Forest by John Pardy Architects
White House, Isle of Coll, Hebrides by WT Architecture
The Shingle House
Architects: NORD



photo Courtesy of Living Architecture
Ruth Reed, RIBA President, said:
"The best new private homes are those designed by an architect to meet the client's personal needs and aspirations and add real value to the homeowner's life and happiness.
"This year's longlist for the RIBA Manser Medal in association with HSBC Private Bank recognises some truly exceptional and exciting private houses, with projects located in the farthest reaches of the UK. On the Hebridean Isle of Coll and on the shingle shore of Dungeness young architects have brought old buildings back to life as new homes. In Brecon and Suffolk architects have created exceptionally daring houses with cantilevered floors and structural tricks aplenty. The results – our longlist -are breathtaking, and should lead to the best ever shortlist."
Declan Sheehan, Chief Executive Officer of HSBC Private Bank, said:
"Our sponsorship of the RIBA Manser Medal reflects our support of excellence in architecture and design, as this year's longlist highlights the exceptional talent and creative expertise in the UK at present. In our second year of sponsorship HSBC Private Bank is proud to support an award that sees architects and clients working together to create inspirational homes."
The RIBA Manser Medal 2011 longlist has been chosen from winners of an RIBA Award. The shortlist for the medal will be announced on 8 September 2011 and the winner will be announced on 10 November 2011 at a prestigious prize ceremony at the RIBA. The winning architect will receive a trophy commissioned by HSBC Private Bank and a prize of £10,000.
Previous winners include Acme for Hunsett Mill (2010), Pitman Tozer Architects for The Gap House (2009), Rogers Stirk Harbour + Partners for Oxley Woods (2008) and Alison Brooks Architects for the Salt House (2007).
This year's judges include:
Michael Manser CBE, architect
Friedrich Ludwig, architect with ACME
Peter Mackie, Managing Director, Property Vision (subsidiary of HSBC Private Bank)
Tony Chapman, Hon FRIBA, RIBA Head of Awards
RIBA Manser Medal : current page
RIBA Manser Medal 2011 information from Royal Institute of British Architects
Location: UK
RIBA Awards
Contemporary Architectural Designs
RIAS Award for Architecture – Best Building in Scotland
Comments / photos for the RIBA Manser Medal Award 2011 page welcome