Architectural Award Information, Design Prize, New Library and Architecture Buildings
New Library and Architecture Award
Architectural Award Information
18 Jun 2014
Launch of New Library and Architecture Award
Danish Agency for Culture and schmidt hammer lassen architects launch new library and architecture award
From 18 June 2014, it will be possible to submit projects to compete for a new library and architecture award. The schmidt hammer lassen architects – Public Library of the Year Award 2014 will be awarded by the Danish Agency for Culture and schmidt hammer lassen architects. It has the overall goal to highlight the importance of libraries in our society.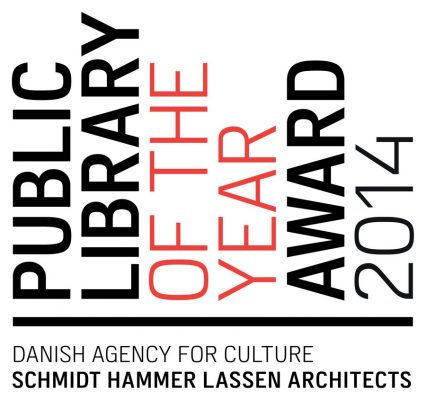 "Modern libraries are one of the most important platforms for exchanging knowledge. As opposed to information found on the internet, the knowledge that arises through collaboration and exchange between people in a library is of particular significance. That is why it is crucial for library architecture to support collaboration and create spaces that invite people to meet," says Morten Schmidt, senior partner at schmidt hammer lassen architects.
The award is an offshoot of the Model Programme for Public Libraries, organised by the Danish Agency for Culture and Realdania. The Model Programme has motivated municipalities internationally to develop the library of the future.
"The Model Programme for Public Libraries has given impetus to the debate about the process of transformation in which libraries are already engaged. Libraries are changing from the librarian-run book library into a cultural meeting place and knowledge centre that takes its starting point in the needs and interests of the public and our new digital age," says the director of the Danish Agency for Culture, Anne Mette Rahbæk.
"Architecture plays a vital role here, and we have been a little surprised at the considerable international interest in the project. We would like to follow up on this, and the honorary award will help maintain focus and interest," says Anne Mette Rahbæk.
As the name indicates, the award is sponsored by the practice schmidt hammer lassen architects, and it will be awarded for the first time in August 2014 in connection to the annual conference of the International Federation of Library Associations and Institutions (IFLA) in Lyon, France.
Nominations must be made before midnight on 3 August 2014. Applications have to be filled out digitally through a form on the Model Programme's homepage (http://modelprogrammer.kulturstyrelsen.dk/en/) which also lists the required criteria.
schmidt hammer lassen architects has extensive experience in designing libraries, with an impressive list of projects including 12 libraries. In 2013 alone, the architecture practice won libraries in China, New Zealand and Sweden. Among the most significant libraries designed by schmidt hammer lassen architects, both of which are currently under construction, are the new public library in Aarhus, Denmark – DOKK1 – and the Halifax Central Library in Canada, which is due to be completed in 2014.
Facts
Panel of judges
• Anne Mette Rahbæk, director, Danish Agency for Culture
• Morten Schmidt, senior partner, schmidt hammer lassen architects
• Kent Martinussen, CEO, Danish Architecture Centre
• Jan Richards, manager, Central West Libraries, New South Wales Australia, IFLA Public Libraries Section
• Jens Lauridsen, head librarian, Tårnby Municipal Libraries, editorial group
• Marie Østergaard, project leader, Main Library, Aarhus, editorial group
For further information about the award:
Chief consultant Jonna Holmgaard Larsen, +45 3373 3352, jhl@kulturstyrelsen.dk
Location:Denmark
Comments / photos for the New Library and Architecture Award page welcome
New Library and Architecture Award : page