International Architecture & Design Awards 2022, ADC Building Prize News, World Architects Contest
International Architecture & Design Awards 2022 News
27 January 2022
Architecture & Design Community encourages designers and architects, construction workers, and engineers to share their best projects with the rest of the world so as to inspire the next generation and gain global recognition.
Are you proud of your project? Then share it with us! Whether it's the architectural design of a shopping mall or a luxury villa project, the design of a metro station or a bus stop, a private or public landscaping project, the interior of a modern apartment, or just a designer chair. What matters is the distinctiveness and uniqueness of your project.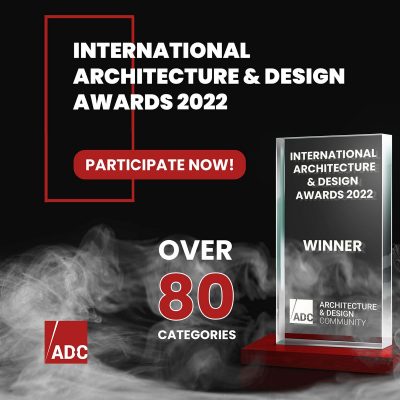 The short-listed projects will be posted on our social networks and the ADC website, while their authors will receive award certificates and exclusive materials for publication. The participation is open to industry professionals and students from all over the world.
Our Award broadly covers all fields of architecture and construction, interior design, and landscaping.Both industry experts and students, as well as large companies and individual professionals, are invited to participate.
Last year, we held 82 award nominations with 246 prizes! Therefore, we are absolutely sure that everyone can find the right category for their project.
Participate Now https://ad-c.org/
International Architecture & Design Awards 2022 Categories
Architecture categories: Commercial | Corporate | Cultural | Educational | Healthcare | High Rise Architecture | Hospitality | House Design | Household | Housing | Industrial | Institutional | Mixed Use | Office building | Pop-ups and Temporary | Private Residence | Public Building | Residential | Sports & Recreation | Transportation and more…
Interior Design categories: Commercial Interior | Corporate Interior | Healthcare Interior | Hospitality Interior | Hotel Interior | Housing Interior | Interior Design Elements | Office Interior | Public Building Interior | Residential Interior | Retail Interior | Workplace Interior
Landscape categories: Private Landscape Design | Public Landscape Design
Jury Members:
Alain Gilles – Founder, "Alain Gilles The Studio" (Brussels, Belgium)
Jeremy Smith – Design Director, "Irving Smith Architects" (Nelson, New Zealand)
Tiago do Vale – Senior Architect, "Tiago Do Vale Architects" (Braga, Portugal)
Yussef Agbo-Ola – Architect, Founder "Olaniyi.Studio" (London, United Kingdom)
Alastair Cross – Architect, "REMI · C · T STUDIO" (London, United Kingdom)
Nancy Clark – Director, UF Center For Hydro-Generated Urbanism (Florida, United States)
Peter Kuczia – Architect, Founder, "Kuczia Architects" (Osnabrück, Germany)
Karen Nelson – Dean And Faculty Of Architecture At The Boston Architectural College
David Chasco – Professor, The Illinois School Of Architecture (Illinois, USA)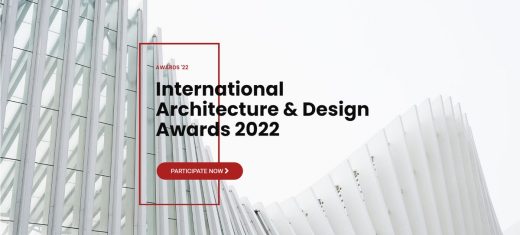 Award Schedule:
February 14 – deadline for early registration (fee per project is $100 instead of $200).
March 15 – standard registration deadline (fee per project is $150 instead of $200).
April 30 – late registration deadline (fee per project is $200).
May 16 – deadline for submitting projects.
June 20 – announcement of the winners.
* The prices are inclusive of all taxes.
** There is 30% discount for students.
*** For companies, invoices are provided after payment.
Why enter International Architecture & Design Awards?
The International Architecture & Design Awards is hosted by Architecture & Design Community (ADC), with a jury consisting of top figures in the world of architecture and design. Consequently, the International Architecture & Design Awards enjoy unprecedented prestige and coverage.
Each short-listed and awarded project will be posted on the Architecture & Design Community website and shared with our vast social media and mailing list communities, resulting in significant recognition for all winners.
The short-listed and awarded studios will benefit by promoting themselves as winners of the International Architecture & Design Awards. Moreover, the winners get certificates and unique marketing materials with the contest logo.
Architecture & Design Community images / information received 270122 from ADC
Design Awards
Port of Beirut Renewal Competition
RIBA House of the Year 2021 Winner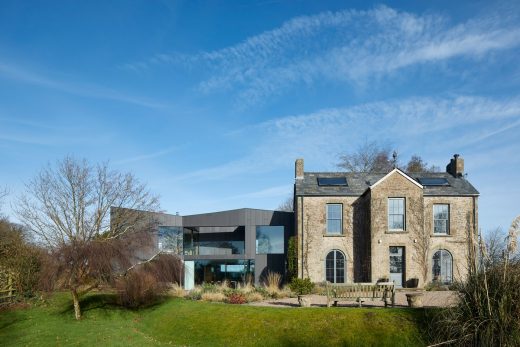 photo : Paul Riddle
RIBA House of the Year 2021 Winner
2021 RIBA International Prize Winner
RIBA President's Medals 2021: Student Awards
RIBA International Prize 2021 Shortlist
International Architecture Awards
Comments for the Architecture & Design Community page welcome