Design Museum Architecture Award, News, London, Categories
London Design Museum Architecture Award
UK Architectural Prize 2013, England: Winners News
10 Apr 2013
Designs of the Year 2013
Design Museum Announce Category Winners for Designs of the Year 2013
DESIGNS OF THE YEAR 2013 CATEGORY WINNERS ANNOUNCED
London 10 April 2013: The Design Museum announces the seven category winners for the annual Designs of the Year Awards. The awards celebrate the best of international design from the last 12 months. The overall winner for the Design of The Year 2013 will be announced on Wednesday 16 April at an awards evening held at The Angler, South Place Hotel, London.
Architecture Category winner:
Transformation of Tour Bois-le-Prêtre, Paris, France
2006–11
Frédéric Druot, Anne Lacaton, and Jean Philippe Vassal: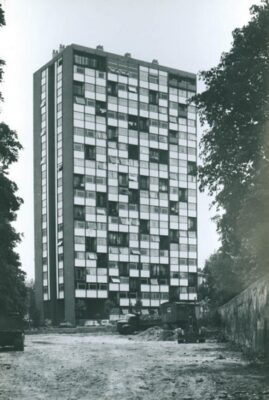 photograph from Design Museum




photographs from Design Museum
The seven category winners include GOV.UK, a new British government website which promises to revolutionise governmental online communications, bringing together different government websites into one single site making it a much easier and user friendly service. Oher winners include the renovation and reimagining of a faded 1960's tower block in Paris, a landmark documentary an fashion icon Diana Vreeland, a reinvention of the wheel in the form of a unique folding wheel which can be applied to bicycles and wheelchairs and a chair constructed using the latest computer technology.
The Seven Category winners are:
• Architecture: TOUR BOIS-LE-PRÊTRE, PARIS – Designed by Frédéric Druot, Anne Lacaton and Jean-Philippe Vassal
• Digital: GOV.UK WEBSITE – Designed by Government Digital Service
• Fashion: DIANA VREELAND: THE EYE HAS TO TRAVEL – Directed by Lisa Immordino Vreeland
• Furniture: MEDICI CHAIR – Designed by Konstantin Grcic for Mattiazzi
• Graphics: VENICE ARCHITECTURE BIENNALE IDENTITY – Designed by John Morgan Studio
• Product: KIT YAMOYO – Designed by ColaLife and PI Global
• Transport: MORPH FOLDING WHEEL – Designed by Vitamins for Maddak Inc.
Transformation of Tour Bois-le-Prêtre, Paris, France






photographs from Design Museum
Pete Collard, Curator of Designs of the Year comments: 'Designs of the Year is the Design Museum's authoritative review of the most innovative, forward-thinking and culturally relevant projects from the past twelve months. The work selected demonstrates the many ways in which design can transform our physical and cultural landscape.'
The seven winning designs will now compete for the overall Design of the Year 2013, to be announced on 16 April. The winning entries, along with all the shortlisted designs are on show at the Design Museum until 7 July.
Design Museum Design Awards : previous year
The Designs of the Year 2013 jury:
• Johanna Agerman Ross (Editor of Disegno)
• Amanda Levete (Architect)
• Olga Polizzi (Director of Design for Rocco Forte Hotels)
• Sarah Raven (Garden designer)
• Griff Rhys Jones (Actor and presenter)
• Nicolas Roope (Designer)
• Ilse Crawford (Designer) – Chair of the jury
Transformation of Tour Bois-le-Prêtre, Paris, France





photographs from Design Museum
Other Shortlisted Buildings:
Astley Castle,
Warwickshire



photo : Witherford Watson Mann
Four Freedoms Park,
New York



photo : Amiaga
Home for All,
Japan



photo : Naoya Hatakeyama
Ikea Disobedients,
New York



photo : Museum of Modern Art
Museum of Innocence,
Istanbul



photo : Orhan Pamuk
Thalia Theatre,
Lisbon


photo : Gonçalo Byrne Arquitectos
T Site,
Tokyo



photo : Klein Dytham
Galaxy Soho,
Beijing



photo : Hufton and Crow
Metropolitan Arts Centre,
Belfast



photo : Christian Richters
Museum of Contemporary Art,
Cleveland



photo : Foreign Office Architects
A Room for London,
London



photo : Charles Hosea
Designs of the Year 2013 images / information from Design Museum London
Location: Shad Thames, London, UK, SE1 2YD
Design Museum London
Design Museum London exhibition
About the Design Museum
The Design Museum is the world's leading museum devoted to architecture and industrial design. Founded in 1989 and currently located in Shad Thames, its work encompasses all elements of design, including product design, graphic design, and fashion. For the past 22 years, the museum has hosted exhibitions showcasing some of the most important pioneers of design including, Paul Smith, Zaha Hadid, Jonathan Ive, and Dieter Rams.
The Design Museum plans to relocate from its current home at Shad Thames to the former Commonwealth Institute building, in Kensington, West London. The project is expected to be completed by 2015. Leading designer John Pawson will convert the interior of the Commonwealth Institute building to create a new home for the Design Museum giving it three times more space in which to show a wider range of exhibitions, showcase its world class collection and extend its learning programme. For more information please visit: designmuseum.org
DESIGN MUSEUM, SHAD THAMES, LONDON, SE1 2YD
OPENING: 10.00 -17.45 daily. Last admission: 17.15
Admissions: £10.75 Adults, £9.70 Concessions, £6.50 Students, Under 12s Free.
PUBLIC INFORMATION T: 020 7940 8790 W: designmuseum.org
Design Museum architects : Conran & Partners
Design Museum Building, Shad Thames, Bermondsey, southeast London
1989
Design: Conran Roche – now Conran & Partners



photo © Luke Hayes
Design Museum Building
Urban Africa – A photographic journey by David Adjaye
Design Museum David Adjaye Exhibition
David Chipperfield Architects Exhibition
Design Museum David Chipperfield Exhibition
Future Systems Exhibition



Design Museum Jan Kaplicky Exhibition
Design Awards
Saatchi Gallery London
Design: Allford Hall Monaghan Morris
Comments / photos for the Design Museum Awards page welcome