Bernard Bühler Award 2022, Design Architects and Designers Contest News, French architect
Bernard Bühler Award 2022
18 February 2022
Bernard Bühler Award 2022 News
Eastman announces Bernard Bühler Award
for the 2022 Vanceva® World of Color Awards™
The new award dedicated to exterior projects is named for the renowned French architect.
The architect Bernard Bühler:


photo © Bernard Bühler, all rights reserved
Paris, February 17, 2022 – Named after the renowned French architect who has developed multiple projects across France using Vanceva color PVB interlayers, Bühler himself will be the juror for the award and will choose the winner from all entries in the "Exterior" category.
"I am honored by this recognition of my work with color," Bühler said. "I am an intensive user of Vanceva color interlayers, and I won at the Vanceva World of Color Awards myself in 2012. By combining glass and a wide variety of playful colors, I like to create apartment buildings that are dynamic and fun places to live in. Those interlayers are perfect tools to bring my vision of colored living places to life."
The winner will be announced at the same time as the winner of the 2022 Vanceva World of Color Awards on Wednesday, September 21, 2022.
Arc En Ciel building in Bordeaux, France, design by Bernard Bühler: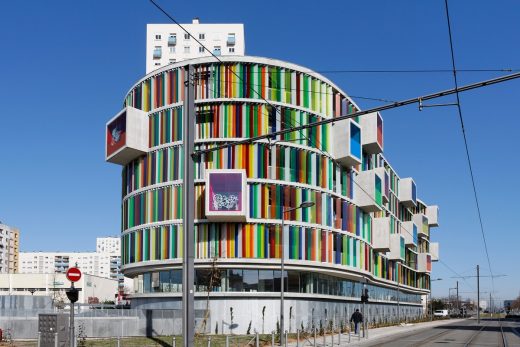 photo © Vincent Monthiers
This worldwide competition is designed to showcase artful, innovative use of color laminated safety glazing while honoring the architects, designers, glass fabricators, glazing contractors, engineers and other industry professionals for their inspiring projects. Entry for submissions opened on January 18, 2022, and will continue through Thursday, March 31 at 11:59 p.m. CST. There are no entry fees and entries can be uploaded at www.vanceva.com/woca/submit-a-project. A preselection process will take place with qualified project submissions on Wednesday, May 4, 2022. Final submissions are due on Tuesday, May 31, at 11:59 p.m. CST.
Fulton Building, Paris, France – Bernard Bühler: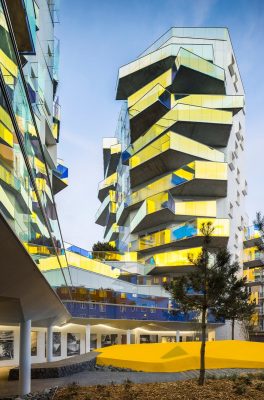 photo © Sergio Grazia
The jury for the 2022 Vanceva World of Color Awards is composed of five experts representing leading design and architecture companies: Firas Hnoosh, managing director, Nordic Office Architects; Joe Jacoby, president and director of design, Jacoby Architects Inc.; Jeffrey S. Monzu, market sector leader, healthcare design at LEO A DALY; Roman Schieber, associate director ppa., Knippers Helbig; and Monika Kumor, project designer, HOK.
Koh I Noor building in Montpellier, France – Bernard Bühler: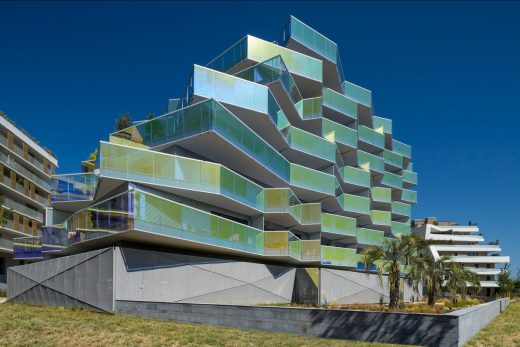 photo © Julien Thomazo
The Vanceva color interlayer system offers architects and designers unparalleled creative freedom to incorporate color into glass and glazing systems using tinted interlayers, which are laminated between two pieces of glass. A palette of 16 colors can be combined in up to four layers to produce more than 3,000 transparent, translucent and opaque glass colors. This gives designers almost unmatched flexibility to create custom colors and one-of-a-kind aesthetics. Vanceva color interlayers also offer many of the benefits of polyvinyl butyral (PVB) interlayers for laminated safety glass.
Habas les Vallons building in Bayonne, France – Bernard Bühler: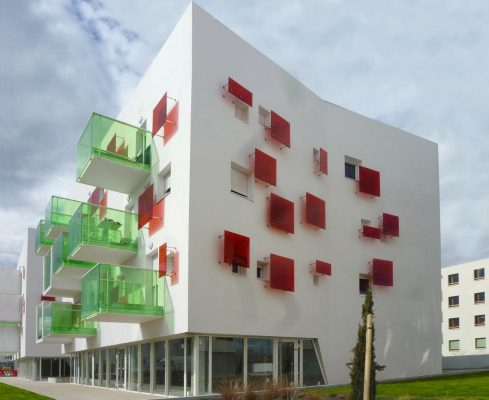 photo © Bernard Bühler, all rights reserved
Eastman Saflex® and Vanceva® PVB interlayers are some of the most trusted names in PVB interlayer technology for laminated glazing, delivering outstanding performance and durability and backed by reliable and knowledgeable service. As a result, Eastman interlayers are found in nearly 40% of laminated architectural and automotive glass worldwide.

Eastman
Founded in 1920, Eastman is a global specialty materials company that produces a broad range of products found in items people use every day. With the purpose of enhancing the quality of life in a material way, Eastman works with customers to deliver innovative products and solutions while maintaining a commitment to safety and sustainability.
The company's innovation-driven growth model takes advantage of world-class technology platforms, deep customer engagement, and differentiated application development to grow its leading positions in attractive end markets such as transportation, building and construction, and consumables. As a globally inclusive and diverse company, Eastman employs approximately 14,000 people around the world and serves customers in more than 100 countries. The company had 2021 revenues of approximately $10.5 billion and is headquartered in Kingsport, Tennessee, U.S.A. For more information, visit www.eastman.com.
Bernard Bühler: architecture for a colored life
Renowned Bordeaux-based architect explains his vision of living.
The creation of the Bernard Bühler Award was just announced. Can you tell us more?
I am very pleased I was asked by Eastman, organizer of the 2022 Vanceva® World of Color Awards™, to grant this special award for exterior projects. I won the award myself in 2012 for a playful housing project near Paris mixing glass and color. In fact, I am an intensive user of Vanceva® Color interlayers. By combining glass and a wide variety of playful colors, I create apartment buildings that are dynamic, fun places to live.
You are indeed known for your colored buildings. What are your recent works?
My studio recently finished a big complex of social housing units on the Seine frontage in Paris. It stands out from the surroundings thanks to a dichroic effect, which changes color depending on the light. So, at different times or from different angles, color can vary greatly from pink to yellow to blue. The color changes throughout the day, and the result is a dynamic, living building! I like to create buildings as landmarks; buildings that are remembered. People remember color; it marks our minds. Architecturally, it is very interesting. And behind the dichroic film, the light is not tinted; it is neutral. There are no colored reflections inside the home for the inhabitants.
We are currently working on another interesting project in Fontbelleau, near Bordeaux. It is a modern residence in a centenary woodland environment. The buildings have an innovative, rounded shape, with vertical green flat panels. The customers requested to see through the interlayers, so the windows are inserted through cuts in the interlayer. That project will be completed in 2023.
Color is at the heart of your work. How does color interlayer bring your vision to life?
We do mostly housing and exteriors. There is traditionally very little color in buildings, which are mostly white and grey. The choice of materials for exterior facades is very important. I saw colored interlayers for the first time on a building designed by French architect Jean Nouvel in Paris. It had glazed scales, and I thought it was fabulous. I first used Vanceva color interlayers 20 years ago with glass inserts on windows for a building in Bayonne. I have never stopped. Shades are very important too. I am fascinated by the changes of colours on buildings. In France, color is not always well perceived, especially in institutions dealing with social housing, and we do many of those.
Cities around us are primarily built with different shades of grey. But in the world, color is everywhere. It recalls stained glass windows in churches and cathedrals but also famous-colored places like Burano or Valparaiso or the amazing colors of Greece and India. Le Corbusier loved color, and many architects use it all over the world. The world itself has amazing color. Just think of fish and flowers. Color is joy. As Baudelaire said about a glazier, and as I like to quote him: "What! No colored glass? No rose-colored glass, red glass, blue glass? Where are the magic panes, the windowpanes of paradise? What impudence! You barge into this humble neighborhood without even the decency to bring the glass that can make life beautiful." (from "The Bad Glazier" by Charles Baudelaire, translated by David Lehman)
Buildings look great when they are built, but how do they evolve over time?
We develop many social housing projects. I am committed to making the homes of people living in social houses not only welcoming and joyful places but also qualitative. And I expect this quality from the materials I use. The color of Vanceva interlayers does not deteriorate when it is inserted in the glass panels. Time has its effect in a gradual and homogeneous way. After 20 years, we've never had any issue with wear and deterioration, and the most ancient buildings still stand out beautifully.
Eastman, manufacturer of the Vanceva color interlayer system for laminated glass, launched a biyearly international design recognition program inspired by the liberal use of the Vanceva color interlayer system in both exterior and interior architecture and design in 2010.
Vanceva
Producing a broad spectrum of colors and moods that are unachievable using stock selections of glass, Vanceva gives architects and designers more creative freedom with glass than ever before. Vanceva color interlayers can be combined to produce more than two thousand transparent, translucent, or opaque color options to help create the desired tone and intensity.
When Vanceva color interlayers are combined with tinted or reflective glass, the design possibilities are nearly limitless. No other interlayer brand delivers the complete spectrum of colors for laminated glass like Vanceva. Used in curtain walls, atriums, skylights, partitions, and conference rooms, Vanceva color interlayers allow the most expressive designs with distinctive hues, from the subtle to the dramatic, all using the advanced interlayer technology you have come to know and trust in the Saflex brand.
Architecture Competitions
Architectural Competitions : links
Architecture Competitions – architectural selection below:
Wilcox Road South Lambeth Competition, London, England, UK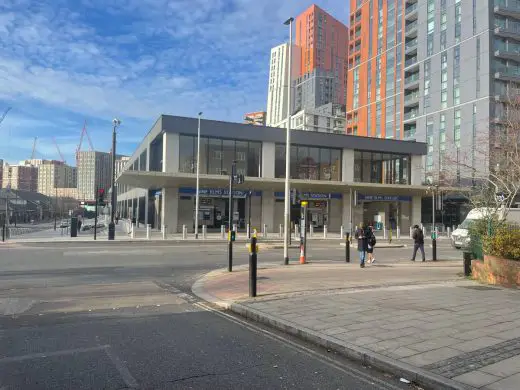 photo courtesy of LFA
Wilcox Road South Lambeth Competition
New London Architecture King's Cross Design Competition, North London, England, UK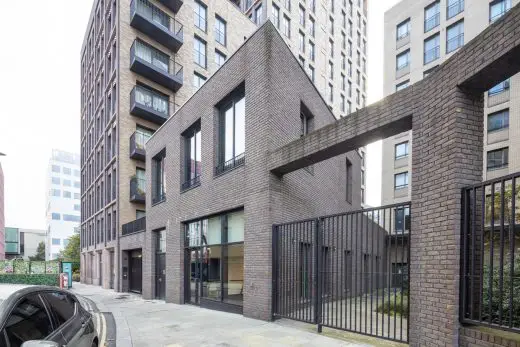 New London Architecture King's Cross Design Competition
Weissenhof in Stuttgart open urban planning ideas competition, Stuttgart, Baden-Württemberg, south west Germany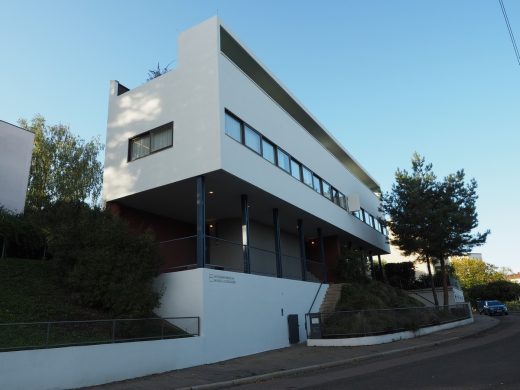 photo courtesy of IBA'27
Weissenhof Stuttgart open ideas competition
Kaira Looro Architecture Competition 2022 – Children's House, Senegal, West Africa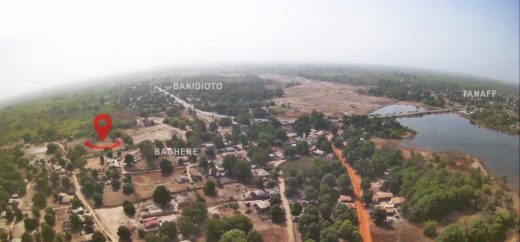 Kaira Looro 2022 Competition
Experiential Architecture, Architectural Essay Competition 2021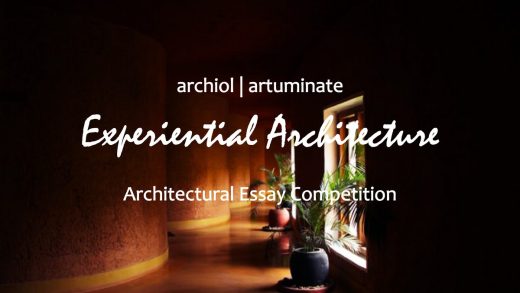 Experiential Architecture Essay Competition 2021
Architectural Awards
Comments / photos for the Bernard Bühler Award for exterior projects page welcome