2022 Civic Trust Awards Winners, British Buildings Prize, Architects, Britain Architecture Design News
2022 Civic Trust Awards Winners: Buildings
7 March 2022
Winners Announcement
2022 Civic Trust Awards, Civic Trust AABC Conservation Awards & Selwyn Goldsmith Awards For Universal Design
INTRODUCTION
Monday March 7th 2022 – The Civic Trust Awards scheme was established in 1959 to recognise outstanding architecture, planning and design in the built environment. As the longest standing built environment awards scheme in Europe, more than 7000 projects have been rewarded and the scheme has continued in its objective to recognise projects that have made a positive contribution to the local communities they serve.
The aim of the Civic Trust Awards is to encourage the very best in architecture, to improve the built environment for us all through design, sustainability, inclusiveness and accessibility, and also to reward projects that offer a positive cultural, social, economic or environmental benefit to their local communities.
This year, from 160 entries, 45 projects have been recognised with a Civic Trust Award or been Highly Commended. Submissions were received from the UK, Belgium, Canada, Denmark, UAE, USA and Somaliland, reflecting the awards' continuing international reach.
2022 Civic Trust Awards Winners
2022 SPECIAL AWARDS
6 Special Awards were presented to schemes which demonstrated excellence in a specific field. All projects of National/International winning standard were considered for each of the Special Awards by National Judging Panel members who determined the individual winners.
National Panel Special Award – Selected by National Panel Members as their favourite scheme from the year's Award-winning projects: Taylor Court, Chatto Court and Wilmott Court, Frampton Park Estate by Henley Halebrown for Hackney Council.
Special Award for Sustainability – Presented to a scheme that has demonstrated excellent sustainability credentials sponsored by Derwent London: FarmED by Timothy Tasker Architects Ltd in association with Anthony Carlile Architect for Cotswold Seeds Ltd.
Special Award for Community Impact & Engagement – Presented to a scheme that has demonstrated how successful community engagement can help deliver the highest standards of design whilst meeting the needs of local people: New Pooley Bridge by Knight Architects for Cumbria County Council.
Michael Middleton Special Award – Presented to a restoration project or new build within a conservation area: Wadham College by AL_A for Wadham College.
Special Award for Transportation & Infrastructure – Presented to a scheme that provides exceptional new or upgraded major infrastructure projects that have transformed the civic realm: Go Cycle: Kingston Cycle Hub by Sarah Wigglesworth Architects.
Special Award for Reuse & Adaptation – Presented to a scheme that would otherwise be left to decay or be demolished to address present-day needs: Preston Bus Station by John Puttick Associates for Lancashire County Council.
Wadham College, Oxford, Southeast England
AL_A
for Wadham College
Award & Michael Middleton Special Award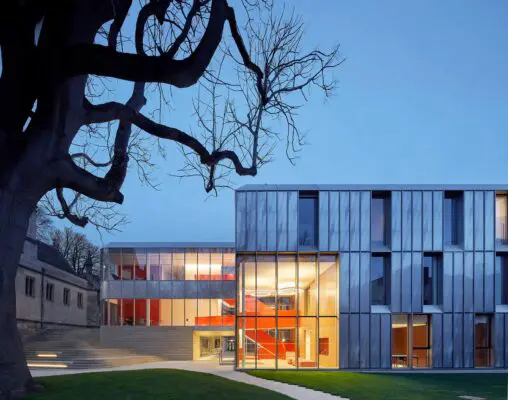 photo : Hufton + Crow
Gannochy Lifetime Neighbourhood, Perth and Kinross, Scotland
Anderson Bell + Christie Architects
for The Gannochy Trust
Selwyn Goldsmith Award for Universal Design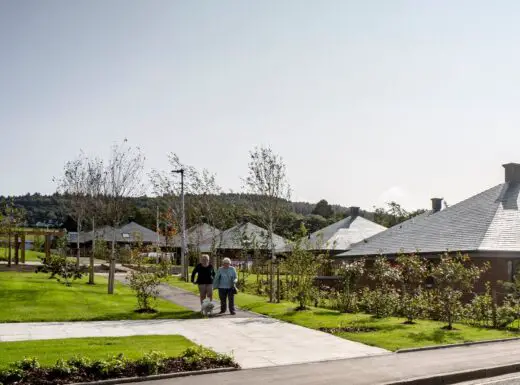 photo : Anderson Bell + Christie Architects
FarmED, West Oxfordshire, Southeast England
Timothy Tasker Architects Ltd in association with Anthony Carlile Architect
for Cotswold Seeds Ltd
Civic Trust Award & Special Award for Sustainability sponsored by Derwent London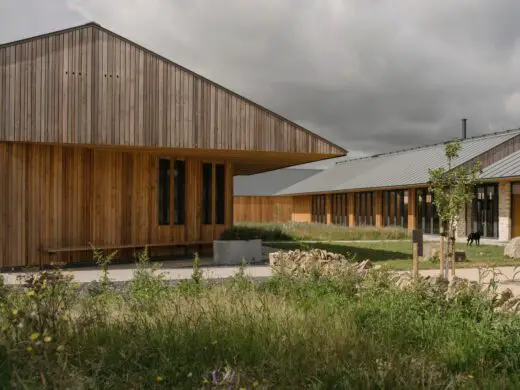 photo : Tim Crocker
New Pooley Bridge, Eden, Northwest England
Knight Architects
for Cumbria County Council
Civic Trust Award & Special Award for Community Impact & Engagement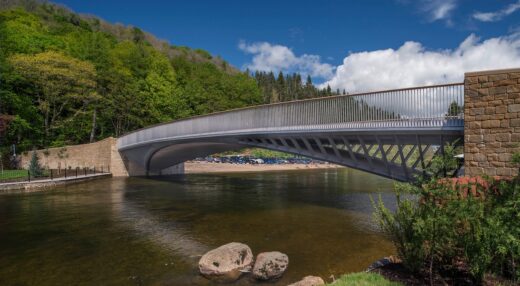 photo : Eric Wright / Beccy Lane (Posimage)
Preston Bus Station renewal, Preston, Northwest England
John Puttick Associates
for Lancashire County Council
Civic Trust Award & Special Award for Reuse & Adaptation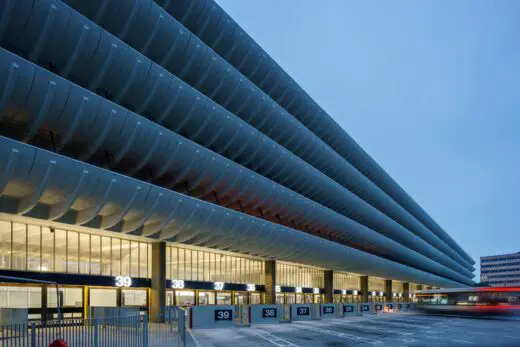 photo : Gareth Gardner
Worcester Cathedral Undercroft Learning Centre, Worcester, West Midlands
Acanthus Clews Architects Ltd
for The Dean and Chapter, Worcester Cathedral
Civic Trust AABC Conservation Award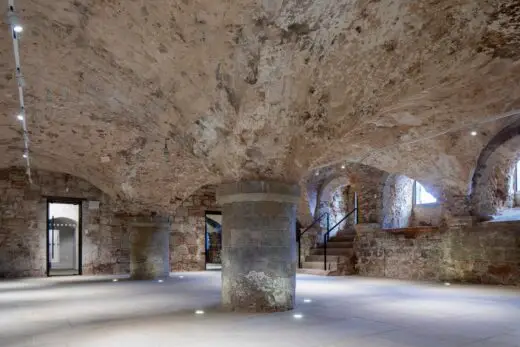 photo : Andy Marshall
Barton Farm Primary Academy, Winchester, Southeast England
HCC Property Services – Architects
for HCC Children's Services
Civic Trust Award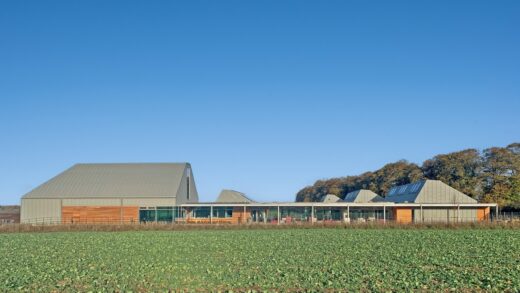 photo : Keith Evans
Go Cycle: Kingston Cycle Hub, Kingston-upon-Thames, Greater London
Sarah Wigglesworth Architects
for Transportation & Infrastructure
Civic Trust Award & Special Award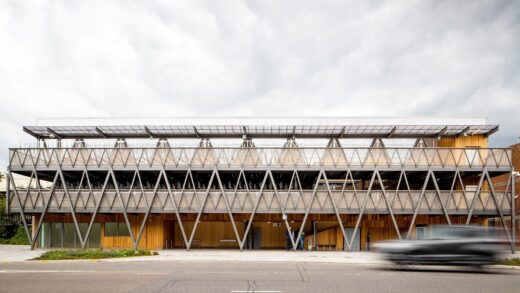 photo : Buro Happold
Harold Alfond Athletics and Recreation Center, Colby College, Maine, USA
Hopkins Architects
for Colby College
Civic Trust Award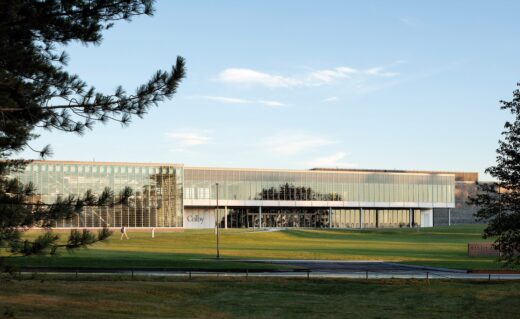 photo : Jeremy Bitterman
Lancaster Castle renewal, Lancaster, Northwest England
BDP
for Duchy of Lancaster
Civic Trust Award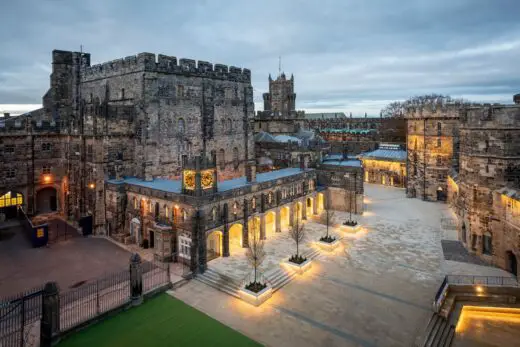 photo : Nick Dagger
Manchester Jewish Museum, Manchester, Northwest
Citizens Design Bureau with Smithers Purslow
Civic Trust Award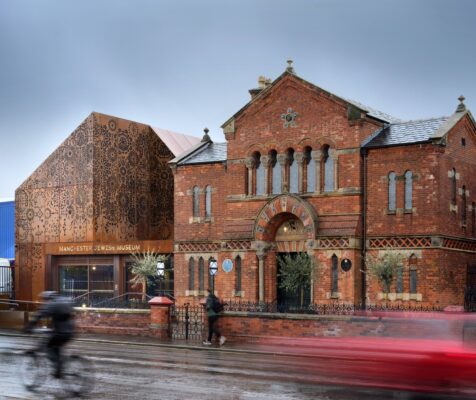 photo : Philip Vile
Quarry Studios, Aberdeenshire, Scotland
Moxon Architects Ltd
Civic Trust Award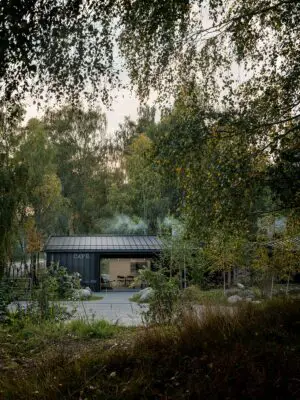 photo courtesy of the architects
2022 Civic Trust Awards Winners List
– 100 Liverpool Street City of London Greater London Hopkins Architects for British Land
Award
– Barton Farm Primary Academy Winchester Southeast HCC Property Services – Architects for HCC Children's Services
Award
– Espérance Bridge Camden Greater London Moxon Architects Ltd for Argent LLP
Award
– FarmED West Oxfordshire Southeast Timothy Tasker Architects Ltd in association with Anthony Carlile Architect for Cotswold Seeds Ltd
Award & Special Award for Sustainability
– Go Cycle: Kingston Cycle Hub Kingston-upon-Thames Greater London
Sarah Wigglesworth Architects Award & Special Award for Transportation & Infrastructure
– Guildford Crematorium Guildford Southeast Haverstock for Guildford Borough Council
Award
– Hackney New Primary School & 333 Kingsland Road Hackney Greater London Henley Halebrown for Downham Road (JV) Ltd.: Education Funding and Skills Agency (EFSA), The Benyon Estate, Thornsett, Hackney New School Academy Trust
Award
– Harold Alfond Athletics and Recreation Center, Colby College Maine USA Hopkins Architects for Colby College
Award
– Lancaster Castle Lancaster Northwest BDP for Duchy of Lancaster
Award
– Magdalene College Library Cambridge Eastern Niall McLaughlin Architects for Magdalene College
Award
– Maggie's Southampton Southampton Southeast AL_A for Maggie's
Award
– Manchester Jewish Museum Manchester Northwest Citizens Design Bureau with Smithers Purslow
Award
– New Pooley Bridge Eden Northwest Knight Architects for Cumbria County Council
Award & Special Award for Community Impact & Engagement
– Preston Bus Station Preston Northwest John Puttick Associates for Lancashire County Council
Award & Special Award for Reuse & Adaptation
– Quarry Studios Aberdeenshire Scotland Moxon Architects Ltd
Award
– Taylor Court, Chatto Court and Wilmott Court, Frampton Park Estate Hackney Greater London Henley Halebrown for Hackney Council
Award & National Panel Special Award
– The Welcome Building, RHS Garden Bridgewater Salford Northwest Hodder and Partners
Award
– Tom Patterson Theatre Ontario Canada Hariri Pontarini Architects
Award
– Tower of Light Manchester Northwest Tonkin Liu for Vital Energi & Manchester City Council
Award
– Wadham College Oxford Southeast AL_A for Wadham College
Award & Michael Middleton Special Award
– West Downs Centre East Hampshire Southeast Design Engine Architects for University of Winchester
Award
– Climatorium Climate Centre Lemvig Denmark 3XN for Lemvig City Council and Lemvig Utility
Highly Commended
– Cranmer Road, King's College Cambridge Eastern Allies and Morrison for King's College Cambridge
Highly Commended
– Eleanor Palmer Primary School Science Lab Camden Greater London AY Architects
Highly Commended
– Hobhouse Westminster Greater London Brisac Gonzalez / Arquitectonica
Highly Commended
– Interdisciplinary Biomedical Research Building, University of Warwick Warwick West Midlands Hawkins\Brown for The University of Warwick
Highly Commended
– Intertwining urban ecology Vorst Brussels BOB361 architects for Slrb-bghm.brussels, Gemeente Vorst & Foyer du Sud
Highly Commended
– Swing Bridge Bromley Greater London Tonkin Liu for Friends of Crystal Palace Dinosaurs, Greater London Authority & London Borough of Bromley Highly Commended
– Teddington Cricket Club Pavilion Richmond upon Thames Greater London Reed Watts for Teddington Cricket Club & Royal Parks
Highly Commended
– The Alder Centre Liverpool Northwest Allford Hall Monaghan Morris for Alder Hey Children's Hospital
Highly Commended
– The Buhais Geology Park Interpretive Centre Sharjah UAE Hopkins Architects
Highly Commended
– The King's School, Canterbury International College Canterbury Southeast Walters & Cohen Architects for The King's School, Canterbury
Highly Commended
– The Mitchell Building, The Skinners' School Tunbridge Wells Southeast Bell Phillips Architects for The Skinners School
Highly Commended
2022 Pro Tem Winners
– Hackney Bridge Newham Greater London Turner Works for Make Shift
Award
– Ebury Edge Westminster Greater London Jan Kattein Architects for Westminster City Council
Highly Commended
2022 Selwyn Goldsmith Awards for Universal Design Winners
Title LA Region Applicant & Client Result
– Gannochy Lifetime Neighbourhood Perth and Kinross Scotland Anderson Bell + Christie Architects for The Gannochy Trust
Award
– The Deaf Academy East Devon Southwest Stride Treglown for The Deaf Academy
ward
– The Welcome Building, RHS Garden Bridgewater Salford Northwest Hodder and Partners
Highly Commended
2022 Civic Trust AABC Conservation Awards Winners
– Anchor Studio – Repair and Renovation Cornwall Southwest Rolfe Kentish Architect Ltd for Borlase Smart John Wells Trust
Award
– Worcester Cathedral Undercroft Learning Centre Worcester West Midlands Acanthus Clews Architects Ltd for The Dean and Chapter, Worcester Cathedral Award
– ERS Building, Killingworth North Tyneside Northeast Ainsworth Spark Associates for North Tyneside Council
Highly Commended
– Frogmore House Watford Greater London Giles Quarme Architects for St William
Highly Commended
– Neville Hall Newcastle upon Tyne Northeast Howarth Litchfield Partnership Ltd for The Common Room
Highly Commended
– Pearson Park Entrance Arch Kingston-upon-Hull Yorkshire & Humberside Hugh Massey Architects for Hull City Council
Highly Commended
– Theatre Royal Drury Lane Westminster Greater London Haworth Tompkins
Highly Commended
Civic Trust Awards : main page
Civic Trust Awards Winners – Previous Years
Civic Trust Award Winners 2012



photo © Morley von Sternberg
Civic Trust Awards 2011
Civic Trust Award Winners 2011
Civic Trust Awards 2011
Civic Trust Awards 2010
Civic Trust Awards 2010
Civic Trust Awards 2010 Scotland Shortlist
Civic Trust Awards 2009
Civic Trust Awards 2009 : information from BDP Architects
Civic Trust Awards 2008
Civic Trust Awards 2008
Location: UK
Architecture Awards
Civic Trust Awards Scotland 2003
Comments / photos for the 2022 Civic Trust Awards Winners News – Buildings page welcome