Using Different Levels to Break Up Your House Design, Property Style, Architecture and Interiors Images
Using Different Levels to Break Up Your House Design
Walls, doors and windows aren't the only ways to separate spaces – Architectural Article by Houzz
30 Oct 2017
Walls, doors and windows aren't the only ways to separate spaces. Using levels may not be one you've considered
Full article first published on Houzz
Author: Hugo Tugman, Houzz Contributor
Using Different Levels to Break Up Your House Design
There's a range of techniques available to a designer to fine-tune the connection or separation between spaces both inside and outside your home. Changes of level – or, conversely, the alignment of levels – can be a very effective device. Here are some examples of how it can be done and how you can use the idea in your own home, whether you're working with an open-plan area, a smaller room or your outside space.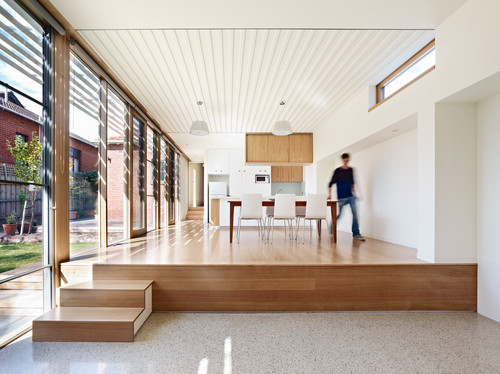 Use a level change to zone your open-plan space
A classic way to create a strong sense of two zones within one open-plan space is to create a change in level. Here, two steps down from a dining area to a living area is enough to make a clear division and also to provide occasion seating for dining. The effect is enhanced by the change from a timber (visually lightweight) flooring on the upper level to a stone (visually heavier) on the lower level. Be careful of reversing these, a general rule of thumb is to have your heavier materials beneath your lighter ones.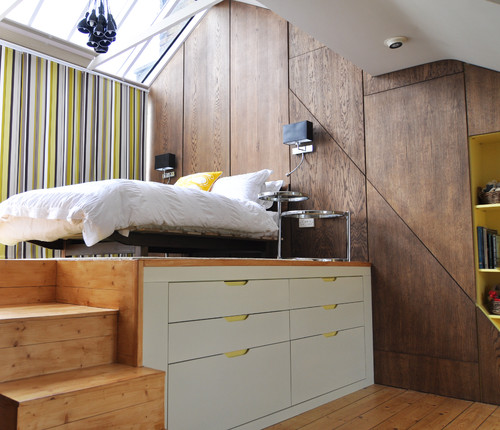 Create wonderful storage opportunities with raised levels
Where space is tight, a great way to create much-needed storage is to raise a floor level. In this example, a raised bed-deck allows for plenty of drawers beneath.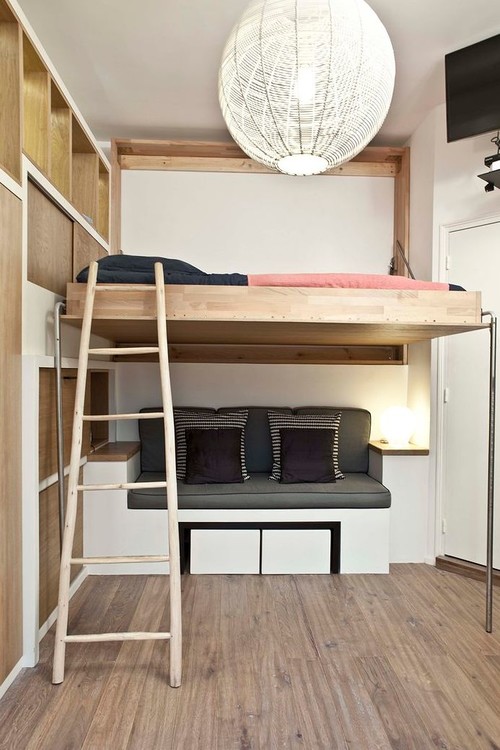 Double your floor area with a simple mezzanine
The classic bed-deck, raised up just enough to create a cosy seating area beneath while retaining just enough headroom on the upper level.
This is a tremendous use of restricted space to get the most out of a room.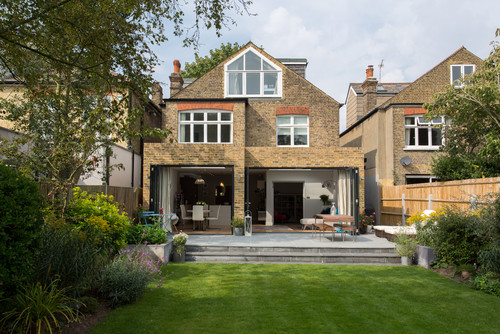 Connect your inside/outside spaces
A very popular use of levels to enhance the sense of space in a kitchen/dining extension is to run the interior floor level through to an outside terrace or decked area with steps down to the garden.
Along with these matching levels, the use of folding/sliding doors has become very popular and glass-door companies have devised weatherproof details for the thresholds so that the matching levels do not cause any weathering problems.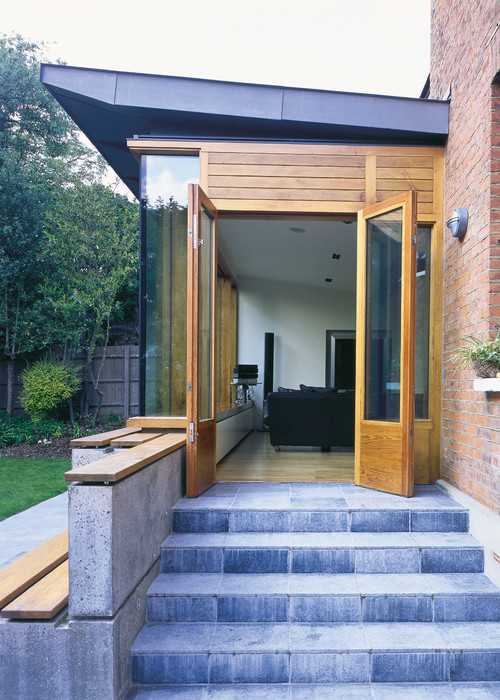 Photo by Architect Your Home
Let your space spill down steps to the outside
Sometimes, however, the change in level from interior to garden is simply too big to extend a terrace at floor level without specific Planning Permission. An alternative approach, as illustrated here, is to use steps to let the interior space 'spill' over to the outside. Here, the doors and steps are to the side of the extension, allowing for an uninterrupted picture window view of the garden from the elevated living area.
10 key planning permission facts – and how best to get project approval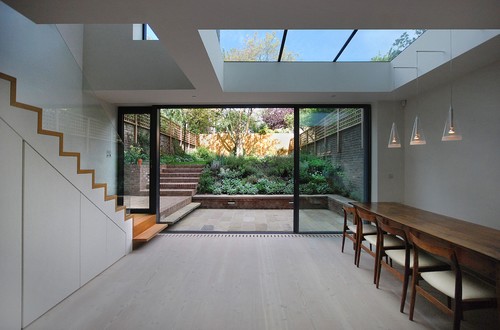 Give your basement room breathing space
The idea of letting the interior space flow out with a terrace also works when the interior is below ground level and a terrace is excavated. Again, the room, here a basement room, is given a much greater sense of space by the level exterior terrace, which allows the interior space to flow out and make a basement much less basement-y.
A beginner's guide to basement conversions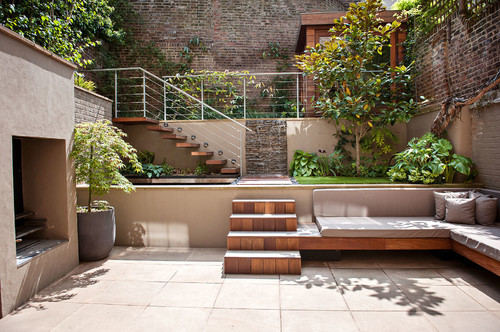 Be creative with your steps
This basement level exterior space could have been a difficult box of below-ground space, but with clever use of steps and intermediate levels, the sense of it being deeply excavated is alleviated and we are left with a more open sense.
Talk to a garden designer of landscape architect about your plans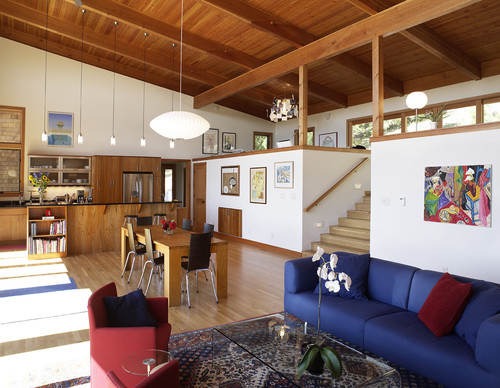 Make a strong separation without walls
Where the earlier internal open-plan examples created slight separation with one or two steps, here we have a full split-level that has been opened up. There is a strong sense that the space up the stairs is a separate room, but with all of the shared connectivity and open views of an open-plan arrangement.
New Architecture
Contemporary Architecture
Costa Nova Sailing Club, Ílhavo, Aveiro, Portugal, south western Europe
Architects: Ferreira Arquitectos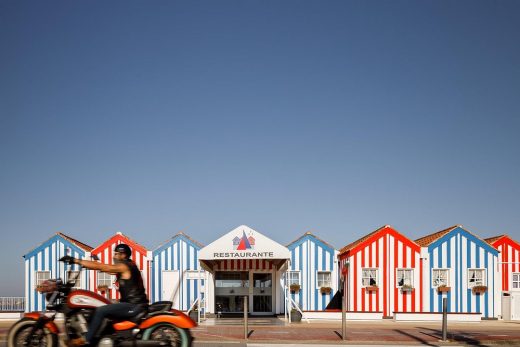 photography : Ivo Tavares Studio
Costa Nova Sailing Club, Ílhavo
Gran Fierro, Myslíkova St, Prague, Czech Republic, Central Eastern Europe
Design: Formafatal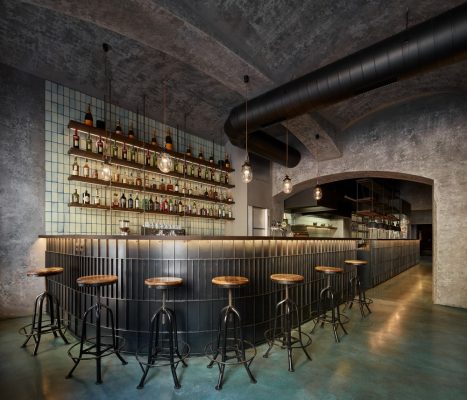 photographer : BoysPlayNice
Gran Fierro Prague Restaurant
Architectural Articles
Orthogonal Architecture by Richard Weston
Heroic Architecture by Douglas Klahr
Modernist Architecture by François Lévy
Globalisation Architecture by Trevor Tucker
Barclays Center Brooklyn by Dimple Soni
Comments / photos for the Using Different Levels to Break Up Your House Design article page welcome