Top tips for moving home, Kent removal service guide, English house move, UK property relocation advice
Top Tips For Moving Home
23 Nov 2022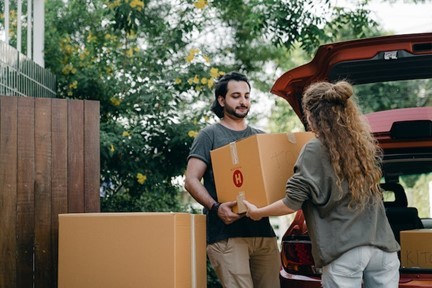 Is there only a few weeks left before you must relocate all of your possessions from your old home to your new one. Although it's a huge task, Sittingbourne estate agents say with good planning you won't be pulling out your hair. Here is our best advice for an easy move.
You can never start organising too early.
Once the process is done and property valuation in Sittingbourne for your dream home is complete. Write down what has to be done. As soon as you are aware that you are moving. Start as much of it as you can in advance. As much as possible, don't wait until three to four weeks before the major event. Everything from mortgages to relocations, broadband to house insurance, we can assist with.
Top Tips For Moving Home – Kent house move
Don't skimp on the removals
Depending on your budget and how many items you need to move, there are various removal options. You might hire a packing service or just ask for help loading and unloading your furniture and the boxes you packed yourself.
In lieu of choosing the company that is cheapest, get at least three quotations and choose the one that best fits your relocation. If you don't have a lot of belongings, all you need is a vehicle and one person to help load and unload. Alternatively, ask a friend who drives a big automobile.
Kickstart packing
Since packing is such a daunting chore; many individuals put it off for the longest time possible. It will appear much less intimidating if you break it down into manageable pieces. Alternatively, spend more money and have the moving company handle everything. In a couple of hours, they can pack up the whole contents of a house.
Boxes and bags both have their uses
Boxes are necessary for relocating. However, bags are also a wonderful option for random items. Moving linens, clothing and coats, shoes, and other non-breakable items is best done with zipped laundry bags. IKEA bags and reusable grocery totes are also excellent to gather in the weeks leading up to relocating.
Keep a note of what belongs where, and label your boxes.
Although it seems obvious, a lot of people forget. Label the items on multiple sides so you can identify them when they are stacked up. Make a list of the contents of each box if you're particularly organised, especially if some items are going into storage.
Verify that your furniture fits through doors
A common moving day issue is erroneously estimating the size of doors and entrances. The most common source of stress is flat-pack furniture that you have previously assembled yourself. Measure it to see if it needs to be disassembled once more, and then leave yourself plenty of time to accomplish it. Verify whether the huge sofas' feet and arms are removable. If you need a window removed or a door taken off its hinges, let the moving firm know. Make sure they have insurance to do it.
Make a "room plan" for your new residence
Make a rough drawing of the furniture placement in each room. You can always relocate stuff again, but doing so keeps the removal business happier and saves time on the actual moving day. When labelling furniture, follow your room plan. Your room plan should be printed and distributed to the movers.
Set up an "essentials" box
So that you may unpack these items first, pack the milk, tea, coffee, and kettle last. By the time the boxes are in, you will be due for a cup of coffee! To ensure that you always know where your vital stuff is, keep remote controls, phones, phone chargers, and any other items you don't want to lose in the same box. Critical papers should be kept separately and in a secure location.
Bedding & linen
Make a note of where you packed your bedding and linens. And when you initially get to your new house, put them on your mattress.
At the end of the day, when you don't have to complete "that one more thing" before going to bed, you'll appreciate it.
Comments on this Top Tips For Moving Home article are welcome.
Moving Posts
Moving Articles
Tips That You May Follow When Paying Your Moving Company
Take what property when moving to a new place
Building Articles
Residential Architecture
Comments / photos for the Top Tips For Moving Home page welcome