Top Home Improvements Spring 2021 advice, Property renewal tips, Online house refurb guide
The Top Home Improvements This Spring
30 Mar 2021
Spring is slowly unfolding. For many homeowners, this also means that children will soon have a break from school. Families will gather more at home. Flowers will be in full bloom, and the weather will be cozier. Because of the latter, this is also that time of the year when homeowners are more motivated to roll up their sleeves or perform some improvements for the year.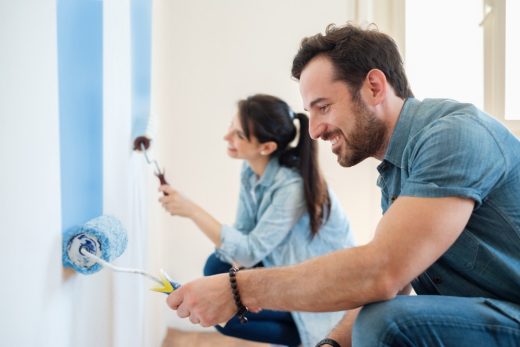 Particularly now that you've probably already spent two spring seasons, mostly at home with movement and travel restrictions, you may have come across the need to improve your home all the more. This is your very own living space and sanctuary. So, while the family stays safe at home, you'll also want everyone to have a good time.
Perhaps there are dying areas in your home screaming for a new life, long-overdue repairs, or changes following your family's needs. Whatever it is, you can never be without motivation and ideas.
Regardless of the purpose you have for improving your home, be it for your enjoyment and re-sell to private buyers or companies like Burlington House Buyers; even the smallest changes create a big difference.
To help kick start the home renovation projects, here are some ideas you can get inspired by.
Check, Fix, or Replace Your Gutters
One of the very first things you'll want to do post-winter is to check your gutter. Depending on how extreme the weather was, your gutter could be severely damaged. If this is the case, they can't drain and work appropriately for the rest of the year.
Part of maintaining your home's yearly maintenance should be checking your gutter every spring. If you're lucky, it can manage with the right cleaning. If it needs replacing, then at least this problem is addressed as soon as possible.
Here's what to look for regarding gutter maintenance:
Upgrade Your Deck, Patio, or Porch
As more time is now spent at home, so many homeowners also realize the benefits of having a deck or patio. Rather than confine yourself literally to the four walls of your home, you can now extend your living space all the way to the garden.
Your deck can be a good place now to gather as a family. It's also ideal for working from home or homeschooling your kids. It can give you the breath of fresh air that you need, after long days of being stuck inside the house.
If your deck hasn't gotten much attention in the past years, then now's a good time for you to upgrade it. Make it more livable and functional. Clean it up if it has only become a dumping place of garden debris or other things that should've been in your garage or shed.
If you don't have outdoor home furniture yet, then now's also a good time for you to buy one.
Tend Your Garden
Of course, it's a given that springtime is also when most homeowners will tend their gardens. You want your tulips and daisies to bloom beautifully. But, why not make your garden even more helpful by having edible plants. Cultivating your vegetables is an excellent way to have a seamless farm-to-table experience.
If anything that the past year has taught everyone, it's that one's health should never be taken for granted. And, where else to foster healthy habits than to start at home. Not only do you have the guarantee that the plants are free from pesticides and harmful chemicals, but you can also save so much the expense of buying vegetables from the market.
Renovate Your Kitchen
If there's just one room in your house that you can focus on for this spring, it should definitely be the kitchen.
As people now spend more time at home, and restaurants and shops have closed down, more home-cooking is done than most individuals may ever have done in the past. This would mean that you've either found certain problematic areas in your kitchen that you may not have noticed before or that it has now succumbed to an entire years' worth of daily cooking at least three meals a day.
Upgrading your kitchen can mean anything from purchasing new kitchen appliances to replace outdated ones, adding more storage space, or improving the flow around your kitchen.
While this may cost you more, there are many DIY kitchen upgrades that you can also do. Whichever route you'll take, there'll be no regrets. Kitchen upgrades can improve your home's total functionality and even increase its value.
Fix the Roof
Apart from the aesthetics a new roof can bring, it's also beneficial to improve your home's overall functionality. Like your gutters, the harsh winter may also bring about effects on your roof. Parts of it may be damaged or need to be cleaned up.
If your roof also hasn't been changed, repainted, or repaired ever since you moved in, perhaps now's a good time to have it replaced.
The roof is one of the most important parts of a home, as it literally provides you with protection on top of your head. Assess your roof for any of the following signs of damage:
Cracked or torn shingles
Rust or stain
Missing shingles
However, unlike other home projects you can do on your own this spring, it's highly recommended to have this done by an expert roofing contractor. It's a highly technical renovation that'll need professional expertise.
Repaint Walls
As spring brings new life in the surroundings, you'll want to do the same to your home. The best way this can be achieved is through repainting the walls. There's nothing else that speaks freshness other than new paint.
Plus, repainting your home is also a straightforward project to do. It's also affordable and can be finished quickly.
You can start with the areas in your home where the dying and cracking paint is most visible, as the changes done here will be more visible.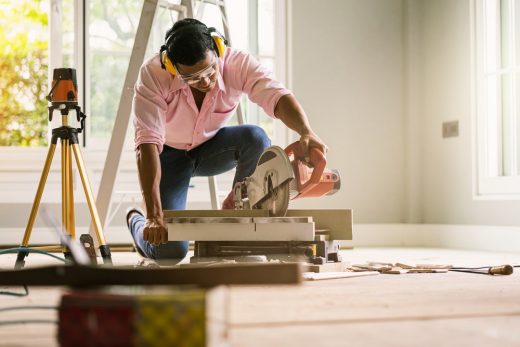 Top home improvements this spring Conclusion
As spring comes in full bloom, there's just something about the weather that makes it right to make home improvements. You wouldn't want to do these in the summer when the heat is just unbearable or, worse, in the winter, when working outside is impossible.
With only a few months in this beautiful climate, you'll therefore want to make the most out of it. From little improvements to bigger ones, there's always something you can do to make your home look and feel better. The tips above will enable you to have a good start.
Comments on this guide to Top Home Improvements this Spring article are welcome.
Home Improvement
Home Improvement Posts
Upgrading your property: home improvement projects
Home improvement ideas for budget transformation
DIY Home Improvement Projects Tools
Building Articles
Residential Architecture
Comments / photos for the Top Home Improvements this Spring advice page welcome