Shaping work environments for technology companies advice, Modern workplace design, Architecture
Shaping Work Environments for Technology Companies Guide
August 17, 2021
By Stacey Speck, Regional Marketing Director, Cushing Terrell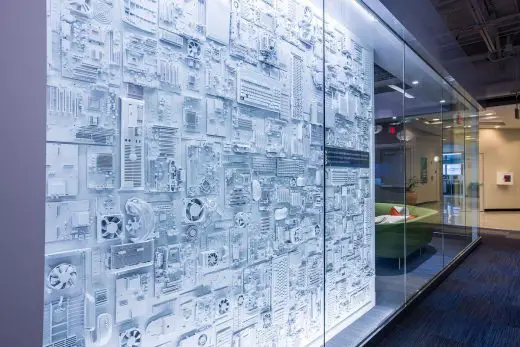 Tech by Design: Shaping Work Environments for Technology Companies
Technology companies not only are known for developing innovative products, but also for how they've influenced the modern workplace. From creating environments that support flexible work and function as a home away from home, to research and development labs that inspire creativity — the goal is to enable collaborative, productive teams united by the innovative work they do and their unique company cultures.
As we continue to see growth in the technology industry, with federal and state governments joining businesses and educational institutions to invest in bolstering the technical workforce, the need for compelling, highly functional work environments to support this population also will grow.
With decades of experience designing offices specifically for technology companies, our team has had a front row seat on the action and an incredible opportunity to collaborate with our clients on what these types of work environments can look like. As we focus on post-pandemic needs as well as the subtleties that facilitate productivity and inspiration, we asked some of our experts to speak to the design elements important to these cutting-edge companies and their approach to work.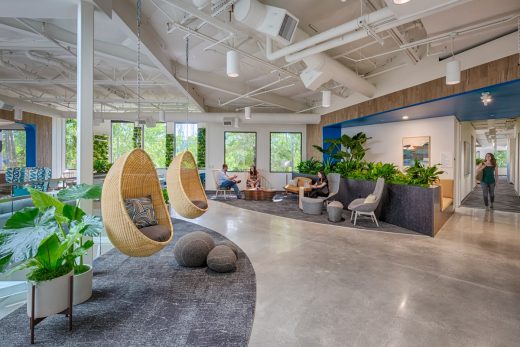 Movement, Modes, and Moments
The overarching framework our team employs when designing for technology companies and their employees centers on movement, modes, and moments.
Design for movement in this framework goes beyond space planning for efficient circulation to encompass intentional design for the dynamic experience of a person moving through the space, including creating the conditions for a particular psychological experience. Our designers delve into the questions of how and when do people congregate and how and when do they separate? How does the physical flow of people through a space impact each area of the workplace and the occupants?
Our team's method for establishing and visualizing this movement is known as a vibe map. Similar to a heat map, it is used to model the activity and energy associated with various modes of being throughout the workplace.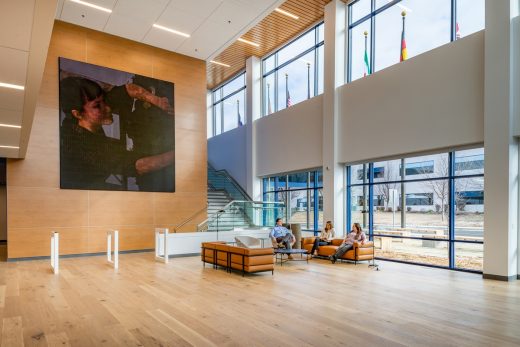 Design for modes considers the different types of work people engage in — individual focused work, research and development, collaborative workshops, or team meetings, for example. Beyond these work staples, we also look at modes to support overall employee well-being through activities such as recovery, play, social engagement, learning, and fitness. These modes are accommodated best in environments with particular attributes, so it's essential to understand how to plan and design spaces conducive to each and to understand how those spaces interact with each other.
Macmillan Learning – Austin, Texas workplace, United States: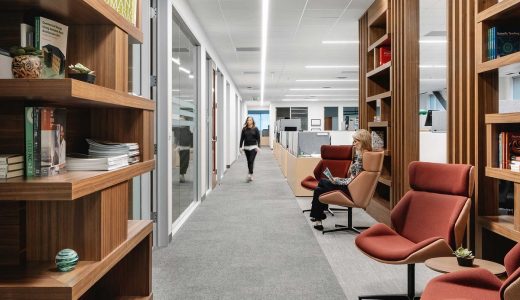 "A vibe map gives us so much more to work with than just a blocking plan and supports both our design process and effective communication with clients," Architect and Associate Principal James Foster says. "It enables our designers to plan and design the ideal conditions for each of the modes while creating a holistic solution for the overall workplace."
Design for moments are opportunities for intentional, curated experiences within the workplace. "Moments include opportunities for inspiration, relaxation, contemplation, and many more types of experiences that we need to be healthy in mind, body, and spirit," James explains. Moments often incorporate biophilic elements for a connection to nature and a sense of respite. Other moments can create surprise and delight — what the team calls "Easter eggs" — showcasing company culture and employees.
Dell Experience Lounge workplace in Texas, USA: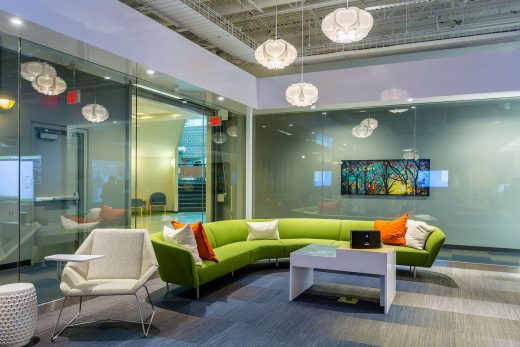 "The magic in this framework comes from thinking of movement, modes, and moments as an integrated system," James says. "We're not just thinking of circulation, which amounts to about 25% of a program's square footage. We're thinking of designing usable space to accommodate movement while creating the conditions for certain types of activity modes, and then, incorporating intentional opportunities for moments that add richness to the overall experience."
Vibe Map: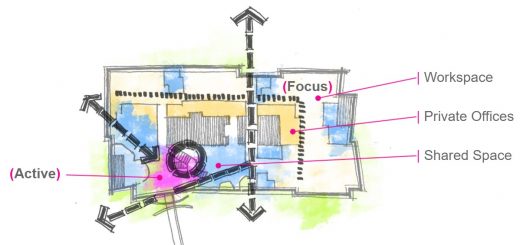 Design for Experience
When it comes to technology companies, physical workplaces often function as cultural hubs, facilitating collaboration, setting the tone for how a company operates, and expressing a company's values. Thus, it's incredibly important to get a deep understanding of each client's mission and vision — who they are at their core — right from the start.
"Before we even get into space planning, we focus on context, and a crucial part of that context is the organization's culture and what makes it thrive," James says. "The more we understand who they are, the better we can develop design solutions that set them up for success. Our process for this employs principles of Design Thinking and Human-Centered Design. The process is highly engaging, yields great information, and significantly improves the results. By asking the right questions and effectively synthesizing the insights, our designers can create not only a cool workspace, but a great user experience."
Dell Experience Lounge, Round Rock, Texas, United States of America: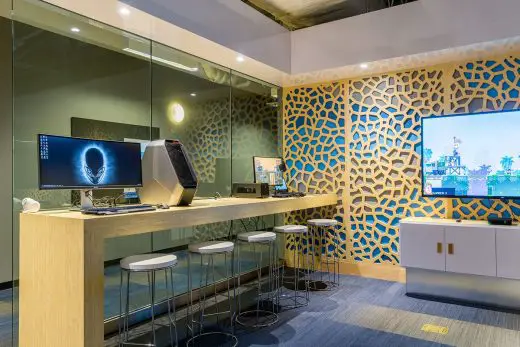 Nuanced, culture-specific design takes on increased importance considering the role of the office in the post-pandemic, hybrid workplace. While we've learned employees can be incredibly productive outside of the office and in-person team meetings don't necessarily need to occur in a conference room, the office as culture hub remains essential. Thus the ability to enable collaboration, build team cohesion, and create opportunities that can't be found elsewhere are some of the factors driving design.
"What we're hearing from our clients as we move into a post-pandemic world is that they want their employees to thrive in their workplace, from both a health and wellness standpoint as well as how they function in their office space," Interior Designer Jill Lee says. "Clients and their employees are asking for design solutions, operational policies, and performance standards that promote a culture of health and wellness through certifications like the WELL Health-Safety Rating from the WELL Building Standard. They're also asking us to design spaces that facilitate a hybrid working model, where the office sets the stage for deliberate connection, collaboration, and socialization. This means creating tech-infused spaces that provide a variety of choices in how employees use the office."
Macmillan Learning, Austin, Texas: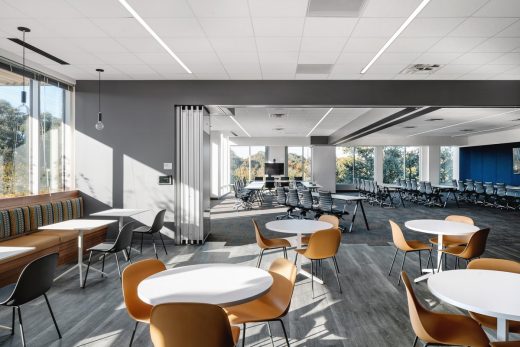 Jill goes on to describe how thoughtful planning and incorporation of technology greatly contribute to the experience employees have by supporting adaptable spaces and reconfiguration. For example, being able to split a large conference room into smaller meeting rooms gives employees the control to create the best space possible for the work they're doing. The large conference room would need to be designed to support two sets of audio-video (AV) infrastructure so when split, the smaller rooms would have the same technological capabilities. Open collaboration spaces also can utilize mobile power pedestals rather than floor boxes so furniture reconfiguration is more flexible, while digital communication boards/screens allow in-person and virtual employees to collaborate in real-time.
Dell Experience Lounge in Round Rock, Texas, USA: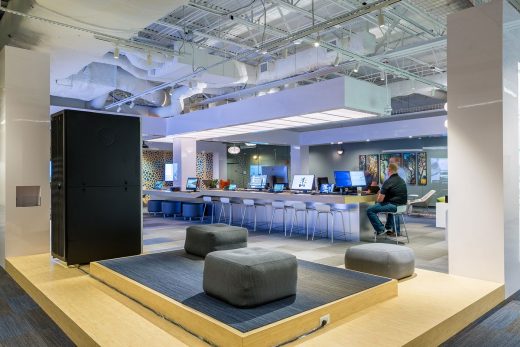 "Knowing that the work style going forward will be a hybrid approach, the importance of equity in the work experience for those in the office and at home is critical to a successful experience," Interior Designer and Associate Sandi Rudy says. "When designing spaces for this hybrid experience, we have to pay careful attention to acoustics both in the physical office space and through a microphone, lighting and camera views for those in the office and remote, and ways to allow remote employees to be actively engaged in the conversations happening in the room."
Working with colleagues, consultants, and clients virtually won't go away just because employees are coming back to the office, so making sure meeting and collaboration spaces are set up with the right technology to support an equitable experience for both in-person and remote participants is crucial in the post-pandemic office space. The AV systems, connection and sound quality, acoustics, accessibility to power/Wi-Fi, and lighting are all technological elements that contribute to the experience.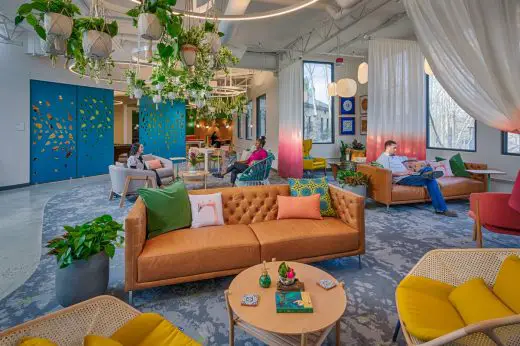 Celebrating the Work
Showcasing the work of technology companies and their employees, through the design of their workplaces, gives individuals and teams an opportunity to appreciate their accomplishments. This visual celebration engenders pride and instills a sense of  value. It also translates directly to retaining highly valuable employees as well as recruiting new talent.
"We get to work with some of the most interesting people doing some of the coolest work in the world," James says. "One of the things we love most is being able to design compelling ways to showcase the work they're doing in fun and unique ways. Thus, we look for the perfect opportunities to incorporate 'moments' within the workplace and reinforce culture and purpose for everyone."
Celebrating the work also includes celebrating the values that bolster the work, and that often relates to sustainable operations, work to support local communities, pro-bono efforts, and efforts to support equity and social justice.
Another essential way to celebrate work in the technology industry is to provide a great workspace for the engineers. "How often do we see lab space that's purely utilitarian in its design right around the corner from an inspiring, creative office area? We need to think of engineering, R&D, and lab space like any other part of a healthy workplace," James says. "For example, we're working with a client to explore ways to improve R&D facilities in a program we're calling the High-performance Lab Initiative. We're not abandoning the sort of raw, boot-strapping nature of what an R&D lab should be, but we're incorporating more of the design strategies we've been using in office space, and the results are spaces in which the engineers can thrive."
Research and development labs aren't just a necessary function, they're work communities of their own kind. They're highly specialized and require a tailored subset of design decisions, but also should incorporate wellness-focused and creativity-inducing features. This means careful planning, thoughtful materials selection, and appropriate systems integration. When you design to make your team's life at work better, the result is happy employees (in this case, happy engineers) who have a better chance to thrive in their roles.
When it comes to celebrating the digital products these tech employees create, and showing them off to customers, this celebration can happen virtually but is most effectively done in a physical environment. Giving physical traits to an otherwise virtual deliverable allows team members — and recruits — to experience the company mission in a concrete way. Through encounters like these, a sense of appreciation and inspiration develops.
"The showcase space has become a popular request," Design Professional Sarah Dykes says. "As the tech market gets increasingly more competitive, clients want a novel approach to sharing their products and services with their customers and teams. We merge our knowledge and capabilities with their vision to convert concepts into tangible experiences."
Sandi adds: "I find that tech companies, no matter how large or small, want to showcase their unique outputs, culture, and spirit, and the best way that we as designers can do this is to create inclusive spaces that provide a sense of community, empower the occupants to be high performing, and celebrate their individuality. There are many ways design can reinforce this, from familiar spaces that promote ritual and camaraderie to flexible, collaborative spaces with technology that allow for both in-person and remote collaboration. I do think that post-pandemic, we'll continue to look to the office as a key place for shared experiences."
Macmillan Learning in Austin, Texas: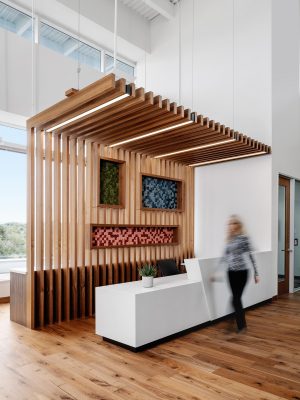 Final Thoughts
A great workplace has a great story. "Our designers have found ways to uncover the story that underlies the best workplaces we've designed," James says. "It becomes a concept design statement and informs all the decisions that follow. We know when we've got it right because our client embraces and takes full ownership of that story. They're connected to it — it's about them, their culture, and what ties them together as an organization."
Fused into a holistic, integrated design, all these aspects of the workplace go well beyond the typical office to create an extraordinary place for people to work and for the employees of technology companies to call home.
About Stacey Speck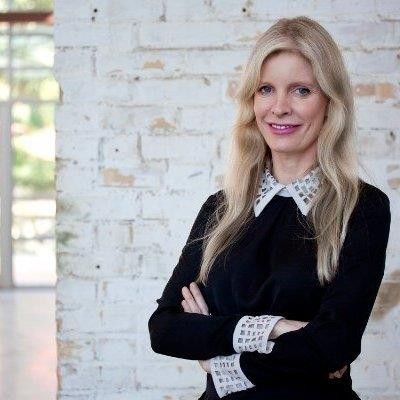 Stacey is an associate and regional marketing director for Cushing Terrell. She is instrumental in advancing business development opportunities for Cushing Terrell's Austin office and works closely with the design team supporting the firm's technology clients in the region. Stacey also bridges the gap across markets, geographies, and public- and private-sector clients. In addition to marketing and business development, she has a background in graphic design. Stacey is actively engaged in community service and industry advocacy and currently serves as the nominating committee chair for the Dispute Resolution Center Board and on a ULI committee.
Comments on this guide to shaping work environments for technology companies article are welcome.
Building Design
Property Articles
Shed Office workspace, London
Design: Platform 5 Architects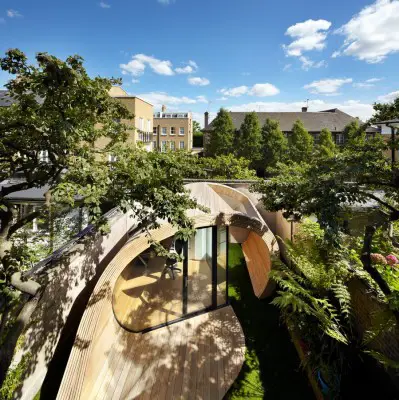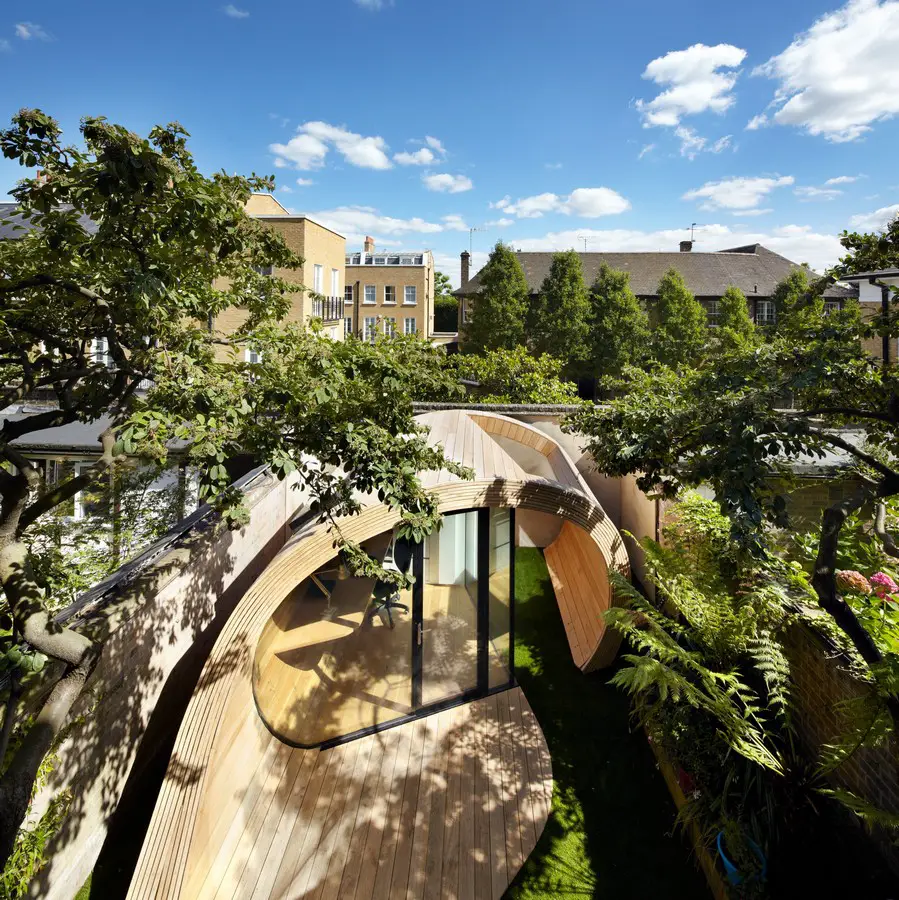 photo : Alan Williams Photography
Shoffice
Sustainable Architecture Design
Step House in North London
Architects: Bureau de Change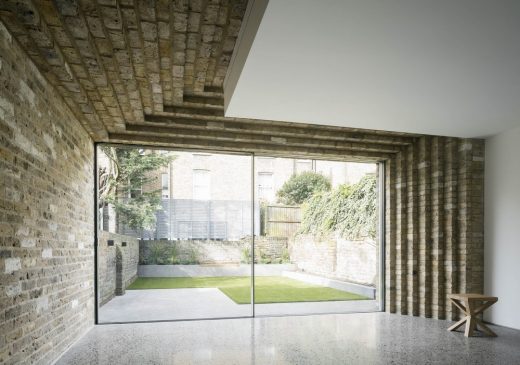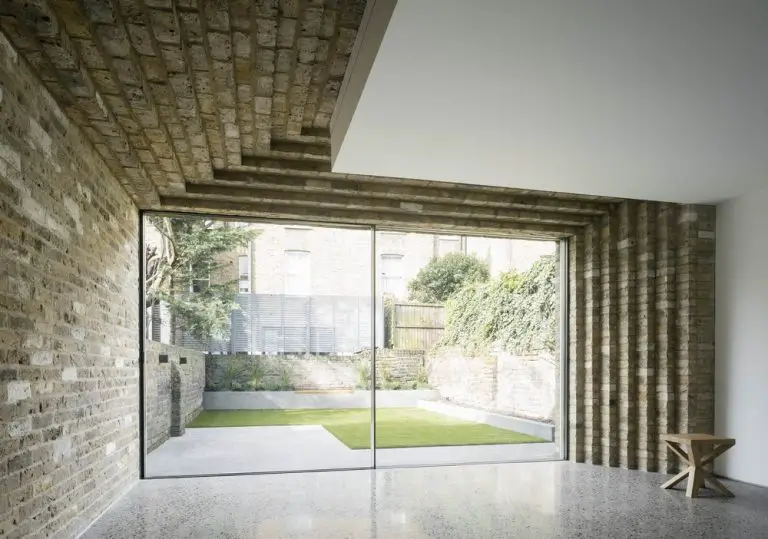 photo © Ben Blossom
North London Property Extension
Comments / photos for the Shaping work environments for technology companies advice – post by Cushing Terrell page welcome