My Photographer in Athens Images, Contemporary Greek Architecture
My Photographer in Athens
Building Photography Greece article
1 July 2019
Athens Photographer
How My Photographer in Athens Captured the Best Vacation Photos
"Traveling has definiteley become a hobby," Joyce admitted when talking about the numerous trips she takes every year. "I traveled a lot as a kid with my parents, and I loved it so much that I always knew I would want to keep traveling as an adult."
While most of her travels are because of work, Joyce always maintained the tradition of traveling for pleasure at least once during the year. In between visiting foreign cities for business meetings or passing through airports on the way to her next conference, she would think about where she might want to go on her next vacation when traveling would be just for her without the burdens of work and scheduled appointments.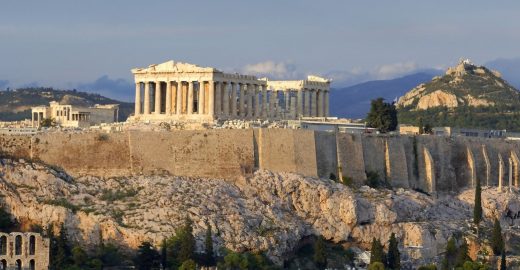 "I'd actually been in Athens several times because of some meeting or other, but I never had the chance to see any of the sites the city is famous for. Ancient history has always fascinated me, and while part of me wanted to go somewhere totally new and different, I decided to take a trip to Athens at the last minute when my schedule opened up for work," said Joyce.
Excited to see the ancient sites of Athens, Joyce decided that for this trip she would also look for a local photographer to do a photo shoot while she was traveling. After visiting so many places around the globe, it seemed like a meaningful way to preserve the memories of this particularly special travel experience.
"My photographer in Athens was great about helping me plan a photo shoot that was meaningful for me. It wasn't just a standard procedure; when I had ideas, the photographer was happy to listen, but they also were helpful in giving me a professional's advice," Joyce said.
In honor of her interest for ancient Greek history, they staged the photo shoot at one of Athens's most famous attractions: The Acropolis. The top attraction was of course the world-famous Parthenon standing majestically on a hill overlooking the city of Athens. Joyce was able to include photos that captured the size and architectural design of the pillars, as well as some of the other monuments and ruins on the Acropolis hilltop.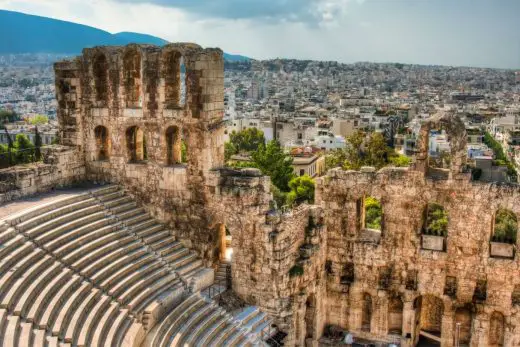 "When the photo shoot was over, my photographer recommended that I visit the Acropolis Museum," Joyce commented. "I hadn't heard of the museum before, and I'm really glad that I took the opportunity to go, especially after spending so much time at the Acropolis itself. Seeing the artifacts and learning about the site in more detail really rounded off the trip well for me."
Going back to work refreshed and revived, Joyce was also eager for the next opportunity to travel for a personal vacation. After experiencing Athens outside of her work schedule, she was excited about other possible travel destinations.
"I really couldn't have had a better experience in Athens and with Localgrapher," said Joyce. "Having a local do the photo shoot made all the difference since they really had a feel for the city and were able to capture the energy that I enjoyed so much during my trip."
Location: Greece, southeast Europe
Greek Architecture
Athens Architecture Designs – chronological list
Greek Architecture Designs – chronological list
Athens Architecture Walking Tours
Athens Buildings
Athens Building Designs – Selection
Placebo Pharmacy, Glyfada
Design: Klab Architecture / Konstantinos Labrinopoulos
Placebo Pharmacy
New Acropolis Museum Building
Design: Bernard Tschumi Architects
Acropolis Museum Athens
Olympic Tennis Centre Building, Athens Olympic Sports Complex
Potiropoulos D+L Architects
Olympic Tennis Centre Athens
SNFCC Buildings
Design: Renzo Piano Building Workshop
SNFCC Athens
Greek Houses : Crete
Comments for the My Photographer in Athens, Greece page welcome
Website: Kipseli Architects