How to Make Your Home Pet Proof 2021 guide, UK Model Tenancy Agreement advice, Pet-friendly property
How to Make Your Home Pet Proof?
22 Apr 2021
Earlier this year, the government announced the Model Tenancy Agreement. It meant landlords can no longer issue blanket bans on pets, so it will be easier for pet-owners in England to find places to rent. It's a huge boost for pet-friendly properties. However, there's still action you should take to make your home suitable for pets.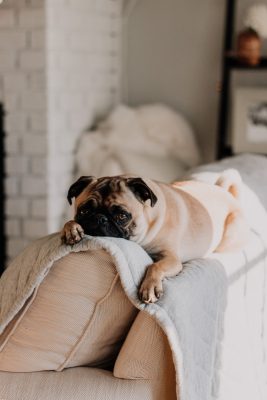 How to Make Your Home Pet Proof Help Guide
Shut Doors
If there's a certain place in your home where you're particularly worried about a pet messing up the furniture, then make it a rule to always have the door shut. It gives you peace of mind that they won't scratch up your most beloved pieces. Whether it's an antique table or a bespoke fitted wardrobe – you want to keep your favourites safe. You could also install safety gates to prevent your pets from going into certain places.
Get Covers
Another cheap and simple fix is getting covers for your furniture. If you know your pet loves nothing more than to cuddle up with you on the sofa, you'll want to get some covers. Think throws and blankets. They're much easier to regularly wash rather than constantly clean your cushions. If you allow your pet in your bedroom, you could get them a special blanket to lie in. Or just make sure your bedding is machine washable.
Suitable Materials
If you're looking into buying new furniture, make sure to think carefully about the materials. Cat lovers highly recommended microfiber as it's claw resistant and easy to clean. Leather is a popular option for dog-owners as it doesn't collect much hair, looks stylish, and is also easy to clean. However, it's not very scratch proof. It's worth thinking about the colour of your pet's fur and matching the furniture accordingly. You don't want white fur on a dark sofa.
Training
While some people are happy to let pets on the furniture all the time, others prefer to have rules in place. If you want to keep your pet off the furniture, there are ways you can train her/him. You can use treats to train your dog or cat to use their own bed. This method could also work to get them to stay on their specific blanket. There's also kinds of spray to repel them from certain areas, and of course, they must be very clear in which areas they should go to the bathroom.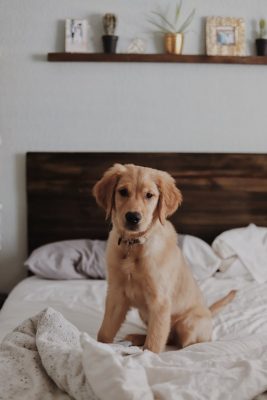 Pets make such a lovely addition to a home. Even if they require some extra home maintenance, they're totally worth it. Do you have any tips for making your home more pet friendly?
Comments on this guide to How to make your home pet proof article are welcome.
Pets Control
Pet Articles
GPS Dog Fence Vs In-ground Dog Fence
Things to consider when choosing a fence for your pets
CBD Oil and how it can help fight epilepsy in dogs
Buildings
Residential Architecture Posts
Comments / photos for the How to make your home pet proof advice page welcome