How to design a small bedroom Guide, House Bed Space Tips, Property Advice
How to design a small bedroom
28 July 2020
Designing a small bedroom can turn into quite a challenge, especially if you have no previous experience with working on a similar project. Fitting everything your bedroom needs into such a limited space can be complicated, but you can make your job much easier with a few simple tricks and tips.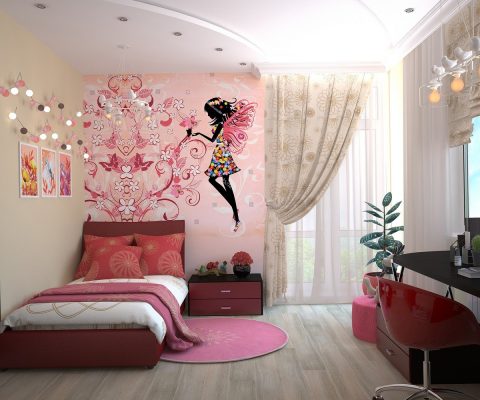 Start with the basics
The first thing your new bedroom requires is a functional layout. At the very beginning, try focusing solely on the things you really need – the best way to save space is by choosing multifunctional furniture. You can, for example, choose a comfortable sofa bed for a small room – they can help you save some space, and they often come with additional storage making them even more practical.
Then you can also place a bookcase or a dresser next to your bed and use one of the shelves as your nightstand, but you can turn your headboard into a shelf as well. By making sure each of the elements in your bedroom serves more than one purpose, you can use less space without sacrificing functionality.
Don't cover your windows
Of course, whether you want to hang curtains in your windows or not, is completely up to you – sometimes it's important for maintaining your privacy. But whenever possible, try to leave your windows uncovered or at least go with more transparent fabrics that won't stop sunlight from getting into your room.
Daylight can help give your room more character and make it more comfortable, but there's a more practical reason as well – if you use sunlight instead of artificial lighting during the day, you can reduce your energy bills. But of course, since you're more likely to spend more time in your bedroom during evenings when sunlight is not available, make sure to include various lamps and lights in your interior design project as well.
Be careful with dark colours and bold patterns
Dark colours can look very stylish and elegant, but only when used right. And without any experience and knowledge about interior design, you may easily end up making your room dark and gloomy. So unless you're sure you know what you're doing, it may be best to limit your options to lighter shades – white is always a good idea for small rooms because it can optically enlarge your space.
But you can also go with pastel palette to give your bedroom a calmer and more relaxed tone. And you should be just as careful when adding bold patterns to your design, try not to add too many of them into one project. You don't want different elements to clash with one another. But if you really want to use a darker colour or an interesting pattern in your bedroom, you can think about creating a feature wall.
Don't over clutter your space
When all of the furniture is already in its place, it's time to add a few final touches. But before you start decorating and filling the shelves with your belongings, you need to remember one thing – by adding too many elements, especially if they aren't consistent in terms of style, you may give your bedroom a chaotic and unappealing look.
Cluttering your space with unnecessary things is never a good idea – even more so when that space is available only in a very limited amount. So choose decorations that go well with the design style of the rest of the room and get rid of all the clutter you don't need.
Although it's not an easy project, with a bit of creativity and hard work, you'll be able to achieve results that you'll be proud of. Use this opportunity to make your bedroom not only stylish but also comfortable – it's your chance to increase the level of your comfort and improve your everyday life.
Comments on this How to design a small bedroom Guide article are welcome.
Bedroom Design
Bedrooms Posts
4 Colour Combinations To Enhance Your Bedroom
Modern Versus Contemporary Bedroom Designs
Essentials things for a perfect master bedroom
Touches of Glamour for your Bedroom
Property Articles
Contemporary Property Articles – architectural selection below:
Comments / photos for the How to design a small bedroom page welcome