How to choose motion sensor closet light guide, Building lighting safety tips, Home security product advice
How to Choose Motion Sensor Closet Light Advice
11 July 2022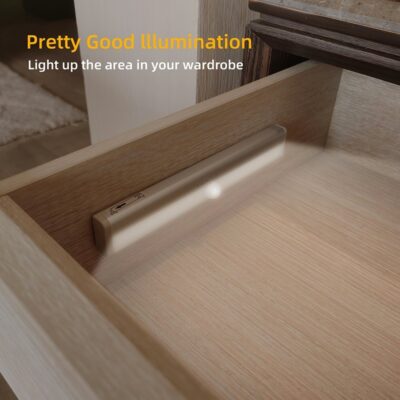 The motion sensor lights indoors work together with the wall switch and have the function of automatic opening and closing. It also has an energy-saving mode that allows you to set a specific time for the lights to turn off and on.
If you want to make your indoor lighting better, hokolite motion sensing light can provide the required lighting, which will ensure the safety of you and your family in the dark. These lights are not only for safety but also provide additional convenience by adjusting their light output to meet your needs.
Choose Motion Sensor Closet Light for Home security
What Is a Motion Sensor Light
A motion sensor light is a motion-activated light that has a motion sensor connected to the light bulb or light fixture. The light bulb or fixture detects the movement of people in front of it and will turn on whenever there are no people nearby, or turn off when they become present. Depending on the sensitivity of your motion sensor, you will be able to detect objects like humans, pets, and other living beings without getting triggered too often.
The indoor motion-sensing light is very small, enough for you to put it anywhere in your home. And with the indoor motion sensing lamp, you can prevent wet hands from directly touching the switch of the lamp and electricity from directly contacting your skin. You can also avoid getting your hands wet to avoid touching the light switch.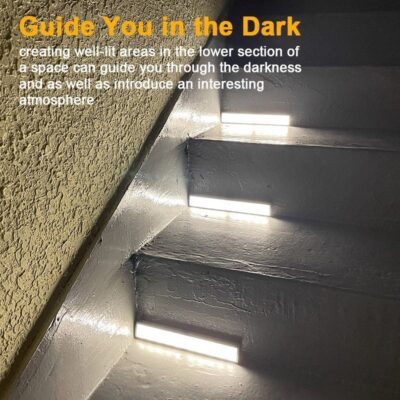 The Benefits of Using motion sensor closet light
If you ever want to know how to achieve perfect lighting, led closet light is the answer! These wireless devices can be easily added to your closet's interior or mounted on any wall for maximum lighting coverage throughout your space.
The motion sensor lamp turns ON for you as soon as you enter your room and turns OFF when you leave, keeping your closet or cabinet well lit. This is a great way to ensure that your items are safe and secure, while at the same time saving a lot of time and effort.
No matter how much you know about saving energy, there will be some times when you will walk past your room without even realizing it. But with motion sensors for indoor light, you won't even need to worry because it will automatically turn on with a precisely set timing and brightness value so that you can save electricity bills by at least 30%.
Motion sensor night lights and closet lights can ensure your safety at night. The motion sensor lights in the storage room and garage can help you feel safe from tripping hazards or sharp corners that wait for you in the dark.
Put that extra source of light where you need it. The perfect stair lights indoor or closet light with its long battery life and long-lasting LED light, along with the auto-off function so it won't keep burning when not in use.
Recommended Types of Indoor Motion Sensor Light
Motion Sensor Stair Lights
Hokolite 200 Lumens Battery Operated Motion Sensor Stair Lights are very suitable to be placed under beds, cabinets, and stairs for lighting and home decoration. The motion sensor stair light can be illuminated at a detection angle of 120.
The indoor battery-driven motion sensor lamp replaces the ordinary led with energy-saving patches, and the soft lighting time can be as long as one year. These lights are not too bright at night to hurt your eyes, but they are enough to illuminate the whole space. When placed under the bathroom cabinet, stairs or bed, the homeowner can have enough lighting for navigation, and the light of indoor stair light will not make you get rid sleep.
Motion Sensor close light
When you pass by, the hokolite motion sensor close light will light up. For the rest of the night, turn off the light and save money. USB plug-in led motion sensing lamp is easy to install, equipped with magnetic stripe, 10 LED, and passive PIR technology, which can detect human movement and power in the dark. This kind of lighting you need at night without waiting for other lighting is a very good way to save energy. This kind of induction lamp is suitable for kitchens, cabinets, and restaurants.
Motion Sensor Spotlight
Are you searching for a motion sensor spotlight, one that projects a bright beam of light to spot a specific area? Here is our recommendation: From the front door, toward the back door, through the kitchen and bar area.
Where to Apply Motion Sensing Closets
The use of traditional closet lamps is relatively limited, because they are always on, illuminating your space from all directions. With the new wall-mounted motion sensor closet light, you can adjust the brightness and intensity of the light according to your own needs. These lights can be installed under any doorway, cabinet, or furniture, and can even be hung on the wall or ceiling. They are ideal for closets, cabinets, and basements!
A strip light is a fantastic option for adding some extra light to your stairs. It can also be used as night lights, adding just enough light to make sure you don't trip over the steps!
Motion sensor lights are super useful for illuminating the bathroom that you frequently use. You can stick a motion sensor light at the top of your mirror, or place some strip lights under or behind your bathroom sink cabinets for decor purposes.
After reading so many introductions, I believe that you have a certain understanding of the motion sensor wall lamp, and quickly find a suitable product to buy it.
Comments on this How to Choose Motion Sensor Closet Light article are welcome.
Building Articles
Residential Architecture
Comments / photos for the Choose Motion Sensor Closet Light page welcome