4 Easy Ways to Make Your Tiles Shine Spotlessly Tips, Property Cleaning Guide, House
4 Easy Ways to Make Your Tiles Shine Spotlessly
21 Aug 2020
Tiles are very popular in the bathroom or kitchen because they are resilient to water. They come in many shapes and sizes and can be a delightful floor covering. Sadly, food regularly gets dropped on kitchen floors, and dirt and scuff marks can quickly appear. Over time, tiles can look dull and the grout lines become discolored. This article supplies four easy ways to keep them fresh and clean.
Steam cleaning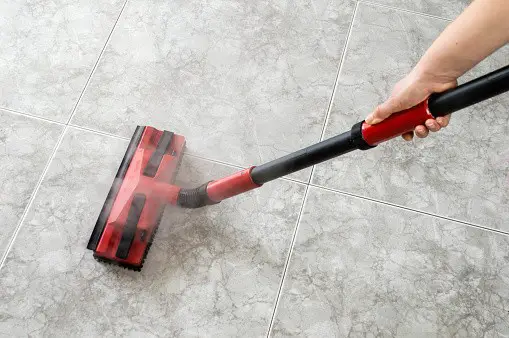 Image source: pixabay.com
Some dirt and stains will only go with the application of hot water administered at high pressure. This may require outside assistance and equipment. According to one tile floor cleaning company, eco-friendly cleaning materials can be successfully used to remove stains in this way. Professionals then vacuum up the hot water and machine-dry the tiles. Similar companies also provide services for polishing marble floors.
Sweeping and vacuuming
To keep tile floors clean, they should ideally be swept or vacuumed once a day. Most loose dirt can be successfully removed this way. The longer it is left, however, the more the dirt will become entrenched. If it sits in water, it will become harder to remove over time.
Anyone who plans to mop the floor will still need to apply a broom or vacuum cleaner first. A hardstone and marble flooring can become scratched if a hard broom is applied, so only use a soft one.
Daily maintenance in this way will reduce the grey shadow that dirt can cast over the floor. The tiles should be restored to their full color and vibrancy.
Mopping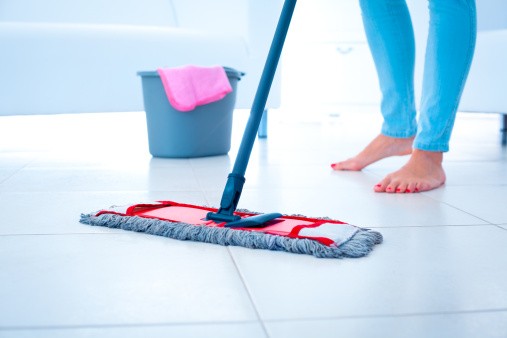 Image source: pixabay.com
When an area of the floor has been swept, it is advisable to follow up with a dry duster or dry dust mop.
Using a wet mop will be adequate if there are only moderate marks and stains on the floor. Chamois-type mops should be used for tile flooring rather than sponge ones. This is because the latter merely redirect the dirty water into the grout lines.
Be sure to regularly replace the water in the bucket. It quickly becomes discolored, and there is no point in mopping a floor using dirty water.
For cleaning agents, people can choose soap or detergent. Others use vinegar. With the latter, it's one half a cup of vinegar to one gallon of water. It should not be used with marble flooring, however.
When the process has been completed, a damp cloth should be run over the tiles. Alternatively, save your back and use a dry mop!
Individual care
Spills involving raw meat or accidents with dogs should be immediately tackled with disinfectant. Make sure the floor will not be stained, however. Scouring powder can also be used in some instances. Use water and ammonia to treat mildew. Use rubber gloves with this process, as when cleaning rust with water and kerosene.
The grout in bathroom tiles can be removed using the white or pink rubber supplied with a number two pencil. For a more aggressive attack, use sandpaper.
As we have seen, tile maintenance can vary from daily sweeping and vacuuming to mopping, individual care, and steam cleaning. In response, the tiles will be kept pristine and clean, and hardy enough to serve their purpose for many years.
Comments on this 4 Easy Ways to Make Your Tiles Shine Spotlessly advice article are welcome.
The cleaning professionals from Dan Dan the Carpet Man can handle any tile and grout cleaning task in your home.
Cleaners
Cleaners Posts
Simple steps to maintain a safe, healthy family home
How to have your House Ready for Every Season
Hire Professional Cleaners every Now and Again
Building Articles
Comments / photos for the 4 Easy Ways to Make Your Tiles Shine Spotlessly page welcome