Winy Maas MVRDV Architect, Dutch Buildings, Photos, Book, Studio, News
Winy Maas MVRDV Architect
Buildings in the Netherlands, Europe
10 May 2011
Winy Maas Honour
Winy Maas receives France's highest honor
Rotterdam, 10th May 2011
WINY MAAS RECEIVES FRENCH LEGION OF HONOR
Winy Maas has received the highest French decoration Chevalier de la Légion d'Honneur by the French Ambassador to the Netherlands Mr. Jean-François Blarel at the French residence in The Hague. MVRDV is strongly engaged in France and is part of Atelier du Grand Paris, the think tank concerned with the future planning of Greater Paris.
Winy Maas and Jean-François Blarel, Ambassador of France to the Netherlands, during the ceremony: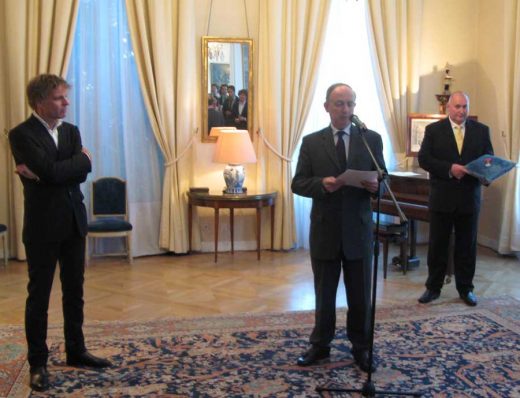 photo from MVRDV
"Winy Maas and MVRDV are representatives of the high quality of contemporary Dutch architecture." states the French Embassy, "the work is characterized by experiment, innovation and sustainability. The style is surprising and the materialization is unusual."
According to the embassy MVRDV knows how to evoke "enthusiasm for architecture with stakeholders and large audiences. Their daring projects distinguished by understanding of contemporary needs respect the demands of the present-day developments with flexibility and innovation in regards to the issues the modern metropolis faces.
MVRDV is strongly engaged in France in a range of projects: The participation in Atelier du Grand Paris, with large scale urban plans for Bordeaux and Caen and a number of architecture projects in Paris and Dijon, among which is a zero energy office building in Paris, ZAC Gare de Rungis. Le Monolithe, a mixed-use building in Lyon was recently completed. The Legion of Honor, is a French order established by Napoleon Bonaparte, on 19 May 1802. The Order is the highest decoration in France and was in the past awarded to among others Karl Lagerfeld, Anna Wintour, Ingrid Betancourt and Robert Redford.
Winy Maas Chevalier de la Légion d'Honneur image / information from MVRDV
MVRDV's Winy Maas receives Honorary Fellowship of American Institute of Architects
(Rotterdam/San Francisco, May 4 2009): Winy Maas was awarded AIA's prestigious College of Fellows Honorary Fellowship during an investiture ceremony at Grace Cathedral in San Francisco, California, USA, on 1st May, during the AIA National Convention. It is an honor awarded to international architects who have made significant contributions to the architectural profession, not only as an individual, but also to architecture and society on an international level.


Winy Maas photo Rob t-Hart
The 2009 Jury of Fellows elevated 9 international architects to Honorary Fellowship. The Honorary Fellowship is bestowed on architects of esteemed character and distinguished achievements who are neither U.S. citizens nor U.S. residents, and who do not primarily practice architecture within the domain of the Institute.
Together with Winy Maas, Jo Coenen of JCCA Architects, Smiljan Radic Clarke, Chile, Bruno Gabbiani of Studio Gabbiani Associati and Manfredi Nicoletti of Studio Nicoletti, Italy, received an Honorary Fellowship.
Winy Maas is one of the founding architects of Rotterdam based practice MVRDV. In the United States MVRDV works at the moment on a series of flood proof homes for the Lower Ninth Ward in New Orleans which was devastated by Hurricane Katrina, commissioned by the "Make it Right" Foundation, an initiative of actor Brad Pitt. The first home designed by MVRDV will start construction in 2009.
A small number of AIA Honorary Fellows are selected annually by a Jury of Fellows and several practicing architects from the United States. Honorary Fellows selected in previous years include David Adjaye, UK, Stefan Behnisch, Germany, David Chipperfield, UK, and Dominique Perrault, France.
Location: Rotterdam, Holland
Architects Practice Information
Winy Maas
born 1959


Gemini building, Copenhagen: photo © Adrian Welch
MVRDV Architects – Background
1984-1990 – Technical University Delft, Faculty of Construction, Engineering, Departments of Architecture and Urban Design
1991 – Winy Maas co-founded MVRDV with Jacoiv van Rijs & Natalie de Vries – the 'Office of Architecture and Urbanism' in Rotterdam. He worked with Unesco and with OMA (Office of Metropolitan Architecture) in Rotterdam.
The design by Winy Maas for the Dutch Pavilion at Expo 2000 was a 40m high 'Vertical Landscape'.
Winy Maas teaches and lectures at the Architectural Association, London, the Technical University, Delft, the Berlage Institute, Amsterdam, and the Academies of Architecture and Urban Planning in Rotterdam and Amsterdam.
Key MVRDV Building – Gemini Housing, Denmark
Winy Maas Books
Farmax by Winy Maas
MVRDV at VPRO
MetaCity/DataTown
A principal of the Rotterdam firm MVRDV, Winy Maas is trained as a landscape architect, architect, and planner. The firm's architecture has been shaped by their ongoing exploration of density and the informational processes involved in design. Their work includes urban design, civic projects and housing projects in Amsterdam, The Hague, Vienna, and Madrid.
The Dutch architect and city planner was one of the founders of the Rotterdam architectural consortium MVRDV in 1990.
Among his built works are the Dutch Pavilion for Expo 2000 in Hannover, Germany, the innovative business park Flight Forum in Eindhoven, two buildings on Borneo Sporenburg in Amsterdam, and the futuristic installation Metacity Datatown. Winy Maas is currently planning a university department building in Nijmegen, designing large buildings in Amsterdam and The Hague, handling the urban planning for a district of Almere, and preparing several publications about datascapes and manmade natural environments.
Outside the Netherlands, MVRDV is engaged in the construction of pavilions in Japan and Sweden, 100 residential units in Vienna, a large office building in Munich, and Mobility Park outside Hamburg.
Winy Maas was a finalist for the Mies van der Rohe Award for European Architecture in 2003 and won the Amsterdam Art Prize in 2004 with his project Hagen Island in The Hague.
Winy Maas Further Information
Serpentine Pavilion London:
Project never completed
Dutch Architect in Scotland : Winy Maas
RIAS GOES DUTCH AT SCOTBUILD WITH WINY MAAS OF MVRDV
RIAS Annual Lecture 2003 – 28 Oct, SECC Glasgow
Leading Dutch architect, Winy Maas of MVRDV architects in Rotterdam will deliver this year's RIAS Annual Lecture during Scotbuild. This is a fantastic opportunity to hear one of Europe's most prolific and original architects talk about his work.
Winy Maas is one of the founders of MVRDV, an office based in Rotterdam that produces designs and studies in the fields of architecture, urbanism and landscape design. This Dutch Architecture practice was founded in 1991 after they won the first prize in the Berlin Europan Competition. Early projects such as the Light Urbanism study for the Municipality of Rotterdam, the headquarters for Public Broadcasting Company VPRO and "WoZoCo" Housing for elderly, Amsterdam, brought MVRDV to the attention of a wide field of clients and gave them international acclaim.
MVRDV have produced buildings of all types and sizes, urban designs, publications and installations. Realised projects include the Dutch Pavilion for the World Exhibition 2000 in Hanover, Germany, an innovative business park 'Flight Forum' in Eindhoven, two Houses at Borneo Sporenburg in Amsterdam, and the futuristic installation Metacity-Datatown that has traveled around the world. Current projects in progress or on site include a University faculty in Nijmegen, large housing projects in Amsterdam and The Hague, an urban design for a part of Almere and forthcoming publications on Artificial Nature and Datascapes.
MVRDV Activities outside the Netherlands include a housing scheme for 100 units in Vienna, a 50,000m2 office development in Munich, a pavilion for an Art Triennial in Niigata, Japan, an art pavilion in Malmö, Sweden and a Mobility Park near Hamburg, Germany.
Recent project by MVRDV with Jørgensen & Wolhfeldts:
Gemini Space, Havnestad, Denmark
Pair of former seed silos on Copenhagen waterfront converted into 86 contemporary residential apartments.
MVRDV House, Netherlands
Two-family house, Utrecht 1997
Dutch Architectural Designs
Contemporary Netherlands Architecture
Netherlands Architecture Designs – chronological list
Amsterdam Building Developments – chronological list
Comments / photos for the Winy Maas Architect page welcome