Walters & Cohen Architects London, Architecture Studio, Design Practice England
Walters & Cohen Architects Practice
English Architecture Office, UK Design Firm News and Information
post updated 20 Apr 2021
Kingsdown House Shortlisted for RIBA Southeast Awards 2017
21 Mar 2017
Kingsdown House, The King's School, Canterbury, Kent, is one of fourteen buildings shortlisted for RIBA Southeast 2017 Awards:
RIBA Southeast Award for Kingsdown House by Walters & Cohen
17 Jul 2012
Walters & Cohen News
Walters & Cohen announced as Built Environment Experts, England
The Cabe team at the Design Council has launched a network of 250 Built Environment Experts (BEEs) who will support its work delivering high-quality designed places throughout the UK. Cindy Walters and Michál Cohen of Walters & Cohen are delighted to join Cabe's broad and flexible group of highly respected specialists, drawn from a range of sectors. The network will provide multi-disciplinary support to communities, local authorities and developers involved in built environment projects.
Hanif Kara (part of the design team for the UK Pavilion at the 2010 Shanghai Expo), Colin Haylock (Royal Town Planning Institute President), Liane Hartley (Co-founder of Mend and one of NESTA's top 50 new radicals) and Sarah Foster (RTPI's Young Planner of the Year 2010) are just a few of the 250 experts that will work to ensure that design plays a crucial part in the development of UK's built environment.
Cotham School: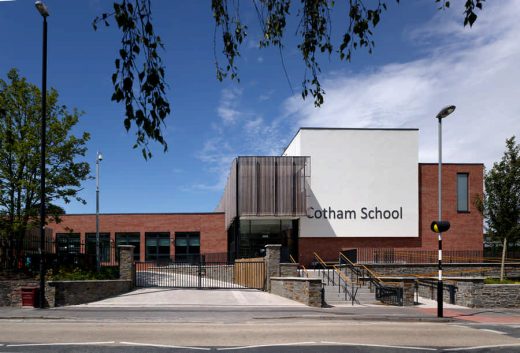 picture from FD
Good design is fundamental to the production and maintenance of high quality places – it enthuses, inspires and encourages people to participate in the planning process to create unique places in which people choose to live and work. The new BEEs network will support the Cabe team to deliver quality services to its clients, helping them to balance diverse and competing needs. Whether it's supporting Cabe's Design Review service or getting stuck in with community engagement work, the BEEs will provide independent advice to challenge, encourage and support Cabe's clients to make the right design decisions.
There are 250 BEEs in the new network. One hundred of these will be working with Cabe for the first time, broadening and deepening the expertise the team offers to clients. Cabe's BEEs will not act as consultants, and will not be chosen by the client. They will be assigned to the client by the Cabe team and their task is to mentor design procurement, deliver training on the role of design in neighbourhood planning, and participate in the crucial Design Review process. Partnership and collaboration will be key to delivering these services.
Nahid Majid, Director of the Cabe team at the Design Council, commented on the launch:
"Cabe's Built Environment Experts (BEEs) make up an unparalleled network to provide design support to projects throughout the country. The BEEs represent the best in their network and can bring insight, innovation and best practice to the design projects that matter. Cabe's BEEs are a flexible and diverse group drawn from various disciplines. We've signed up people from architecture, planning and infrastructure backgrounds, as well as academics, health specialists, and community engagement workers, to bring an informed expert viewpoint and help Cabe champion good design."
Cindy Walters said: "Michál Cohen and I are delighted to be part of the BEE network and look forward to helping a range of client groups develop and deliver high quality designs."
Walters & Cohen : news + key projects
22 Jun 2012
Walters & Cohen Award News
Walters & Cohen scoop best architect at national schools awards, England
Walters & Cohen has won the 2012 'Jonathan Ibikunle' school architect of the year award at the British Council for School Environments' (BCSE) annual awards event.
They took first prize in two other categories for their work on schools in London and Bristol, and were praised by the judging panel for their 'thoughtful, high quality work' and 'joyful, uplifting designs.'
The panel considered a range of criteria, including the physical environment, resources and materials used, how the design supported the ethos and culture of the school, as well as teaching and learning, and the use of ICT.
Hylands School ; Ryde School




images from architects
Commenting on the award Nusrat Faizullah, chief executive of the BCSE, said:
"Walters & Cohen has consistently married form and function in its work on learning environments, leading to schools which look fantastic but also do the job required – providing a building that supports and facilitates our teachers and children now, as well as those of the future.
"We face a myriad of challenges in the current economic environment. But this year's awards show we have some brilliant architects designing truly great schools, who can bring their creativity and skill to bear on the challenges ahead."
Other award winners included Atkins (Supporting excellence award – best consultant); Skanska (Building Britain award – best contractor) and the London Borough of Tower Hamlets (Delivering education award – best local authority).
More details on the awards, including judging criteria and details of all the winners, are available from www.bcse.uk.net
9 May 2012
Walters & Cohen – Woman Architect of the Year Award
Walters & Cohen wins Woman Architect of the Year Award, England
Michál Cohen and Cindy Walters topped a shortlist of strong competitors to win the coveted AJ Woman Architect of the Year award on Friday, seeing off Amanda Levete, Sarah Wigglesworth, Deborah Saunt, 2012 Jane Drew Prize-winner Zaha Hadid, Alison Brooks, Heneghan Peng's Roisin Heneghan and Clare Wright of Wright & Wright.
The partners, who founded Walters & Cohen in 1994, have been recognised for design excellence, thought leadership and being role models for aspiring architects. The practice is believed to be the first in the UK to be set up by two women.
The AJ Women in Architecture Awards judges praised Cohen and Walters for the 'consistent quality of their architecture, combined with the ethos of the practice,' remarking upon their 'active involvement with the RIBA and in teaching and examining at architecture schools'. Winning this inaugural prize acknowledges Walters & Cohen as leaders in the market for their strong practice ethos of making beautiful buildings that have civic and social purpose.
On picking up the prize Cindy Walters said: 'This is totally unexpected. We could not do any of the work we are doing without the brilliant and amazing people in our office. This is for them.'
Michál Cohen:



image from architects
Michál Cohen's commitment to the role of design in the learning environment is well established; she speaks regularly at conferences and was a member of the CABE Schools Review Board. Michál was responsible for the award-winning projects at Redbrook Hayes School in Staffordshire and Towers Junior School in Havering. Her experience includes primary, junior and secondary school projects as well as two research and design commissions from the Department for Education. Michál is currently leading work for the education element of the Chapelton of Elsick project, a new sustainable community in Aberdeenshire.
Cindy Walters:



image from architects
Throughout her career, Cindy Walters has worked on a diverse range of education, leisure, cultural and commercial projects in both the public and private sectors, including the RIBA award-winning projects for Bedales School in Hampshire and the Wakehurst Place Visitor Centre, and the Civic Trust award-winning Shirley Sherwood Gallery of Botanical Art, Kew Gardens. Other projects from her portfolio include an art gallery in South Africa, designs for the National Centre for Photography in Wales at Margam Castle, Port Talbot and an arts building for the American School in London.
Outside of the practice, Cindy is an external examiner at the Bartlett School of Architecture, the University of Westminster and Cardiff School of Architecture. Cindy has been involved with the RIBA awards since 2007, as a regional jury chair and currently as a member of the Awards Group.
High-profile projects include the £6.7 million Hylands School completed in 2011, the £5.3 million Orchard Building at Bedales School in Hampshire and a BSF revamp of Colston's Girls' School in Bristol. The practice's £5.5 million extension and refurbishment of Ryde School on the Isle of Wight officially opened last month.
Walters & Cohen is currently masterplanning an arts hub for Godolphin & Latymer School in London and designing a new girls' boarding house for Marlborough College in Wiltshire.
Key Building Projects
Designs by Walters & Cohen, no images / links, alphabetical:
House by the sea, Sydney, New South Wales, Australia
–
Royal Botanic Gardens – Visitor centre, Wakehurst Place, Sussex, England
2004
£1.5m
Wembley Primary School, northwest London, UK
2007-
£10m
More projects by Walters & Cohen Architects online soon
Location: 2 Wilkin St, London NW5 3NL, England, UK
English Architecture Practice Information
Architect studio based in England, UK
Walters & Cohen
Founded in 1994 by Cindy Walters and Michál Cohen, Walters and Cohen has since grown into a dynamic and multicultural practice of talented individuals from around the world with an international portfolio of public, education, commercial, housing and cultural projects. The practice works closely with clients to establish an appropriate and achievable brief for every project.
The work by Walters and Cohen is underpinned by a passionate belief in the importance of design excellence. A thorough, demanding and rational design approach is evident in the material quality of the buildings completed by the practice, which combine intellectual rigor with a sensual appreciation of space, light and materiality. Detailed research into innovative building materials has resulted in an impressive portfolio of bold, contemporary and imaginative projects.
Walters and Cohen has received three RIBA awards: in 2005 for the visitor centre at Wakehurst Place, West Sussex; in 2006 for new teaching and administration buildings at Bedales School in Hampshire, and in 2007 for Redbrook Hayes Community Primary School and Library in Rugeley, Staffordshire. Current projects by Walters and Cohen include masterplans for the Horniman Museum and Hampstead Heath, both in London, a new music school at Bedales, new primary schools in Wembley, Havering and Cornwall and two BSF secondary schools in Bristol.
Walters & Cohen has an international portfolio of education, commercial, public and cultural projects. Our portfolio includes a rich variety of award-winning buildings in both public and private sectors and many projects won through national and international design competitions. The practice has completed projects for Kew Gardens, the Bank of England and the Horniman Museum.
The design process from concept to completion is central to the ethos of the practice. Making beautiful buildings that have civic and social purpose encourages a wider conversation about architecture within the office; projects are developed through design review, and proposals strengthened through research. Designs that are intimately connected to context and function develop through rigorous analysis of the site, brief and constructive dialogue with clients and end users.
Walters & Cohen is committed to design excellence and creating buildings that express a profound sense of place. We nurture long-term relationships with many clients and are serious about the responsible delivery of projects. Social, economic and environmental sustainability are integral to our promotion of a better built environment.
RIBA Awards 2007 – Redbrook Hayes School
Website: www.waltersandcohen.com
British Architecture
Comments / photos for the Walters & Cohen Architecture page welcome