Murphy/Jahn Buildings, Chicago Design Studio, United States of America Projects, Office News
Murphy/Jahn Architects, USA : Architecture
Contemporary American Architecture Practice, Chicago Design Office
post updated 7 August 2021
This architecture practice is now titled Jahn, since 29 Oct 2012.
Murphy/Jahn Architects – Major Building
Bangkok International Airport (aka Suvarnabhumi Airport), Thailand
Date built: 1995-2006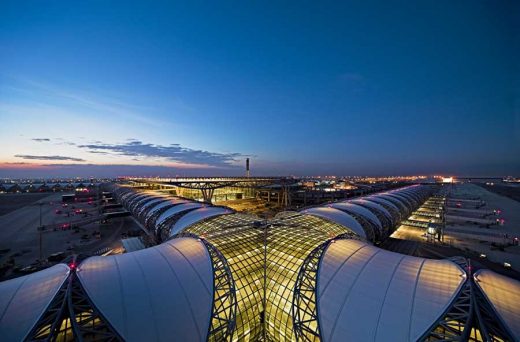 photo : Rainer Viertlböck
Suvarnabhumi Airport – Bangkok Building
The passenger terminal complex at Suvarnabhumi Airport resulted from an International Competition and established the basis of collaboration between Werner Sobek, Matthias Schuler and Helmut Jahn.
Murphy/Jahn – News
Chicago architect Gene Summers, 83, dies.
Gene was an assistant to Mies ven der Rohe. He headed IIT's College of Architecture.
Gene worked with Mies on such celebrated projects as the Seagram Building in New York.
Gene Summers was later partner in charge of design at C.F. Murphy Associates, where he was the chief architect of McCormick Place, completed in 1971.
Summers started his own architectural firm in 1966, hiring a young German architect – Helmut Jahn – who had come to Chicago to study at IIT.
But then McCormick Place burned, prompting Summers and Jahn to join C.F. Murphy Associates, where they collaborated on the conventional hall's replacement.
Murphy/Jahn Architects – Featured Buildings
Major Projects by Murphy/Jahn, alphabetical:
Deutsche Post : Post Tower, Bonn, Germany
Date built: 1997-2003



photo © webbaviation
163m high
Deustche Post World Net HQ: Open design competition winners, 1997
Mannheimer Versicherung – headquarters, Mannheim, central-west Germany
Date built: 1990; 2000


photo © Adrian Welch
Mannheim building
Chicago architects – Murphy/Jahn Architects office based on East Wacker Drive
Key Building Projects
Bayer AG, Leverkusen, Germany
Dates built: 1997-2001
Burkbank Media Center, Burkbank, California, USA
Date built: 2000
Chicago O'Hare International Airport – Part Redevelopment, Chicago, Illinois, USA
Dates built: 2000-04
City Spire Center, West 55th Street, Midtown, Manhattan, USA
Date built: 1987
248m high, 75 storeys
New York Skyscrapers
European Union Headquarters, Brussels, Belgium
1994-98
F-Media, Rostock, Germany
–
FKB Airport, Cologne/Bonn, Germany
1992-2000
FKB Parkhaus 2 & 3, Cologne/Bonn Airport, Germany
–
HALO Headquarters, Niles, Illinois, USA
1998-2000
Highlight Munich Business Towers, Munich Germany
2000-03
Horizon Serono, Geneva, Switzerland
2003-04
Hyatt Regency Roissy, Paris, France
1988-92
IIT Student Housing, Chicago, Illinois, USA
2001-03
Imperial Bank Tower Renovation, Costa Mesa, California, USA
1997-2000
James R. Thompson Center, 100 W. Randolph Street, Chicago
1985
Murphy/Jahn with Lester B. Knight & Associates
Kaufhof, Chemnitz, Germany
1998-2001
Kempinski Hotel, Munich, Germany
1989-94
Max, Frankfurt, Germany
2000-05
Messestadt, Frankfurt, Germany
1999
Messeturm, Frankfurt, Germany
1985-90/91
Frankfurt Skyscraper
Munich Airport Centre, Munich, Germany
1990-99
Neues Kranzler Eck, Berlin, Germany
1992-2000
Prinicpal Mutual Life Insurance Company – Expansion, Des Moines, Iowa, USA
Dates built: 1993-96
RCID Administration Building, Buena Vista, Florida, USA
Dates built: 1995-97
Sony Centre Berlin – incl. Sony Imax, Berlin, Germany
Dates built: 1993-2000
Suvarnabhumi Airport : see Bangkok International Airport
Transrapid, Berlin-Hamburg, Germany
Date built: 1998
Shanghai International Expo Centre, China
Dates built: 1998-2001
Veer Towers, CityCenter Las Vegas project, Texas, USA
Date built: 2008
Twin 37-storey glass towers
664 condominium residences
More architectural projects by Murphy/Jahn Architects online soon
Location: Chicago, Illinois, USA
Chicago Architects Practice Information
The Chicago architecture studio is headed by architect Helmut Jahn. This architect office is based in Chicago, Illinois, USA.
US Architecture
Buildings / photos for the Murphy/Jahn page welcome
Website -: www.jahn-us.com