de Reus ArchitectsUSA, Sun Valley Design Office, Idaho Architecture Studio, American Firm
de Reus Architects, Sun Valley, Idaho
April 1, 2022
Location: Sun Valley, Idaho, United States of America
Louis Kaufman Joins de Reus Architects as Principal
Louis Kaufman, AIA, Principal at de Reus Architects: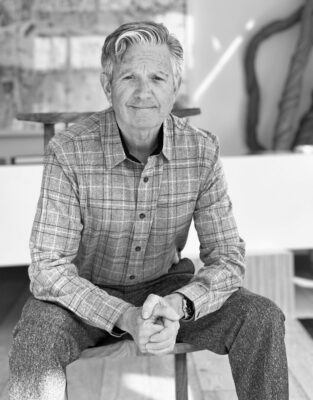 de Reus Architects News
Sun Valley, ID, March 28 — de Reus Architects, known for their design of luxury residences and resort developments across the globe, is pleased to announce the recent hire of Louis Kaufman, AIA, as Principal. With over 35 years of professional experience, Louis has led and designed a wide range of projects, from bespoke private residences and ranches to several cultural, large-scale commercial and institutional projects, including a boutique Norwegian resort hotel located above the Arctic Circle, as well as numerous interior environments within the United States and around the globe. As a principal at de Reus Architects, Louis is engaged in all facets of the practice including design, management, and business development. His current project work includes a set of private residences on the south shore of Kauai, among other work in Hawaii.
Born in Panama, Louis grew up in Southern California before moving to New England to attend Deerfield Academy and eventually graduate school at Harvard. His East Coast experience led to a deep interest in history and the possibilities of firmly relating design to its context. Eschewing a form-based approach to design, Louis sees architecture as an experience. "I try to marry the visible and invisible qualities of the land to carry the story of my clients and their site. It's a romantic journey that results in a design capable of supporting the important memories of our lives." His work is noted for the timeless character of its design, emphasizing clarity of purpose, meticulous craftsmanship, and quiet poetry.
Over the course of his career, Louis has worked for noted firms on award-winning work, including Hammel, Green and Abrahamson, and Skidmore Owings and Merrill, and Altoon + Porter, where he served as managing director of the firm's Amsterdam office. His expertise with large-scale projects has been focused on translating the experience of place through intimacy of scale and kinesthetic responses to space.
"Louis brings an intellectual and intuitive grasp of design that is rare. His thoughtful and insightful management strengths, developed over a stellar career, are evident of his commitment toward excellence in taking care of clients – so critical with a bespoke practice like ours," says Mark de Reus, AIA, Partner.
Further notes Louis, "de Reus Architects' commitment to place – physical, cultural, and historical – resonated with my values as an architect and as a human being. Mark and I had many long conversations about architecture and the power of design to transform life. It was clear that we are both committed not only to art and craft, but equally to the discipline and patience of maintaining a successful practice."
Louis holds a Bachelor of Arts from UCLA (1980) and a Master of Architecture from Harvard University (1984).
About de Reus Architects
Handcrafting private resorts and residences with a profound appreciation for the factors that have shaped their location is the philosophical cornerstone of our practice. Our search is for the artistic expression of nature, culture, structure and purpose…and the experience of wholeness that comes from their integration.
We design around the needs and the dreams of our clients. Our work doesn't have a signature style because it evolves from the particulars of place and person. Still, there are some common aims that guide our approach: Attaining a quality of permanence through natural materials and elegant craftsmanship; Infusing structures and environments with comfort, livability, and appropriate scale; Maintaining a sense of order while allowing elements of surprise to emerge from honest problem solving; Designing environments that are timeless but not traditional, innovative but not trendy.
The synergy between resort and residential work in our firm has created a strong connection with both homeowners and developers. We are familiar with the lifestyle expectations of the resort residence buyer; and we understand the operational needs of hospitality projects and the hoteliers who run them. https://dereusarchitects.com/
Sun Valley, Idaho
de Reus Architects
171 East 2nd Street
Ketchum, ID 83340 USA
208.928.7750
More information about de Reus Architects Sun Valley, Idaho, USA online soon
Location: Sun Valley, Idaho
de Reus Architects
171 East 2nd Street, Ketchum, ID 83340 USA
Architecture Practice Information
Address: 171 East 2nd Street, Ketchum, ID 83340 USA, United States
Phone: +1 208.928.7750
Website: dereusarchitects.com
US Architecture
USA Architecture Designs
Buildings / photos for the de Reus Architects Sun Valley, Idaho, USA page welcome