Cooper Joseph Studio Architects, US Building Photos, NYC Design Studio News, Projects, Office
Cooper Joseph Studio : New York Architects
Contemporary Manhattan Architectural Practice, USA Design Firm
post updated Apr 24, 2021
Cooper Joseph Studio News
Mar 22, 2011
Cooper Joseph Studio has designed the installation and graphics for the Maira Kalman: Various Illuminations (Of A Crazy World) exhibition on view at The Jewish Museum, March 11 – July 31, 2011. Other Cooper Joseph Studio exhibition design projects include Better Living by Design at the Philbrook Museum of Art in Tulsa, OK and the Klaus Moje and Object Factory exhibitions at the Museum of Arts and Design (MAD) in New York City.
Cooper Joseph Studio is an idea-driven firm building on a diverse portfolio including residential projects, commercial and institutional projects, exhibition design projects and a recently awarded new art museum project in Utah. Cooper Joseph Studio responds to each new project inventively by closely collaborating with their clients.
Cooper Joseph Studio Established
ARCHITECTS WENDY EVANS JOSEPH AND CHRIS COOPER ANNOUNCE NEW PARTNERSHIP
Cooper Joseph Studio becomes Effective January 1, 2011
NEW YORK – As of January 1, 2011, Cooper Joseph Studio will be the new name of the firm Wendy Evans Joseph Architecture. The name change reflects a new partnership between Joseph (FAIA) and Chris Cooper (AIA). Building on the success of their ongoing collaboration, which began in 2008 when Cooper joined Wendy Evans Joseph Architecture, the new partnership celebrates the increased scope and depth of the firm's projects and their heightened strength in design capability.
As experienced LEED Accredited Professionals, with a shared set of design principles and complimentary skills, Cooper and Joseph believe in a future where innovative design meets conscientious practice. Cooper Joseph Studio is an idea-driven firm building on a diverse portfolio including residential projects, commercial and institutional projects, exhibition design projects and a recently awarded new art museum project in Utah. Cooper Joseph Studio responds to each new project inventively by closely collaborating with their clients.
Cooper Joseph Studio remains a registered WBE (Woman Business Enterprise) in New York City, New York State and Federal.
Key Buildings by Cooper Joseph Studio
Featured Buildings by Cooper Joseph Studio, alphabetical:
National Butterfly Center Visitor Pavilion
Mission, Lower Rio Grande Valley, Texas
The North American Butterfly Association's objective is to promote butterfly watching and respect for the environment through educational exhibits and gardens. Defined by human scale elements, formal and rustic gardens, and a palapa (vernacular shade structure), visitors experience local nature through both assimilation and contrast. Media and technology are employed in all aspects of the exhibitions.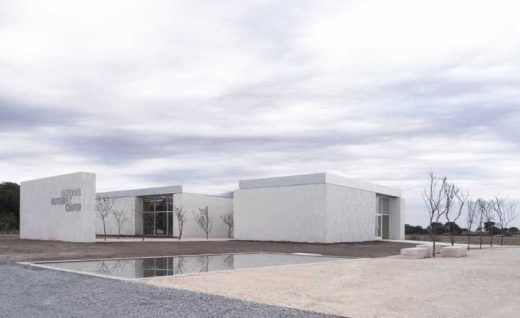 image from Cooper Joseph Studio
Our design takes the overall park landscape and divides it into "pixels," or squares of land of a set module (22 by 22 feet). Zones of the park are then defined using these pieces, considering the land and procession from arrival to garden, and the organization's plans to replant the site's abused farmlands. The Pavilion uses this module as well; through a careful selection of enclosure and open space, a building emerges with surrounding garden pavilions and support structures. Leading out from this structure, the land gradually transforms from formal garden squares to wild habitats.
The pavilion itself has Mexican white brick on the exterior with a timber roof and concrete floors. A sinuous configuration of display table weaves through the orthogonal geometry.
WEJA have been working with NABA since 2002. Work has included the design of a master plan for the entire 100-acre site, fund raising materials, programming, and the construction of a comfort station (2007) on the southern end of the site.
Visitor Pavilion: 4,400SF
Budget: $750,000
Adjacent Landscape and Site Improvements: $250,000
Client: Jeffrey Glassberg, NABA Founder
Phase Two buildings and gardens expected completion 2013
Outdoor Classroom
South Bronx, NYC
Architect's Statement
This small project is part of a 40 acre public park located on a post-industrial wasteland in the South Bronx. The long narrow waterfront parcel includes tennis courts, areas of passive recreation, grassy knolls, and an esplanade. The outdoor classroom is the only man-made area of shade for community gatherings. This site presents a complexity of urban conditions with a large expressway looming above and highly trafficked commercial streets below.

image from Cooper Joseph Studio
The South Bronx is one of the poorest counties in the country – an area of high crime and vandalism. As the sole architectural feature in this park there were stringent requirements for a durable, non-flammable, easy to maintain structure that also provides unobstructed views for security purposes. In addition, ease and speed of erection were preferred.
Program
• The structure has two tiered amphitheaters, one on each side with a central area for supervision and seating.
• Space is provided for gatherings of up to 50 people.
• The structure is directly accessible from the north and south.
• Although the shade was required, no rain coverage was permitted.
• The structure is completely ADA accessible.
Special considerations
We worked with a limited construction budget given the many additional costs that were incorporated due to the nature of public work of this type. The entire site is on fill, so there had to be pile foundations, a more costly endeavor.
Many times, architects have to flexible. In this case, during construction, after all approvals and documents, the Clients decided to eliminate the decking. We therefore used the concrete foundation with an additional epoxy coating as the finished surface. We used this unforeseen change to yield a bold, efficient and equally pleasing result.
Design
Taking cues from the enormous overpass of the adjacent Expressway, the Outdoor Classroom has an appropriately muscular quality with strong a sculptural force and silhouette. Balancing the robustness of the structure is the visually exciting playfulness generated by the canopy of overlapping trapezoidal panels. These perforated stainless shapes are used in contrast to the orthogonal layout of the main frame of steel supports. There is a dynamic jagged edge cantilevered past the supports seen to great affect against the open sky. The play of light in animated shadow patterns enlivens the grey concrete surface of the platform base.
In fact, what appears to be a complex arrangement of diversely sized pieces is a systematically designed array of a few panel designs that are used on two different levels so that the overlapping trapezoidal areas down the center create a moiré. The rhythm of steel crossbeams provides both a scaffold to hang the panels from and a thickness to create a sense of depth when one looks up through the assembly. The beauty of the roof panels is also visible from the Expressway above.
Material and system selection
Modern and sculptural, yet made of repetitive elements for economy, our method of construction is deceptively simple. We use welded angles to connect tubular steel beams to wide flange columns. The main frame of tubular steel joists span 12 feet between the main longitudinal sections. Steel plates are bolted to the sides of each joist. They are predrilled to receive the stainless panels, which in turn are hung in pairs, at two heights, so they overlap down the middle of each section. The U-shaped stainless panels are bolted into place from above. By fabricating the structure in this way, all the assembly bolts and elements are above the perforated surface. Erection was efficiently achieved with two workers.
There are 4 standard configurations of trapezoidal panels, each with a 48% open area perforation of 1/2" round holes. The holes are held 2" back from the edges of each panel for strength.
Budget and schedule
The construction cost was less than $1.2 Million including foundations, steel structure, stainless steel ceiling panels, benches and site improvements. A year before completion, the schedule was advanced by six months in order to meet a new requirement from the Mayor's office. This was achievable since our assembly plan allowed for the actual work to take place in a very short time period.
Wykagyl-Shopping Center
New Rochelle, NY
Architect's Statement
Descendants of the original developer/builder asked us to remodel their modest, quintessential suburban shopping center. They wanted something modern, well lit and graphically clean that would give a sense of quality to this location. In 2002, we completed a façade renovation. Though modest in scale, it achieved its goal: rental prices rose while maintaining full occupancy.


image from Cooper Joseph Studio
Building on our previous success, this project for an addition and renovation adds 13,500 additional square feet to the 25,000SF building, plus a renovation of the 4,500SF basement, lighting system upgrades, and a complete restriping and landscaping of the parking lot areas.
Adding to one's own work is an honor and a credit to our on-going relationship with the client. The look of the center was so specific and complete in its own right that the large volume and height of the addition was architecturally quite challenging to deal with. We solved the problem by creating a unified building using a limited but creative palette of materials, careful massing and a mix of new and existing façade elements.
Special considerations
In commercial real estate, the budgets are by necessity quite modest and timing is everything. Compressed schedule and stringent value engineering were part of an integrated architectural and engineering design process.
Design
The concept of the original design involved using a series of undulating bands of aluminum to make a new façade above the shop fronts. With a second story, we devised a new system that integrated the aluminum bands and added an exciting series of new elements to the vocabulary, all while keeping the massing simple.
Material and system selection
It's all about aluminum! The earlier renovation used 1/8" think bands of anodized aluminum bent over brackets (in turn mounted to the original brick façade). The new building is steel frame. We used a corrugated aluminum panel (20' long and 3' wide) over the entire building, with a few well-considered areas of undulating panels, similar to the first phase of work. But what makes the façade richer in concept and form is the use of a perforated, corrugated aluminum over the front windows as a sun screen and to shield nighttime office workers from on-lookers in the parking lot.
Costs
Approximately $2M, including site improvements, landscape, and equipment as well as replacement of some existing lighting and signage.
More projects by Cooper Joseph Studio online soon
Location: 500 Park Ave, New York, NY 10022, USA
New York City Architects Practice Information
Cooper Joseph Studio – architecture and design studio based in New York City, USA
Cooper Joseph Studio was formerly known as Wendy Evans Joseph Architecture.
New York City Architectsk : current NY design firms
Website: www.cooperjosephstudio.com/
New York Architecture
New York Architect office : Manhattan design studio contact details
New York Buildings – selection:
20 Times Square Skyscraper Building, corner of Seventh Avenue & West 47th Street, Manhattan, NYC
Design: PBDW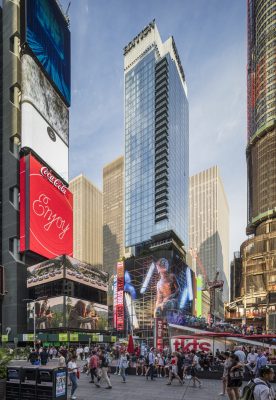 image courtesy of architects office
20 Times Square Skyscraper Building
Pier 40 Hudson River Apartments
Design: DFA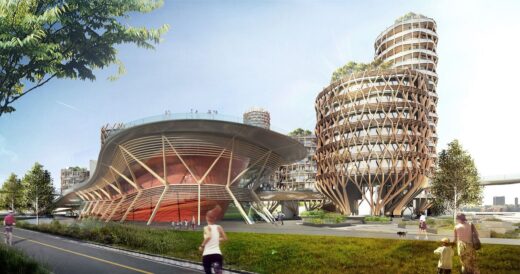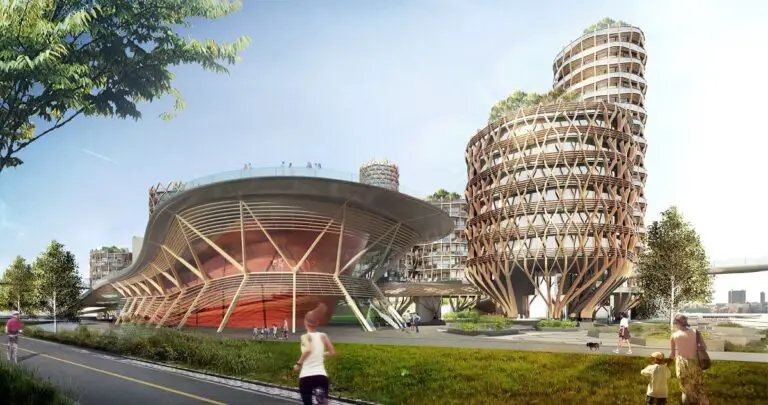 images courtesy of architects
Pier 40 Building
Comments / photos for the Cooper Joseph Studio – Manhattan Architecture Practice page welcome