Aidlin Darling Design Architects, San Francisco Design Office, Buildings, News, Projects
Aidlin Darling Design, Architects
Contemporary Architectural Practice in California, United States of America
Aidlin Darling Design News
Site & Senses: The Architecture of Aidlin Darling Design
A Multi-Sensory Exploration of the Firm's Design Process
Sonoma Valley Museum of Art
December 21, 2013 – March 2, 2014
"C-Chassis" – a 55' long charred construct for the new exhibition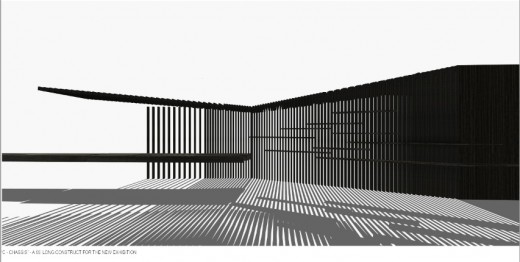 picture from architects
Sonoma Valley, CA – The Sonoma Valley Museum of Art will dedicate its entire 5,000-square-foot exhibition space to the multi-sensory explorations that guide the design process at multidisciplinary design firm, Aidlin Darling Design. The solo exhibition, the firm's first, will feature material palettes, models, sketches, renderings, full-scale mock-ups, photographs, and videos. The exhibition's focal point is C-Chassis, a site-specific, 55-foot-long installation piece. It is through the acts of looking, listening, smelling, touching, testing, and imagining, that museum visitors can gain an understanding of the important role the senses play in the work of this award-winning design firm.
In his preface to the exhibition, architecture critic and writer Stanley Abercrombie cites a much quoted poem by Marcel Breuer-
Colors that you hear with ears,
Sounds to see with eyes,
The void you touch with your elbows,
The taste of space on your tongue,
The fragrance of dimensions,
The juice of stone
Wexler's Restaurant Canopy Detail (San Francisco, CA)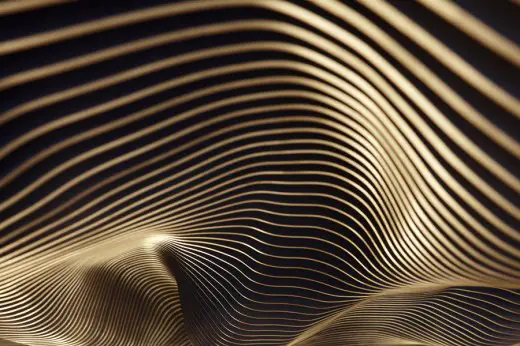 picture from architects
"In our fast-paced world, we can have a tendency to ignore our environment," says David Darling. "Thats why we often camp out on-site and spend days observing both tangible and intangible qualities of the site before we start to design. It is our hope that this exhibit prompts the public to realize how good, thoughtful design can not only awaken the senses, but reconnect us to place and to ourselves."
San Joaquin Valley Residence Reflecting Pool (San Joaquin Valley, CA)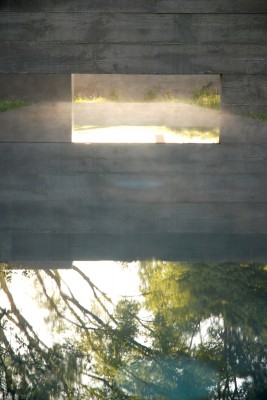 picture from architects
"Aidlin Darling's project-specific design approach reflects their philosophy of rigorous pre-design research, intensive collaboration, and reverence for the site. This exhibition gives a rare insight into a very exciting group of talented designers," said Kate Eilersten, SVMA Executive Director & Chief Curator.
Aidlin Darling Design, a San Francisco-based, award-winning firm and recent recipient of the prestigious Smithsonian Cooper-Hewitt National Design Museum's 2013 National Design Award, is recognized for their emphasis on designing to appeal to all of the senses. Partners Joshua Aidlin, AIA, and David Darling, AIA, have cultivated a multi-disciplinary collaborative studio that acts as a creative hub for an extended network of like-minded artists, buildings, engineers, fabricators, and even chefs, in order to design and construct projects that meet their design criteria. Each project in the firm's portfolio of private residences, restaurants, retail, and public spaces reflects a desire to uncover an inherent spirit of place and interpret constraints as catalysts for performative design. The individual character of each project emerges through poetic spatial relationships, material richness, and exacting detail.
Courtyard Residence Bas Relief (Mill Valley, CA)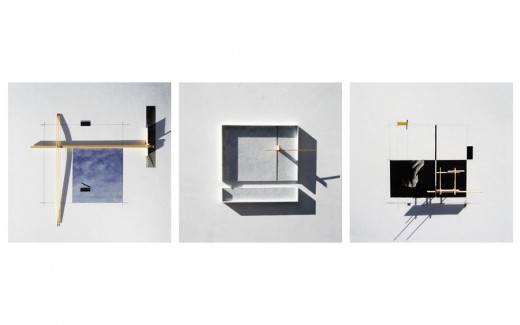 picture from architects
About Sonoma Valley Museum of Art
With more than 1,000 members, Sonoma Valley Museum of Art (SVMA) is the largest visual arts organization in the San Francisco North Bay region of Sonoma, Marin, Napa, and Solano Counties. Founded in 1998, SVMA exhibits the work of local, national, and international artists such as Rodin, Rivera, Goya, and Picasso, to date staging over 100 exhibitions attracting more than 100,000 visitors. SVMA is also the leading source of art education in the Sonoma Valley Unified School District, serving more than 2,000 students annually. Its education outreach includes school tours, an annual student art exhibition, and adult art lectures and history courses. An entertainment series, social gatherings, and special events attract visitors from across the region. The museum occupies a state-of-the-art facility at 551 Broadway, just one-half block south of the historic Sonoma Plaza. The museum is open to the general public during exhibitions Wednesday through Sundays from 11 a.m. to 5 p.m. Admission is $5 for individuals, free to the public on Wednesdays, and always free to members.
About Aidlin Darling Design
With a shared interest in exploring design across a wide range of scales, programs, and disciplines, Principals Joshua Aidlin and David Darling started Aidlin Darling Design in 1998 as a woodshop. Based in San Francisco, it is a multidisciplinary design firm with a broad focus, which includes institutional, commercial and residential architecture, as well as furniture, landscape and interior design.
Array of McEvoy Ranch Site Models (Petaluma, CA)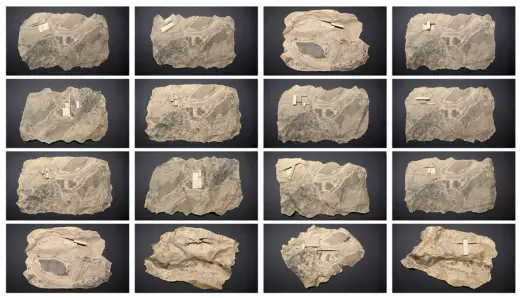 picture from architects
The firm has garnered over 90 regional, national, and international awards including The 2013 National Design Award, a James Beard Award, an AIA COTE Top Ten + Award, two American Architecture Awards from the Chicago Athenaeum, an International Civic Trust Award, and several awards from the AIA, IIDA, and ASLA. For more information, please visit: www.aidlindarlingdesign.com
More projects by Aidlin Darling Design online soon
Location:500 Third Street, San Francisco, CA 94107
Aidlin Darling Design – Practice Information
Aidlin Darling Design, Architects – Architect studio based in San Francisco, California, USA
The practice is located at 500 Third Street.
Aidlin Darling Design USA : American Architects
San Francisco Architecture Tours
American Architect – Office Listings
American Architecture



photo © Andrew McRae
Comments / photos for the Aidlin Darling Design Architects – US Architecture Practice page welcome
Aidlin Darling Design Building : page
Website: www.aidlindarlingdesign.com