Valley Towers Amsterdam MVRDV, CBD Zuidas Building Netherlands, Dutch Architecture Images
Valley Towers at Amsterdam CBD Zuidas
17 November 2021
EDGE delivers iconic Valley development to RJB Group of Companies
Design: Winy Maas – MVRDV Architects ; Interior Design: EDGE
Location: Amsterdam, North-Holland, The Netherlands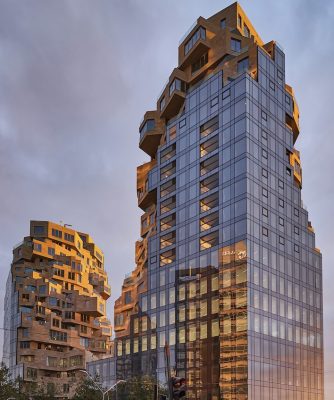 photograph : Marcel Steinbach / EDGE
Valley Towers Amsterdam Development
EDGE is proud to announce the successful delivery of its eye-catching 75,000 sq m mixed-use development Valley, designed by MVRDV, to owner RJB Group of Companies. EDGE has won the tender in 2015 and started construction in 2017 with the ambitious goal to bring a new dynamism to Amsterdam's Zuidas.
After more than four years of construction led by EDGE and realized by contractors G&S Bouw and Boele & van Eesteren, the building is ready to welcome office tenants, new restaurants and bars, residents, and visitors. While the first tenants are expected to start working from their new offices per delivery, residents will start moving in the end of 2021, and the new restaurants, retails and public park will open shortly after. The official opening of the building is scheduled for spring 2022.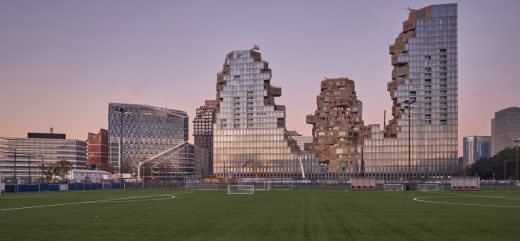 photo : Marcel Steinbach / EDGE
A new landmark building in the Amsterdam's skyline
Valley marks a turning point in the transformation of Amsterdam's Zuidas business district into a vibrant, livable urban quarter. The building was designed in collaboration with award-winning architect Winy Maas (MVRDV) and world-renowned landscaper designer Piet Oudolf. The project demonstrates the evolution of city life and how densely populated, high-rise areas can still feel human and green.
The structure itself reflects the balance between urban life and the natural world; the sheer mirrored outer facade reflects the corporate surroundings, giving it a visual connection to the neighbouring buildings, whilst the inner facade looks like it has been carved out of rock. Natural stone terraces brimming with plant life organically flow down to the valley floor, creating an architectural landmark that feels both awe-inspiring and welcoming.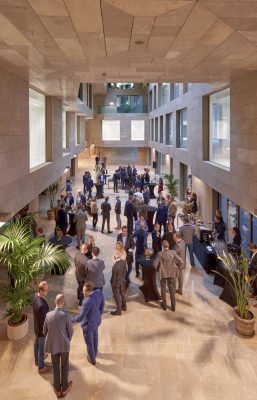 photo : Marcel Steinbach / EDGE
Board of Directors of RJB Group of Companies: "As the long-term investor, we were very early on involved in the development of Valley. We added quality to the program of the building such as wellness with a swimming pool, a high luxury upgrade to the apartments and an extensive conciërge concept. After four years, we are extremely proud to add Valley to our growing diversified portfolio and welcome our tenants to live, recreate and work in the amazing concept that Valley is. We are very grateful to our advisors and the RJB team members, the architects and the EDGE managers and the BCVA employees who worked so hard on this project. We are convinced that our restaurant and cultural tenants will function as a game changer in the Zuidas. We wish our team success managing this jewel of an asset for our company."
Coen van Oostrom, Founder & CEO at EDGE: "Incredibly proud to have partnered with RJB Group of Companies, MVRDV and Piet Oudolf to develop one of Amsterdam's most exceptional mixed-use developments. Valley is a truly unique project that I believe will inspire others to rethink the way we build in modern cities, promoting wellbeing and leaving a positive impact on the surrounding environment while servicing the local community. I'm excited to see Valley come to life in the coming year."
Valley – EDGE2021 from EDGE on Vimeo.
Valley's three peaks will host residential apartments, offices, underground parking and various retail, catering and cultural facilities. A public park is nestled between the three mixed-use towers and linked by staircases across five different levels. Altogether there will be 370 planting areas spread over 27 floors, with a total of 1787 m2 of green space. By next spring the building is expected to be in full bloom – truly transforming the character and environment of Amsterdam's Zuidas for good. While the abundance of greenery provides numerous environmental benefits, Valley's high GPR Building result (8), negative EPC score (-0.3) and BREEAM Excellent certificate confirm EDGE achieved its goal to bring a highly sustainable development to Amsterdam.
EDGE congratulates RJB Netherlands B.V., their commercial advisors Hangos Real Estate and Van Gool Elbrug, legal advisor DLA Piper for this fantastic acquisition and wish them the best of luck for the future with the building. Looking back on a great collaboration during the entire development phase of the building, EDGE would like to thank all partners that worked on this extensive project, with a special mention to MVRDV and Piet Oudolf, our advisors Deltavormgroup, Van Rossum Ingenieurs, INBO, DGMR, DWA, as well as our legal advisor Loyens & Loeff, and our partners in the realization G&S Bouw, Boele & van Eesteren, Bosman Bedrijven and many others involved.
Previously on e-architect:
post updated 17 Dec 2020
Valley Towers Amsterdam
Architects: MVRDV ; Interior Design: EDGE
Location: Amsterdam, North-Holland, The Netherlands
EDGE's Amsterdam Development Valley is officially topped out
EDGE is proud to announce the topping out milestone of their multi-use development Valley at the Amsterdam Zuidas. In reaching the highest point on its 103-metre North Tower, the building can proceed with its final stage of development.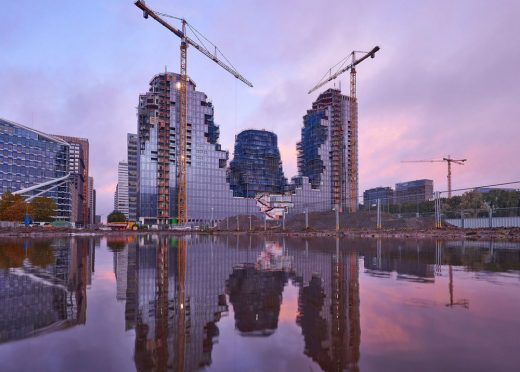 Valley is expected to be delivered at the end of summer 2021 and will offer 75,000 sqm of retail, restaurants & bars, cultural space, offices and 200 residential apartments.
Topping Out of Valley from EDGE on Vimeo.
"It's great to see Valley reach this construction milestone. The building already makes for a very impressive view from the Zuidas area or the highway. We are excited to see more visible additions to the building in the months to come, such as the greenery and the natural stone.
Due to the global pandemic and local restrictions, there was no official celebration for the topping off, but hopefully, we will be able to have a grand celebration to open the building in the new year."– says Tom Redecker, Senior Development Manager of EDGE. He added: "EDGE is grateful to its partners, stakeholders and the Project Team for their commitment to reaching this significant milestone. A special thanks goes out to G&S Bouw, Boele & Van Eesteren, Bosman Bedrijven and all involved subcontractors, suppliers and advisors."
Valley Documentary | Episode 4 | The City from EDGE on Vimeo.
Previously on e-architect:
28 Oct 2020
Valley Towers in Amsterdam
Design: MVRDV ; Interior Design: EDGE
EDGE's Amsterdam development Valley welcomes two new tenants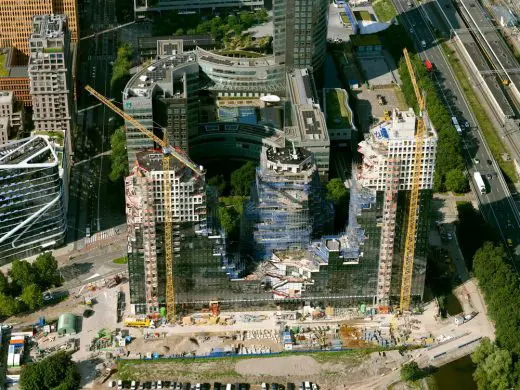 EDGE is proud to announce that two tenants, Ysquare and IK Investment Partners, have signed leases for new offices in the towers of Valley. The development is in its final stages with expected delivery in June 2021. Valley will offer 75,000 sqm mixed-use program of office spaces, apartments, retail and cultural spaces.
Welcome to Valley
Valley, designed by award-winning architect Winy Maas (MVRDV), is set out to become an iconic addition to the South Axis of Amsterdam. The modern and eye-catching building is on-track to receive a BREEAM Excellent certification for its sustainability ambitions. Next to offering a public accessible park that will be designed by Piet Oudolf, Valley serves many other activities: working, living, dining, shopping, relaxing, exercising or simply seeking inspiration. At the heart of it all, Valley will boast a vibrant atrium where everyone can come together to meet and connect.
Welcome to Valley- by EDGE Technologies from EDGE on Vimeo.
Two new tenants signed for Valley
For the office areas, EDGE is pleased to announce two newly signed leases with tenants from different sectors: Ysquare and IK Investment Partners will relocate their offices to Valley in the summer of 2021.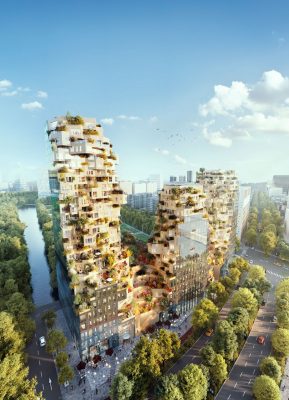 According to Jan Hein Tiedema, Executive Managing Director of EDGE,
"We are excited to welcome these new, very diverse, companies to Valley. As Valley has yet to open, it's exciting to know that we have amazing, ambitious tenants who can't wait to grow their business here."

CBRE and VGE supported EDGE for both leases. The multi-tenant office spaces are divided over the first seven floors of Valley, and each tenant has carefully selected their office in different towers.
The first signing is Ysquare. The company of specialists in preventing and resolving commercial disputes will rent 721 sqm of office space at the West Tower. This boutique-style dispute resolving agency is already located in the Amsterdam South-Axis. However, this move to Valley fits their ambitious plans Margriet de Boer, co-founder and director explains: "we are thrilled to relocate to this spectacular new location, where we can further expand our team and grow our firm." Ysquare was supported in their lease by DRS Makelaars.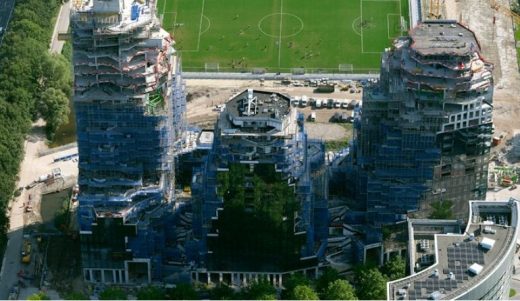 Joining YSquare will be IK Investment Partners, who will move to the North Tower where they will rent 1058 sqm of office space. This European private equity advisory group who focuses on investing in companies with strong potential is also already located in Amsterdam's CBD yet feels that it is time for a new office says Remko Hilhorst, Partner at IK Investment Partners. "Amsterdam has in the last few years become our hub for international partner meetings, we look forward to host them in our new office." D-HP supported their lease.
Availability for office, retail and living spaces
With its delivery planned for June 2021, Valley currently has 1800 sqm of office space available at Valley's South Towers, divided over two floors (1000 sqm and 800 sqm). Next to office space, there are still various retail and catering units available. For the residential areas, all apartments will be assigned to the unregulated rental segment.
Watch the award-winning MVRDV architect Winy Maas' vision for Valley:
Valley Documentary | Episode 2 | The Architect from EDGE on Vimeo.
Valley Towers Amsterdam CBD Zuidas images / information received 281020
Previously on e-architect:
Valley Towers at Amsterdam CBD Zuidas
Architects: MVRDV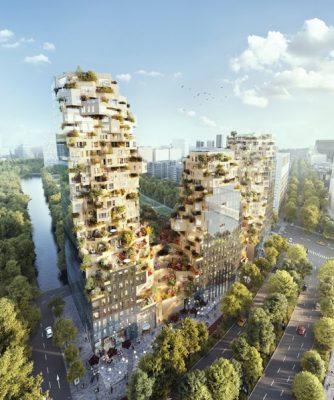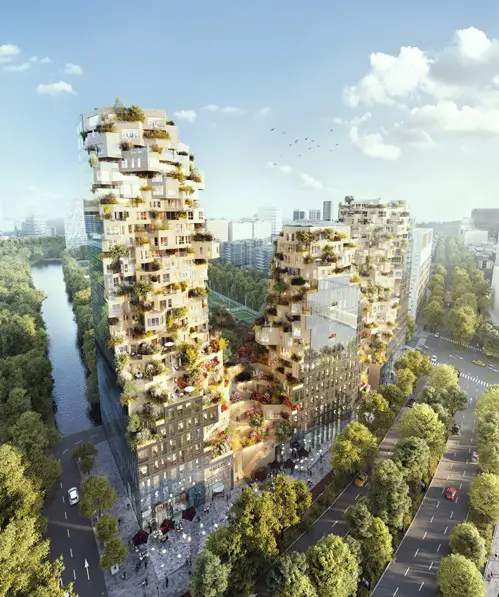 picture : Vero Visuals
Amsterdam CBD Zuidas Towers
Location: CBD Zuidas, Amsterdam, North-Holland, The Netherlands, northern Europe
Amsterdam Building News
Major New Dutch Buildings
Amsterdam Architectural Designs : links
2 July 2020
EDGE reveals its New Normal Office and sets a new standard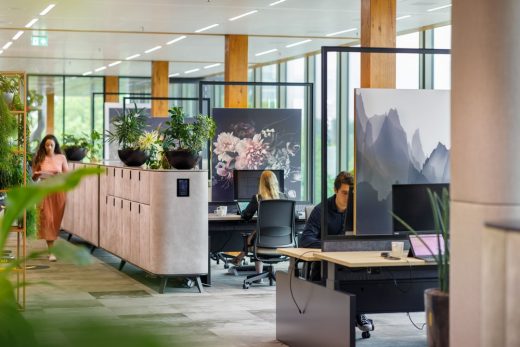 image courtesy of architects
EDGE Amsterdam New Normal Office Design
Pioneering real estate developer EDGE has spent the last months learning from their own developments, smart data and staff's behaviour to create a work environment that meets these new standards which EDGE has branded The New Normal Office.
Architecture Walking Tours Amsterdam by e-architect
European HQ for Calvin Klein & Tommy Hilfiger
Design: MVSA Architects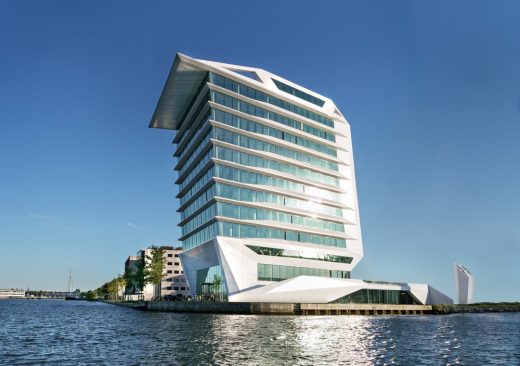 image © MVSA Architects/Ronald Tilleman
European HQ for Calvin Klein & Tommy Hilfiger Building
Amsterdam Architecture – contemporary building information
Amsterdam Buildings – historic building information
Comments / photos for the Valley Towers Amsterdam CBD Zuidas page welcome