Steven S Wymer Hall, University of Illinois Urbana-Champaign, American Architecture, USA Building News, Photos
Steven S Wymer Hall at University of Illinois Urbana-Champaign
Apr 17, 2023
Architects: LMN
Location: Champaign, Illinois, USA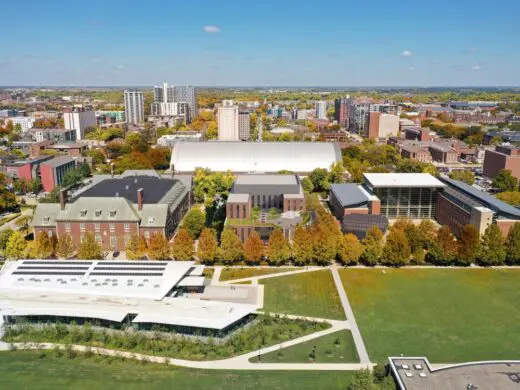 Renderings: Courtesy LMN Architects
Steven S. Wymer Hall, Illinois
LMN Architects is pleased to unveil the design of the new Steven S. Wymer Hall at the University of Illinois Urbana-Champaign. The building designed in collaboration with Booth Hansen provides a new hub for learning on campus by building on the innovations that Gies College of Business has pioneered.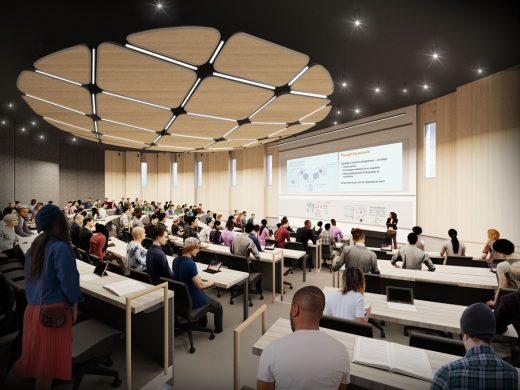 The Gies College of Business at the University of Illinois Urbana-Champaign (Illinois) has pioneered novel ways of combining in-person instruction with remote delivery, creating a program that is unique in its impact and reach. The new Steven S. Wymer Hall advances this innovative approach and provides flexible instructional spaces tailored to support in-person, remote, and hybrid modes of teaching and learning. Hybrid classrooms are collocated with robust production spaces, establishing a new paradigm for Higher Education instruction.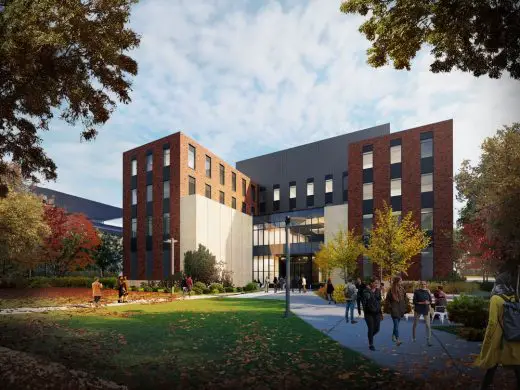 Jeffrey R. Brown, Josef and Margot Lakonishok Professor in Business and Dean, Gies College of Business, comments: "The future of business education will include online, residential, and hybrid learning. This new facility is designed for the future and with that vision in mind. Even what we think of as 'traditional' classrooms will be able to support all types of learning, and that's going to enable us to deliver a powerful education in exciting new ways."
The Steven S. Wymer Hall provides space for Gies and the entire Urbana campus to advance its ambitious teaching mission while also providing space to support faculty and staff growth. The lower levels support a teaching and learning ecosystem comprising hybrid classrooms, an auditorium, and a battery of spaces for the business school's team-based learning curriculum. Production studios capable of synchronous and asynchronous production extend the reach of the teaching and learning ecosystem. The upper levels provide offices and collaboration space for faculty and staff. Uniting these various and diverse programs help provide a welcoming collection of community spaces.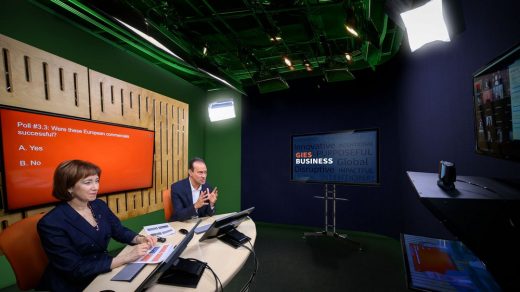 The Urbana campus has a consistent character defined by neo-Georgian buildings of brick and limestone. The project responds to this traditional aesthetic while also engaging with an immediate context of its contemporary and post-modern neighbors. Volumes of hand laid brick interlock with fields of quarried stone and zones of natural metal, reconstituting the traditional elements in a novel manner. The result is a forward-looking form that feels contextual on this historic campus and welcomes the broader UIUC population.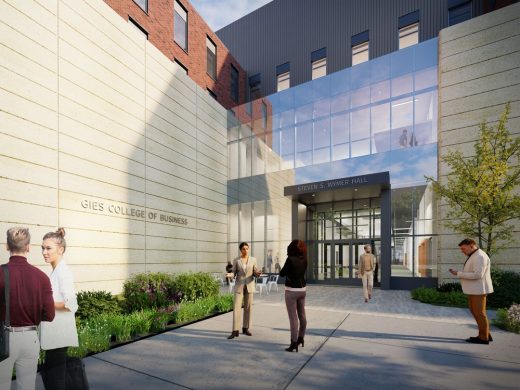 Mark Nicol, Principal, LMN Architects, comments: "Wymer Hall has been designed to accelerate the innovations in teaching and learning that Gies and Illinois have always pioneered. The project will provide a rich experience for the residential students and enhance the online experience for remote students. We are excited to break ground and look forward to experience how the building reinforces the architectural traditions at Illinois while also looking to the future."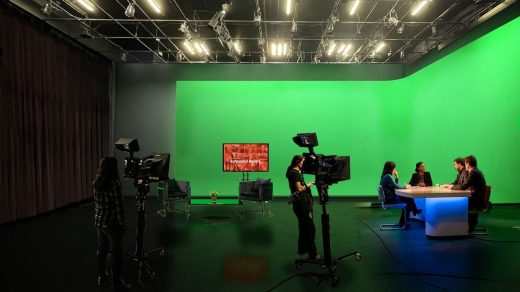 Construction broke ground on April 14, 2023, and the project is expected to be completed by December 2024. LMN Architects has designed over 150 projects on 51 campus in the United States, including the Bill & Melinda Gates Center for Computer Science & Engineering at the University of Washington in Seattle; the Voxman Music Building at the University of Iowa in Iowa City; the Edward J. Minskoff Pavilion at Michigan State University in East Lansing; and the Wilbur O. and Ann Powers College of Business in Clemson.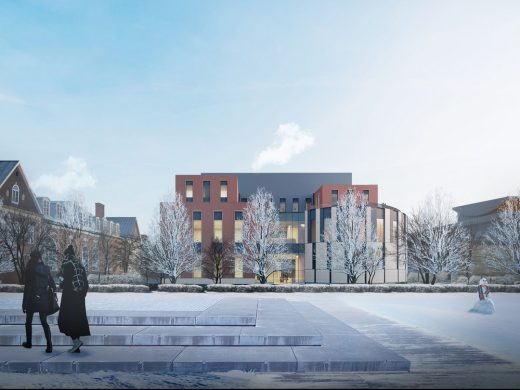 Steven S Wymer Hall in Illinois, USA – Building Information
Architecture: LMN – https://lmnarchitects.com/
Project Title:
Steven S. Wymer Hall
University of Illinois Urbana-Champaign
Location:
503 Gregory Drive
Champaign, IL 61820
Client: University of Illinois Urbana-Champaign.
Design Years: 2022-2023
Construction Years: 2023-2025
Major Building Materials: Concrete structure, brick, natural stone, natural metals, and glass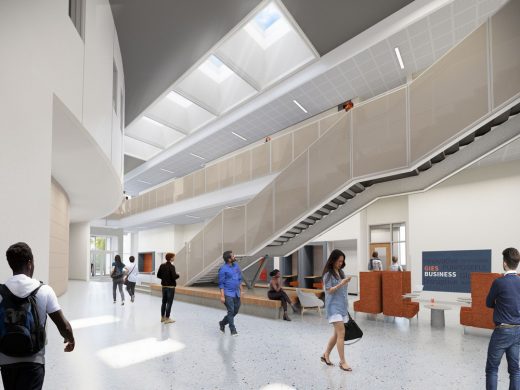 Program:
The Steven S. Wymer Hall extends the reach of the Gies College of Business with an ecosystem of collaboration spaces. It provides 6 hybrid classrooms, a variety of production spaces composed of 2 large soundstages, 5 black box studios and 5 master control booths. Plus 84 enclosed private offices, shared office spaces, and a 200-seat auditorium.
Site Area: 73,342 SFT (6,814 s.m.).
Total Floor Area: 97,789 SFT (9,085 s.m.).
Building Height: 75′ 11″.
Number of Floors: 4 stories + mechanical penthouse.
Notable Sustainability Facts:
Daylight atrium with central stairs, new exterior campus spaces, maximizing permeable surfaces on site, occupiable terrace, green roofs, geothermal field capable of accommodating all heating and cooling demands, bird-friendly glazing, targeting LEED Platinum, bike commuting facilities, high performance envelope design, enhanced indoor air quality, off site solar.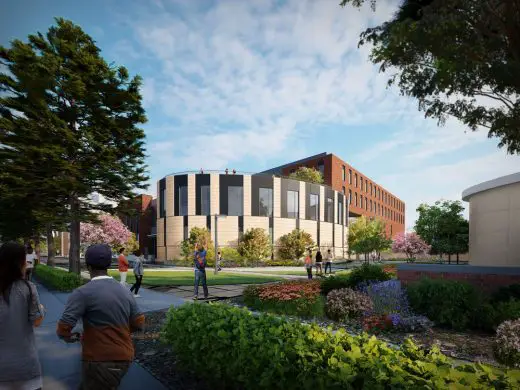 Renderings: Courtesy LMN Architects
Architect:
LMN Architects
801 Second Avenue, Suite 501
Seattle, Washington 98104
LMN Project Team:
Clint Cook, AIA
Albert Cua, AIA
Dana Forfylow
Nick Freese
Abby Jones
Susan Lowance, AIA
Vernita Lytle
Anuja Mohare, AIA
John Mrozek, AIA
Mark Nicol, AIA
Charlotte Pang, Assoc. AIA
Evgeniya Plotnikova, AIA
Bryan Sanders
George Shaw, FAIA
Stephen Van Dyck, AIA
Clenel Williams, Assoc. AIA
Architect of Record: Booth Hansen
Developer: Vermilion / Campbell Coyle
Contractor: Turner / Clayco
Structural Engineer: Saiful Bouquet
Civil Engineer: Terra Engineering
Landscape Architect: Site Design Group
Lighting Design: HLB
Plumbing/Fire Protection Engineer: dbHMS
Mechanical/Electrical/Fire Alarm Engineer: dbHMS
AV/IT/Acoustical/Security Engineer: Threshold
About LMN Architects
Since its founding in 1979, LMN Architects has dedicated its practice to the health and vitality of communities of all scales. Internationally recognized for the planning and design of environments that elevate the social experience. The firm works across a diversity of project typologies, including higher education facilities, science and technology, civic and cultural projects, conference and convention centers, urban mixed-use and transportation.
LMN has successfully completed more than 700 projects across North America, such as the Voxman Music Building at the University of Iowa in Iowa City, Iowa; Tobin Center for the Performing Arts in San Antonio, Texas; Vancouver Convention Centre West in Vancouver, Canada; Seattle Academy of Arts and Sciences Middle School in Seattle, Washington; Bill & Melinda Gates Center for Computer Science and Engineering at the University of Washington in Seattle, Washington; Sound Transit University of Washington Station in Seattle, Washington; and the recently completed expansion and renovation of the Seattle Asian Art Museum.
Based in Seattle, Washington, the firm employs 150 talented professionals practicing architecture, interior design, and urban design. The quality of the work has been recognized with nearly 300 national and international design awards, including the prestigious 2016 National Architecture Firm Award from the American Institute of Architects (AIA).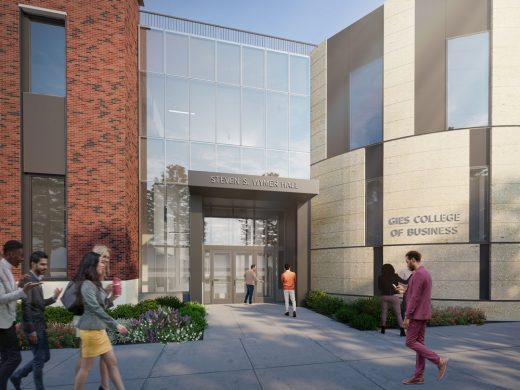 Images: LMN
Steven S Wymer Hall, University of Illinois Urbana-Champaign, USA images / information received 170423
Location: Illinois, United States of America
Architecture in Illinois
Contemporary Architecture in Illinois
Cristo Rey St. Martin College Prep, Waukegan
Architects: JGMA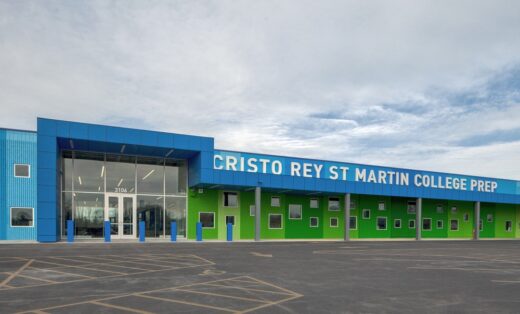 photo : Dimitre Photography Inc.
Cristo Rey St. Martin College Prep, Waukegan IL
I Hotel Conference Center, Urbana
Design: Cordogan Clark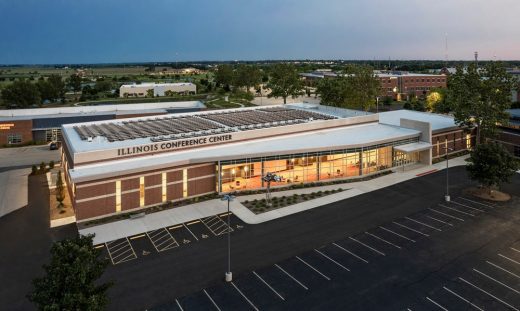 photo : James Steinkamp
I Hotel Conference Center, Urbana
Knox College Whitcomb Art Center, S Prairie St, Galesburg
Design: Lake|Flato Architects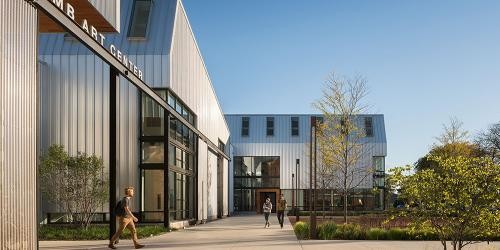 photo courtesy of The Chicago Athenaeum
Knox College Whitcomb Art Center Building
Farnsworth House, Plano
Design: Mies van der Rohe Architect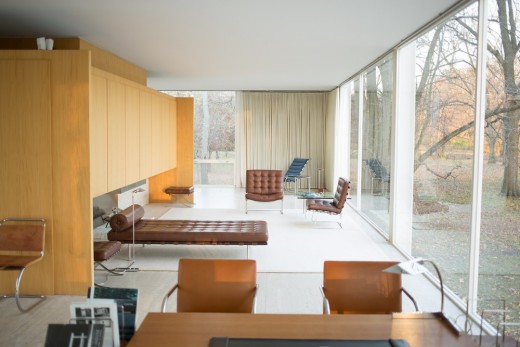 photo by Victor Grigas – Own work, CC BY-SA 3.0, http://commons.wikimedia.org/w/index.php?curid=42288802
Farnsworth House
USA Architectural Designs
Neighbouring State/Country Architecture to Illinois
Illinois Office Building : HSBC North American Headquarters, Mettawa
Comments / photos for the Steven S Wymer Hall, University of Illinois Urbana-Champaign, USA design by Nicholas Design Collaborative page welcome