Youths Training Center Sassara CAR, Central African Republic Architecture, School Architect Design
Youths Training Center
FRC Education Center Building, Central African Republic design by FARE Studio
11 Feb 2015
Location: Sassara, Central African Republic
Architects: FARE Studio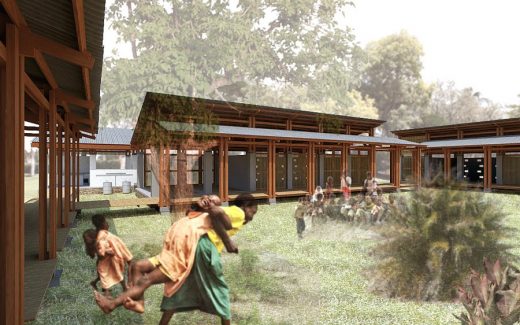 Youths Training Center in the Central African Republic
FRC is a project that FAREstudio designed and partially managed in a post conflict rural area of Central African Republic of a youths Training Center for the rehabilitation and social reintegration, through training in agricultural and pastoral activities, of children and teenagers with problematic social and cultural backgrounds, including former child soldiers.
The project was part of a wider program funded by PBF [Peace Building Fund] together with FAO [Food and Agricultural Organization of the United Nations] and was to be lead by the Jeunesse Pionnière Nationale [JPN], a local governmental organization whose aim was to provide youngsters and adolescents with practical and professional education in agro-pastoral activities in order to achieve a positive role in CAR's society.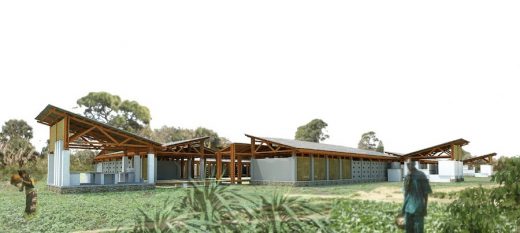 FRC center construction started in August 2012 in Sassara, a rural village in the north of CAR, and even though it was supposed to end in December 2012, the works have been terminated due to the outbreak of a civil war in early 2013 which left the country in a political and social confusion that still persists.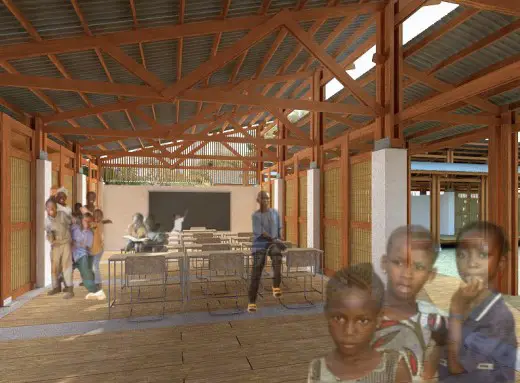 FRC beneficiaries should have been 192 youngsters, boys and girls from 14 to 21 years of age, from the villages nearby Sassara; for this reason FRC was to provide not only schooling and training, but also accommodation facilities to students and trainers, in order to avoid them a daily back and forth walking trip from their home town/village. It must be stressed that Sassara village, 350 km north of Bangui, is very isolated and conditions for production are extreme. During the rainy season many of the roads are extremelly deteriorated thus making transportation and road communications potentially hazardous or simply impossible.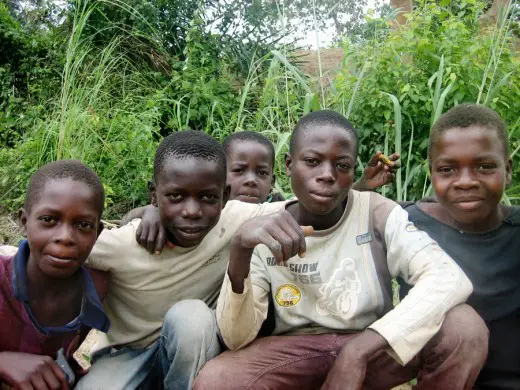 FRC education program included handicraft, agro-pastoral, masonry, welding and carpentry trainings. Many of these activities was to be run outdoors, but others needed a protected space where stocking materials and products, as well as a shelter where students could attend their classes in every weather condition.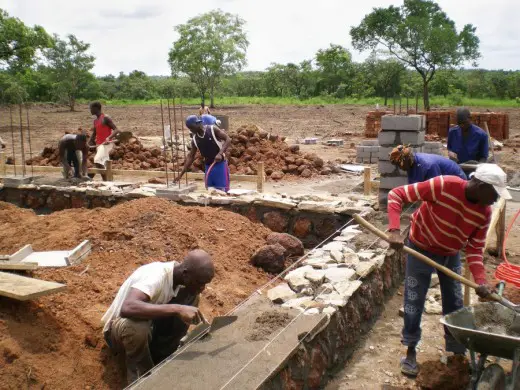 The design strategy adopted by FAREstudio and stemmed from a mission to the site, was based on few assumptions, the first being that, in contrast with the layout commonly adopted in existing centres, where every 'function' is housed in a detached building and the whole appears as a scattered collection of heterogeneous volumes, the complex should embody and enforce the idea of community, with a strong formal and spatial identity; this was by far the main character of the project.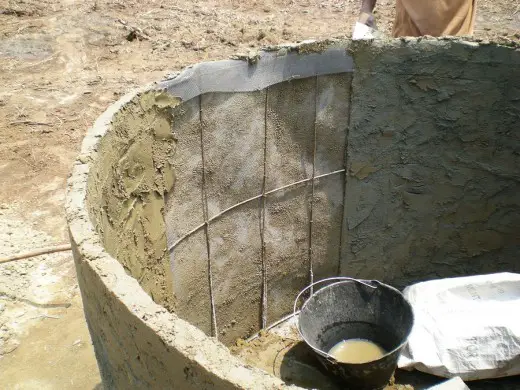 As a consequence, in terms of general arrangement the complex was formed by separate pavilions, organized so to form a unique entity; a continuous passage facing a central space connected all the buildings. The resulting shape was an elongated 'U' with a central courtyard. One end of the courtyard was open for future extension and for direct connection with the landscape, while the other was reserved to common facilities. Expansions could take place by filling the gap between buildings or by extending them.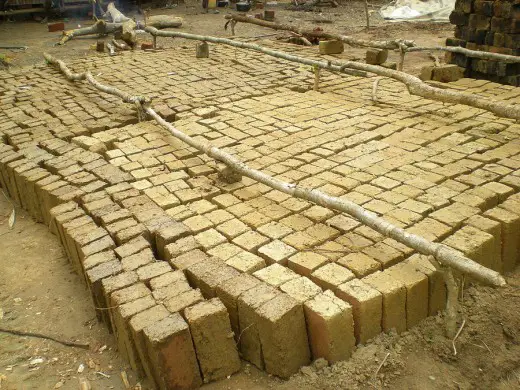 The decision of designing a 'continuous' building with a strong formal identity, while normally JPN's centers are composed by different constructions spread in a wide area with no connections between them, also stemmed from the will of creating a sense of community among the students, in order to empower interactions between individuals and improve their security conditions. The central courtyard was meant to become a space for socialization, interplay, learning, and it was conceived as traffic-free: vehicles are only authorized [except in emergency situations] in the entrance alley which connects FRC Center to the main road.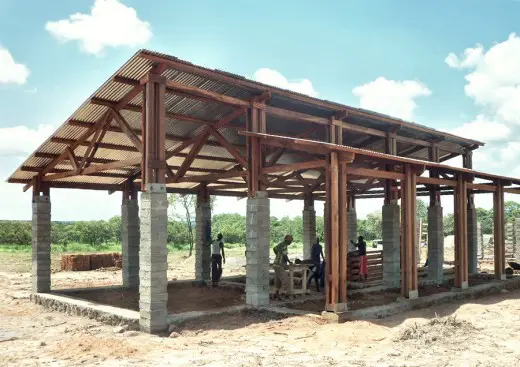 Security was one of the main issues of FRC project, especially for girls: in such an isolated and difficult environment due to the particular combination of vulnerability and violence typically associated to large congregation of teens, gender segregation was a specific, additional issue to be taken into consideration. Given the nature of the community and the local culture [not necessarily related only to religious background], it is common that boys and girls do not share the same spaces at the same time, and in general they are required to be strictly separated.
It was therefore crucial to provide girl's with physical separation and protection in dormitories and toilets against nighttime intruders, assuring at the same time that they experienced no segregation and that they were perfectly integrated in the Center's activities.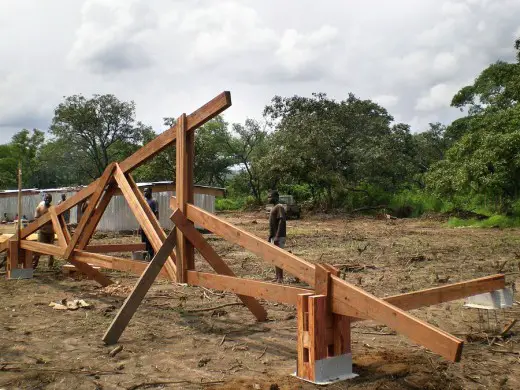 Creating secure spaces for girls at night was particularly important also because the Center would not be provided with power supply, at least at the beginning, due to severe budget constraints.
The various building's position around the courtyard was based on desirable proximity relations: administration and staff's accommodation, together with their external latrine, were next to the entrance road; boy's dormitory, classroom and latrine were located at one end of the complex; a multifunctional hall which should also have been used as eating room was located next to the kitchen in a central position between the buildings; girl's dormitory and classroom were independent from the other spaces and equipped with a secured dedicated external latrine reachable without getting out of the dormitory.
In terms of safety and security, control can be much easier in a place where, literally, everything is under sight.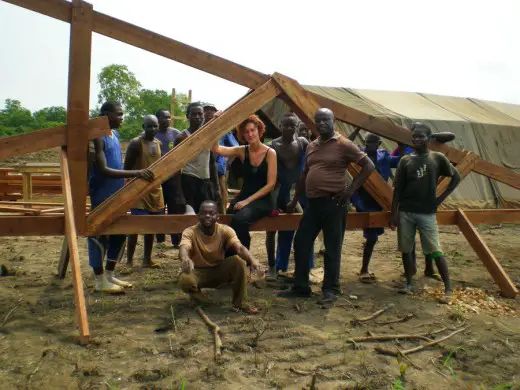 Another assumption that guided the deign process regarded the construction techniques. The sense of unity was stressed by the use of a single spatial module repeated in order to form the entire building. The production mode based on standardization and, to a certain degree, prefabrication, is based on various considerations, primarily economic but also aimed at reaching a form of quality control throughout the process: in fact this principle not only simplified the construction process because elements and technical solutions were always the same, but also made future extensions easy to realize by adding other span modules to the existing ones, adopting the same technology and dimensional rules.
A crucial issue in FRC design, as obvious in such a context, was the way in which technical and typological solutions dealt with the hard local climatic constraints: the northern area of CAR is a tropical climate zone, with a hot dry season between January and March (up to 40°C, annual average high temperature 33°C) and heavy rains between July and September (up to 280mm, average annual precipitation 1390mm).
The combination between materials and technologies was then studied in order to create the best possible environmental conditions in the complex:
Each building was composed by an indoor space, realized with local brick walls interrupted by bamboo light screens, and a covered open raised pathway, which connected all the buildings and shielded the rooms from sun and rainfall.
The roof was made of two shifted slopes at different heights in order to enhance internal illumination, mitigate indoor temperature through natural ventilation and protect from humidity stagnation. The hole complex was raised from ground level so as to protect the building from mud and groundwater during the rainy season.
FRC building was to be realized with on site available materials [wood, earth bricks, straw, bamboo] and technologies inspired by local practice. Nonetheless many of the building's traditional technological components had been modified in order to ameliorate performances, simplify realization and reduce costs:
• prefabricated wooden trusses, realized and tested on the ground and then lifted on the pillars
• metal sheeting roof covered with a removable straw layer in order to protect it from excessive heating and to slow rainfall's speed down
• interior floor and filling made with compressed earth stabilized with a small percentage of cement instead of reinforced concrete slab
• pillars realized with cement hollow blocks filled with stabilized earth instead of reinforced concrete
• openings protected with bamboo screens instead of glass windows in order to maximize the building's permeability, etc.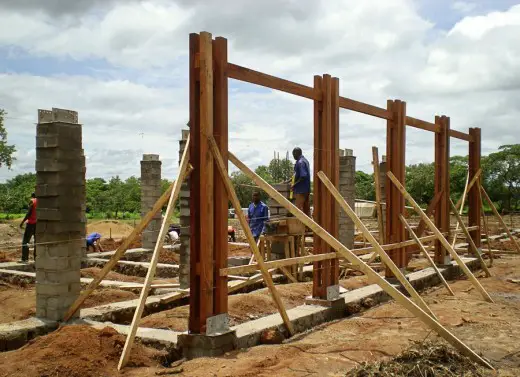 In addition to technological innovation, FRC project conception's aim [starting from the modularity of the whole system] was to provide local labor with methodological suggestions and improvements in order to rapidly make them able to perfectly know every aspect of the project and learn how to manage all unexpected necessary adjustments [FAREstudio's physical presence in CAR and direct supervision of the works was scheduled only for the very first stages of the construction process].
For these reasons FARE produced a three dimensional set of drawings and technical specifications for the contractor with a detailed representation of all relevant joints and assembly procedures.
Moreover, during the first month of the works FARE supervised the realization of a variety of prototypes and samples of the main technical components of the project: working with masons, carpenters and welders, FARE tested and experimented all innovative solutions, helped the workers become familiar with every proposed technological and typological solution, and investigated the various adjustments the project needed in order to be adapted to the real site [when FRC was designed the area was covered with a thick wood which did not allow an in-depth knowledge of the site's morphology]: a typical truss was assembled and raised on the ground, a ferrocement tank was realized and it's water tightness tested, a special tool for creating cement lavabos was prepared and experimented together with the desirable cement/sand ratio, a sample pillar was realized together with the upper sank steel plate, etc.
Apart from all those elements, the most crucial theme the project had to face was probably water supply and management, together with sanitation and hygiene issues: FRC Center was built in a rural area devoid of any infrastructure, it would be occupied by a young, careless population which would use a considerable amount of water per day, and no electrical pumping facility would be available due to budget restrictions.
As a consequence FARE had to design a urine diverting dry latrine, which allowed a reduced water consumption, and a waste management system based on composting feces and reusing urine for agricultural purposes. Rainwater was harvested within ferrocement tanks next to each latrine and recycled in showers and lavabos; during the dry season a manual pump powered by the students was going to fill a major raised tank and each latrine's smaller tank would then be filled up trough a gravity system.
FRC building works started in August 2012 and went on well until November. Unfortunately a war between rebels and local army started up in December, and a rebel group seized Sassara's area in February 2013. Up until now CAR is still politically very instable and every activity is stopped all over the country. FRC construction was consequently interrupted and only two buildings and a latrine have been almost completed.
Youths Training Center – Building Information
Location: Sassara, Central African Republic
Functional program: Youths training center in post conflict areas
Architect: Riccardo Vannucci_FAREstudio
FAREstudio on-site Team : Joao Sobral, Erika Trabucco
Client: FAO [Food and Agricultural Organization of United Nations], JPN [Jeunesse Pionnière Nationale]
Design: 2011-12
State: under construction since august 2012
Services: Concept, project, work's start up supervision, remote coordination
Total surface: approx. 8400 m2
Covered surface: 1260 m2
Cost: 250.850€ [main buildings, external facilities, central courtyard, well and water tanks, latrines]
Status: Partially built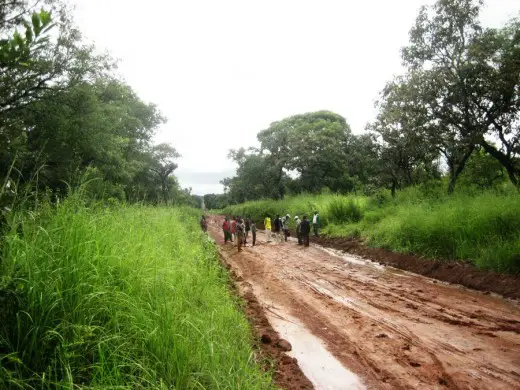 Youths Training Center in Central African Republic images / information from FARE Studio
Location: Sassara, Central African Republic
African Buildings
Africa Architectural Projects
African Architecture Designs – chronological list
African Architecture
National Teachers Colleges, near the towns of Kaliro and Mubende, Uganda
Design: Oubuntu-DASUDA & BKVV Architects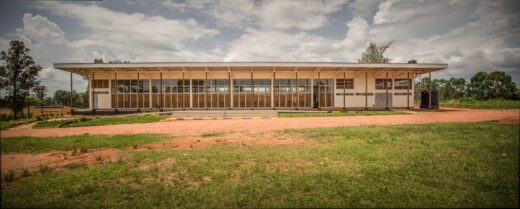 Eppo Karsijn
National Teachers Colleges, Mubende Uganda
CEM Kamanar Secondary School, Thionck Essyl, Senegal, West Africa
Design: Dawoffice / David Garcia, Aina Tugores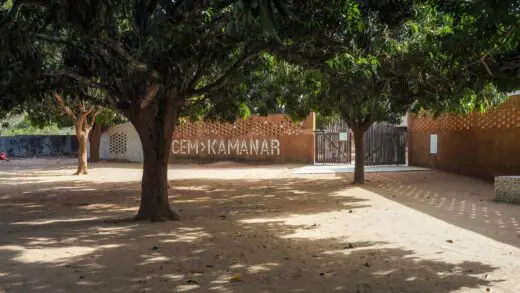 photo : Amir Anoushfar
CEM Kamanar Secondary School Senegal
Aging in Africa, Cote D'Ivoire
Design: HWKN architects
Aging in Africa
British Council Building, Ethiopia
Design: British Council in-house architects
British Council Building Africa
Website: Rwanda
University of The Gambia – New Campus
Design: Snøhetta
University of The Gambia
Congo Schools for Article 25, Democratic Republic of Congo
Congo School Buildings
Comments / photos for the Youths Training Center in Central African Republic building design by FARE Studio page welcome